The scary season is upon us, and I have to admit, I think I love it just as much as the kids do! I think it's just one of those great childhood memories that just never quite faded away for me.
There's no doubt that your kids are getting excited for Halloween, too, with all the scary decorations, the fun costumes, and of course, the yummy treats.
So get them involved in some crafting and decorating so that they can have some fun and learn some things along the way, too.
Don't forget our other spooky Halloween decorations and fun Halloween hairstyles!
Halloween Crafts for Kids
If you are looking for fun, cute, and spooky, look no further! Kids love Halloween and all of the fun involved. That means you need to get started giving them more ideas to create. Below are some amazing crafts designed just for the kids to help you make. From spooky creations to the classic fun-filled ghosts and spiders, you'll find something here for everyone to create.
Flower Pot Halloween Characters
Let the kids get a bit messy by painting an ordinary flower pot then adding a face to it and creating a cute little Frankenstein or even a fun smiling bat! A cute way to serve up treats or fun decoration.
Source: DIYnCrafts
Popsicle Stick Spider Web Craft
Craft sticks (aka Popsicle sticks) are always a hit for crafting in my house. These simply painted ones are the base for a simple but adorable little spider web. Ideal for kids, and adorable as home decoration, this is a must.
Source: DIYnCrafts
Clothespin Monster Kids Craft
Monsters don't have to be scary and this cute clothespin upcycle craft proves that! These are super easy to make, and I love how they can help teach kids that monsters aren't anything to be afraid of at all.
Source: DIYnCrafts
Ghost Luminary Bags
Luminary bags are a family favorite to add around our walkway each year. This is a safe option when using flameless LED lights with the kids. Of course, the fun part is drawing unique faces on each one!
Source: DIYnCrafts
Halloween Spider Web Jar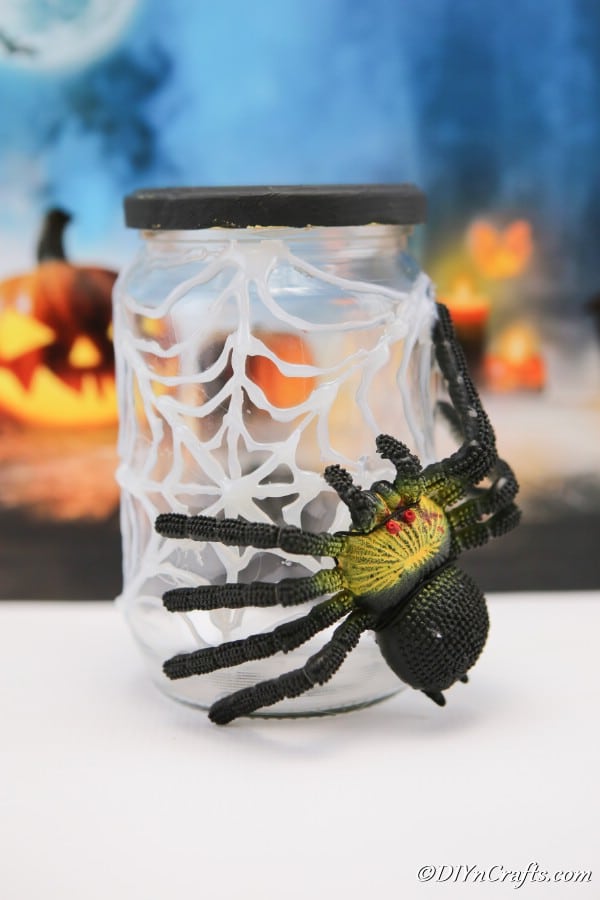 An old mason jar and a bit of hot glue are all you need to create your own cute little spider web jar. Ad a large plastic spider to the outside or use glow in the dark glue sticks to make it even more unique.
Source: DIYnCrafts
Upcycled Plastic Spoon Bat Craft
Plastic spoon bats are an iconic craft around Halloween. This variety uses colorful paint for the bat bodies to make it pop against what is otherwise a very dark background.
Source: DIYnCrafts
Halloween Characters from Toilet Paper Rolls
These are just too cute! Of course, I made just the witch, vampire, and Frankenstein, but you could easily make tons of different iconic characters from Halloween.
Source: DIYnCrafts
Giant Pom Pom Spider
A bit of yarn and some glue, and suddenly you have a super cute giant spider that is far from scary! This is a great choice for younger kids to make, and ideal for adding as a decoration throughout Halloween decor.
Source: DIYnCrafts
Fun and Easy Clothespin Bats
It doesn't get any simpler! A clothespin, some black paper, paint, and glue. You don't even have to add a face or eyes to these! I love these as chip clips in the Halloween season or to stick randomly around a buffet table at a Halloween event.
Source: DIYnCrafts
Gorgeous DIY Paper Witch Hat
It looks like it takes forever to make, but really this is super easy and ideal for older kids to help you make. Not exactly meant to be worn, this is more of a decor item but looks great throughout a Halloween party decor.
Source: DIYnCrafts
Halloween Paper Plate Witch Craft
This is super cute and definitely fun for kids. If you decide to paint regular paper plates, this can get a bit messy. Otherwise, it's an easy and fun project that kids will love helping you make.
Source: DIYnCrafts
DIY Paper Scarecrow Kids Craft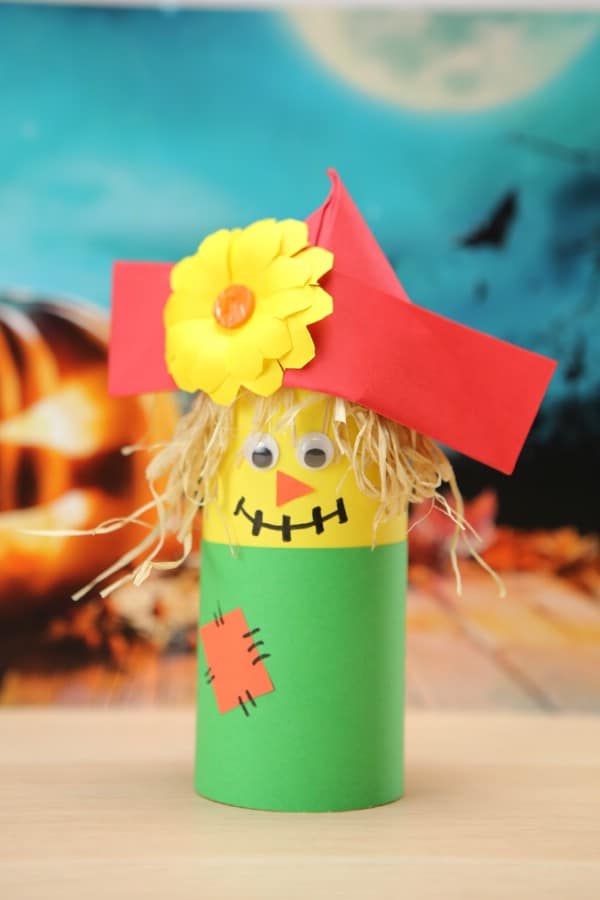 A scarecrow is more of a general Fall craft but is often seen at Halloween. I thought I would add to the list because it is just super adorable and fun to create.
Source: DIYnCrafts
Halloween Egg Carton Monster Treat Box
What a cute idea! Painted egg cartons are glued together to create an adorable little monster craft project that can be filled with treats or goodies to go in Halloween bags!
Source: DIYnCrafts
Halloween Bottle Cap Spider Craft Magnet
Such a cute idea! These are ideal for decorating your refrigerator for Halloween! Useful every day and adorable in one little craft, these bats are a kid favorite project.
Source: DIYnCrafts
Lollipop Ghost Kids Treat Craft
I love these little classic ghosts! Such an easy addition to your crafting but could also be used just for you to gift to the kids! Tons of fun colors of tissue paper make it unique or go with the classic black and white.
Source: DIYnCrafts
DIY Halloween Balloons
Balloons are always a hit with kids! This gives you some fun ideas for the kids to add to balloons to use as decorations around the house or for a special Halloween party.
Source: DIYnCrafts
Spider Lollipops Kids Treat & Craft
This is another classic idea that we love. A few pipe cleaners and some tissue paper are added to your favorite round lollipop to create a cute decoration that doubles as a Halloween treat for their bag.
Source: DIYnCrafts
Upcycled Tin Can Hanging Ghost
This project will need a bit more help from an adult, but I still consider it kid-friendly. It's a fun decoration for your yard and easy to hang in trees for Halloween.
Source: DIYnCrafts
Fun Old Book Monster Craft
I love this idea of using an old book! It definitely is ideal for older kids or kids with a bit more patience. The folding takes considerable time, but overall, it's an easy craft to finish for kids of any age.
Source: DIYnCrafts
Ghost Paper Lantern
This is so easy to make! It's also super budget-friendly, and kids will love setting them off at night if you choose to go that route with these upcycled paper lanterns.
Source: DIYnCrafts
DIY Mummy Jar Decoration
Whether you add twinkle lights or a flameless candle inside, this is a super easy little lantern that anyone can make. Kids will love being able to make their own little lantern, and you'll love how cute these look displayed around Halloween.
Source: DIYnCrafts
Halloween Plates Craft
This is such an easy dollar store project that kids can make! A few plastic plates are safest with the kids, but any plate works with window clings to create a cute little Halloween display. It doesn't get any easier than this!
Source: Craft Create Cook
Wooden Halloween Plaques
Another cute dollar store project is these little framed wooden Halloween characters. A plaque of sorts is made easy with just a few items, some glue, and an empty picture frame.
Source: Craft Create Cook
Halloween Paper Witch Craft
I've shown you a witch made from toilet paper rolls, but this one is just a piece of paper shaped into a roll. This is a cute craft that's really easy for kids of all ages to customize.
Source: Craft Create Cook
Upcycled Egg Carton Frankenstein
What a fun little project! I love using egg cartons for something new, and this is absolutely precious! Kids will love making these and they are super easy to customize.
Source: Craft Create Cook
Silly Spider Craft
Paper cups are such a fun way to create a cute little spider! This is ideal for younger kids as nothing as to be exact. Just a few steps and a bit of paint and you have fun little project kids will love.
Source: Craft Create Cook
DIY Creepy Halloween Dolls
This is definitely for an older child or a family that doesn't mind a bit of spooky or creepy. These are fun to paint and create and add a real traditional spooky feeling to your Halloween crafts and decor.
Source: The Mad Mommy
Coffee Filter Spiderwebs
A coffee filter is actually a fantastic craft medium because it's nice and thin, yet it isn't too fragile. You may have made some coffee filter snowflakes before, but now it's time for the kids to make coffee filter spiderwebs to hang on your windows!
DIY Instructions and Project Credit – TheArtfulParent
Toilet Paper Mummies
I used to wrap myself in toilet paper and pretend to be a mummy, but in this case, you can get the kids to wrap the cardboard rolls themselves. It's a lot less messy than a whole wrapped person, and it's simply adorable!
DIY Instructions and Project Credit – Papelisimo
Toilet Roll Bats and Cats
It seems toilet rolls aren't just for mummies, your kids can make some quick and easy bats and black cats from them, too. You could even string them all together to make a spooky garland!
DIY Instructions and Project Credit – CraftyMorning1 and CraftyMorning2
Halloween Countdown
The anticipation of something fun to come can be a really exciting time for a child – just think of those Christmas advent calendars. So to really get their enthusiasm up, you can help your little ones make this bewitching Halloween countdown where they remove a link every day.
DIY Instructions and Project Credit – BabyCenter
Ping Pong Ghost Lights
These little ghost lights are just too cute, and there's no doubt that the kids will love drawing all the spooky faces. You'll probably have to help out with the lighting part and setting it up so that the little ones can proudly stand by their illuminated spooks.
DIY Instructions and Project Credit – UnoriginalMom
Party Piñatas
I don't care how old you are, a piñata will always be fun to smash, regardless of whether you're a kid trying to get to the candy, or an adult releasing some stress. These two tutorials show you how to get the kids involved in making a family of ghosts, and a pumpkin. The pumpkin one can actually even be used as a trick-or-treat bag when the time comes.
DIY Instructions and Project Credit – ABeautifulMess and Tuts+
Marshmallow Monsters
When I was younger, there was nothing that I loved more than making treats with faces on them; there's something so darn satisfying about playing with your food as a kid. Give your little ones the opportunity with these marshmallow monsters.
DIY Instructions and Project Credit – Spark&Chemistry
Spooky Luminaires
A great way to light up your home in true Halloween style is with some colorful themed luminaries. Your kids can paint anything they want on there from skulls to pumpkins to bats! And they look great regardless of whether they're lit up or not.
DIY Instructions and Project Credit – CraftsByAmanda
Glow Stick Jars
Another fun way to bring some Halloween light is with these clever glow-in-the-dark jars. You'll definitely need to supervise since you don't want any accidental ingesting of the glow stick liquid, but the decorating can be all up to the little ones.
DIY Instructions and Project Credit – CreateCraftLove
Q-Tip Skeletons
Who knew that Q-tips made such excellent skeletal bones? Your kids can have all sorts of fun making a collection of skeletons in funny and interesting positions.
DIY Instructions and Project Credit – SheKnows
Tape Resist Skeleton
If your rug rat likes things on a much bigger scale, then this life-size tape resist skeleton may be just be the way to go. It's a really fun activity because they get to trace bodies, stick the tape, paint, and reveal! Plus, they learn a bit about the human body throughout the process, too.
DIY Instructions and Project Credit – ArtfulParent
Ghost Garland
I used to love making paper chains as a kid – I'd toss them all over the house! If your little ones feels the same, then get them involved in this ghostly garland. They can even add a whole bunch of other characters too, like bats and monsters.
DIY Instructions and Project Credit – AuntAnnie'sCrafts
Spider Hat
Halloween is the only time of year that I'll allow anything spider-related in my home, so I might as well make the most of it. Your little tots are sure to enjoy making these fun spider hats to wear out trick-or-treating or even just to show off at school.
DIY Instructions and Project Credit – LittleBuggieTutu
Witch Hat
Since I'm on the topic of hats, if you have a little witch in the house then she'll definitely need a signature hat! Get your kids to decorate the hats in their own style so that they can either wear them around, or simply decorate your home.
DIY Instructions and Project Credit – 4CrazyKings and TheDollarDiva
Beady Pumpkin
If you have a little jewelry-lover in your family then they'll probably enjoy making a beaded craft like this cute and easy little pumpkin. Don't they just make the cutest decorations?
DIY Instructions and Project Credit – CutesyCrafts
Puffy Ghosts
Move over, Puff the magic dragon, because it's time for the puffy ghosts to shine. This cotton ball craft is a real easy one, so your excited little ones can make a whole series to hang all around the house.
DIY Instructions and Project Credit – ThrivingHome
Garden Spiderweb
Your decorations don't have to be limited to the indoors; you can decorate your garden too! I'm sure your little ones will be delighted to make this giant spiderweb with you, especially if they can add their own handmade spiders.
DIY Instructions and Project Credit – Ivaalex
Paper Plate Spiders
I'm sure we're all well acquainted with these classic paper plate spiders from our own childhood, but I simply had to include them as a nostalgic reminder. It's a cute, simple and effective craft that kids can enjoy making on their own.
DIY Instructions and Project Credit – IHeartCraftyThings
Spider Lollipops
These spider lollipops are much more friendly than they are scary and creepy, which, in my book, is a good thing! Perhaps your little one would like to make a few to give to friends to celebrate the exciting holiday.
DIY Instructions and Project Credit – IHeartNaptime
Potato Pumpkin Stamps
Potatoes, apparently, make wonderful stamps for kids, especially when you want pumpkin shapes. You may want to do the knife work yourself in the interest of safety, but I guarantee your kid will want to do the stamping!
DIY Instructions and Project Credit – RoamingRosie
Spider Sacks
I'm sure you must be aware of this of this gluey-yarn-around-a-balloon technique by now, but have you ever thought to involve the kids? These would look excellent hanging around your house, and there's no doubt that the kids will love a messy project like this.
DIY Instructions and Project Credit – ModernParentMessyKids
Monster Hands
This is some real creative thinking: glue dried lentils and beans onto a hand and arm shape to make the perfect warty and disgusting monster hand! I'm sure the kids will enjoy getting a little dirty for this one.
DIY Instructions and Project Credit – HappyHooligans
Tin Can Bowling
I love practically anything that involves a good bit of repurposing and entertainment, so hopefully your kids will love this too. Get them to decorate the cans in scary Halloweeny monsters and zombies so that when they aren't bowling, they can put these up for display.
DIY Instructions and Project Credit – PartyDisplay
Stained Glass Decorations
I know Halloween is supposed to be all about the spooky and scary, but sometimes it's nice just to make cute and pretty things, too. These stained glass Frankenstein and pumpkin decorations offer the perfect opportunity for an interesting window sun catcher.
DIY Instructions and Project Credit – FromABCsToACTs and CraftsOnSea
Handprint Characters
Sure, we all know about the handprint turkeys for Thanksgiving, but that's not to say that your tots can't implement the same concept for the spooky season! They can use their little hands to make eerie vampires and even witches.
DIY Instructions and Project Credit – CraftyMorning1 and CraftyMorning2
Handy Banner
Since we're on the topic of hand art, you can also get your kids to trace their hands and turn them into spooky ghouls, ghosts, or monsters to make your own version of this banner. What a great way to wish your neighbors a happy Halloween!
DIY Instructions and Project Credit – CraftsByAmanda
Glow-in-the-Dark Slime
This green monster slime really takes me back to my childhood; I couldn't get enough of the gooey goodness! Although I always got the store-bought version. Getting your kids involved to make this themselves is the perfect holiday craft!
DIY Instructions and Project Credit – APumpkin&APrincess
Candy Corn Banner
I love this one because it's not quite as spooky, but it's just as Halloweeny! The idea of using paper plates that you can later cut up like a pie to get your candy corn shapes is pure brilliance!
DIY Instructions and Project Credit – Sophistishe
Haunted House
This really is a fun project because your little ones can let their imaginations run wild with what they think they'd see in the windows of a haunted house. You could probably draw your own house shape, but luckily, this tutorial even has a template for you to get started from.
DIY Instructions and Project Credit – SarahJane