If you are looking for a simple monster kids craft, and want to upcycle, this is a perfect choice. This funny but happy old book monster is a great fun craft for kids this Halloween. Rather than being scary, this monster looks a bit happier or more friendly. It makes a great craft to do with kids and a perfect lesson in reusing items.
Old Book Monster Kids Craft
With only a few supplies, kids can create something fun and unique that can also decorate their room year-round. While I would use this for Halloween, it's also just a fun choice for when kids want to pretend to play with monsters.
I have always hated how monster-themed items were made out to be frightening, but they don't have to be. It's time to make that word descriptive of a style and not a scary creature.
I love using old books when crafting. It creates such an elegant look no matter what you are making. Plus, it's ideal for upcycling and saving money. Rather than throw away an otherwise ruined book, I can recreate it into something fun and unique!
Where Can I Find Old Books for Crafting?
There are a lot of places to get old books. Many places like thrift stores and secondhand stores often have these books on sale for 50 cents to a dollar. Second-hand book stores also sell old books, but sometimes these are for sale for more than thrift stores.
You can ask around and many will have grab bags or "stuff a bag" days where you pay a flat rate and pack as many as you can into a bag.
While these types of books are often good for reading still, I find a lot of them are stained, worn, or have pages missing. So, when I find the damaged ones, I like to save them for these projects.
You don't have to worry about using an old book that is still in good condition. There are always options available that would be thrown away otherwise.
Another place to get old books is in the library. They usually have book sales a few times a year to raise money and remove old books they don't need any longer. I have a great relationship with my local library so they keep a box of damaged books for me to pick up on a regular basis.
You can do the same thing with your local public school. A lot of times textbooks are outdated and otherwise thrown out. Check and see if you can pick them up and put them to use in your crafts. Preschools especially tend to have damaged books on a regular basis. These usually picture books, but they can be used for projects like this just as easily.
What Paint is Best on Book Pages?
What type of paint is best for painting the books will depend on the look you want to have. If you want full coverage paint, then acrylic paint is the best choice. For projects that you want the words to show through the paint, you can create a stain with the acrylics, use water colored paint, or even another kid-friendly paint like finger paint.
I usually keep acrylic craft paint on hand in a number of colors for this purpose. So, I grab whatever color suits me and use it on the project that day. Other options include tempera paint you can find in craft supply or teacher supply stores.
What Ways Can You Display a Book Monster?
Since this has a nice sturdy flat base, it sits on a shelf or table easily. Of course, if you prefer, you can loop a piece of fishing line, twine, string, or ribbon through the middle and hang it from the ceiling. You could also add a hook on the backside and hook it to the wall like a picture frame if you desired. Command hooks are another great choice since there are options for all types of material and surfaces.
Supplies Needed
How to Make an Old Book Monster Kids Craft
Remove the hard binding from the book leaving the pages glued together and intact.
Fold the first page in half and continue folding.
Keep folding the pages in half vertically until all pages have been folded.
Glue the two end pages together if desired for more stability to hold the shape.
Use a cotton ball or brush to paint the outside of the book pink or preferred color. You want to coat but not cover completely.
Set aside the book to dry for 15-20 minutes.
Cut out a large oval from black paper.
On white or colored paper cut out a few ragged teeth and glue to the black oval.
Glue the oval onto the lower half of the book.
Add the googly eyes above the mouth.
Display your book as desired.
More Fantastic Halloween Crafts and Decorations
Decorating for Halloween is one of my kid's favorite things to do. Of course, for some reason, the spooky season is always fun to create for, and that means we have tons of fun ideas to share. Whether it's for you to create or your kids to help, these are sure to be a hit!
Crafting Tip

If you don't have a place to pick up old books in your local area, check out the listings for old books to use for crafts on Etsy. You can often get a nice variety of old used books shipped to your door easily!
Yield: 1
Upcycled Old Book Monster Craft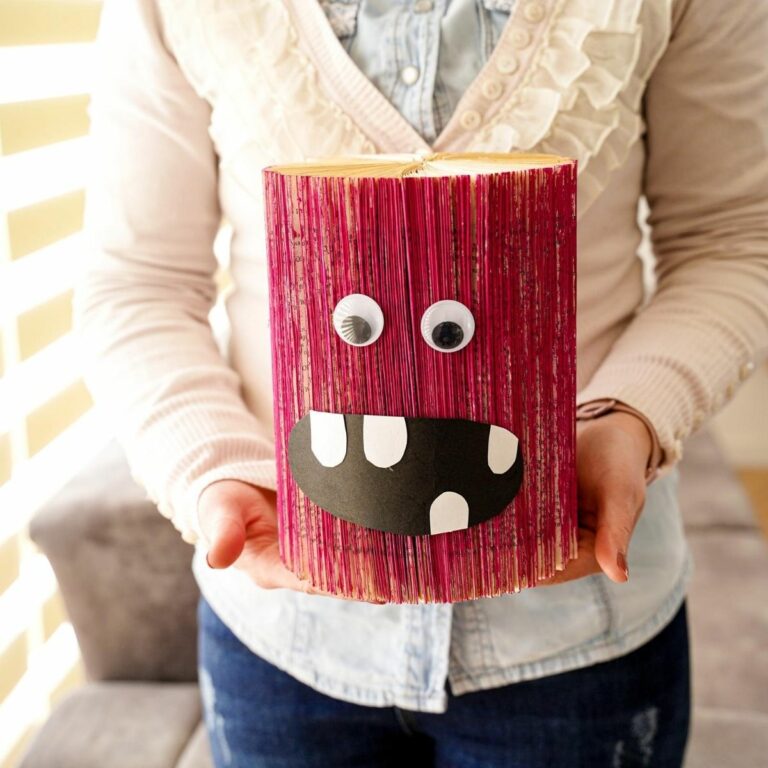 Follow this easy tutorial for a fun old book monster kids craft using an upcycled old book and just a bit of paint!
Additional Time
15 minutes
Materials
Tools
Paint brush or cotton balls
Hot glue gun
Hot glue sticks or hot glue rope
Instructions
Remove the hard binding from the book;
Fold the first page in half vertically;
Continue folding pages in half;
Once the entire book has been folded, stand up the book and bring the two ends together then glue to secure;
Using cotton balls add paint all over the outside of the book and set aside to dry for 15-20 minutes;
Cut a large oval out of black paper;
Cut 4-5 white rectangles with one rounded end;
Glue the "teeth" onto the black oval randomly with a few on top and a few on bottom;
Attach the oval to the book with hot glue;
Glue the googly eyes above the mouth;
Display as desired.
Notes
Use any color paint for this monster or make in random colors and sizes to create a family of monsters.
Recommended Products
As an Amazon Associate and member of other affiliate programs, I earn from qualifying purchases.
Finished Project Gallery