This Halloween spider web jar is a perfect decoration or even a unique candy jar to display treats. I love repurposing items, and found this to be a super easy craft that is a great way to add a little scary spook to my Halloween candy buffet table!
If you love cute and easy Halloween decorations, then I know you'll love this easy ghost garland decoration. It's perfect for adding to your mantle alongside this fun spider candy jar craft.

Halloween Spider Web Candy Jar
Upcycle projects are my favorites! Any time I have an empty glass jar, I try to find a way to put it to use rather than throwing it away or taking it to the recycling center. If I can use it in my own home, that's an even better way to recycle it.
This Halloween spider web candy or utensil jar decoration is one of my new favorite projects! At first, I thought it would be just another cute decoration, but then I realized just how great it is to hold so many things at my party.
What Can I Use this Halloween Spider Web Jar for?
As I mentioned, I thought it would be great at first for a simple Halloween decoration. I quickly realized that it would work great to hold things at my party. Who wouldn't love a multi-purpose craft? I sure don't! Below are some ideas I came up with that would be great uses for this craft jar.
Hold utensils like forks, spoons, or knives
Put rolled napkins in it next to the plates on your buffet line
Fill with pretzels sticks or crackers
Add your favorite small wrapped candies
Place a candle inside and use as a Halloween lantern
You could even use this to add jelly beans for a fun count the items Halloween party games idea.
Can I Paint this Halloween Spider Web Instead of Using Glue?
I love using hot glue to make this web because it is so easy and fast. If you have time and feel like doing so, you can easily use a small paintbrush to create the web around the jar. You could even use some fun glitter paints to add an added element to the jar.
While I prefer fast and easy using the hot glue method, I can definitely see the benefits of painting this jar. A glow in the dark paint, glitter paint, or just plain white or gray paint would all work wonderfully to bring dimension to the spider web on your candy jar.
Supplies for Making a Halloween Spider Jar
Wide-mouthed jar with lid
Black craft paint
Paintbrush
Hot glue gun with glue (white or black if possible)
Large plastic spider
How to Make a Halloween Spider Web Jar
Gather all of your supplies together and have ready on your workspace for easy access. When working with paint of any kind, I prefer to add a newspaper or drop cloth on the table to prevent drips and paint spills.
Once you have washed and dried your jar, you will start by painting the lid with black paint. It's most important to paint the top and sides, but if possible you can paint the underside of the lid.
Now, you will use your hot glue to draw a web on the jar. Make sure the web goes all the way around the jar. It needs to be a large Halloween spider web so the plastic spider you add will look natural on the web.
Once the web has been completed and dried, you will take your plastic spider and attach to the side of the jar with more hot glue.
Display on your counter, mantle, or table for Halloween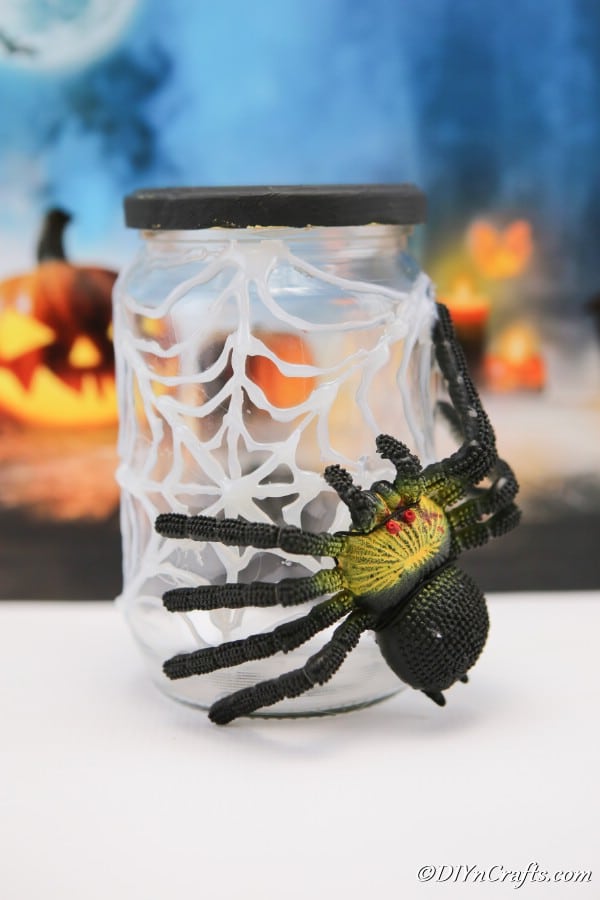 Video Tutorial:
Step by Step Photo Tutorial:
Yield: 1
DIY Halloween Spider Web Jar Decoration
Grab your glue gun and get started repurposing this glass jar to create a cute Halloween spider web candy or lantern jar!
Materials
Glass jar with lid
Black paint
Large plastic spider
White or black hot glue stick
Instructions
I begin with laying out all of my supplies on my workspace and covering the counter with newspaper to prevent paint spills;
Begin by painting the lid of the jar with black paint;
You will need to paint both the top and sides of the lid;
Set aside the lid to dry
Next, you will use the hot glue and create a web pattern around the jar. This should cover the entire jar;
Once the web pattern has dried, you will glue on your spider;
Display with a candle inside as a lantern, or filled with candy or utensils as needed;