This fun little clothespin monster kids craft is a perfect way to keep them busy and making a fun version of what is often considered spooky. Just in time for Halloween, these are a great way to let kids express themselves, use their imagination, and just get busy crafting. Whether this is a fun craft for kids or a project you make on your own to add to Halloween treat bags, you'll love these cute little "scary" critters!
Clothespin Monster Kids Craft
The name monster is usually used to describe something scary. In recent years, a lot of people have been turning them into cute fun critters instead of scary. I love this transition into making the word monster not scary but fun instead. This little project lets you create your own monster using your preferred add on's and craft supplies. A simple and easy project, this is ideal for getting kids involved in dispelling common nightmares with crafts.
Use this project as a way to help kids no longer fear monsters and show how friendly they can be when given the right personality. Whether they add typical funny faces or give them smiles, this little craft is sure to be fun for kids of all ages.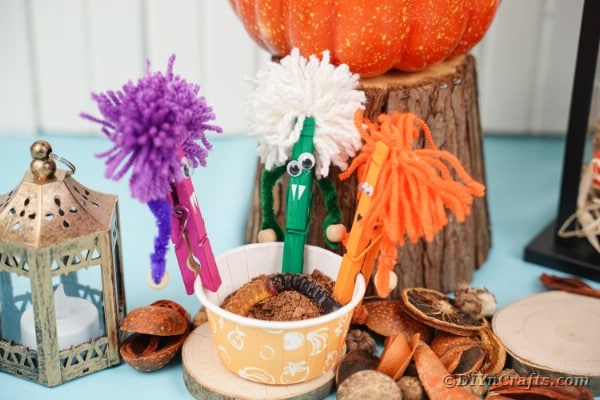 Do I Have to Paint My Clothespins?
You certainly don't have to paint the clothespins if you don't want to do that. It can be a bit messy, especially when working with kids. I like the idea of painting them to match the hair color and to add a bit of vibrancy to them. You can just as easily use plain clothespins or even buy already painted or dyed versions.
Other options for adding color to your clothespins are below.
Soak them in dye overnight then let dry before using.
Place colored washi tape over the outside for a fast option.
Color with crayons or markers.
Spray paint large numbers of clothespins at a time to use with a group of children.
Other Ways to Decorate Monsters
I went simple with this project and just added the hair, arms, eyes, and teeth. You can add other things to make yours more unique if you want. I love the idea of laying out a bunch of craft supplies for kids to choose from. Below are some ideas to add to your crafting station with these monsters.
Add pony beads to the arms or hair for accents.
Use glitter glue on the body or around the face.
Add ribbons to the hair as accents.
Put these into clay as a base to stand up on their own.
Spray the body of the monster with glitter spray.
Use tinsel instead of yarn for hair.
Add a felt miniature hat to the top of the monster.
Create a bow with ribbon to add to the yarn hair.
What Can a Clothespin Monster Be Used For?
These are perfect for kids play times. They can use them like an action figure to pretend and play out scenes with their friends or siblings. Another easy choice is to use them as clips on snack bags you hand out at Halloween. Of course, that adds to the trick-or-treat experience as it is another treat in itself.
I like the idea of also adding a magnet to the back and using them on the refrigerator. Such a cute idea to dress up the kitchen for Halloween in a fun way. They might not be able to hold much, but they can hold a picture, papers, or even a takeout menu.
If you are especially crafty, you could also use these to go on a wreath and create a whole new Halloween decoration for your front door. Just create the monsters and glue onto a Halloween themed wreath or even make them the focal point of a whole new wreath.
Supplies Needed
How to Make a Clothespin Monster Kids Craft
Paint your clothespins the colors preferred and set aside to dry. I used purple, green, and orange.
Wind yarn around multiple fingers until you have wrapped 20-25 times.
Clip the end, then tie the loose ends around the center to create a ball.
Cut through each side so the ends are loose. Trim around the outside to make it a bit more even and fluff out to create "hair".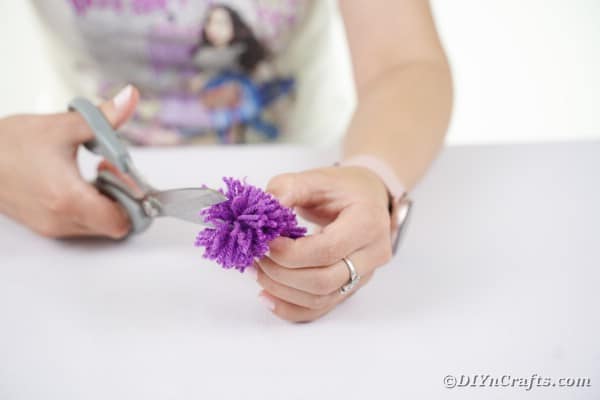 String a bead through each end of a pipe cleaner.
Twist the pipe cleaner a bit to make it shorter.
Glue the pipe cleaner onto the clothespin so it dangles on each side.
Add glue to the inside of the top end of the clothespin and attach the yarn hair in the middle.
Glue a googly eye onto the clothespin at the top.
Add a mouth or teeth using a paint pen.
Continue the process with different colors as desired.
Display or let kids play with the clothespin monsters.
More Fun Halloween Craft Ideas
Whether you are creating something new for your home decor or you are adding a kids craft to your list, the list below has something you'll enjoy. I love adding spooky little additions to my life in the fall days leading up to Halloween. These projects are great examples of how you can upcycle trash to treasure, use inexpensive dollar store supplies, or just create a beautiful addition to your door.
Crafting Tip

For supplies to make this and other crafts, I like to shop at Dollar Tree online. They have tons of basic crafting supplies at affordable prices. The best part is that you can so easily order supplies in bulk and have them shipped right to your front door!
Yield: 3
Cute Clothespin Monster Kids Craft for Halloween
Turn clothespins, paint, and yarn into absolutely adorable little clothespin monster kids crafts! These are perfect for Halloween but can be made any time of year!
Additional Time
30 minutes
Materials
Tools
Instructions
izetouPaint one clothespin per monster and set aside to dry;
Using preferred color of yarn, wind around 2 fingers 20-25 times then slip off leaving together in a ball;
Wrap the loose end of the yarn around the middle and tie;
Clip through both sides to create a pom pom and fluff;
Add a bead on both ends of a pipe cleaner;
Twist the pipe cleaner to shorten;
Glue the pipe cleaner to the clothespin leaving it dangling on either side as arms;
Add glue into the middle of the top of the clothespin and add the yarn hair;
Glue on a googly eye;
Draw on teeth or a mouth with a paint pen;
Display as part of Halloween decor or add to kids treat bags.
Notes
Customize these monsters with different colors, teeth, hair, and embellishments to personalize them.
Recommended Products
As an Amazon Associate and member of other affiliate programs, I earn from qualifying purchases.
Finished Project Gallery
Add your own unique spin on this by using ribbon or twine for hair instead of yarn.
These are tons of fun to play with and create fun stories with the kids.
I love the idea of using them on Halloween party buffet tables as decor!