Did you know you can magically turn your favorite yarn into a monster? This yarn pom pom monster isn't scary, but sure is adorable! I love making these and adding to things like kid's lunch boxes, on top of gifts, or just for them to pretend to play with alongside their other toys. Grab your favorite yarn and use this step by step tutorial to make a few monsters of your own.
Yarn Pom Pom Monster
I remember as a kid having one of these in my toy box. If memory serves correctly, it was my pick while on vacation as a souvenir. Funny the things we love as kids, but looking back now, it was a fun little addition to my toy collection and I know I spent hours playing with it on the ride home.
Making a pom pom monster has to be one of my favorite things to do with leftover scrap yarn. Often, there just isn't enough leftover to do anything else productive, but if nothing else, I can whip up a pom pom and toss into my craft box to use later.
This one is just as easy, can be made in minutes, and is sure to make every kid go wild.
How do I Know How Big to Make Mine?
This one is about 20 wraps around my hand. Looking at the pictures you can see size comparisons to get an idea of how large that is. For children, 20 wraps around a hand might end up larger as they have such small hands.
So, while I would say you should make it as big or little as you want, the real decision will come when you look at how it feels on your own hand.
It really doesn't matter what size you make your monsters. I have made them in all sizes and colors for different purposes. I love adding them to gift bags, as decorations for parties of all kinds, or just for a fun toy the kids love.
What Glue Holds Best on Yarn?
Since you are adding eyes, ears, and a mouth to your monster, you'll need good glue to keep them in place. I've tried all kinds, but my go-to for attaching anything to yarn is hot glue.
The only other option I have had success using was E6000 craft glue. This is definitely not one to use basic school glue or Elmer's glue if you plan to have it as a toy to play with. For simple packages or decorations, any glue works.
To hold up over time, definitely reach for the glue gun or heavy-duty craft glue instead.
Supplies Needed
Blue yarn (any color you prefer is fine)
Pink paper
Black paper
White paper
Craft glue
Scissors
How to Make a Yarn Pom Pom Monster
First, you will wrap the yarn around the palm of your hand or a piece of cardboard. Wrap this about 20-25 times, then slowly slide off your hand and cut the end from the roll of yarn.
Now, cut a small piece of yarn, and wrap it around the middle of your yarn bundle and pull tight tying in place.
Next, you will cut through the loops on both sides of where you tied the yarn, and then begin shaping the sides into a ball and trimming to make even.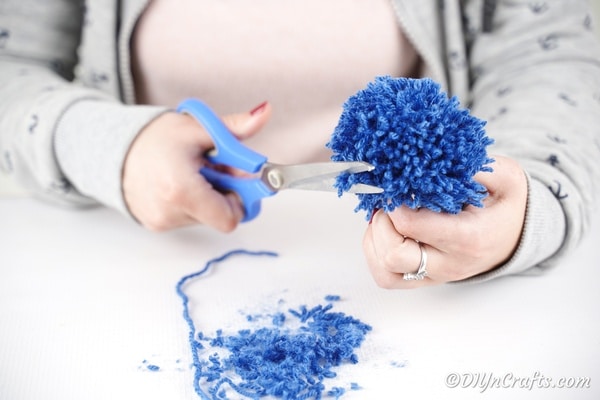 Now, you will draw and cut out a small pink tongue from the pink paper and set it aside.
Cut out a circle from the white paper.
And a slightly smaller circle from the black paper, along with two small triangles.
Attach the pink tongue to the pom pom with craft glue.
Glue the black circle into the center of the white circle, and then glue in place above the tongue. Add the two triangles, one on either side of the pom pom, for ears.
Now you have an adorable yarn pom pom monster!
Crafters Tip

Make these in an assembly line process when making multiples. That way, you can use the first eyes, ears, and tongue as templates for the rest.

Additionally, I watch Etsy for yarn grab bags. These are a great way to grab scrap yarn for projects like this. No need to deplete your crochet or knitting yarn stash, but still make great monsters. I especially love these bags since they often include the brighter colors.
Yield: 1
Cute Yarn Pom Pom Monster
These adorable DIY yarn pom pom monsters are such a great little project for you and your kids to make! Fun and easy to make, these are always a hit with the kids!
Tools
Instructions
Wrap yarn around the palm of your hand or a piece of cardboard, 15-20 times or until the size you want, then slip it gently off your hand and cut the end of yarn;
Now, you will use a smaller piece of yarn to tie in the middle of the yarn pom pom;
Slip scissors through the sides of the yarn loops to snip and then trim them into a round shape as shown;
Cut out a pink mouth from the paper;
Use white paper to cut out a small circle;
Now, cut out a slightly smaller black circle and two triangles;
Glue the black circle onto the white circle and set aside;
Glue the pink mouth to the middle of the pom pom;
Now, glue the eyes and ears in place;
Enjoy your yarn pom pom monster!
Notes
Make these in multiple sizes and colors for a fun family of monsters.
Recommended Products
As an Amazon Associate and member of other affiliate programs, I earn from qualifying purchases.