Do you want to decorate with Halloween balloons this year but don't want to buy expensive ones in the store? I have the perfect solution! This fun tutorial for how to make super cute and easy Halloween balloons will make decorating so much easier!
If you want more easy and cheap ideas for decorating this year, check out these great Halloween decoration ideas!
DIY Halloween Balloons
Balloons are a must at every party. They are so fun for kids, and almost always inexpensive. When you want a specialty balloon specific to Halloween though, that price goes up. There is no reason to spend extra on balloon decorations when you can make them yourself!
My desire to keep my Halloween party budget as low as possible was perfect for kicking me into gear to come up with more DIY Halloween ideas. These Halloween balloons are one of the least expensive homemade decorations on my list! Just balloons, string, and a marker, and you have all you need to make some amazing low budget decorations!
You don't want to miss out on this other super cute Halloween decoration idea! I have even more ideas for making spooky decorations out of inexpensive supplies for you to check out and save to create on Halloween.
Do the balloons have to be filled with helium?
While you do not have to fill your balloons with helium, they will not float otherwise. If you are decorating by attaching the balloons to an archway, door frame, or the back of a chair, it may not be necessary. However, for any area where you want the Halloween balloons to float in the air, helium is a must.
In some areas, you can get balloons filled at the dollar store for no charge if you buy the balloons there. You may also want to check out buying your own small helium tank if you use a lot of balloons for parties throughout the year.
What are the best markers to use for Halloween balloons?
There is nothing like picking up something you have drawn on and see half of the design rub off. It's especially annoying when that marker rubs off onto your hands or clothing.
For making the faces on these cute Halloween balloons, a permanent marker is a must. Sharpie is the most popular and effective brand I recommend for this purpose. They don't rub off easily on the balloon material, and they dry super fast. This is really important if you have larger designs on your balloons.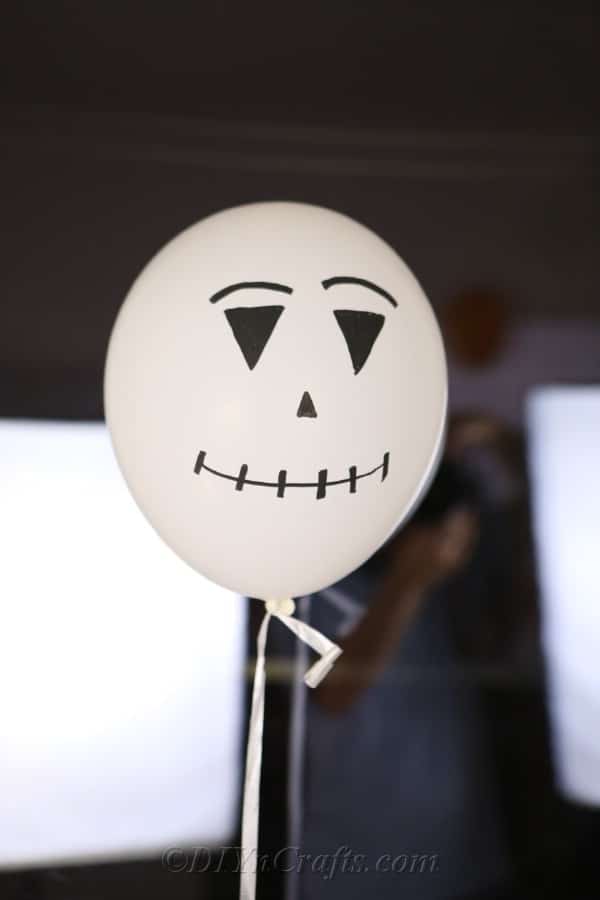 Ideas for faces to make on your balloons for Halloween
While I only made ghosts and pumpkins with this batch of balloons, there are tons of ideas that can work for decorating using balloons. Not just at Halloween, but many holidays are easy to adapt the balloon to suit the theme. Just have fun and explore ideas!
Use green balloons to draw a Frankenstein's face
Purple and pink balloons are great for monster faces
Black balloons with googly eyes attached or white marker used are ideal for spiders
Red balloons and green string can look like an apple to tie above your apple bobbing station
Draw green nose and eyes on a black balloon to look like a witch
Supplies for making Halloween Balloons
Balloons in multiple colors
String or twine
Helium for filling balloons if you aren't buying them already filled
Permanent marker
How to make DIY Halloween Balloons
This is one of the easiest craft ideas you will have for Halloween this year! All you have to do is grab your supplies and get started.
For those buying helium-filled balloons, pick out your colors ahead of time and decide how many you will need. Then visit your local store to pick up the balloons after they have been filled.
If you are filling the balloons with helium yourself, you will choose your colors and how many needed, and start by filling all of the balloons you want with helium and attaching a colored string or twine to them so they are easy to grab as they float.
Once your balloons are filled, you will use your permanent marker to draw on the chosen face.
Tie them to chairs or tables to display
Video Tutorial:
Printable Tutorial:
Yield: 5
How to Make Decorative Halloween Balloons
Make Halloween Balloons as the perfect inexpensive decoration for your Halloween party! Balloons, markers, and twine are all you need!
Materials
Balloons
Permanent Marker
Twine or String
Tools
Optional: helium canister
Instructions
Begin by picking out the colors for your balloons and how many you will be creating and taking them to a store to fill with helium;
If you prefer and are able, you can fill them with helium at home with a home canister of helium;
Once you have your balloons filled, tie each with a string or twine that coordinates with their theme. White, black, orange and green are common for Halloween;
Start using your permanent marker to draw faces on each balloon;
The balloons shown are ghosts or jack o lanterns;
Draw different shaped mouths, eyes, and noses to create a unique look on each balloon;
Allow the marker to dry and then display around your home or party space;