Every year I look forward to the fall season, because that is when it is time to make all the exciting holiday crafts for Halloween, Thanksgiving, and Christmas. This year, I have decided to make all my Halloween decorations from scratch.
There are a lot of ideas from past years that I could work on, like these dollar store Halloween crafts or these monster doors and wreaths.
But you know me—I always have to try something new! And this year I have come up with 5 easy Halloween crafts you can make out of simple, cheap supplies. Check out all 5 projects in the video below!
Video tutorial:
Materials:
(Amazon.com Affiliate Links)
Plastic cups
Tissue paper
Marker
Ribbons
String of lights
Toilet paper tube
Duct tapeHot glue and glue gun
Twine
Candle
Popsicles
Scissors
Construction paper
Lid (from a jar)
Cinnamon stick
Optional embellishments
Mummy Candle
Materials:
Jar
Glue
Directions:
1. Glue some gauze around the outside of a glass jar. Cover up the jar completely.

2. Glue on googly eyes.
3. Put a candle inside and light it to watch your cute mummy glow.
Candy Bat
1. Use hot glue to attach some black duct tape around a toilet paper tube. Cover the tube completely.
2. Squish in the sides of the toilet paper tube while pushing down on the top to form a shape like bat ears (or feet).
3. Pour some candy inside.
4. Do the same thing on the other side. Close it up on both ends completely (it should be symmetrical at this point—it does not matter which end is the top and which end is the bottom since the feet and ears look alike).
5. Tie twine around it to keep it shut.
6. Glue on some googly eyes and bat wings. If you don't have bat wings (like from a craft store), you can just cut them out of construction paper.
Ghost Lights
1. Wrap a plastic cup in white tissue paper.
2. Tie off the end with a ribbon.
3. Draw on a ghost face.
4. Repeat steps 1-3 to make as many ghosts as you want.
5. Punch holes through the tops of each so you can insert string lights.
6. Turn them on and display them. You now have cute glowing ghost lights!

Ghost Popsicles
1. Get a bunch of popsicles and wrap each one in white tissue paper.
2. Tie ribbon around the neck of each popsicle/ghost.
3. Draw on a ghost face on each one. That's it! You now have cute ghost popsicles.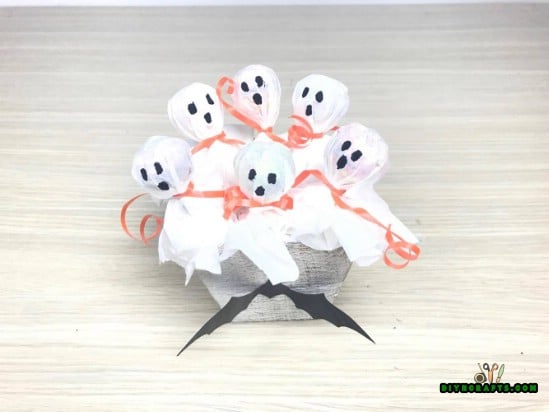 Pumpkin
1. Use a jar lid or any similar round object to trace a number of circles on a piece of construction paper.
2. Cut them out.
3. Fold all of them in half.
4. Stack them together and trim off either end to flatten it.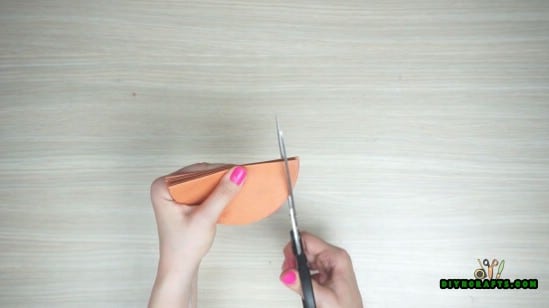 5. Fan them out and glue them all together with a cinnamon stick in the center so that you get a pumpkin.
Now you have 5 cute, spooky Halloween decorations to enjoy!