I have to admit – I am absolutely obsessed with mason jars, especially crafts from mason jars! I mean, there are just so many things that you can do with them, and they have such an appealing rustic look to them. From organizing to decorating, I use mason jars in every room in my house.
I really love how flexible these jars can be. If you're looking for home decor DIY projects, mason jars are the perfect place to start. I have 50 amazing home decor projects that you can do with your mason jars to give your home such a wonderful country feel. From lotion dispensers to lamps – and so much in between – there's a project in here that you can display in every room in the house, and I'm sure you're going to want to do more than one!
I use mason jars as tumblers and even have a few in my bathroom for organizing cotton swabs and small hair ties. It never dawned on me to include some of these projects – like how about a lamp with a mason jar as the base or a chandelier? I mean, you can really do just about anything with these jars and they're so sturdy and attractive! If you want to tint the jars before you begin, here's a great tutorial for tinting mason jars any color you want using just a few simple supplies.
They are also really inexpensive. Even if you buy them new, you can get a case for under $10 at the Dollar Store or look around yard sales and flea markets. I've bought so many at yard sales and never give more than a dollar or two for each one. You may even get lucky and nab some really vintage ones, I've already featured 30 mason jar organizers you can diy.
So whether you're looking for a way to use up those mason jars or you really want some rustic looking home decor, I promise you're going to enjoy this collection of projects. There are DIYs in here for making mason jar candles and lights and even ways that you can turn those jars into picture frames. You won't believe how many creative projects there are that involve those old jars. Grab a few and let's get started!
1. Mason Jar Wind Chimes
So, these beautiful wind chimes are more for decorating the outside of your home, but that's important, too. This is a great project for also using up some of that old vintage jewelry you may have on hand. You'll need to cut your jars in half and then drill holes to hang the jewelry. I absolutely adore the rustic look of these and they're really simple to make – if you have the right tools on hand.
Tutorial: savedbylovecreations
2. 4th Of July Flag Display
Really decorate for Independence Day by turning those mason jars into a rustic flag display. This mini flag mural is perfect to grace your outdoor dining table during summer cookouts or you could display it inside on a mantel or anywhere you want to bring a bit of patriotic spirit to a room. Use the jars to hold silverware or if you're using them inside, you can turn them into lovely vases. You just need to paint them appropriately and you're all set with a 4th of July display that you're sure to be proud to show off.
Tutorial: itallstartedwithpaint
3. Mason Jar Air Fresheners
We all love our homes smelling nice, right? Problem is, store bought air fresheners can be so boring and generic. They have created some really decorative ones, but none of them come close to these DIY air fresheners housed in old mason jars. You can even paint the jar to match your décor. The actual air freshener is just baking soda and essential oils and the scent lasts for a long, long time! You can customize your air fresheners and make a different one for each room.
Tutorial: creeklinehouse
4. Beachy Terrarium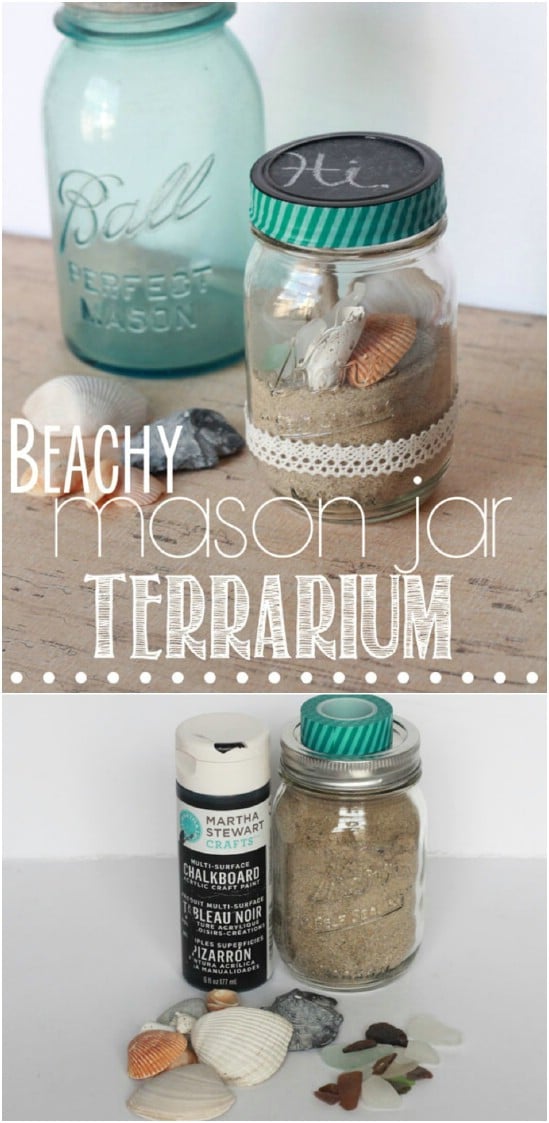 Turn those summer beach vacation memories into a beautiful display with this beachy terrarium that you house in a mason jar. Add some sand and seashells and anything else from your vacation that you want to display like maybe small pieces of driftwood. Then, just add a decorative ribbon or rope to the jar and seal it up. You'll love looking at your beach memories – I mean, who doesn't just love the beach?
Tutorial: mom4real
5. Fishnet Wrapped Decorative Jars
In keeping with a beach theme, you can also create this really pretty fishnet wrapped decorative jar to go along with your beach décor. This one uses a blue mason jar but you could use a plain one, or paint the ones that you have any color you like. Blue really does give it that seaside appeal, though. You'll need twine to make the fishnet and then about an hour or so to complete it. I love this for holding seashells!
Tutorial: itallstartedwithpaint
6. Crayon Covered Gift Jars
Whether you are looking for a nice gift for teachers or children or you just want an attractive way to store things in the kids' rooms, these crayon covered jars are perfect. You simply line up the crayons in whatever color scheme you want and then tie them together with a ribbon. These are great for holding candies and other things at birthday parties or make wonderful desk jars to hold pencils on your child's desk.
Tutorial: feltmagnet
7. Color Block Chalkboard Jars
These chalkboard jars are great for tidying up your desk and making it more decorative. You choose whatever colors you want, and when you're finished, you can use them to hold pens or pencils or even as a vase to brighten things up with fresh flowers. I love how simple this one is, and how colorful it can be. You could even change colors to match the seasons – these take very little time to complete.
Tutorial: girllovesglam
8. Mason Jar Chandelier
I did promise you a mason jar chandelier – and here it is! This is so much easier than you probably think and it is absolutely gorgeous when it's finished. You'll need several jars, and there is a bit of cutting and marking as well as wiring required to make this one. I adore the idea of a mason jar chandelier in the dining room – but you could honestly put it in any room and it would look great.
Tutorial: instructables
9. Stained Glass Mason Jar Art
I just can't get enough of these stained glass mason jars. No matter what you use them for, they are absolutely gorgeous and would make wonderful displays for flowers or just about anything else. I also love the idea of doing these for lights instead of just using plain jars. They're easy to do, you basically just have to mark off your spots and paint. I can imagine these would make really pretty candles or you could just sit them on a shelf all by themselves.
Tutorial: masonjarcraftslove
10. Mason Jar Soap Dispenser
Add some style to your kitchen or bathroom with a mason jar soap dispenser. You just add the soap and a pump handle and you're all set. These are so easy – you don't have to decorate them at all unless you just want to. I have one of these in my kitchen for dish soap and get compliments on it all the time. You could also put hand sanitizer in them and have matching sets in the bathroom of soap and sanitizer.
Tutorial: lovegrowswild
11. Glass Jar Frames
These mason jar picture frames are so creative and so very easy. You just roll the picture up and stick it in the jar. You could use mod podge on the backside of the picture if you want t make sure that it stays in place. These are so decorative and you could decorate the lids and replace them as well if you wish. Use different sizes of jars to create an entire display area of your favorite pictures.
Tutorial: photojojo
12. Glitter Dipped Jar Vases
This project combines my love of mason jars with my glitter obsession. These glitter dipped jar vases are amazing and so decorative. You just need glitter paint and some mod podge with a few other basic craft supplies and you can use these to show off your favorite spring flowers. Do different colors and designs to create a display for the mantel – and let the kids help. They'll adore helping you glitter!
Tutorial: thesweetestoccasion
13. DIY Jar Lamps
These jar lamps are sort of like the mason jar chandelier but with just single jars. You can put these in any room or on the porch to help decorate up your outdoors. They are fairly easy to make and allow you to add rustic charm to any living space. You can use a premade lamp kit or use the inside of an old lamp for the light. These are amazingly decorative and such a great weekend project.
Tutorial: woonblog
14. Mason Jar Snow Globes
Even if Christmas is over, you know you love the appeal of snow globes. You don't have to wait until the holidays to display these lovely decorations, and you can even customize them so that they're perfect all year round. Add bunnies and ducks to create an Easter snow globe or seashells for a beachy theme. Encased in a mason jar, these are so easy to make and you can literally create a snow globe for any occasion.
Tutorial: modcloth
15. Lucky Jar Vases
Saint Patrick's Day is not a holiday that everyone decorates for, but you can with these great lucky jar vases. Just paint your mason jar or jars green and then use them to hold your favorite spring flowers. You can use spray paint on these, which makes them really easy and you can get spray paint at the Dollar Store for about a dollar or so, so they're really inexpensive as well. The bold green color is perfect for showing off your Irish pride.
Tutorial: yesterdayontuesday
16. Mason Jar Backdrop For Weddings
I really love the idea of using mason jars and other rustic items for wedding decorating. I came across this gorgeous backdrop that would be perfect for your outdoor country wedding. You just hang mason jars from this lovely pipe structure and you can use this to decorate in any number of areas. Lace and burlap on the jars make them even more rustic wedding looking and you could add flowers or tealight candles if you wanted, as well.
17. Metallic Vases
Use these lovely metallic vases to create a centerpiece for the dining room table or just sit them in the living room on a sofa table. You just spray paint your jars – however many you want to use for the centerpiece – with metallic spray paint, which you can get at the Dollar Store for a dollar or so per can. Then just let them dry and add your flowers.
Tutorial: brit
18. Sea Glass Jars
Using Elmer's glue and your choice of food coloring colors, you can create these nice sea glass jars. These would be great for Easter vases or you could just fill them with seashells or even leave them empty. The colors are what make them so fabulous, and again, you can choose whatever colors you want. The trick is in how you color them so whatever colors you choose, they are going to be gorgeous.
Tutorial: barefootcrafting
19. Outdoor Jar Chandelier
You don't just have to keep those mason jars for indoor decorating. If you have a patio – or even if you don't – and you want some great lighting, this outdoor jar chandelier is perfect. Clear Christmas lights provide the lighting and then you just add burlap or any other decoration that you want. I love these for lighting up the patio area or even as an extra light for the end of a porch or deck. They're easy to make and look so great hanging on the porch.
Tutorial: allthingsheartandhome
20. Mason Jar Wall Sconce
Here's a great lighting idea for the interior of your home. It's decorative, easy to make, and really inexpensive – three of my favorite things! I love this idea for bathrooms and laundry rooms, but you could use it wherever you need to. You just replace your old light covers with mason jars – well, there is a little work involved, but you get the picture. Whether you use a clear jar or a blue one, this is definitely going to give your home a nice rustic look and feel.
Tutorial: apartmenttherapy
21. Mason Jar Lamp
And here's another lighting idea that you can use those mason jars for. This jar lamp is really beautiful, and you have the option of choosing whatever you want to put in the jar. I would personally use seashells, but you could use marbles, stones, or any number of other – preferably non-flammable – items. For kids rooms, use something a bit more colorful or maybe choose to paint or frost the lamp for bedrooms. The possibilities are endless with this one.
Tutorial: jonathanandannasblog
22. Solar Powered Jar Lights
Light up the pathways with these amazing solar powered lanterns that you make from mason jars. The colors are stunning but you could leave them plain if you prefer. The entire project is really easy and so inexpensive to make. Just choose your jars, add your paint if you want them colored and then use a solar power light kit to complete. The Dollar Store has solar light kits that have five to ten lights in them for less than $10.
Tutorial: putitinajar
23. Textured Vases
Just because you're using mason jars doesn't mean you can't add to the overall design a bit. These textured vases made from jars are amazing, and really easy to create. You make the lettering with foam letters and puff paint, and you can create any message that you want. I actually love this idea for so many things – from vases and pencil holders to anything that you want to store in jars. Just add lettering to let everyone know what's in there.
Tutorial: theletteredcottage
24. DIY Fabric Wrapped Vase
Dress up those mason jars before adding flowers by using shredded fabric to create a fabric wrapped jar. You can use any color or design of fabric that you want. You'll just need strips of shredded and twisted fabric as well as hot glue and your jars. Don't you think these would make the most wonderful gifts? I love the creativity and there are just so many designs that you could do. This project is the perfect way to use up those old scraps of fabric left over from other projects.
Tutorial: mrkate
25. Decorative Fishnet Jars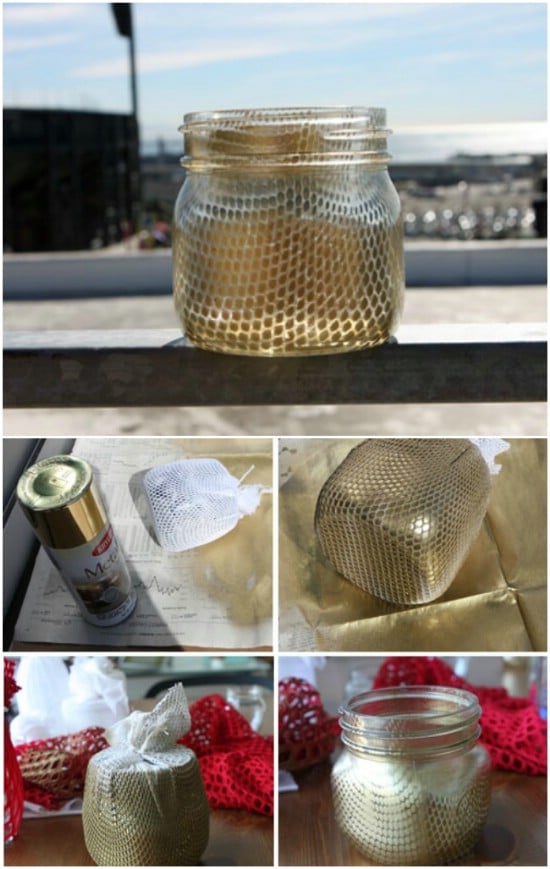 Take a pair of old fishnet stockings, add gold paint, and you have these amazing decorative fishnet mason jars that you could use for any number of things. These are great for your beach themed display as they totally resemble something that you would find under the sea. If you don't have fishnet stockings, you can get them at most department stores and the paint is around a dollar at the Dollar Store.
Tutorial: brit
26. Fabric Lined Mason Jars
So, you've figured out what you want to do with your mason jars but just don't know how you're going to decorate them first. These fabric lined jars are perfect for adding decorative storage to bedrooms and bathrooms. Just take old fabric, a mason jar, and some mod podge and create these beauties. You can even customize them for whatever room they are in. These would also make wonderful gifts.
Tutorial: porch
27. Twig Jar Vase
I know the whole point of using mason jars for décor is to see the jars, but I just couldn't get over how cute this little twig vase is. You don't actually see the jar behind the twigs, but it still lets you use those jars for something amazing. Just grab some twigs and cut them to the same length. Then use hot glue to attach them to your jar. Finish off with a ribbon, twine, or burlap and add flowers – how simple is that?
Tutorial: gardenmama
28. Fabric Wrapped Jar Vases
These fabric wrapped vases have a shabby chic look that is so easy to accomplish. You'll need mason jars in whatever size you prefer and some fabric – maybe something left over from other projects. You just place the jar face down on the fabric square and hold it together with a rubber band. Then add flowers and you're all done. These are great because they are so easy that you can change them up as much as you need to.
Tutorial: marthastewart
29. Fairy Jars
Little fairy lovers are going to adore these fairy jars that you can make from your old mason jars and just a few crafting supplies. These take a bit of work but they are so well worth the effort and your little ones will love them. You can use them as party favors for a fairy party or just have one sitting in your little girl's room for decoration. They're lovely when finished and really easy to customize however you need them to look.
Tutorial: pollyanna-reinvents
30. Twine Wrapped Vase
Grab that twine and let's make a vase! I love how simple this is to make and I really adore the rustic country look, which this mason jar vase fits perfectly. You can use fabric glue to hold the twine in place. All you really do is start at the top and wrap the entire jar in twine. Then you'll have a wonderfully earthy toned vase that will look perfect in any room. You could also embellish with silk flowers or maybe a colored burlap ribbon to make them a bit more decorative.
Tutorial: vickiehowell
31. DIY Hanging Jar Lanterns
If you're decorating for a wedding or just want something really decorative on the patio, these hanging jar lanterns are a great project. They won't take long at all to make and they really give off that great country western look. Just gather up however many jars you want to use and then use twine or hemp to tie them all together. There are a couple of steps in between, but overall it's a really easy project. You can add tealights or larger candles or even use flameless candles if you prefer.
Tutorial: brit
32. Floating Candle Centerpiece
I've decorated for a few weddings in my time and we always use these floating candle centerpieces made with glass stones, tealight candles, and mason jars. They are just so gorgeous and you can put them together in just a few minutes. A little twine or burlap ribbon at the top really makes them look good. If you like them, you don't have to be planning a wedding. Put one or two together to display on your mantel or living room table.
Tutorial: emmalinebride
33. Mirrored Jar Vases
Mirrored paint is not at all expensive and it allows you to create such wonderful things – like these DIY mirrored jar vases. FYI, I love the top of these – you add chicken wire to the lid ring and it creates little slots for your flowers. How genius! I also really like the look of things with mirrored paint. These are so easy, just paint them and if you want, add the chicken wire to the top. They're perfect for displaying your favorite flowers or giving away as gifts.
Tutorial: attagirlsays
34. Prism Candles
I'm really excited to make some of these prism candles. They're just so gorgeous and really easy. You'll need glass stones, which you just glue to the mason jar. When you add candles, they give off such a wonderful glow! Add them to every room where you want a bit of ambiance. You could also use this technique to replace your light globes or even fill them with flowers and let them double as a vase. Use different colored stones for an even better lighting effect.
Tutorial: diyready
35. Picture Frame Vase
Display your favorite photos in this colorful and very easy to make picture frame vase. I love how flexible this is – you can do it in any color that matches your room décor. You create a window in the jar for your photo and then paint around it. You use painter's tape to attach the picture, so it's really easy to change out if you want to update your photo from time to time. You can also put a tealight candle in this and have a wonderful glowing image.
Tutorial: homestoriesatoz
36. Bottle Lamp
Here's another wonderful way to turn those old mason jars into lamps. This looks so rustic and you can do it in different colors if you want. The entire thing – minus the wiring – is handmade so this is a project that you will really want to show off when you're finished. I love the science look that it has, which makes it perfect for kids' desks or you could use it in any room where you need just a bit of extra lighting.
Tutorial: infarrantlycreative
37. Spring Topiary Planters
Grab that white paint and a couple of mason jars and we'll make these amazing topiary planters! I love topiaries – they let you put greenery just about anywhere you need to. I also really like the look of this distressed white planter made from painting a mason jar and then just scratching the paint a bit. These would look great on the mantel – depending on the size of your topiary – or anywhere else you need to add just a bit of green.
Tutorial: homeroad
38. Painted And Distressed Canisters
Put those mason jars to good use and use them to decorate as well with these distressed mason jar canisters. Some really inexpensive drawer handles make the tops easy to remove and replace. The entire look is just lovely and would make a great addition to any kitchen or bathroom. Use smaller, jelly sized jars for bathroom canisters or larger ones for the kitchen. If you really want to get creative, you could use stencils to add coffee, tea, or whatever you want to place inside on the fronts of the jars, too.
Tutorial: littlehouseoffour
39. Burlap Doily Luminaries
These burlap doily luminaries are great for weddings or home décor. You just hold a doily up next to your mason jar and then spray with adhesive. You could use crocheted or even paper doilies – which you can get at the Dollar Store in a pack of 10 for a dollar or so. Add twine or burlap to the top for a ribbon and then a tealight. These give off such a warm, romantic glow. They're perfect for wedding decorations or in the bedroom for a nice warm light.
Tutorial: craftsbyamanda
40. Old Book Jar Luminaries
You can make luminaries out of so many amazing things. These book luminaries are my dream. I love nothing more than settling in with a good book and these jar luminaries would be perfect for your reading nook or just anywhere you want to share your love of reading. Use pages from an old book to create them and add a tealight – if you want, you could also add a flameless candle.
Tutorial: arrowandapple
41. Spring Primitive Apothecary Jars
These apothecary jars may just be my favorite thing ever. I love how graceful and elegant they look. No one will ever know that you made them from old mason jars and candlesticks. Just add what you want inside – I love the bird's nest and eggs idea for spring. You could also do brighter colors and add colorful eggs for Easter or mix it up with some beach type decorations for summer.
Tutorial: adiamondinthestuff
42. Epsom Salt Luminaries
I use Epsom salts for soaking all the time. I never would have thought that you could also use them for creating these pretty luminaries. These can be done in so many different colors and they're perfect for all seasons. They are perfect for wedding decorations or you could use them anywhere in the house where you want to add an elegant touch. I love how sparkly they are and how they really light up when you add a tealight candle.
Tutorial: craftsbyamanda
43. Seashell Jars
If you've ever been to the beach, you know there are always broken seashells lying around. You can use those broken pieces of shell to create wonderful display jars that you could use as vases, pencil holders, candle holders, or just about anything you wanted. You just glue the pieces to the jars and you're all set. You can paint them before if you prefer, and even use aquarium rocks if you aren't close enough to the beach to gather those broken shells.
Tutorial: apumpkinandaprincess
44. Glass Sand Candles
Small mason jars, glue, craft sand, and a bag of small seashells – which you can get at most craft supply stores, are all you need to turn a regular candle holder into these great glass sand candles. These are perfect for keeping yourself in the vacation mood and look great wherever you display them. They are so simple to make and only take a few minutes from start to finish. Use them as gifts for anyone you know who needs a little sandy escape now and then.
Tutorial: yesterdayontuesday
45. Vacation Memory Jar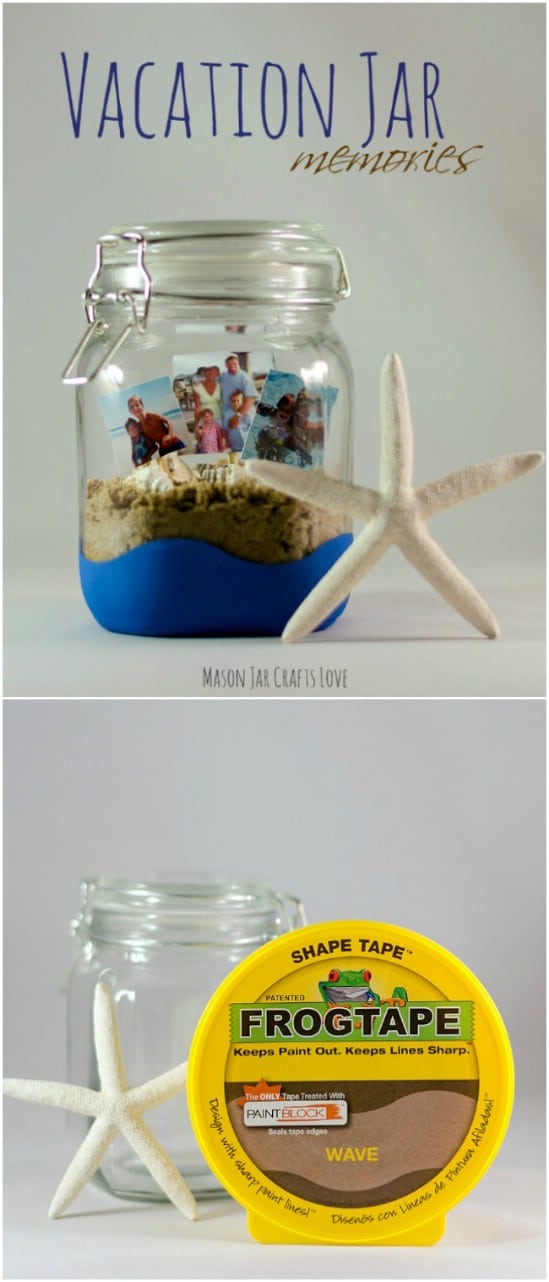 These memory jars are quickly becoming very popular and I can see why. They let you take those vacation memories and keep them safe forever inside a mason jar. If you go to the beach for instance, add some sand, a few pictures of your great family vacation and maybe a couple of small seashells. You can do this with whatever theme from wherever you visit. It's a great way to be reminded of your family time even after you've returned home and life has gotten back to normal.
Tutorial: masonjarcraftslove
46. Boho Chic Candle Holders
If the boho chic look is your think, you will love these boho chic candle holders that you make from mason jars. You'll need some paint and a bit of imagination to create the design. You can customize these with any color or style that you want. They're a great project for teens if you want something for your kids to do on cold or rainy days, and they don't take much time or supplies to finish.
Tutorial: modpodgerocksblog
47. Mason Jar Window Treatment
An easy way to bring some style to your windows is to just hang up mason jars. Seriously – these are so creative and such a lovely way to display your spring flowers. Just tie twine around the tops of the jars and add water and flowers. If you have a strong enough curtain rod, you can hang them directly from the rod for a bit of style. Be careful to hang the high enough so that they don't get in the way – especially if you have cats.
Tutorial: itallstartedwithpaint
48. Decorative Tissue Holder
I buy so many tissues in fall and winter. Seriously, there are boxes sitting in just about every room in my house. I love the idea of decorating a mason jar to hold those tissues. No more ugly tissue boxes! This is a pretty simple project and you could customize the colors and designs to match every room. The tissues come out through a hole in the lid. Overall, this project will take you about an hour from start to finish and if you have paint on hand, it won't cost you anything.
Tutorial: thehappyhousewife
49. Rustic Mason Jar Sconce
A few small pieces of wood and some smaller mason jars give you the makings for these wonderful wall sconces. Add flowers and you have a beautiful display for any room. The jars are held in place with small clamps, which you could paint if you wanted. Add twine or burlap to the tops of your jars for an even better rustic look. You could add flowers or candles to these for an amazing wall decoration.
Tutorial: sweetpeachblog
50. Animal Candy Jars
Mason jars with plastic animals glued onto the lids give you the most adorable candy dishes! Just glue plastic zoo animals onto your lids and then paint the entire thing. The animals work as handles to remove the lid and the entire look is just too cute. You can get bags of animals at the Dollar Store for a dollar and you get several, so you could make a different dish for every type of candy. Or, give these out as gifts to parents – they'll love them as much as the kids do.
Tutorial: threelittlemonkeysstudio