Halloween is a great time for decorating. Many people spend days, not to mention a small fortune, making their homes look scary and fun. The truth is that you don't really have to spend a fortune on Halloween decor.
You can actually make some great pieces to display for the holiday. Because its fall, the colors are great for the period between Halloween and Thanksgiving so many of these DIY projects can carry you through until the Christmas decorating season. There are so many wonderful ideas in our Halloween decor collection and you get instructions on how to make everything.
If you want to spook up your home or just add a bit of autumn to your decorating, you can find a number of great ideas to give your decor a Halloween look, without spending a lot of money. The projects are easy and so great that you may even have to help your neighbors to spruce up their Halloween decorating
Tin Can Luminaries
Tin can luminaries are a great way to add a bit of Halloween to your home without spending a lot of money. If you already have the cans on hand, you actually won't have to spend anything. These are great for lining your drive, sitting on your porch or you can add an extra hole and hang them. The project is really easy to make and looks so unique. Via - jollymom
Floating Witch Hat Luminaries
These witch hats are the perfect things to light up your porch, and give it just the right Halloween touch. Easy to make, and cheap we might add, anyone can add a little whimsy to their décor with these. They light up, so you can use them to let neighborhood kids know that you're ready with that trick-or-treat candy. We love them just because they're adorable, and did we mention cheap and easy to make? Via - Polkadotchair
Black Cat O'Lanterns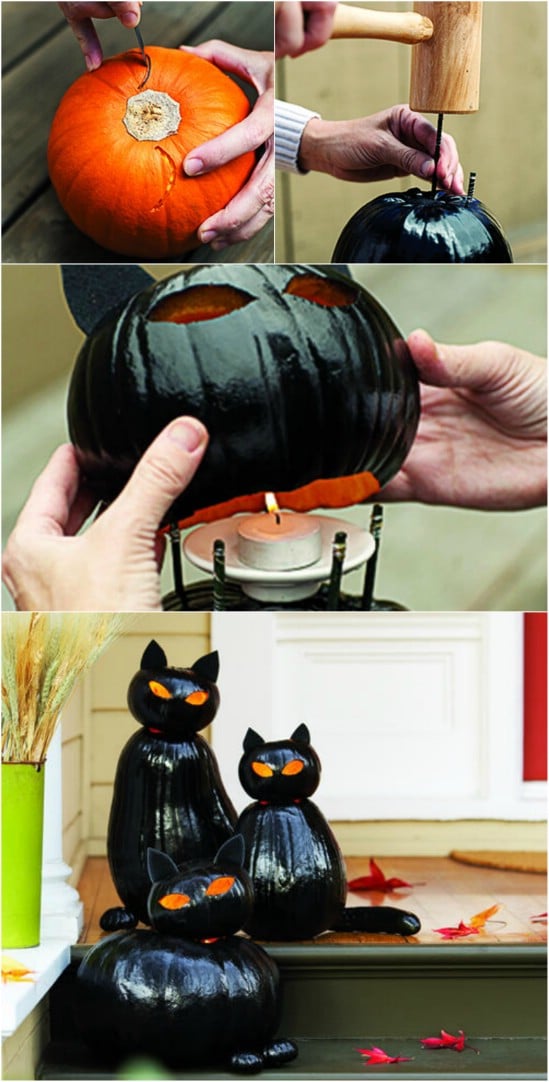 Give your front porch, entryway, or even your living room a great Halloween look with these cute black cats. If you're tired of carving pumpkins, but still want them incorporated into your holiday décor, this is the perfect alternative. Black cats are created from stacked pumpkins, and a candle gives it that eerie Halloween glow. Stack them on the front steps to give your trick-or-treaters a real thrill. What we love most about these is that they're simple to create and there's no mess to clean up afterwards! Via: Sunset
Floating Ghost
Reuse those old plastic soda bottles and get a great Halloween decoration at the same time. We love anything that includes repurposing, and this floating ghost is so adorable that you'll want to make one from every bottle you have on hand. You just need a few basic supplies, and this one is so easy the kids can make it, with adult supervision of course. Go ahead, put those old bottles to use and create this cute little guy to decorate the porch or living room. Via: Youtube
Spooky Halloween Candle Light Cups
How easy is this! You just take a few old plastic cups, or new ones if that's what you want to use, and create these great spooky candle cups. You need colored cups and a few LED lights, all of which you can pick up at the Dollar Store for just a couple bucks. These are great for decorating the porch or a stairway. Maybe string them together and make your own lighted Halloween garland! Imagine the possibilities! Via: thriftymommaramblings
Halloween Luminaries
Ok, so you know you want luminaries as part of your decorating. These DIY bag luminaries are easy to make and will only cost you a couple dollars. You can use recycled bags and other supplies and make them even cheaper. They're great for putting on the porch rail or lining the stairway. Easy to make and gorgeous, you can design these however you want to make them unique. Let the kids in on the fun, too. Via Kidskubby
Bloody Handprint Window Clings
Ok, so you want something really scary? These DIY window clings are just the ticket. It will literally scare your neighbors, and they're really easy to create. Imagine the fun of having these bloody prints all over your windows when those trick-or-treaters come by. Or, use them to create a theme for a really spooky Halloween party. Kids will love making them, and best of all, they're easy and really inexpensive. Paint up all the windows in your house, you know you want to! Via: kylyssa
DIY Glow in the Dark Pumpkins
Wow this is a last minute tutorial from ilovetocreate! Glow in the dark projects are widely popular, so why not introduce this trend in this year's Halloween decorations. It's not free but well worth the time and effort. Step by Step instructions at iLovetoCreate.
Eerie Chicken Wire Ghost
If you have chicken wire or other fencing lying around the yard, you can make a very scary ghost and not the traditional kind with an old white sheet. These ghosts are great for hiding in wooded areas and scaring people. You just have to form the ghost like a person and because of the fencing, it will look eerily accurate. Imagine the fun that you can have when you have a few of these around the yard! Via - wackyarchives
Candy Corn Centerpiece
No table is complete for Halloween without a candy corn centerpiece. These great décor items are super easy to make and look great on any table. You just basically have to spray paint the candy corn colors onto old glass bottles and then decorate however you want. This is a great project to keep for next year. You can make one or several and create a beautiful display. Don't forget to add a little real candy corn though, just because it's so yummy. Via - ashbeedesign
Hanging Bat Chandelier
Nothing says Halloween quite like a few black bats and you can create your own chandelier with hanging bats to decorate your home or porch. You need a few key supplies like black card stock, quilting thread and embroidery hoops plus you will want to draw or trace a few bats in different sizes. If you are planning a Halloween party, this is a must for your decorations. Via - mypapercrane
Ghostly Peep Centerpiece
Who says that a centerpiece can't be edible? Ghostly peeps in small jelly jars make the perfect centerpiece for parties or just set them out for your family. You just bake your little marshmallow "ghosts" on top of a batch of chocolate brownies (yummy) and then add single servings to the jars. Then just decorate the jars however you want and you have a great centerpiece for any spooky occasion. Via - homeiswheretheboatis
Hanging Ghosts
Ghosts are a must when it comes to Halloween decorating and these are really easy to make. With a few Styrofoam balls, some cheesecloth and a black marker, you can create tons of these little guys to hang all over your porch or inside your house if you prefer. Shredding the cheesecloth at the bottom gives your ghosts a very eerie look. These look just like the ones you can get from Pottery Barn, but for only a fraction of the price. Via - simplydesigning
Crafty Pumpkins
So, pumpkins have to be part of your Halloween décor, right? Instead of carving them however, you can decorate them in other ways. This lets you have really great décor for the holiday and you can save the inside of the pumpkin for Thanksgiving. Decorate your Halloween pumpkins with ribbon, buttons, markers or whatever you have on hand. You can be as creative as you like. Via - pompandcircumstanceevents
Stenciled Pumpkins
Stenciled pumpkins are getting to be really popular. Instead of cutting and carving pumpkins, many people prefer to simply stencil in their designs. This makes the pumpkin last longer and gives you a ton of ways to be creative. You can find stencils in just about any design you want and then you simply have to go to work putting those designs on the pumpkins. This is a really easy and really creative décor project. Via - flickr
Bright and Scary Stairs
If you have stairs on your porch, you have the perfect opportunity for Halloween décor. Consider jack-o-lanterns in various different sizes all stacked neatly on the steps. You can place one on every step and when they are lit, they will illuminate your porch and look really scary (not really, they'll look really great). Do the pumpkins in untraditional carvings with leaves and then add a few dried leaves and gourds for a really cool look. Via - homeinnovationdesign
Cat Pumpkins
Cat pumpkins are great home décor idea and these are really easy to make. You just need craft pumpkins, Styrofoam balls, some paint and a few other supplies to create adorable cats that are perfect for your Halloween decorating. You can make them in a number of different sizes and have them all over the house. If you love cats and you love Halloween decorating, this is the perfect project for you. Via - allyou
Flying Bats
Add flying bats to your wall for a really spooky Halloween look. You just have to cut bats in all different sizes out of black cardstock and then just add them to the wall with tape. You can use these inside or out so if you have a party, you can have bats flying from room to room or decorate your porch and the exterior of your home. These are really easy to make and look great no matter how many you create. Via - danamadeit
Halloween Wreath
Every holiday deserves a wreath and they are so easy to make that you really should have one for Halloween. You can buy a grapevine wreath at any hobby supply store and then just add whatever you want for decoration. Have spiders, bats, mummies or any other spooky creatures and finish it off with a cool Halloween ribbon. You can hang wreaths on the front door or just anywhere that you want a little extra spook going on. Via - womansday
Pumpkin Family
An adorable pumpkin family is a great centerpiece for your Halloween table. You can use real pumpkins or pick up some craft pumpkins at your favorite hobby store. Get a lot of different sizes so that you can make different family members and make a pumpkin for each member of your own family. Kids will love putting together their own pumpkin person and you can decorate them with buttons, ribbons or anything else you want. Via - allyou
House-O-Lantern
If you really want to be creative, you can turn your entire house into a jack-o-lantern. You just need corrugated cardboard to create the "face" and a dedicated window for the jack-o-lantern to live. You will need to ensure that the cardboard fits tightly into the window and then just cut the face out so that light shines through it. This is one of the easiest ways to get your house decorated for Halloween and if you have cardboard on hand, it won't cost you a cent. Via - spoonful
Spooky Interior
From ghost jugs to a Halloween tree, there are many creative ways that you can decorate for the holiday. Ghost jugs are easy. You just paint a ghostly face on a gallon sized jug, one that is clear, and then add lighting. A Halloween tree looks great with a pumpkin as its base and you can hang small candy containers from it, making it a sweet and spooky decoration. Via - lilsugar
Black Birds
If you are a fan of Poe, this bird decorating idea is for you. An entryway filled with ravens is a great way to decorate. Just use pumpkins to hold barren branches and perch a few of these spooky black birds on them. Ravens are spooky enough on their own but when you add several of them, you will really have an eerie entryway. Via - goodhousekeeping
Window Silhouettes
Instead of spending money on store bought decorations, simply cut out a few silhouettes from black cardstock or cardboard painted black and place them on your windows. You can create ghosts, witches, cats or just anything that you want. The silhouettes will hang with just a little scotch tape and will come down easily so that you can store them away for next year Via - bhg
Eerie Window
Decorating is easy with just a bit of imagination. You can quickly turn a regular window into something straight out of Pyscho. You just need to create a few spider webs which you can purchase or make out of torn cheesecloth and then add spiders. A candelabra makes a great finishing touch and be sure to add a few bats and other scary creatures. Via - goodhousekeeping
Decorative Pumpkins
Pumpkins don't necessary have to be carved. If you find a few smaller ones, you can use them to decorate without worrying about carving them up. Just place colorful pumpkins on white plates, bowls or even candlesticks to create a beautiful and very Halloween looking centerpiece. You can use these wherever you need a bit of extra Halloween décor. Via - bhg
Halloween Door Hanger
Make your own spooky door hanger with just some cardstock and a few decorating supplies. These are great for younger kids to make because they are really easy. An adult will need to cut a hold for the doorknob but otherwise, small children can decorate at will. Have one on your front door and every other door in your home to be really decorative. Via - spoonful
Glowing Ghouls
These glowing ghosts are great and really easy to make. You just need to snap a light stick so for the glowing part and place it inside a white balloon. Once the balloon is inflated and tied closed, you can draw a face on your ghost with a black market. Make as many as you want and once the lights go out, you will really spook up the place. Via - marthastewart
Felt Halloween Wreath
You can turn a Styrofoam wreath into a great door decoration with just a little orange felt and some accessories. Making wreaths is really easy and they look great hanging from the front door. You just have to cut the felt into circles and basically fold and stuff them all together, holding them to the wreath with pins. This is a great project because it is really easy and very inexpensive plus you can decorate your wreath however you want. Via - kimmccrary
Magnetic Spiders
Ok, so some of us are absolutely terrified of spiders, but for those who aren't, decorating with them is great for Halloween. You can pick up a large bag of plastic spider rings at most Dollar Stores or Dollar Tree Stores for around $1. This gives you loads of spiders and then you just have to remove the ring and hot glue a magnet to them. Use your magnetic spiders to decorate metal doors and window frames, mirrors or anywhere you have metal. Via - deliacreates
Eerie Mummy Graveyard
If you are someone who goes all-out for Halloween, you simply must plan a graveyard on your lawn. Foam planks are great for cutting out tombstones and you can make a mummy by just wrapping medical gauze around a balloon or other similarly shaped item. Your trick or treaters will love that you have gone the extra mile and people will appreciate your scariness when you have a graveyard right in front of your house. Via - bhg
Trick or Treating Décor
You can really dress up your home for Halloween without spending a lot of cash or even a lot of time in doing so. Simple things like setting out pumpkins or making a wreath are great ideas to give trick or treaters a thrill when they visit. To really be creative, consider hot gluing beans or other small fall colored items onto pumpkins or candles. You can dress up your porch with them or use them indoors if you want. Via - reniak
Colorful Ombre Pumpkins
There are certainly no rules that say Halloween decorations have to be orange and black only. You can spray paint pumpkins any color that you want so if you prefer more of a rainbow effect, paint your pumpkins different rainbow colors. You can also stick to traditional colors if you want and paint them black (they're already orange, you know). Or, how about painting your pumpkins the color of candy corn? Via - kyti
Decorate Pumpkins Without Carving
You don't have to carve up your pumpkins in order to use them for decoration. You can use paint, markers or just about anything you want to decorate them so that they will last longer. When you cut a pumpkin, it tends to rot much sooner. If you decorate without carving them, they will last a couple of weeks longer and you can use them for your Thanksgiving pumpkin pies when you are finished with Halloween. Via - realsimple
Decorative Pumpkin Vases
Pumpkins are very versatile and can be used in so many different decorative ways. For instance, you can carve them out, paint them any color you want and use them to display your fall flower collections. This is a great idea for parties or you can just have them sitting around on your porch. Paint them in different colors to match your flowers or however you want. Via - poppytalk
Glittery Pumpkins
Adding just a little glitter to your pumpkins will give you a great decoration that's a bit non-traditional. If you pick up a few pumpkins in different sizes, you can create a stunning centerpiece by adding just a little glue and glitter to each one. Use different colors of glitter to make a really unique statement. These are perfect for Halloween and can be carried through to Thanksgiving. Via - bhg
Painted Mini-Pumpkins
Pumpkins come in all sizes and the smaller ones are great for indoor decorating. You can paint them different colors and arrange them on the table for a beautiful centerpiece. Or, just sit them around in different areas of your home to bring a bit of Halloween into every room. You can pick up a few larger sizes and use them to decorate your porch. Just spray paint them whatever color you want and mix and match the different sizes. Via - babble
Spooky Door Greeter
Imagine the thrill of trick or treaters when they see an eerie, glow in the dark figure on your front door. With some cheesecloth and a few other supplies, you can create a frightening figure to greet visitors as they enter. Just shape cheesecloth to resemble a ghost, death or whatever you want and be sure to shred to tear the bottom to make it flow. Add some glow sticks to the back and your guests will get a fright when they reach your porch. Via - pinterest
Yard Tombstones
Tombstones are a must for Halloween decorating and they are really easy to make. With a couple of sheets of Styrofoam and a bit of imagination, you can create a great little graveyard on your lawn to scare your neighborhood trick or treaters as they enter. You just have to draw and cut out the tombstone shapes, paint them an eerie grey and then add whatever message you want. Tutorial: HGTV
Stair Decorations
Imagine your indoor stairway filled with Halloween spirit. With just a few pumpkins and some black cardstock, you can create a beautiful display for the holiday. Just cut shapes out of the cardstock, like mice, and arrange them like they are traveling up the stairs. A few pumpkins and maybe a candle or two will complete the décor. Via - thriftydecorchick
Pumpkin Luminaries
With a few mason jars and some black construction paper, you can create beautiful luminaries that look like jack-o-lanterns. Just cut out the facial features, hot glue them onto your mason jars and add a candle. Modge podge and orange tissue paper will make them the right color or you could do ghosts or any other scary creature that you can imagine. Via - celebrations
Glowing Ghosts
You can really spook up your porch with a few small ghosts made from cheesecloth. Make them whatever size you need and if you want something great for a foyer table, these work well. Just string clear lights behind them to make them glow and surround them with scary pumpkins and you have a really spooky decoration that is easy and inexpensive to create. Via - ashbeedesign
Candy Centerpiece
Candy corn and candy pumpkins are all the rage and you can use them to dress up your table. Just add them to a tall glass jar or vase, and add a "tree". Not a real tree mind you, but take a small branch and spray paint it black for effect. You can use an empty toilet paper roll to hold the tree in place and even hang small ghosts and other scary creatures from the branches. Via - wantsandwishesdesign
Flowerpot Pumpkins
Put those empty flower pots to use by making them into adorable little pumpkins. You just have to turn them upside down and add faces cut out of construction paper or cardstock. Be sure to put a stick through the hole in the pot to make it look like a stem. These are easy to do and the perfect project for younger children. Via - spoonful
Salt Dough Ghosts
Dress up any holiday table with some homemade ghosts and scary trees you can make out of salt dough. This is a great project for kid who love to be creative. You just need to mix together the salt dough recipe and then mold it into the shapes that you want. You can create an entire Halloween scene using salt dough ghosts and trees crafted from brown paper bags. Via - spoonful
Scary Spider Hatchlings
With a large white balloon – which will look like a spider's nest- and a few of those cheap spider rings, you can create a very scary looking spider nest. Just use the balloon for the nest and have the spiders crawling all over it. Cheesecloth cut into strips will give it a spider web quality and can be draped down so that the spiders can crawl toward the floor. Via - spoonful
Flapping Bat
Make a bat that actually flaps its wings for an extra scary effect. This is a good project for younger children and your little trick or treaters will love making the bat flap his wings when they ring your doorbell. You can make several of these and have them hanging all over the house or just place them on the front door so that visitors can give them a flap before they enter. Via - spoonful