You've probably seen ghosts hanging in trees in your neighborhood over the years, but have you made your own? Instead of paying for expensive decorations, I am a huge fan of making my own. That's how this upcycled tin can ghost came to my own front yard. A few empty cans leftover from dinner, some paint, and a bit of ribbon. Suddenly, I had my own cute little ghost to hang in my yard and it cost me practically nothing!
Upcycled Tin Can Hanging Ghost
You can make a little collection of these and add them to your yard throughout the September and October lead up to Halloween. They are a cute little idea that isn't too scary but is a bit spooky. Just what you need if you are trying to maintain a fun-filled Halloween look to your decor. So simple to make, this tin can ghost is absolutely adorable. Using very basic materials, you can make a lot of these ghosts to decorate inside and outside this year!
I love making simple spooky Halloween decorations that are affordable. There is rarely a need to spend extra money on supplies to create decorations. Just look at what you have around your house. You'd be surprised at what you already have on hand to create a new decoration for Halloween.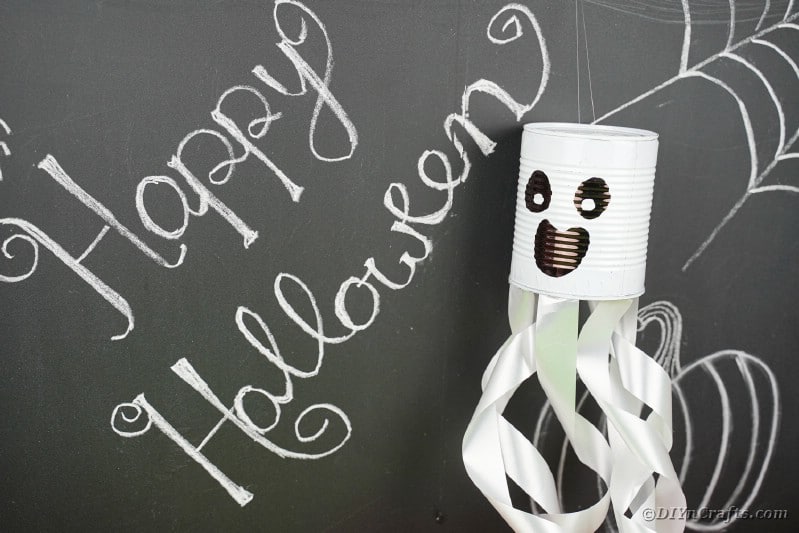 How Can I Hang This Ghost?
The best way to hang these tin can ghosts is to attach a string, piece of yarn, or fishing line to the top of the can. You can make a hole in the can and then tie the string through the hole.
Another option is to secure the string using glue or tape, but that doesn't work as well if you are using a larger can. You can use one piece that is secured to the back of the can or you can use 3 pieces that connect to each side. Using clear fishing string will hide the string and make it look like it is free-floating in the air while ribbons or rope will be more visible.
If hanging outside in a tree, I really recommend using something sturdy enough to withstand wind blowing this around. Otherwise, you may find your tin can ghost is suddenly careening down the street in the wind and looking a bit too much like a real ghost. We all like the idea of ghosts, but even the staunch disbeliever would be startled by that!
If you are looking for more spooky ideas, there is a list of cute gruesome DIY haunted house props that are ideal for adding that traditional scary factor to your Halloween. Some of these work around the exterior house as well as inside for parties and events.
What All Can I Use for Streamers?
The streamers on the bottom really make this decoration work when hanging outside. I used a nice thick and wide ribbon I already had on hand. When I was working on this project, I found it was easiest to curl a bit and worked beautifully to dangle and then move around in the breeze. That isn't the only choice for streamers though. There are some other ideas below that can work great for this project.
Crepe paper streamers
Tissue paper cut into strips
Fabric in white or silver
White ribbon in other widths and sizes
Cut up pillowcases, blankets, or sheets
If you want something else to add to your home for Halloween that is unique, you might also like this list of Halloween trees ideas. Smaller tin can ghosts could also be added to your tree and the streamers flowing down would add to the look so easily!
How an I Make My Ghost Glow in the Dark?
One of the most iconic things about a ghost is that it will glow or be ethereal in the dark. Since these are just painted tin cans, they don't naturally glow. If you want to add the extra element of spookiness, you want them to glow in the dark. I didn't make mine glow, but now I kind of wish I had!
To make yours glow in the dark, there are two simple methods. One is to use a glow in the dark spray paint instead of traditional spray paint. This is super easy to do and definitely makes it pop in the dark. I especially love how you don't have to do anything different to the eyes and mouth for them to show up when you use glow in the dark paint.
The other option is if you use a tool to cut the eyes and mouth out of the tin can then attach a glow stick or flameless candle on the inside of the can. This option is definitely a lot more work involved and probably not feasible for most looking for a fast craft. I like the idea for a plastic container versus the tin can, so you could do this with an empty plastic coffee can instead if you wanted.
If you want a glowing ghost, then check out this ghost paper lantern idea instead. It is super easy to make and simple for a glowing look at Halloween.
Supplies Needed
How to Make a Tin Can Ghost Hanging Decoration
Remove the paper from an empty tin can and clean well, then spray paint the whole can white. Set it aside to dry.
Once the paint has dried on the tin can, use a marker or paint pen to draw eyes and fill all but a small circle in with black paint.
Draw a mouth onto the can then fill them in.
Cut lengths of ribbon (or streamers) about 2 feet long to go around the bottom of the can.
Using hot glue, attach the ribbons to the inside bottom of the can. Curl them if needed or desired.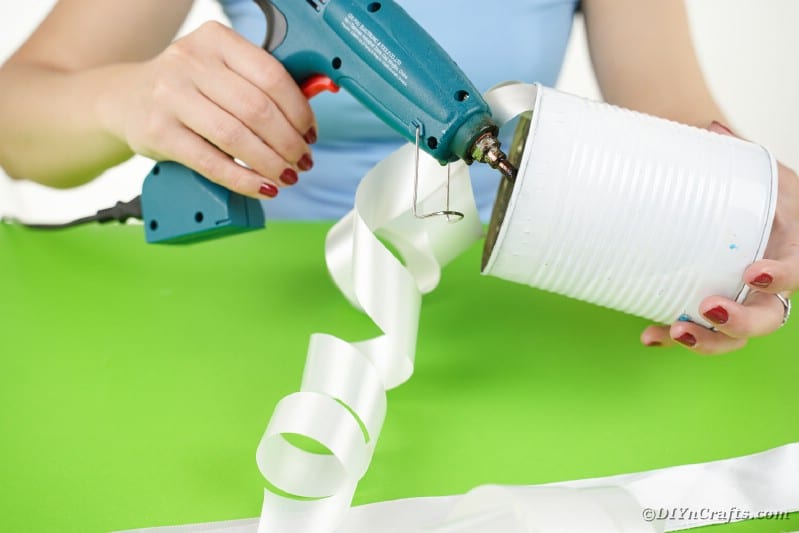 With a knife, screwdriver, or another tool, punch a hole in the top of the tin can.
String fishing line or another piece of rope or ribbon through the hole and hang as desired.
For extra sparkle, add a bit of glitter paint around the edges or onto the ribbon.
More Halloween Decorations
If you are looking for more ideas for your Halloween decorations, make sure to check out some of our other popular ideas. From individual crafts, we've created, to lists of amazing ideas we have found, below are some great additions to your Halloween crafting.
Crafting Tip

If you decide to make a lot of these and don't want to draw all of the faces on by hand, you can easily pick up a variety of ghost face stickers to use instead. There are happy ghosts and even cute girl ghost faces with eyelashes. These make it even easier to create dozens of ghosts in a short amount of time.
Yield: 1
Spooky Upcycled Tin Can Hanging Ghost Decoration
Add a cute spooky upcycled tin can hanging ghost decoration to your front yard with this easy to follow tutorial using items you already have on hand!
Additional Time
30 minutes
Instructions
Spray the tin can white and set aside to dry;
When the can is dry, use a black marker or paint pen to draw two ovals for eyes and fill all but a small circle in;
Draw on a large wobbly or smiling mouth and fill it in;
Cut 6-8 lengths of ribbon about 2 feet long and curl the ends if needed;
Using hot glue, attach the ribbons to the inside bottom of the can;
Poke a hole into the top of the can using a screwdriver or knife and string fishing line through the hole to hang;
Hang your ghost on a tree in your yard!
Notes
Use multiple sizes of cans and add different faces to create a family of ghosts for your trees.
Recommended Products
As an Amazon Associate and member of other affiliate programs, I earn from qualifying purchases.
Finished Project Gallery
I love how this is such an easy and inexpensive idea for decorating your yard for Halloween.
This isn't just for outside. You can hang this inside your home as well. It's perfect on the mantle or hanging on a wall.
Add it to a decoration like this chalkboard with a Halloween message.
Customize your ghosts with different faces for spooky, scary, and happy looks.