Are you afraid of spiders? There is no need to fear this cute little pom pom spider! This is the ideal kid's craft for Halloween. You can set up kids learning how to make their own homemade pom poms with yarn and how to have fun creating new things. I love spiders in real life, and fun fake ones are also tons of fun, but this takes all the fear out of spiders. They are friendly, cute, fun, and could even be smiling!
Pom Pom Spider Kids Halloween Craft
Before I became a boy mom, I never thought I would ever see the day where a spider crawling along beside me wouldn't bring fear. Now, 17 years later, solidly in the middle of parenting boys, I realize just how adorable they can be if you know what they are. Spiders no longer bother me and are often welcomed. I even helped my son have one as a pet once! So, when it comes to making a cute little Halloween spider, I am excited.
This version of a spider is far from scary. Fluffy yarn pom poms create a cute little body and the eyes are as simple as little bits of paper glued in place. Give your spider personality by adding extra little hats, glitter, etc. to be even more fun! After crafting, you can even give your kids their own cute little spider lollipops as a fun snack to bring the whole theme together!
What Can I Use for Spider Legs?
There are several things that can be used as legs on these spiders. I like the idea of using basic pipe cleaners because they match the fuzzy look of the pom poms and are easy to find. You could also cut up hair ties and glue to pom poms, or painted toothpicks. Perhaps even foam paper, glitter paper, or cardboard. I'd even use painted craft sticks if they were handy for this project.
There is not right or wrong way to make the legs. Yarn, twine, cloth, paper, it will all look great when added to the pom pom body. Just use what you have on hand and think looks best when you make your pom pom spiders. I liked making mine a bit sturdier by wrapping yarn around floral stems, but you could do what you prefer when making your own spiders.
How Can I Customize My Spider?
I am a huge fan of getting kids to use their imagination. There is no right or wrong when creating and having time with imaginative or pretend playtime. That means if you want a green, purple, black or, turquoise spider - you should totally go for it! So, customizing your spider is definitely something I recommend. Below are a few ideas that I thought might work for customizing a pom pom spider.
Use different colors of yarn.
Add glitter spray to make the spider sparkle.
Use glitter pipe cleaners for legs.
Add tinsel for sparkle.
Make and add a little hat, cape, or bow for the spider to have personality.
Glue on little fake shoes on each of the legs to give it feet.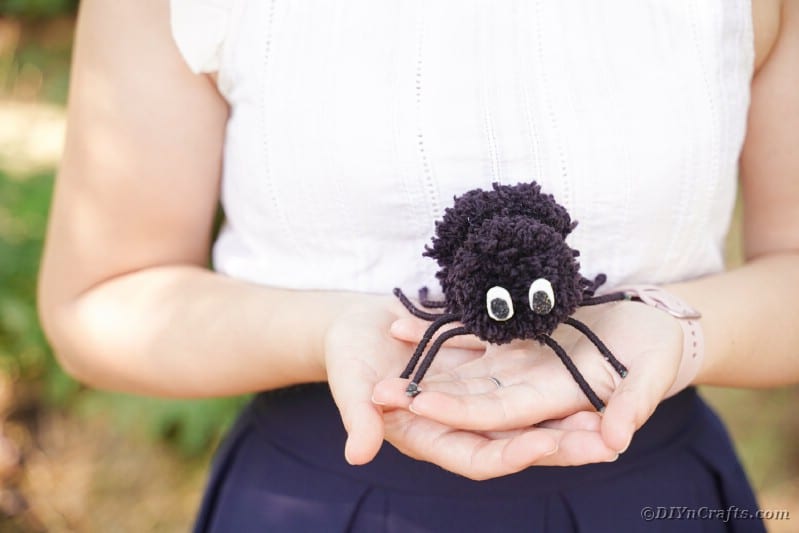 How Can I Use This for Halloween Decorating?
What would you like to do with this spider? There is your answer! It's totally universal and easy to add to tons of different decor. I love the idea of making a ton of these to use throughout Halloween, and I am sure you will have even more ideas. Below you'll find a few more specific ideas.
Glue to a wreath form along with other Halloween decorations.
Add to the top of gift bags or Halloween treat bags.
Put on top of pens or pencils for Halloween.
Sit on tables or mantles alongside pumpkins and similar Halloween decor.
Add to a Halloween terrarium with leaves and cobwebs.
Glue into fake cobwebs on corners of rooms and doorways.
You could even use this spider, or a smaller version, on my cute popsicle stick spider web Halloween decoration! What a cute truly homemade idea! You could even make these as party favors and add them to this fun spider bowl Halloween decoration at the entry to your haunted house or Halloween party!
Can I Use Regular Pom Poms Instead?
I always like making homemade pom poms because it's often a great use for scraps of yarn leftover from one of my crochet projects. They also seem to be fluffier and well, I think they look better. That doesn't mean you have to do the same. You can definitely pick up a bag of regular pom poms and use them instead of making them homemade. Just follow the directions after making the homemade on to create your own cute little spider.
Supplies Needed
How to Make a Pom Pom Spider
Wind black yarn around your hand 30-40 times.
Clip the end of the yarn and slip the yarn off your hand keeping it together.
Wrap the end of the yarn around the middle of the bundle and tie to secure.
Clip through the sides of the bundle so the yarn is individual strands on both sides of the middle tie.
Trim around the edges to make more even.
Repeat a second time making the pom pom slightly smaller.
Glue the smaller pom pom onto the larger one to create a head and body.
Using floral stems, cut 4 pieces about twice as long as the spider is wide.
Wrap the black yarn around them completely so it's a yarn stick gluing as needed.
Glue the "legs" you've just made to the under side of the yarn spider body about ½" apart.
Bend the legs downward so you can sit the spider on a surface.
Cut two small white circles from foam paper then cut two black circles from foam paper.
Stick the black circles onto the white circles to create eyes.
Peel the back from the foam paper and stick the eyes onto the yarn head.
Add additional embellishments as desired and display your spider.
More Halloween Crafts and Ideas
There are tons of great ideas for decorating for Halloween. You'll love the simple, rustic, and fun ideas listed below. Whether you need decor, a kids craft, or fun costume ideas, I have you covered!
Crafting Tip

I absolutely love the idea of using these glitter pipe cleaners for the legs on the spider. Something about traditional spiders sparkles, and that means your fake ones should too! These come in tons of colors, but I would pick up the silver or black ones for the most authentic look to the project.

Yield: 1

Cute Pom Pom Spider Kids Halloween Craft

Use yarn and create a cute little homemade pom pom spider kids craft! This is the perfect Halloween decoration for kids of all ages to create.

Instructions

Using black yarn, wind around your hand 30-40 times then gently remove the bundle from your hand leaving it together;
Wrap yarn around the middle and tie to create a bundle;
Using scissors, clip through the yarn on either side so now you have tons of individual pieces tied together in the middle;
Trim the ends to make them more even, then repeat the process a second time making it slightly smaller so you have a large body and smaller head for your spider;
Glue the two pom poms together to create the spiders head and body;
Using wire or floral stems, cut 4 equal lengths twice the width of the spider;
Attach one end of yarn around the end of the stem and wrap it completely gluing as you go then repeat for all of the stems;
Glue the legs to the bottom of the body of the spider and bend to create legs it can stand on;
Cut two small circles and two slightly smaller black circles from the foam paper and glue together to create eyes;
Peel and stick the eyes to the head on the spider;
Decorate with other embellishments if desired, then display for Halloween!

Notes

Make various sizes of spiders and decorate all around your home for Halloween.

Recommended Products

As an Amazon Associate and member of other affiliate programs, I earn from qualifying purchases.
Finished Project Gallery
These are just so cute. They definitely make spiders seem fun and not scary at all.
Glue them to wreaths, add them to gifts, or tuck them between other decorations on a Halloween buffet.
Make your spiders big or small and have fun using them throughout your Halloween decorating this year.