Thanksgiving is such a wonderful time for crafts, particularly for your little ones. Do you remember making those adorable handprint turkeys in grade school? How about when your kiddos would bring home their Thanksgiving crafts and you would hang them on the fridge? I love this time of year, especially for the little ones. There are just so many wonderfully fun and creative crafts that they can make…and I've collected 25 of my favorites to share with you and your little ones.
From place cards to stamped pumpkin crafts, there is definitely something in here that will fill those hours with fun. These Thanksgiving kids' crafts are great because they not only give your little ones some fun and creativity, but they help to fill up those hours when it's just too cold to go outside. Whether you're a parent looking for fun crafts for family time or a teacher who needs something creative for her classroom, you're going to find the perfect kids Thanksgiving craft in this collection. And, be sure to check out these 45 fun St. Patrick's Day crafts for kids before spring.
Thanksgiving Crafts for Kids
I really do love doing crafts with my little ones. There are things that you can do all year long for every holiday. If you haven't yet, be sure to take a look at these 31 easy Halloween crafts for kids. You'll need to get those started soon to have them done by the holiday. And, these Thanksgiving crafts can come next. You'll have DIY kids crafts all season long and your little ones will love you for it! So, let's get started on some fun crafts for the little ones. I hope you and your kiddos will love these kids' Thanksgiving crafts as much as I do.
Fall Leaf People Puppets
This is one of my favorite crafts just in time for Thanksgiving. Fall leaf people fit into any Fall holiday or crafting project, and kids absolutely love playing with these! They can easily be a toy for kids, or added to a napkin ring at your Thanksgiving table as a place holder!
Source: DIYnCrafts
Rustic Upcycled Cardboard Fall Leaf Placemat
Let the kids help decorate your Thanksgiving table by setting them up to make these cute little placemats. These are super easy to create with just a bit of glue, some cardboard, and artificial leaves. Ideal for kids to keep busy and make something useful.
Source: DIYnCrafts
Pumpkin Button Wall Art
There is something fun about playing in a bucket of buttons. I remember loving it as a kid, and this little pumpkin project is a great ode to those days. Glue, a blank canvas, and a bunch of buttons are easy to turn into a cute wall art piece that kids will love helping create.
Source: DIYnCrafts
Popsicle Stick Scarecrow Kids Craft
A bit if painting and gluing is all the kids need to do to create this cute little scarecrow. Popsicle stick crafts are always a hit, and scarecrows are fun for any of the Fall holidays. They will love making their own unique ones with different accents.
Source: DIYnCrafts
Paper Plate Pumpkin Craft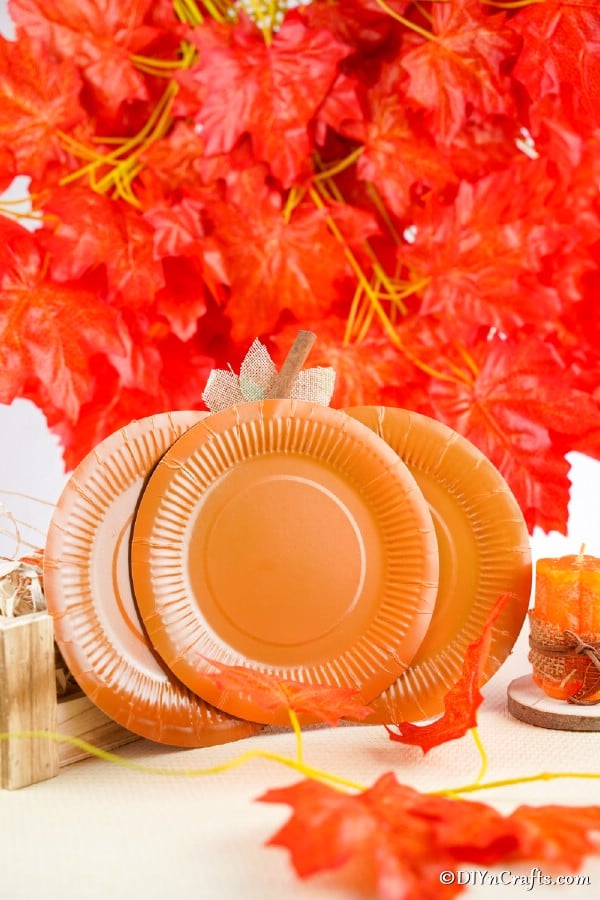 There is nothing more iconic to Fall than a pumpkin, and this little paper plate decoration is a super cute and fun addition to your holiday decorating. Kids love painting and makign these, but mostly love being included in the decorating for Thanksgiving.
Source: DIYnCrafts
Fall Yarn Pumpkin Garland Decoration
This is always fun with kids! Yarn pom poms make the cute pumpkins on this little garland that adds a cute homemade look to your mantle this Thanksgiving.
Source: DIYnCrafts
Paper Pilgrim Table Decor
Paper crafts are always a hit with kids. Pilgrims are an iconic figure around Thanksgiving, and this little idea is super cute and easy to make with your little ones. Plus, you can use them as place cards which makes kids feel even more grown up!
Source: Craft Create Cook
Thanksgiving Turkey Cork Craft
Don't throw away the corks after you finish a bottle of wine. Save them up to create this adorable little turkey! Feathers and colorful accents make it a fun and easy to make craft for your holiday table.
Source: Craft Create Cook
Kids Thanksgiving Pilgrim Hat Craft
What a cute way to upcycle little plastic cups! I love this idea, even if it could get a bit messy with the painting. There are tons of ways you can make it a bit easier to create so it isn't so messy, but as it is, you'll love how these turn out.
Source: Craft Create Cook
Thanksgiving Foam Turkey Craft
Another simple turkey to make for kids. A bit of foam paper, some feathers, and glue and you have a cute little turkey your kids can customize easily for their Thanksgiving table. I love this idea for a kids craft for kids classroom projects.
Source: Craft Create Cook
Turkey Pudding Cups for Kids
This is both craft and snack and is always fun for the whole family. Little pudding cups are easy to transform into a turkey that is a fun snack or decoration!
Source: Craft Create Cook
Paper Pumpkin Garland
This garland is ideal throughout the Fall holidays, but I love adding it to the mantle for Thanskgiving. Since it's just a little cutting and gluing project, it's ideal for your kids to make with you. Use solid paper or scrapbook paper with multiple designs to create your own unique look.
Source: Craft Create Cook
Turkey Popcorn Treat Bags for Thanksgiving
My kids loved stuffing these with popcorn and making them look like little turkeys! They are great for kids to help create and are a fun snack to tuck into their lunch boxes or to share at class parties.
Source: Mommy Musings
Turkey Candy Treat Bags for Thanksgiving
A peanut butter piece or chocolate candy filled turkey is a favorite treat and craft all in one! I love how this is ideal for teaching little ones about hand eye coordination with rolling the pipe cleaners into different shapes.
Source: Mommy Musings
Turkey Handprint Towel Craft
This is such a cute idea! It can be used for your kitchen decor, given as a gift, or saved as a keepsake of your child's handprint for years to come!
Source: Midget Momma
Acorn Place Cards
These little acorn placeholders are adorable and they are so easy to make. This is the perfect craft for your little ones in the days leading up to Thanksgiving. You can have them crafting away while you're in the kitchen preparing the food. These can be decorating with any number of die-cut embellishments or let the kids add in fall leaves, real acorns or anything else they want.
Source/Tutorial: lilybeedesign
Thanksgiving Pumpkins And Gourds
Paper pumpkins and gourds are such a Thanksgiving staple. Kids make these in school all the time before Thanksgiving and they're super easy. You can do these with strips of construction paper that you cut out ahead of time. Then just let them (or help the really young ones) glue the papers together to create their own little pumpkins and gourds that you can then use in your Thanksgiving decorating.
Source/Tutorial: craftaholicsanonymous
DIY Thankful Jar
This little craft not only gives the kiddos something to do but it helps to teach them about being thankful at the same time. You'll need a mason jar to hold their thankful sticks. Don't you just love DIY mason jar projects? You'll use popsicle sticks to let your little ones write down the things that they are most thankful for. The sticks can be decorated with orange construction paper or Thanksgiving themed craft or scrapbooking paper..
Source/Tutorial: premeditatedleftovers
Easy DIY Thankful Turkeys
I love thankful crafts. I honestly just adore writing down the things in my life that I am thankful for. This little DIY thankful turkey is a great way to get kids in on the thankfulness and give them a craft for those cold days when they can't get outside. The turkey is made from construction paper or you could use a paper plate and your thanks go on the feathers.
Source/Tutorial: makeandtakes
DIY Egg Carton Turkey
These little turkeys are made from upcycled egg cartons and they are so adorable. They're perfect for putting on the table and making place cards and they can hold candies or anything else you want to put in them. Just cut away the egg carton – you'll need one egg placing for each turkey – and then add feathers that you can cut out from construction paper or colored craft paper.
Source/Tutorial: redtedart
Easy DIY Grateful Garland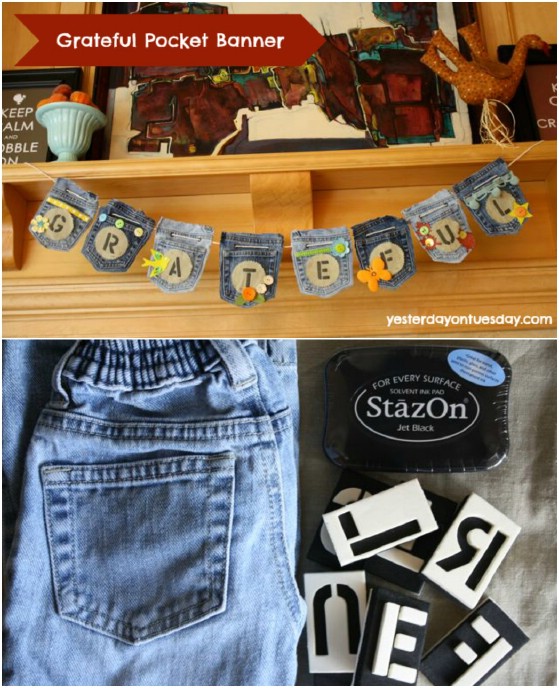 Here's another wonderful way for your little ones to show their thanks. This grateful garland is super easy to make, even for your toddlers, and it can be hung anywhere in the house that you want to add to your fall décor. This one is made from upcycled blue jeans and it's a great rustic garland to add to your decorating. Just cut out pocket shapes and then add the letters with burlap or another fabric.
Source/Tutorial: yesterdayontuesday
Hand And Footprint Turkey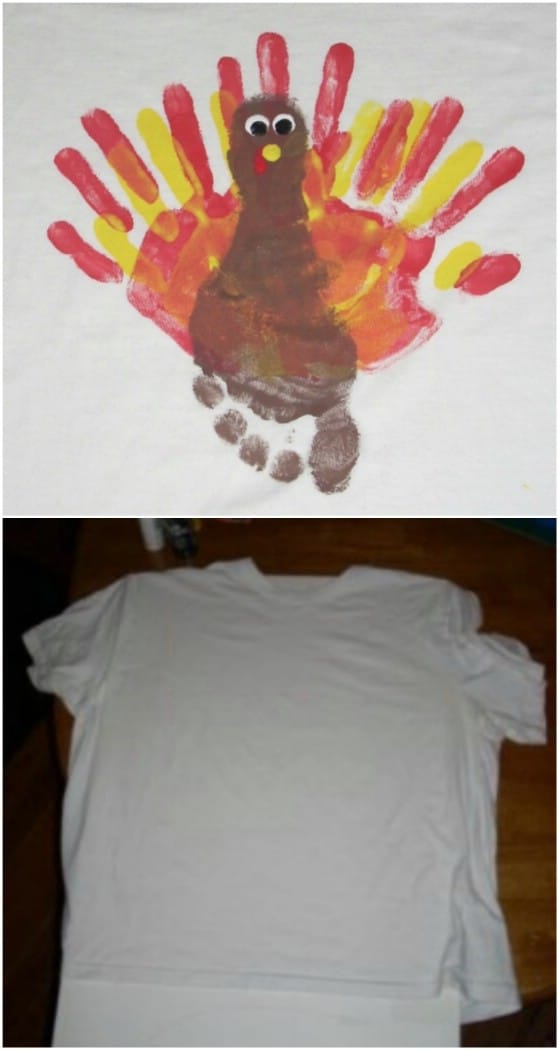 Let the kids really get in to the holiday spirit by making these little turkeys with their hand and footprints. You'll need an old t-shirt or sweatshirt for each one that you want to make. Then, let them create the turkey and his features by dipping their hands and feet into paint and stamping the shirt. These are great gifts for grandparents and other special guests for your Thanksgiving dinner.
Source/Tutorial: crafting
Handprint Turkey Family Art
Handprint crafts are my favorites and you can make a special piece of art with this handprint turkey family. You can let the little ones do this one all on their own. Just have them trace their hands onto construction or craft paper with crayon and then color it in. If you have more than one little one, their hands can be used for each turkey in the family, so they will be all different sizes. Then frame this and hang it up!
Source/Tutorial: eighteen25
Easy DIY Handprint Wreath
This easy gratitude wreath can be made with construction paper and it has the handprints of your little ones. Just trace their hands and cut them out and then glue them onto a paper plate. This is a cheap and easy project that your kids will love making and you will love hanging. When the handprints are finished you can write their names or let them put things on each hand that they are grateful for.
Source/Tutorial: domesticwonder
Fall Leaf Place Settings
I love this project because it lets the little ones go outdoors and gather their own leaves and then turn them into beautiful place settings for your Thanksgiving dinner table. You'll need a leaf for each place setting that you want to create. Larger leaves work better and it's best if they are still a bit pliable and not completely dried out. Once you have the leaves, just let the kiddos write the names of your dinner guests and place a leaf on each plate.
Source/Tutorial: makeandtakes
DIY Maple Leaf Turkeys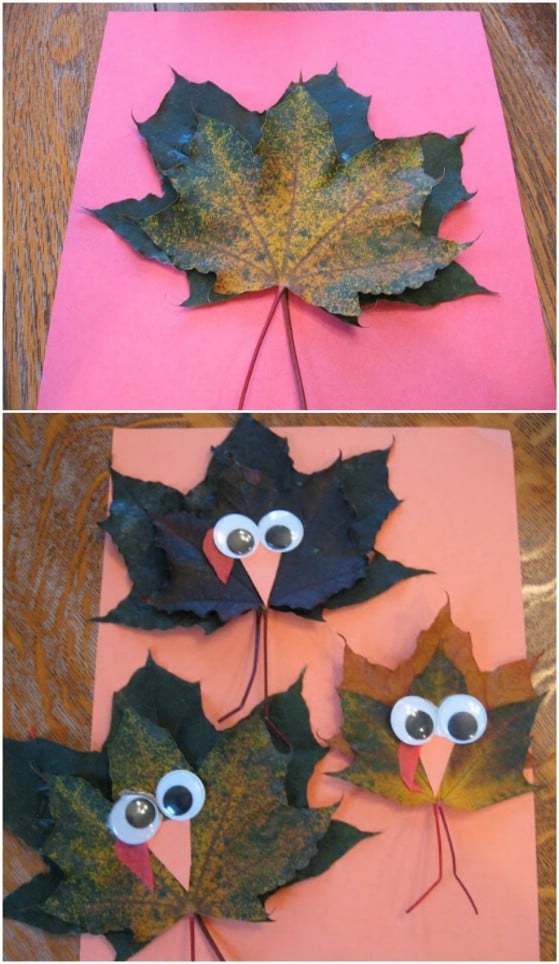 These little DIY turkeys can be made from maple leaves and they are absolutely adorable. If you have a maple tree, let your little ones gather a few leaves for each turkey. Then they just glue the leaves onto construction paper or cardstock so that they create the turkey's feathers. Then add google eyes and a construction paper beak and they're all done.
Source/Tutorial: almostunschoolers
Mini Pinecone Owls
This is one of the most creative Thanksgiving DIY projects I have seen and it doesn't cost much to make, if anything at all. Let your little ones gather some pinecones – in all different sizes if you want to make an entire owl family. You'll need one pinecone for each owl and you add the embellishments with things like candy corn and acorn tops.
Source/Tutorial: remadesimpleblog
Harvest Corn DIY Décor
Empty toilet paper rolls are perfect for making these harvest corn decorations. Just brush on paint in yellow and brown and maybe some orange onto bubble wrap. Then use the wrap to stamp your empty toilet paper rolls. Add green construction paper leaves and you're all done. Kids are going to love stamping these and if you have empty rolls and bubble tape, this one is completely free.
Source/Tutorial: prairiemother-prairiemother
DIY Origami Mini Turkeys
Older kids can help the younger ones with these origami turkeys. These are pretty easy to make and the little ones will be thrilled making their own turkey. You'll need construction paper to fold into the turkey bodies and then they can embellish with colored feathers or more construction paper. Write names on them and these make the perfect place settings for your dinner table.
Source/Tutorial: lets-explore
Paper Sack Turkey Puppets
What better craft than a paper bag turkey puppet for Thanksgiving? This is a great project for kids of all ages and when they're finished making these little turkeys, they can use them for playtime. I remember making these in elementary school and they're still a huge hit in schools today. You need a paper sack for each turkey along with construction paper or faux feathers for embellishments.
Source/Tutorial: craftymorning
Easy DIY Paper Plate Turkey
So many turkeys! There are really so many ways that your little ones can create their own Thanksgiving turkey and this paper plate craft is one of my favorites. Just glue leaves or faux feathers onto the back of a paper plate to make the turkey's feathers and then let them draw or glue on construction paper to create the face and beak.
Source/Tutorial: babycenter
Pilgrim Hat Crayon Holders
If you have a kiddie table for Thanksgiving, these little pilgrim hat crayon cups are perfect for setting at each plate and giving the little ones something to do while dinner is cooking. This is also a great craft for kids. You can find these black paper cups at any craft store, and they're probably on sale after Halloween. Then just decorate with construction paper or cardstock and add embellishments like buttons and other decorations to turn them into the most adorable little pilgrim hats.
Source/Tutorial: lilluna
Thankful Pumpkins
Thankful pumpkins are a great craft for little ones and they don't take much prep time. You simply buy a white pumpkin or paint a regular pumpkin and then let the kids write on them everything that they are thankful for. You can help little ones with this step and they could also stamp their handprints or add other decorations. These would also be great done in chalkboard paint so they can change their messages regularly.
Source/Tutorial: kellyelko
Thankful Thanksgiving Tree
Draw or paint a tree onto cardstock or construction paper (or have older kids do this step) and then let your little ones create leaves from construction paper that they glue on. They write down on the leaves what they are thankful for and when the tree is finished, you can frame it and hang it up for Thanksgiving décor.
Source/Tutorial: sycamorestirrings
Cute DIY Thanksgiving Cootie Catcher
You remember these little cootie catchers from middle school, right? I never actually knew what their official name was but I remember making them. You can pass that fun down to your little ones with this Thanksgiving cootie catcher that holds things that they are grateful for. Just write in the messages and let them color decorations on it before you cut it out and fold it.
Source/Tutorial: brendid
Kids DIY Coffee Filter Turkey Craft
A coffee filter, some construction paper and a bit of paint are all you need for your little ones to make this adorable little coffee filter turkey. The filter is used for his feathers and kids can paint in the different colors. Then add the body, which is made from construction paper circles, and the legs which can also be cut from coffee filters.
Source/Tutorial: buggyandbuddy
Turkey Thank You Cards
These little thank you notes are adorable and really easy to make, even for toddlers. You'll cut the turkey body out of cardstock or construction paper and then add your face and other features. Paint squirts make the feathers and if you do this with finger paints, they can add their own unique look to each one. Once it's finished, add it to a piece of heavy cardstock and use for décor.
Source/Tutorial: decoart
DIY Autumn Leaf Napkin Tags
These little autumn leaves are made with modeling clay and this is a good kids project to help with their sensory learning and to help them develop their fine motor skills. Kids love playing with clay and when these are finished, they make beautiful napkin tags for your dinner table. You'll need to mold the clay and let it harden and then paint different colors.
Source/Tutorial: twoshadesofpink
Thankful Wind Spinners
I love these wind spinners for outdoor fall décor. They're made from cutting a circle from construction paper or cardstock. You may need to help younger children to cut these out. Once you have the circle drawn and ready, cut it out and then let your little ones write on it everything that they are thankful for. Spiral it out and hang it on the porch or in the front yard from a tree.
Source/Tutorial: makeandtakes
Pumpkin Printing
Kids love stamping and this pumpkin printing craft is the perfect stamping activity for Thanksgiving. You'll need a few small pumpkins or gourds, at least one for each child or maybe one for each color of paint that you plan to use. Then just dip the pumpkins in paint and let them stamp their own onto cardstock or construction paper. This can keep them busy for hours and when they're finished, you have wonderful décor to frame or hang on the fridge.
Source/Tutorial: notimeforflashcards