Turn your table into a fall-themed part of your home decor with this simple rustic upcycled cardboard fall leaf placemat. Using items you have on hand, a bit of glue, and some fake fall leaves, you can easily create a cute little addition to your table. This is great for use throughout the fall season. Add some pumpkins and a jack o lantern for Halloween or a cornucopia of fruit and nuts for Thanksgiving.
Rustic Upcycled Cardboard Fall Leaf Placemat
I never throw away the cardboard. Why? Because it is so useful for so many things around the house. Whether it's upcycling into a drawer for storage, or using as a way to make an organizing box for my crocheting projects, it always has a second life.
This little leaf placemat is a perfect use for scrap cardboard I already have on hand. A bit of time and a few fake leaves from the craft store and I suddenly have a platter or placemat to use throughout my fall decor. It's super cute, easy to make, and ideal for kids of all ages to help you customize.
What Can I Use as The Placemat Base?
I used scrap cardboard for mine, but you can use anything you have on hand. If you want it to be sturdy, an old plate, piece of plastic, or cardboard is best. For a placemat that isn't as sturdy, you can use something like an old vinyl folder or a piece of card stock as a base. It doesn't have to be anything special. The idea behind this craft is just to create a leaf pattern on the top, so it's fall-themed.
I like the idea of using cardboard or a bit of cardstock for a bit sturdier option that won't flop or fold over when I add it to the table. It doesn't have to be that sturdy to sit underneath a plate or place setting. So, choose what you have on hand to make yours work for your needs.
How Can I Make This Unique?
Placemats are always fun to customize. This one is very simple but can be made even more fun. You can use a ton of different additions to yours to make it different and less ordinary. Below are a few ideas to customize your own placemat for Thanksgiving, Halloween, or just general use.
Use glitter around the edges of the leaves to make it stand out a bit more.
Glue the leaves onto a large piece of paper, then laminate the entire thing to make waterproof.
Add stickers to the laminated placemat with ghosts, bats, or witches for Halloween.
Put a greeting like "Give Thanks" on the top for Thanksgiving.
Trim the edges so that they are flat against the edge of your base.
Glue a glittery gold rope or ribbon around the edge of the placemat.
How Do I Wash My Placemat?
If you follow this tutorial specifically, you will want to only use a damp cloth with a bit of disinfectant to wipe it clean between uses. For those who cover their placemat with a laminate to use over and over again below plates, soapy hot water can work perfectly to clean the placemat.
Supplies Needed
Something round as a template
Cardboard
How to Make a Fall Leaf Placemat
Using a large round item as a template, trace a circle onto a piece of cardboard. I used a round cutting board and a box leftover from another project. You do not have to cover the box in paper, but it will add to the look if desired.
Cut around the circle to create a base.
Starting on the outside of the cardboard, begin gluing your leaves in place with hot glue or craft glue.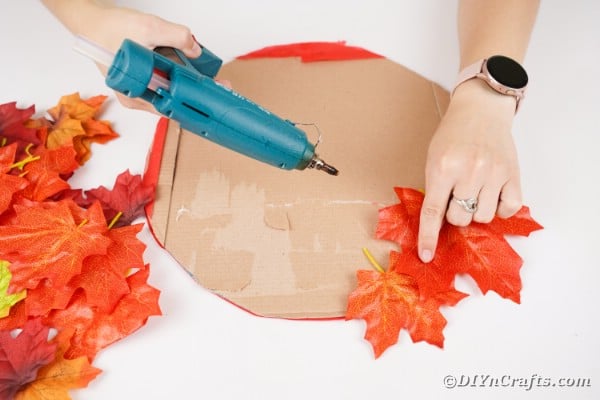 Continue gluing the leaves onto the cardboard base going in a circle until the entire piece is covered.
Add additional embellishments if desired.
Display as a placemat under table place settings or use as a platter to hold a centerpiece or holiday decor.
More Fall Home Decor Ideas
Decorating for fall is one of my favorite things to do as soon as that first bit of cool air hits in my neighborhood. Out come the leaves, pumpkins, scarecrows, and more. That means I have a ton of great ideas to share with you. Whether they are for general fall decor or specific holidays during these months, this list has something you'll enjoy adding to your home decor. Fall is a wonderful time of year to get creative with decor, and this is just the beginning of the list of things you can create!
Crafting Tip

Artificial flowers and leaves are now available at Dollar Tree! This saves me a ton of money on projects like this one. You can even order a bunch in a case online to have shipped directly to your door! Definitely take advantage of these great deals for crafting supplies.

You can also use a blank cloth placemat for this project and simple glue the leaves onto it for an easy base if you want something that is flexible. It can be rolled and stored for multiple seasons if desired.
Yield: 1
Rustic Upcycled Cardboard Fall Leaf Placemat
Grab your scrap cardboard and create this rustic upcycled cardboard fall leaf placemat! A perfect addition to your holiday table decor!
Materials
Something round as a template
Cardboard
Instructions
Use a large round item and trace a circle onto cardboard;
Cut out the circle;
Starting on the outside edge, glue fake leaves along the edge;
Continue gluing leaves until the cardboard is covered;
Add additional embellishments if desired then display.
Notes
Feel free to use any base you prefer for this placemat.
Recommended Products
As an Amazon Associate and member of other affiliate programs, I earn from qualifying purchases.
Finished Project Gallery
This is a fun way to add beauty to a dining table. You can use them as a base for your centerpiece with a few nuts, pumpkins, or other fake fruits and vegetables for Thanksgiving.
Set the mood for a romantic evening in with cool temperatures outside when you add this under a few of your favorite candles.
Another fun way to use this is placing underneath your favorite rustic flower pot. A pretty addition to the room to add beauty and pull together the fall style and look you desire.