My solution to the problem of having a few too many boxes lying around is this adorable and super easy cardboard organizer box. Instead of just breaking them down to recycle, I am always watching for nice-sized boxes to turn into storage options around the house.
This box was a perfect fit to cut apart and use as a little organizer for various needs around the house.
DIY Cardboard Organizer Box
If you are like me, you probably have your latest crochet project by your chair. It can get a bit messy at times. With my cats in the house, it can end up with a favorite project being unraveled in no time.
My solution has been to find or create little boxes and buckets around the house to stash my crafts and keep them safe.
I used a large box that a package had arrived in to cut and make this organizer. Since it is folded in half to create two sides, it's ideal for sitting on a table between my husband and my chairs so we both have a place to store our favorite items.
Books, craft supplies, remote controls, snacks, or even a vase with flowers can all fit into this box. I personally love that it is lightweight enough that I can pick it up and move around the house if needed.
Of course, I find this especially helpful when I am in the middle of a crochet project and want to take it with me to work on in various rooms.
What Should I Cover My Box With?
I used contact paper for this project because it is versatile, easy to clean, and easy to put over the cardboard. My local dollar store carries small rolls for just $1 each.
When I find patterns I like, I'll grab several to tuck away for projects like this one.
If you plan to use this regularly, I would recommend contact paper or fabric as a cover. Wrapping paper is a common choice, but it will tear apart fast and leave you with something that is just for show and not functional.
Depending upon your needs, you'll want to use something sturdier. The bonus with contact paper is that you can simply wipe spills or stains off without much effort.
This list of DIY desk organizers has some more great ideas for covering different items for everyday use. These along with my favorite mason jar organizers keep my office supplies handy but out of the way.
If you are short on space, you might prefer this easy to make homemade wall organizer with fun sleeves to slide items into.
Can I Paint The Box Instead?
Painting the box is a choice that some might like but I find it to be too messy. It isn't a great option for a box you'll want to use regularly. To get full coverage on the box you'll need multiple coats of paint.
That will take more time and not be as cost-effective. Plus, you may find that the paint on the cardboard will take longer to dry. So, I don't recommend using paint for coating your box.
I've made numerous organizers in the past, and love all of them for the ways they keep me on track. From the latest old CD pocket wall organizer to my sewing kit pincushion organizer jar,
I've come up with some great upcycled items. Your kids might like to make this framed jeans pocket organizer with their old blue jeans! There are so many amazing ways you can organize your life using items you already have on hand!
Supplies Needed
How to Upcycle Cardboard Into an Organizer Box
Begin by using a ruler to measure your box marking it halfway down the length. Then use a ruler to measure a "V" onto each side at that point.
Use your craft knife to score and cut notches on both sides in a "V" shape with the point at the bottom.
Trim the cardboard so that the box has a "V" shaped opening on both sides.
Now you will follow the line connecting the two notches and lightly score the cardboard. Don't cut all the way through.
Now, you will fold the box in half along the scored line.
Use hot glue to attach the two sides together as shown. This will create a box with pockets on both sides.
Now, use your box to measure and cut the contact paper to fit.
Trim the contact paper so the sides are notched for easy application as shown.
Now, peeling a little of the backing off at a time, you will apply the contact paper to the box covering all sides and folding over the tops as shown.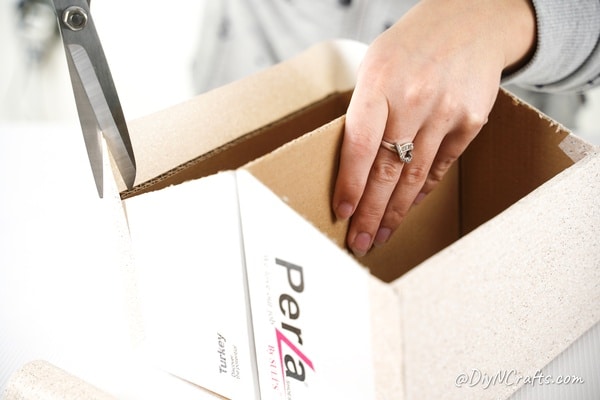 Make sure to leave a few extra inches on the sides to fold over the top of every side to cover any rough edges.
This will cover the rough edges and make it look a little neater around the edges.
Now, you will decorate the box with ribbon or lace. I added a bit of lace along all edges using hot glue.
Once your lace is in place, you can add a fake flower or bow to each side to cover where the ends meet.
Now you can fill your box with books, magazines, yarn, or remote controls!
Crafter Tip
Take advantage of the great price at Dollar Tree online to get a box of contact paper in various colors for a fraction of the cost name brand in store costs. It's great for projects like this, and of course, to line your cabinet drawers or even office desk drawers.
Yield: 1
Rustic Upcycled Cardboard Organizer Box
Grab that old cardboard box and some contact paper to turn it into this adorable DIY cardboard organizer box! A great project to keep your things organized!
Tools
Instructions
Begin by measuring halfway on your chosen box and marking the halfway point on both sides, then using a ruler, you will draw a "V" with the point at the bottom of the box, on each side;
Now, use your craft knife to cut the notch out on both sides of your box;
Use the craft knife again and lightly score the middle of the box between the notches so that you can easily fold the box in half;
Fold the box in half, and use glue to attach the sides together leaving an open box on both sides;
Now, measure out contact paper to fit over the box - use the box as a guide;
Once it is cut into a large square you can then fold and cut to fit the sides leaving notches at corners to make folding inside and smoothing flat easier;
Begin one side at a time and apply the contact paper to all sides of the box folding excess over the tops as you go;
Once all sides are covered, you will then use ribbon or lace and add around the edges using glue to secure;
A final touch is to add a fake flower or a bow on both sides to cover the seams;
Now you can use your organizer box to store any items desired!
Notes
You can save extra cardboard and use as dividers inside each side of the box for even more partitions for storage.
Recommended Products
As an Amazon Associate and member of other affiliate programs, I earn from qualifying purchases.