Do you have old scratched CDs or DVDs on hand? If so, you will love this cute upcycled pocket wall organizer! Grab your favorite colors of craft and foam paper, a few cute embellishments, and some glue. I'll help you make this cute little organizer that is great for an office, locker door, or bedroom!
Upcycled CD Pocket Wall Organizer
If you are like me, then you probably have a basket or box in your house with old CD's or DVD's that have scratches or just aren't used any longer.
I even still have a few from back in the day when you used CD's to load programs on your computer. Instead of just throwing these away, I am always looking for ways to recycle them into something fun.
This pocket wall organizer was a great way to use mine, and I know you'll love this idea too!
I am always looking for little ways to organize things around the house. Often, at my desk, I want things within reach but would rather have them at eye level than buried in a drawer.
This little organizer is a handy place to put a notepad or even pens for those notes I want to take randomly.
I've already made this old jeans pocket organizer in a frame that I love, but I wanted something else a bit unique. I scoured my list of desk organizer ideas, but ended up coming back to make this simple upcycled CD idea.
Can I Use Fabric Instead of Paper?
Of course, you can use fabric! I tend to use craft paper or foam paper in crafting as it is inexpensive and works well with so many different projects. If you have scrap fabric or even felt on hand, you could use it in place of the papers for this project. I can definitely see having fun matching fabric to your regular home decor.
For a rustic look, you could even use burlap and lace-like I have in other projects we've shared. You might remember this hanging DIY jewelry organizer that used lace. So cute and easy to make! Another fun project was this rustic woven basket tutorial. As you can see, all types of fabrics and mediums can be great for crafting!
How Much Can This Store?
This isn't designed to hold a lot. It really is just a small pocket that is ideal for a small notepad, ink pen, or a calculator. It definitely isn't designed to hold up pounds of items. Below are some ideas for things to use this pocket wall organizer
Next to or on the refrigerator for a notepad and pen to make grocery list notes. It would fit great into this list of command center ideas.
In your craft room or by your craft area with crochet hooks, knitting needles, or a small sewing kit. Another idea for this room is my simple sewing kit pincushion organizing jar.
Store bobby pins, barrettes, or hair ties in this on the bathroom wall.
Put on your desk or office wall to hold your lip balm, lipstick, or lip gloss.
Use to hold hand sanitizer inside your garage, pantry, or laundry area.
Add to your car to hold pens, notepads, or even a package of snack crackers.
Put inside a kitchen cabinet to hold chip clips.
Use by the phone to store your takeout menus.
How do I Secure My Organizer to the Wall?
My go-to for something like this is usually a command hook or simple nail on the wall. This could also be held in place with a thumbtack, push pin, or a magnet on the refrigerator. Just make sure whatever method you use for hanging your wall organizer is strong enough to hold up to what you are storing inside the organizer.
If you have leftover command hooks, you'll love this list of command hook ideas!
Still, need more organizing ideas? Check out this list of amazing mason jar organizer ideas!
Supplies Needed
How to Make a Pocket Wall Organizer
Start by using your CD to trace two circles onto one piece of paper. I used green for these.
Cut out the two green circles and set them aside for now.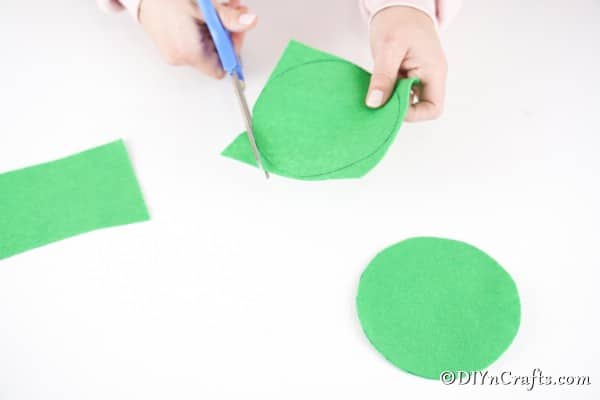 Next, cut a small piece of ribbon, form a loop, and secure it to one side of your CD with hot glue.
Now, use the CD to trace a single circle on a different color paper. I used pink for this piece, but instead of drawing the whole circle, I only drew up to about ¾ of the way up the CD. On the top part of the disk, I drew a curved line connecting the two sides so that it makes it "open" as shown.
Cut out the pink piece and set it aside.
Now, you will glue the two pieces of green paper onto the CD with one on each side sealing the ribbon between the green paper and the CD for extra security.
On one side of the pink half circle, you will add glue just to the outer edge, then flip it over and secure to one side of the CD pressing until the glue is dry and it is sealed on all edges. This creates the "pocket".
Now, you will decorate the pink part of the pocket. I added rhinestones around the outside edge of the pink pocket and glued a fake flower onto the center of the pink pocket.
Hang and use as desired.
Printable Step by Step Photo Tutorial:
Yield: 1
Upcycled Old CD Pocket Wall Organizer
Turn an old CD or DVD into this absolutely adorable pocket wall organizer in only a few minutes! A perfect easy kids craft!
Materials
Old CD or DVD
Foam paper, craft paper, or felt in multiple colors (at least 3)
Ribbon
Rhinestones or beads
Small fake flower
Tools
Scissors
Hot glue gun and glue
Instructions
Use a CD to trace two circles onto one piece of paper (green);
Cut out the two circles and set them aside;
Cut a small piece of ribbon, create a loop, and attach to the CD with hot glue;
Next, use the CD to trace a circle onto another piece of paper (pink);
Cut out the pink circle cutting a scoop out of the top to create an opening on the organizer;
Next, you will glue the two green circles on either side of the CD;
On one side of the pink piece, add glue along the outer edge, leaving the top open, then press in place on one side of the CD to create the pocket;
Add rhinestones or beads around the edge of the pink pocket;
Glue a fake flower or other embellishment to the middle of the pink pocket;
Hang and use as desired.
Notes
Feel free to make this in any colors and decorate as you prefer. You could even add a monogram letter to the front!
Recommended Products
As an Amazon Associate and member of other affiliate programs, I earn from qualifying purchases.