This paper pumpkin is a cute paper plate craft that is a perfect decoration for your fall decor projects. With just a few paper plates, glue, and a cinnamon stick, you or your children can create a cute paper plate decoration. I love that this is budget-friendly and a craft I can make on my own or with my kids.
This glitter acron fall decoration is another fun and budget-friendly project you can make in minutes with help from your kids.
Paper Pumpkin Craft
I love repurposing items I already have on hand. Whether it is craft supplies and old cloth for this pumpkin ornament or scrap paper turned into a harvest pumpkin gift box, I love crafting new from old. Extra paper plates from a dinner party easily turn into cute little pumpkins to decorate my mantle, or even to add on the Thanksgiving buffet table.
If you need more to use for decorations on your table, you'll love these fall leaf candle lanterns. They are such a simple and easy addition to your Thanksgiving table, and super affordable to make.
What Paint Can I Use for This Paper Plate Craft?
If you are like me and couldn't find any orange plates to use for this craft, you can easily paint any color plate. In fact, if you want to really update this paper pumpkin into something unique, you could paint each one a slightly different color. This would give the pumpkins a more natural look and could add depth to the project.
For painting on paper plates, you can use really any paint you prefer. I used orange spray paint because it was so easy to spray the whole plate in just seconds. You can use acrylic craft paint if you prefer. Either method works great, just make sure you let them dry completely before trying to glue together for the display.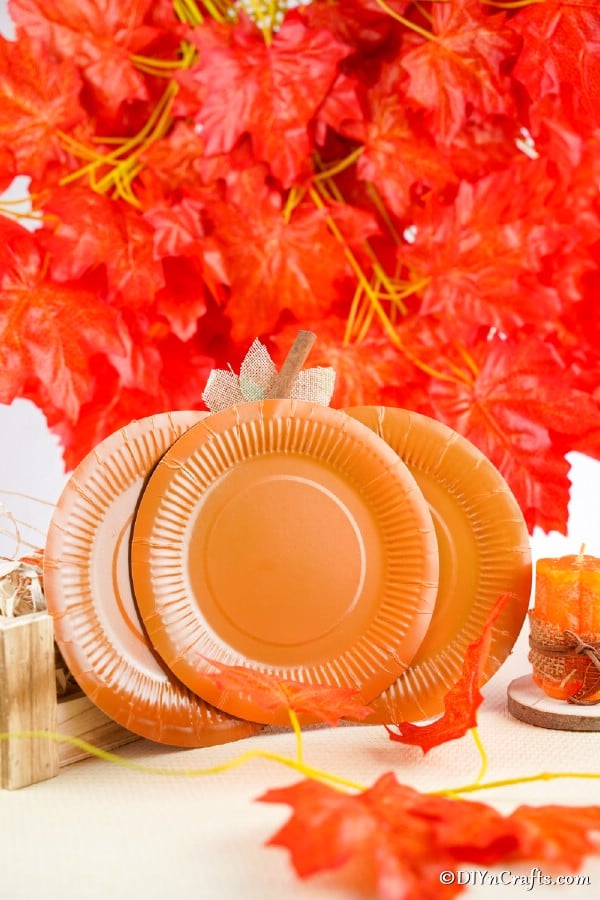 Where Should I Display My Paper Pumpkin?
Use your imagination! I love that this is so inexpensive and easy to make that I can literally make a dozen paper pumpkin sets out of plates and decorate all over my house. My favorite places to display this are on the wall or on my mantle. Since you are gluing stuff together, you will want the backside of the paper plates to be against something so they don't show.
Prop it against the wall on your mantle.
Place against the wall on your buffet table at holiday gatherings.
Hang on the wall with a thumbtack or command hook.
Put on a bulletin board in a classroom or business.
Tack to your front door instead of a fall wreath

Supplies Needed
Paper plates
Orange spray paint
Cinnamon Stick
Green fabric
Hot glue gun
Hot glue
Scissors
How to Make a Paper Pumpkin Paper Plate Craft
To begin, you'll gather your supplies together and set up your work area. When using paint, I always recommend adding a newspaper or paint drop cloth to the table to protect your table.
If your plates are not orange, you will have to paint and let them dry before you begin assembling them. I prefer to do this outside or in a well-ventilated area, especially when using spray paint.
Once the pates are completely dry, you will attach them together using hot glue. When using three plates, you will place one in front and put the other two on the sides gluing them to the back of the first plate.
While the glue dries on your plates, you can cut out a piece of green fabric to create leaves.
Glue the leaves to a cinnamon stick, and then secure the stick to the back of the plates to make the center plate look like a pumpkin.
Once the pumpkin has been assembled, you will display it in your home.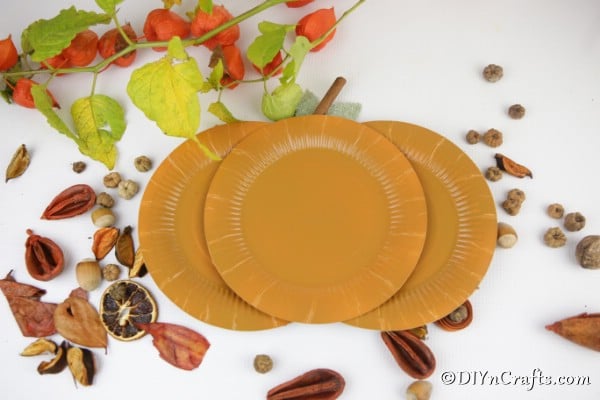 Video Tutorial:
Printable Step by Step Photo Tutorial:
Yield: 1
Paper Pumpkin Paper Plate Craft
Grab leftover paper plates, orange paint, and glue to create this super cute paper pumpkin paper plate craft!
Additional Time
25 minutes
Materials
Paper plates
Orange spray paint
Cinnamon Stick
Green fabric
Tools
Hot glue gun
Hot glue
Scissors
Instructions
To begin, gather your supplies together and prepare your work table. If you are painting your plates, you will want a drop cloth or newspaper to cover and protect your table;
If your plates need to be painted, you will do that first. Coat the top/front side and allow them to air dry;
Once the plates are dry, you will begin assembling them. Use hot-glue to connect two plates together on the backside of one plate as shown;
Next, you cut a leaf out of green fabric;
Glue the leaves to a cinnamon stick;
Attach the cinnamon stick to the backside of the plates so that it shows over the top of the middle plate like a stem;
Display on a counter, wall, or mantle.
Recommended Products
My favorite Etsy pumpkins. (Affiliate links)