Candle jar lanterns are one of my favorite ways to decorate for any season, but especially in the fall. Leaves, pumpkins, and gourds are perfect for representing that favorite cool, but not too cold, season each year. These easy candle lanterns are a perfect addition to your Thanksgiving table.
Another perfect idea for those special dinners is this tutorial for making 3-D paper lanterns. They are so beautiful in a darkened setting, and can even add a bit of romantic lighting.
Candle Lanterns with Mason Jars
I love repurposing anything I can around my home. There is just no need to spend extra money on home decor when you have so much around you that can be used to create something new. So, any time I want to make a fun little lantern, I automatically look for something I can repurpose to make it happen for little to no money out of pocket.
I've repurposed so many items into candle lanterns in the past! Things like my DIY tin can lanterns, and even the farmhouse lantern out of picture frames are both some of my favorite creations. This simple fall leaf candle lantern is even easier and just as versatile for using as fall decor.
What is the Best Glass Jar for Candle Lanterns
This is one of the reasons I absolutely love making these little fall lanterns - there is no perfect jar because any jar will work! For this, I have used a simple small jar leftover from a condiment I purchased. This could have been a pickle jar, mayonnaise jar, or even a jar of salsa. Whenever I empty jas, I simply clean them well and remove the labels then set them aside for future needs.
You could also use any size wide-mouthed mason jar if you have those on hand. Other ideas are to grab glass jars at your local thrift shop or garage sales for a few cents per jar to have on hand for things like this. Just remember that a wide-mouthed jar is best for slipping the candle inside safely and easily.
This lantern with lace is another great use for those extra wide-mouth jars you have on hand!
Can I use artificial leaves for this fall leaf lantern?
If you don't have nice real leaves to choose from, an artificial leaf can give you the same effect easily. Just remove them from the stem, and trim any hard plastic stem from the edge if needed. They will attach with glue similarly to a real leaf but may need a bit extra as they tend to be thicker than real leaves.
This is a great solution for those who want to make a bunch of candles lanterns ahead of the season so they are ready to display when the time comes. This could also work great for a fall-themed wedding centerpiece!
Need more romantic lantern ideas, check out this wine glass tealight candle holder lantern idea!
Supplies Needed for Fall Lanterns
Small wide-mouth jar
Artificial or real leaves in yellow, orange, or color you prefer
Craft glue (ModPodge, E6000, or basic Elmer's glue all work)
Scissors
Battery operated tealight candle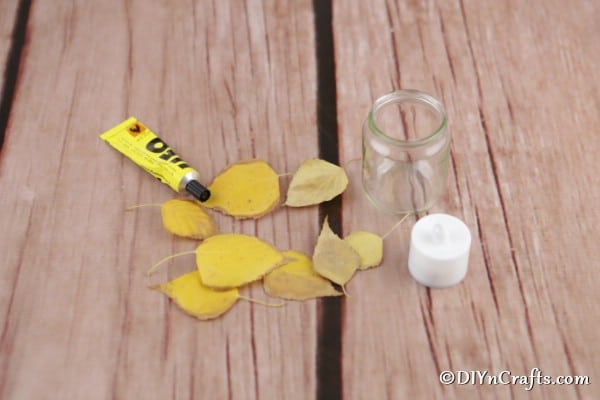 How to Make Fall Candle Lanterns
For this project, I like to use real leaves I have gathered from outside. Sometimes, though, they just aren't easy to find. In that case, you can definitely grab some artificial leaves for this little candle lantern project. Since I am using a smaller jar for this project, I look for smaller leaves so they fit well. Measure your jar before you go in search of leaves to make sure what you pick will fit.
Trim any longer stems or bad spots off of your leaves, and then coat each one in glue and attach to your chosen jar. Hold the leaf in place until the glue is completely dry. Then, you will coat the edges of the leave with additional glue to prevent it from fraying or coming off the jar.
All you have to do now is pop a tealight candle inside the jar to add more light to a room when needed. I prefer battery-operated candles for safety, but you can also use regular votives and a long lighter to light them if you feel safe with that in your home.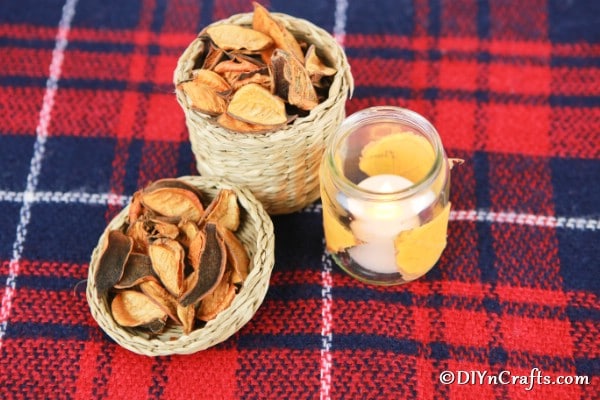 Video Tutorial:
Printable Step by Step Tutorial:
Yield: 1
How to Make Decorative Fall Leaf Candle Lanterns
A simple wide-mouth jar and leaves are turned into a cute Fall Leaf Candle Lanterns tutorial in just minutes! Ideal for display as a fall centerpiece!
Materials
Small wide-mouth jar
Artificial or real leaves in yellow, orange, or color you prefer
Battery operated tealight candle
Craft glue (ModPodge, E6000, or basic Elmer's glue all work)
Instructions
Begin by gathering the leaves you will use for this craft. I prefer real leaves from my yard, but you can also use an artificial leaf if you need to for the lanterns;
Once all of your supplies are ready, you will begin by trimming and preparing the leaves to be glued onto the jar;
Next, you will use the craft glue you chose to secure the leaf to the side of the jar;
Once the leaf is in place, you will dab more glue around the edges to create a good seal so they won't peel off later;
Your final step once leaves are dry is to add your candle to the jar and display;
Recommended Products
My favorite Fall Etsy decorations.