Do you know how many tin cans I throw out every year? I venture to say that I could fill my entire backyard with some of these gorgeous tin can lanterns with what I throw away in a week or so.
These DIY tin can luminaries are so very easy to make, and they're a great recycling craft if you go through a lot of tin cans.
What's A Tin Can Luminary?
These luminaries are made from recycled tin cans. You just poke holes in the can to create the design that you want – or you could just make random holes – and when you're finished, you place a candle inside and it glows through the holes. You can also do these with clear lights.
How Do You Poke Holes In A Can?
You use a hammer and nail to poke the holes. I can't stress enough that you need to be very careful that you don't injure yourself when hammering nails into a can and don't push the nail through too far, just enough to create the hole.
How Do I Paint Tin Cans?
You can absolutely paint these if you want to match an outdoor theme. Just keep in mind that if you are using candles, you need to use a paint that is safe for use with fire. Many spray paints are okay to use, and the painting process is straightforward.
Paint the cans before you poke the holes so that the paint doesn't clog the holes up.
What Else Can You Make Out Of Tin Cans?
One of my favorite things is finding crafts to make from the things that I usually throw away. I'm not a dumpster diver by any means, but if there's a neat DIY project that can be done with recycled items, I'll find it.
As far as tin cans go, there are tons of things that you can turn them into once you're finished with them.
Do you remember these 50 ideas for upcycling tin cans? How about this tutorial on how to make a hot glue gun from a tin can? I've also shown you some fantastic ways to upcycle empty tuna cans.
How To Make Repurposed Tin Can Lanterns
Video Tutorial:

These repurposed tin can lanterns are the perfect way to illuminate your outdoors this summer. This is a simple project, and it's a great way to use up those empty cans and keep them out of the landfill.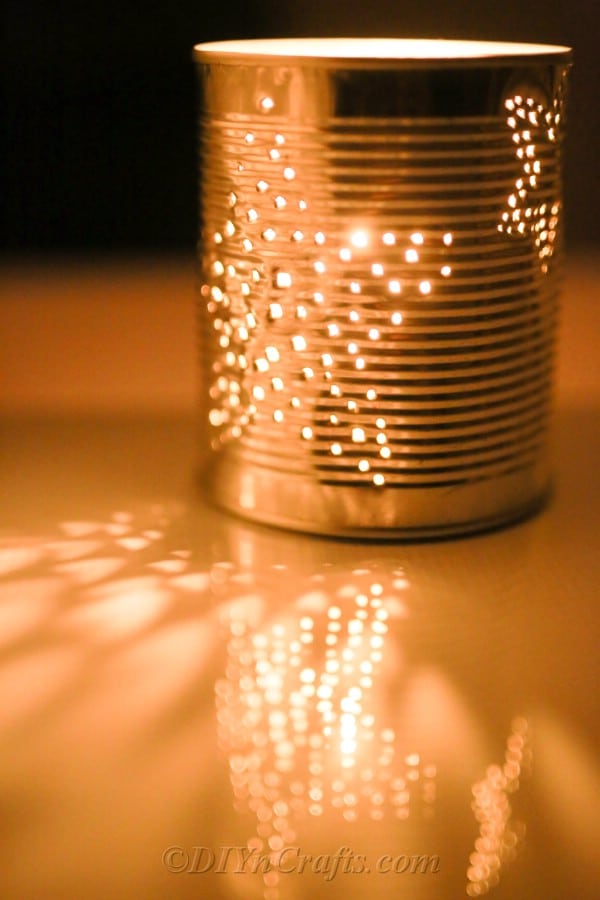 Yield: 1 Lantern Per Can
Prep Time: 5 Minutes
Active Time: 15 Minutes
Total Time: 20 Minutes
Difficulty: Easy
Materials:
Empty Tin Cans
Printed Shapes
Marker
Candle
Tools:
Nail
Hammer
Scissors
Instructions:
1. First, get your supplies together. You are going to want to wash and dry the empty tin cans – nobody wants a smelly lantern. Choose the size of the can that you want.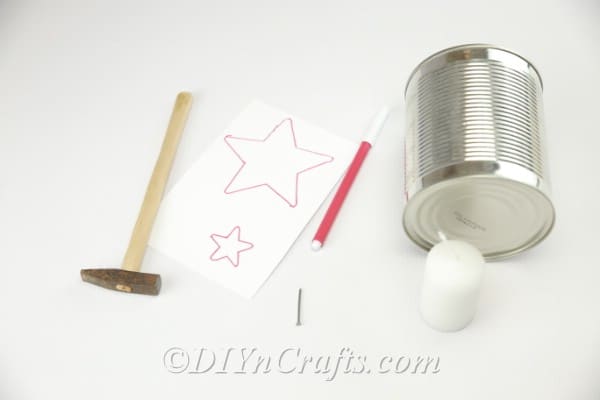 2. Now you'll want to choose the shape that you want to create. I used a star, but you can do whatever form you want for the holes. Print or draw that shape. It will be your template. Make sure that the image fits on the can and doesn't overlap.
3. Cut the shape with your scissors and then trace the outline onto your can with a marker.
4. Now comes the fun part! Begin by creating holes on the shape using the hammer and nail. Remember to not push the nail too far into the can. This is the shape that will illuminate when your can is finished, and you place the candle.
5. Have fun! That's the most essential part of any DIY craft project. You may create your own flow and make it easier. It's all about doing things our way.
6. When you are finished poking the holes, place your candle inside the can (or clear lights if that's the way you chose to go)
7. Your finished repurposed can lantern should look something like this:
And there you have the easiest DIY lantern for summer entertaining!