There's a saying that one man's junk is another man's treasure. This is certainly true when it comes to upcycling. Along that though, did you know that you can upcycle just about anything? It's true – this collection of 20 ways to upcycle tuna cans proves it!
Let me just say that we eat a lot of tuna in my house, which means we have several empty tuna cans each week that are getting thrown out. When you think about how much waste that causes over just a few years, it's truly mind boggling. However, when you upcycle, you save that waste. You simply find new ways to use things instead of throwing them out. I love the idea of cutting down on waste and I really love some of the gorgeous things that you can make with those empty tuna cans.
Get out your favorite tuna recipe and empty those cans – we're going to make so many wonderful things with them. Speaking of recipes, you just have to try this delicious lemon glazed zucchini bread. It's the perfect dessert bread to enjoy after your famous tuna casserole.
You really can make just about anything from empty tuna cans. This is one of the most exciting DIY project lists I've posted, simply because it entails turning trash into treasure. There are lights, home décor, and even sewing essentials in this project list, so I know you're going to find something that speaks to you. FYI, there's also a great list of 200 household tips to keep your home neat and tidy…you know, so that you can work on more DIY projects.
So, let's get started on some tuna can projects. Whether you're looking for creative home décor or you want something unique to give as a gift, there's a project in here that you are going to love. I can't wait to hear what you've made!
1. Tuna Can Clock
This clock made from an empty tuna can is really cute and it's just as functional. You will need to purchase a clock kit if you don't have one on hand already, and then just paint your empty – and clean – tuna can and the rest is history. The tiny wooden legs really give this clock personality and you can paint it whatever color you need to match your décor – get creative!
Tutorial: ecerozmen
2. Tuna Can Party Lights
Empty tuna cans, glass tiles, and wooden dowels combined with other materials give you these amazing party lights. These are perfect for patios – especially if you have a swimming pool. They're really easy to make and look like something you would spend a small fortune for at a home improvement store. Only you will know they're made with your leftover tuna cans!
Tutorial: favecrafts
3. DIY Nativity Ornaments
Yes, I know it's not Christmas, but these nativity ornaments made from tuna cans are just too good not to include. You could do any type of ornament you wanted, the idea is to clean up the can and decorate it – adding a ribbon or string so that you can hang it on the tree. There are actually several different ways that you can decorate tuna cans for the holidays – just keep your creativity open.
Tutorial: mel-designs
4. Tealight Holders
This is one of the easiest ways to add a bit of atmosphere and it's all made from things that you probably have on hand already. Empty tuna cans get a nice covering with patterned paper – or you could paint them as well – and then you just attach strings and hang them with clothes pins onto a wooden hanger. This has a really nice rustic look and overall will cost you about $3 or less, including the cost of the tealight candles.
Tutorial: kiflieslevendula
5. Tuna Can Pincushion
I love pincushions – all types of them. I also love that you can turn an empty tuna can into a great looking pincushion, and it only takes a few minutes. You cover the entire can in felt – please use a clean, odor free can for this – and then decorate however you want. The can perfectly holds the pincushion so it sits up on its own, and you can store loads of pins in a pincushion of this size.
Tutorial: weefolkart
6. Faux Zinc Candy Jar Top
What an elegant and beautiful way to use your tuna cans! This candy jar is absolutely gorgeous, and it's made even more so with the inclusion of the zinc looking jar top that you make with your empty tuna can. This looks just like the ones you'll find in major department stores for nearly $100, but it will only cost you a few bucks, and it's a really easy project to complete.
Tutorial: inmyownstyle
7. Colorful Bird Feeder
Turn those empty cans into colorful bird feeders and thrill yourself and your birds. Just a little paint – or some fabric or paper covering – some twine, and whatever decorations you want are all you need. You'll need bird seed too, of course. These little feeders cost only around $1 each to make, a lot cheaper than bird feeders that you'll find in stores and you can customize these however you want.
Tutorial: birdsandblooms
8. Wind Chimes
How lovely are these wind chimes that you make from tuna cans, twine, and a piece of driftwood? You can hang these on the porch or patio and enjoy the look and sound of your DIY wind chimes. Paint the cans whatever color you need to match your existing outdoor décor or paint them a contrasting color to really draw attention to them.
9. Tuna Can Tiffin Box
This tiffin box requires a bit more work, but it's definitely worth it. A tiffin box is actually a small lunchbox that is made by stacking steel or ceramic compartments to hold different foods. I love that you can use empty tuna cans to recreate the tiffin box, and oh what lunches you can carry with this! As I said, it's a bit more complicate than just painting the cans, but it's not terribly hard and will be so helpful when you get it finished.
Tutorial: instructables
10. Gorgeous Heart Shaped Bowl
This heart shaped bowl is really beautiful and so easy to make with an empty tuna can. You'll need to clean the can really well, and paint it whatever color you prefer. Then you just make the heart shape by bending the can a bit. You can't really use this bowl for food, but it's perfect for keeping jewelry organized on the dresser or any number of other things.
Tutorial: cfabbridesigns
11. Desk Organizers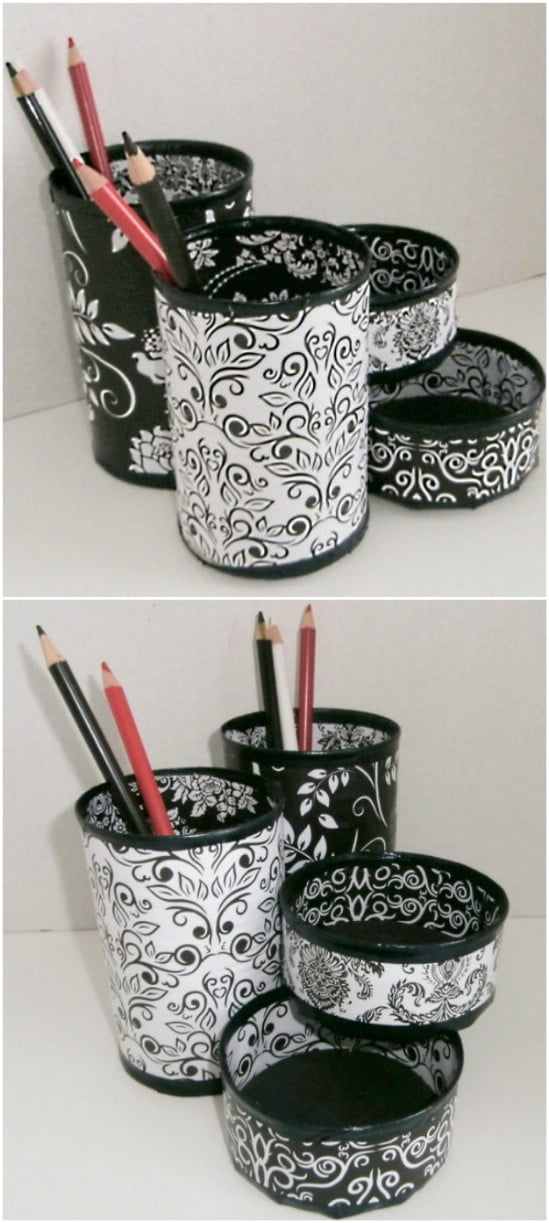 These desk organizers are on Etsy, but I think they would be really easy to recreate. Just clean your tuna cans and cover them with fabric or paper – you could also paint them if you prefer. Then decorate with ribbons, bows, or whatever you want and use them to keep paper clips and other smaller essentials neat and tidy. You could also cut the bottoms of your cans and stack them to make larger organizers to use as pen and pencil holders.
Tutorial: etsy
12. Ornament Tree
Those tuna cans can be cleaned up and turned into this amazing ornament tree. You just stack – and maybe secure with some hot glue – the cans to make the tree shape and then attach ornaments to the inside. If you want to make it really easy, you can cover the outside of your cans with Washi tape or decorated Duct tape, which is pretty inexpensive and comes in a wide range of designs and colors.
Tutorial: practicallyfunctional
13. Easy Tuna Can Baskets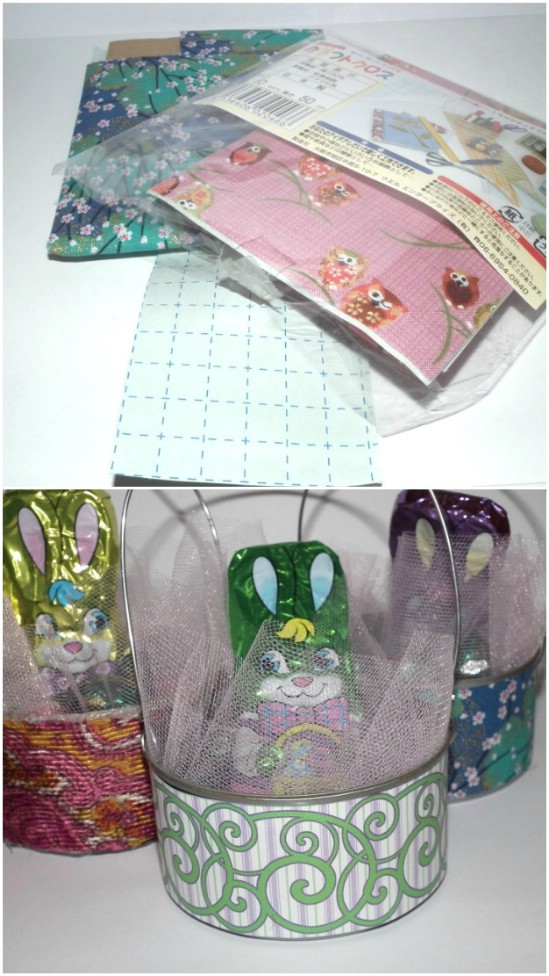 Go all out this Easter by making these really adorable tuna can Easter baskets. You'll want to decorate the outsides and then just fill the inside with decorations or candy. I love the tulle coming up from the can – it makes it look so professional. You could make these as giveaway gifts for the kids or use them to decorate your home for the spring holiday.
Tutorial: donteatthepaste
14. Drawer Organizers
How cool is this drawer organizer made with tuna cans? If you're like me, you have a junk drawer in the kitchen that is filled with smaller items. This organizer lets you keep those items separated so you can find them much easier. This is also a great idea for desks and even dressers where you can store jewelry, hair ties, and all sorts of smaller objects.
Tutorial: hgtv
15. Clothespin Can Herb Planters
Those tuna cans are the perfect size for creating little mini herb planters, and when you dress them up with clothespins, they become as decorative as they are functional. Clean your cans well and then add whatever herbs you want – along with a bit of potting soil. Then just cover the cans with your little clothespin "fence" and you're all set. You just have to clip the clothespins on the sides of the can. This puts those empty cans to good use and gives you a great rustic looking herb garden for your kitchen.
Tutorial: 7thhouseontheleft
16. Rope Wrapped Succulent Planters
Ropes wrapped around those tuna cans give them a wonderfully rustic look and you can use them to plant succulents inside your home. You could create an entire little indoor succulent garden with this project. I love how they look when you add a few of them together, and this is a great way to create a stunning centerpiece that features your favorite succulents.
Tutorial: Frugelegance
17. Tiny Cake Pan
Sometimes you don't need a whole cake – you just need enough for one. Those empty tuna cans are perfect little baking pans for those times when a teeny tiny cake will do. This is a great idea for parents who give their babies their own little cakes for their first birthday, or anytime when you just want something sweet but don't want to bake an entire cake that may go to waste. Clean the can really well first – you certainly don't want your cake tasting like tuna!
Tutorial: picky-palate
18. Shabby Chic Candle Holder
With some rope or twine and a few other materials, you can turn that empty can into a gorgeous candle holder, perfect for holding those candles. Tiny rocks inside the can help to keep the candle in place and look beautiful while doing it. I love the entire look of this candle holder – it's very beach or ocean themed, so if you're decorating in a beach cottage theme, this is the perfect accessory.
Tutorial: ribbonsandglue
19. Elegant Tuna Can Gift Box
Anyone will love receiving a gift that you place inside this elegant gift box – that's made from an old tuna can. You dress up the box with ribbon and fabric and voila! It's a beautiful gift box that's perfect for jewelry or any other special something that you want to give. This is such an easy project and so wonderfully creative. You'll never purchase a store bought gift box again after you learn how to make your own.
Tutorial: youtube
20. Cute Storage Shelves
Decorate kids' rooms with these painted tuna cans and give them storage for the smallest toys and knick knacks. I love the idea of just putting the can directly on the wall and then using it to display favorite toys. Several of these together would make great storage for tiny little dolls or cars. The storage shelves double as decorations.
Tutorial: zingzingtree