Farmhouse furniture and décor is my favorite. I just love the rustic look of farmhouse projects. I recently came across this amazing DIY lantern that you can make from picture frames. This has such a beautiful farmhouse look to it, and even better, it's super cheap to make!
You'll spend less than $10 creating this – as opposed to more than $50 if you buy a similar one at Pier One or Pottery Barn.
What You Need To Make This Picture Frame Lantern
What makes this project so great – and by great, I mean cheap – is that you can get all of the supplies from the Dollar Tree. Dollar Tree has wooden frames for just a dollar each, and you can get the candles and seashells from the Dollar Tree, too.
How Difficult Is The Lantern To Make?
It's not! This is honestly one of the easiest DIY lanterns that I have ever made, and it gets to many wonderful compliments when you get it finished.
Can You Use Metal Picture Frames?
You can use whatever picture frames you want! If you want something a bit more old school like you would see in the streets of London, then, by all means, use metal frames. Just make sure that your glue holds them in place well. You can also do this in different sizes, depending on the sizes of the frames that you buy.
What Other DIY Farmhouse Décor Can You Make?
Did I mention that I absolutely adore farmhouse décor? I do, and I've shown you some beautiful ways to get this farmhouse look for yourself on the cheap. There are these rustic kitchen signs, some great rustic bathroom décor ideas, and let's not forget this vast collection of DIY farmhouse furniture and décor ideas.
If you are looking to get a farmhouse look throughout your home, you are definitely in the right place!
How To Make A Farmhouse Lantern From Inexpensive Picture Frames
Video Tutorial:
This rustic farmhouse looking lantern is the perfect way to dress up a table, mantel or your front porch. For less than $10 you can have a beautiful lantern to give your home that elegant country look.
Yield: 1
Prep Time: 5 Minutes
Active Time: 35 Minutes
Total Time: 40 Minutes
Difficulty: Easy
Materials:
4 Picture Frames – All the same size
Hot Glue Gun
Cardboard
Craft Knife
Marker
Candles
Seashells
Instructions:
1. Assemble together all of your materials. Take your 4 picture frames and remove all of the glass and other parts.
2. Note – If you want to paint your frames to make them another color, do that now before you add the glass back to the frame.
3. Add just a touch of glue to the corners of the inside of the frame and put the glass back into place.
4. Your goal is to create a square shape from the 4 frames.
5. Starting with your first 2 frames, add a bit of glue to the long side on each of the frames and stick them together.
6. Hold the frames in place until you feel that the glue has sufficiently dried.
7. Glue the other 2 frames together in the same manner.
8. Join the two pieces by adding glue to the long side on each and holding them in place until they are secure.
9. Note – you can also do this with just 3 frames, and it makes a lantern that is just as beautiful.
10. Measure the cardboard by placing your lantern frame over it and marking it off with the marker.
11. Cut the cardboard using your craft knife to fit on the bottom of your lantern. You don't want this to overlap so measure and cut carefully.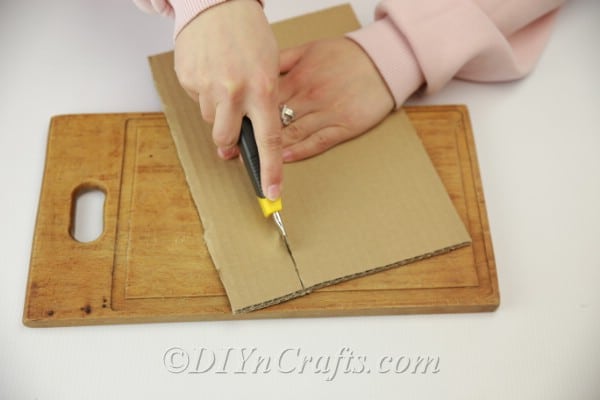 12. Carefully glue the lantern frame onto the cardboard.
13. Add seashells, candles and anything else that you want to decorate your lantern. You could also use clear glass stones in place of the seashells.
14. Glue any additional decorations onto the outside of your frame that you want.
15. That's it! Your completed picture frame lantern should resemble this one:
What other DIY farmhouse décor have you created?