Ah the farmhouse life. I've loved farmhouses since spending my childhood at my grandparents' house. Since then, I've always looked for subtle ways to bring that beautiful and relaxing country look into my home. Well, now you can bring it into yours as well.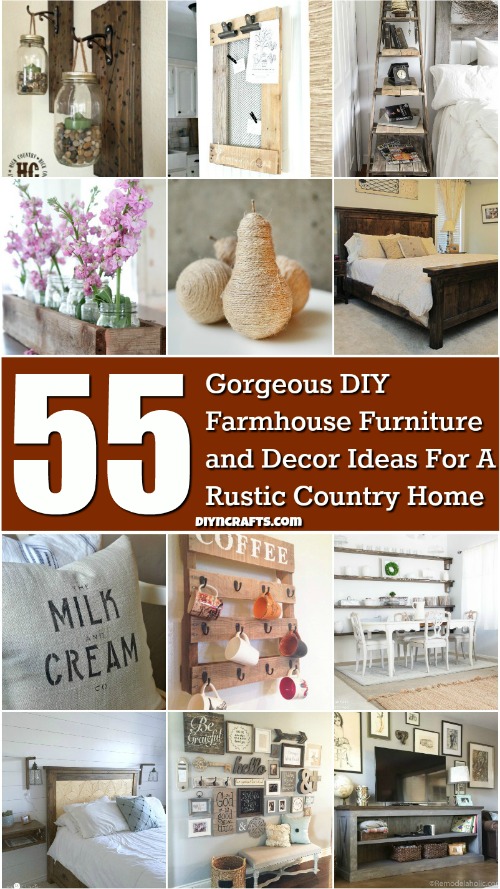 I spent a bit of time on this collection and I really think you'll love what you see. I have found 55 easy and inexpensive (for the most part) ways that you can incorporate some farmhouse style into your home. I've covered every single room from the kitchen to the bathroom and even a farmhouse bed! Whether you want to add some country charm to just one room or your entire house, you are sure to find what you need in this easy DIY collection of farmhouse furniture and décor ideas.
Also, I've recently added 40 rustic home decor that you're going to want to check out. By the way, there are some great bathroom vanities that follow along that farmhouse look in my 20 gorgeous bathroom vanities post. Be sure to check those out, too.
The farmhouse look is so great because it is to very simple. You use the simplest of materials and designs to create a look that is instantly relaxing and comforting. Farmhouse furniture is the perfect way to add a welcoming touch to your home. You won't even need a lot of stuff to build most of these or a lot of time. they are as simple as you can get and I just want to add all of them to my home. I hope you will feel the same. Let's take a look at some of the simplest ways to bring welcoming farmhouse style into your home!
1. Gallery Entry Wall
This gorgeous gallery entry wall may be the easiest project you've ever done. If you're looking to really get that farmhouse look throughout your home, you have to start at the beginning and the entry is that beginning. A few strategically hung pictures and some rustic wood signs or old frames instantly transform the entryway. You can pick up old signs and pictures at a flea market, or create them yourself.
Instructions: lillianhopedesigns
2. Pallet Coffee Station
I love things that you can make from old pallets and this coffee cup holder also satisfies that farmhouse kitchen vibe. You just use strips of wood from an old pallet, paint as you wish, and then add the hooks. This is a beautiful way to display your coffee cups and keep them close at hand. And, did I mention how easy this project is?
Instructions: onelittlebirdblog
3. Farmhouse Message Board
This DIY farmhouse message board is the perfect addition to your kitchen. Plus, it's really easy to make. Made from pallet wood and chicken wire, it's sure to add a bit of farmhouse country chic to your home. You can add whatever clips you want, although I think clothespins would be the perfect choice. This is a really cheap and easy project that you can finish in just a couple of hours.
Instructions: seekinglavenderlane
4. Farmhouse Rustic Wood Frame
If you're looking to get that great farmhouse look all over the house, this DIY farmhouse rustic wood frame is perfect. I love this framed chalkboard look for the kitchen. You can use it for messages or really dress it up with any number of things that add to your farmhouse charm. It's a really easy project, too and one that won't take much more than an hour to complete.
Instructions: knickoftime
5. DIY Barn Wood Shelves
Want an easy way to bring a bit of farmhouse charm into your home? These barn wood shelves are so simple and you can have them hanging in any room…or all of them if you want. Wooden brackets that you can pick up at any home improvement store can be painted and distressed to add to the look. Then you just add a strip of old wood to give it that great barn wood look.
Instructions: vintagemellie
6. DIY Arrow Art
This little quick and easy art project will be perfect for the dining room…or maybe even the bathroom or laundry. You can use pieces of an old pallet and then you just draw the arrows in with a white paint marker. This is really such a great project that will take you probably half an hour to finish.
Instructions: akadesign
7. Farmhouse Accent Table
I absolutely adore this little accent table! It would make the perfect addition to any living room or bedroom and it's got such great farmhouse appeal. Using paint and stencils (or you can freehand if you're that creative) you make the top which really resembles a sign you would see in an old general store. The table itself can start out as any table you have on hand. Just paint white and distress.
Instructions: missflibbertigibbet
8. DIY Rustic Crate Centerpiece
So, for a really simple DIY farmhouse project, this rustic crate centerpiece is a must. You can make this crate from leftover wood from your other projects. Just create the rectangular box and then add mason jars with flowers. Or, use this in the bathroom and fill those mason jars with cotton balls and cotton swabs. The possibilities with this one are endless!
Instructions: frenchcountrycottage
9. Wood Beam With Lace Curtains
Add that farmhouse look to your bedroom with a simple wooden beam and some lace or sheer curtains. This simple project makes a profound statement. You just attach the wood beam to the ceiling and hang your curtains from it. This may be easier with an alcove ceiling but it can be done anywhere. Make it really rustic with barn wood and old style curtains that you can pick up at any flea market.
Instructions: lovegrowswild
10. DIY Wood Framed Mirror
This wooden framed mirror is the perfect accessory for an entryway or you could hang it anywhere in the house where you want to bring some rustic country to your décor. You'll need a cheap mirror, which you can get at Wal-Mart or the Dollar Store for around $5 and some wooden picket fence boards. You just build the frame around your mirror and instantly change the look!
Instructions: thewoodgraincottage
11. Laundry Room Farmhouse Light
I really love this chicken wire turned light that's the perfect farmhouse addition to your laundry room. You can make this for around $30 if you don't have any of the needed supplies. If you happen to have some chicken wire, it will cost you much less. You'll also need embroidery hoops and some wood stain to give it that great rustic look. It's a relatively easy project overall and so very cheap!
Instructions: thewoodgraincottage
12. DIY Crate Lid Sign
If you can't find a rustic old wooden crate lid for décor, just make one yourself. This easy and quick project will give you the perfect farmhouse décor for any room. You'll want to choose what crate lid you want to display and then just transfer to your wood, which is actually a lot easier than it sounds. Add some old looking hinges and you've got a great lid that looks like it came straight from the old general store.
Instructions: knickoftime
13. DIY Farmhouse Kitchen Table
Okay, so this project will take you a bit more time, but having this amazing farmhouse kitchen table will be well worth it. You can build this table for less than $100, which is a steal considering how much farmhouse tables, or any kitchen table for that matter, cost. This wood look is gorgeous, although I would prefer to paint the legs white and then distress them, but that's all up to you.
Instructions: artisbeauty
14. Plug In Sconce From Pendant Lights
These plug in sconces are great, and they have that farmhouse look due to the chicken wire. I love the look of these for the porch, or even for the entryway if you really want to bring that farmhouse look home. This can be a repurposing project if you have some of the supplies on hand or if you need to buy them all, it's honestly not an expensive sconce to make.
Instructions: mylove2create
15. DIY Primitive Farmhouse Cabinet
This primitive farmhouse wall cabinet is absolutely perfect! It's made from an old wooden crate, which you can pick up at most flea markets or thrift stores for under $5. You'll also need some chicken wire, which gives it that great farmhouse look. This would be perfect in the kitchen or bathroom and it's a relatively easy project.
Instructions: knickoftime
16. DIY Apple Wreath
I love the simplicity of this DIY apple wreath and it really does bring the country indoors, doesn't it? Plastic apples of all sizes combine with a burlap ribbon and a rustic wood frame to create this wreath display. This is great for any time of the year or you could even add some seasonal touches to make it match up for any holiday. The backboard of the frame is a chalkboard, too, or just create the wreath and hang it on the door.
Instructions: thewoodgraincottage
17. Staircase Gallery Wall
If you have a staircase, this gallery wall will instantly transform it into authentic farmhouse style. It's similar to the entryway display that we touched on before, but customized for your staircase. I love the table legs used as décor. They add such a unique and interesting touch to the whole display.
Instructions: lizmarieblog
18. DIY Antique Style Cutting Board
No farmhouse kitchen is complete without a cutting board. If you don't have an authentic rustic looking board, you can make one yourself. This one is made from cutting out the board from an old wooden crate. You could also use an antique style cutting board from an old flea market and just distress it to get the same great farmhouse kitchen look.
Instructions: knickoftime
19. DIY Pallet Art
Pallets are so versatile! You can create this beautiful "Be Grateful" pallet wall art or you can use your own inspiration to create your own message. This is a really easy project that costs less than $10. The pallet is made from wood shims that you can pick up at any home improvement store like Lowe's, and the cost includes all the wood and nails that you need to create it.
Instructions: infarrantlycreative
20. DIY Grain Sack Pillow
Add some DIY farmhouse charm to any room with this great grain sack pillow. You'll need the material which you can pick up at most hobby or craft stores and then you create your message with stencils. You can never have too many pillows and this one is just perfect to give any space a relaxing and comfortable farmhouse feel.
Instructions: lilacsandlonghorns
21. DIY Rustic Succulent Pots
Succulents are my favorite plants….mostly because they're so hard to kill. Anyway, these rustic succulent pots are perfect for adding a touch of country to your home, and they're really easy, and inexpensive, to make. The great aqua color brings a warm ambiance and really makes you think of the beach, right? It's also a great look for that farmhouse touch.
Instructions: pinkwhen
22. DIY Pallet Signs
So if you're looking for a rustic country look, pallets are the best way to go. You really can do a lot with them, like these great pallet signs. Just use stencils to create whatever message you want. I love these for dressing up the front porch, maybe with a distress white rocking chair or a porch swing?
Instructions: designdininganddiapers
23. DIY Mason Jar Wall Lanterns
Mason jars are another thing that you'll always find in an authentic farmhouse. These DIY mason jar wall lanterns will definitely give you the décor that you want and they're really easy to make. They're also gorgeous! You'll take the mason jars and affix them to wooden sconces, which you can also fashion yourself. Add pebble stones and some tealight or votive candles and you're ready to go.
Instructions: asouthernfairytale
24. DIY Birchwood Candle Holders
These Birchwood candle holders look a lot like something that you would spend a small fortune on at Pottery Barn or Anthropologie, but you can make them yourself and save that small fortune for another time. These would make great gifts for any special occasion and they're super easy to make. You'll need to drill and cut to create the holes for your tealights, and you can make as few or as many as you need.
Instructions: oleanderandpalm
25. DIY Rustic Ladder
This rustic ladder makes a great side table for the bedroom and definitely has that old time country look to it. You can easily make it from things that you may have laying around the house. I just adore the faucet on top and the twine. It all looks so farmhouse-esque and it's the perfect project if you want to really make a statement with your décor.
Instructions: funkyjunkinteriors
26. Repurposed Chicken Feeder Planter
You can find an old chicken feeder at a lot of flea markets or get a newer one at a farm supply store. Then just distress it and turn it into this amazing planter. I love the look of rustic farm supplies turn home decor and this will definitely give you that farmhouse look. Add it to the porch or use it in the yard. It's really easy to do and won't cost much at all to make.
Instructions: houseofhawthornes
27. Weathered Mason Jar Décor
And again, mason jars simply scream farmhouse décor. This weathered looking mason jar centerpiece is really beautiful and has that great rustic country look. You'll need wood pieces to build the box and then just paint it white and distress it with some sand paper. Add your mason jars for vases and you're all set to dress up that new farmhouse table with a matching centerpiece.
Instructions: lovegrowswild
28. Farmhouse Shelves
One great thing about the farmhouse look is these huge shelves. I love how much space these give you for pictures or knick-knacks. You could also put them in the dining room or kitchen for holding dishes. They're relatively easy and not expensive at all, especially if you happen to have a few slabs of wood laying around somewhere.
Instructions: themountainviewcottage
29. Enamel Mug Décor And Organizer
Metal mugs really take me back to my grandparent's old home place. You can use those enamel mugs to create this neat organizer that can hold towels, flowers, or anything you want, really. The old barn wood holder also adds to the whole rustic country look and the overall project is really easy. You can easily attach the mugs with screws or if you don't want to put a hole in them, use metal clamps to hold them in place.
Instructions: homeroad
30. DIY Wood Pallet Spool Clock
Really put those old pallets to good use with this great spool clock, which has a definite old country feel. You can paint the numbers on with stencils or if you really wanted, you could add a clock kit and making it a working piece of art. This is definitely going to be a conversation starter and absolutely one of my favorite projects in this collection.
Instructions: lizmarieblog
31. DIY Plank Wall
If you really want to get that farmhouse look, consider adding a plank wall. If you don't have wood planks, you can pick them up at your local home improvement store. Then just use them to cover your chosen wall. I love this look by the bathtub or you could add it to the kitchen or any room in the house, really. It's a relatively quick and really easy way to bring in the farmhouse look.
Instructions: blesserhouse
32. Paint Stick Basket
Paint sticks are really inexpensive and who knew that they were also so versatile? You can use those leftover paint sticks to create this stunning centerpiece that will look perfect in the middle of your newly made farmhouse table. Just nail the sticks together until you have a basket and add your favorite flowers or candles.
Instructions: build-basic
33. Hanging Paint Can Flower Holder
A rusty old paint can may seem like trash, but you can actually repurpose it into an amazing flower holder, and one that gives you a great farmhouse look for your front porch. Just sand the can down a bit if you need to and hang it on a great rustic hanger. This is the perfect way to add some new décor and clear up some trash at the same time.
Instructions: knickoftime
34. Rope Wrapped Lamp
I love the look of this lamp wrapped in rope. It's an easy project and completely changes the look of the entire space that it's on. This has a nautical look to it if you prefer a beach approach to your décor, but the rope also gives it a great farmhouse appeal, especially if you want to redo your lampshade with burlap. This is a great lamp for the living room or the bedroom.
Instructions: amyallender
35. Starburst Wood Mirror
This starburst mirror is made of driftwood, but I'm thinking you could use whatever you may have around the house to create it as well. The wood look is great for farmhouse decorating and it's actually a lot easier to make than it looks. It takes a bit of cutting for this one but you'll agree that it's well worth the extra effort. I think this would also work as a clock.
Instructions: sustainmycrafthabit
36. DIY Wood Striped Wall
I really love how this wood striped wall looks. This would be so great in a bedroom or den. You'll need boards to cover the wall and if you want to distress them first, they'll look even better. Just attach them in a striping pattern, leaving space between them for the actual wall color to come through. This is an easy project and you can take it down if you ever need to and just have a plain wall again.
Instructions: designdininganddiapers
37. Barn Quilt
A barn quilt on the barn, outbuilding or even the side of your house is definitely going to give you an exterior farmhouse look. Whatever design you choose and whatever colors you want, a barn quilt is certainly a great way to get that country look outside your home. I love how easy these are to make and they make such a statement.
Instructions: newlywoodwards
38. Wooden Necklace Holder
Here's another great décor piece that is made from driftwood but you could use any wood that you find outside. It's a gorgeous necklace holder and definitely has that rustic country look to it. It's also really easy to make and since you grab the wood from outside, it's virtually free, too. The old rustic drawer pulls really give it that farmhouse look and you can find those at flea markets and thrift stores if you don't have any on hand.
Instructions: visiblymoved
39. DIY Barn Door
This is a great look for the master bedroom. The distressed door slides to close, which is unique on its own. It gives the room a barn door look and feel and it's pretty easy to accomplish. You'll need a door of course, and one that fits the opening to your bedroom. Distressing the door will be the easy part and then you'll need to hang it. Overall, this is the perfect way to bring a bit of farmhouse into your home.
Instructions: shadesofblueinteriors
40. DIY Twine Pears
These twine pears are made from light bulbs. If your house is like mine, you tend to go through quite a few light bulbs in a month. Instead of throwing them out, use them to create these lovely pears which will also bring a bit of country into your home. Just wrap the twine around the bulbs. They're the perfect shape for creating pears and they're definitely going to be your favorite décor.
Instructions: sweetsociety
41. Farmhouse Entertainment Center
Sliding barn doors make this the perfect entertainment center for your farmhouse décor. This one is obviously a bit more complicated than some of the projects on the list, but so definitely worth the extra time and effort. The doors slide closed to hide the television and entertainment equipment until you need them. This is definitely one of the most beautiful pieces of farmhouse furniture I've seen.
Instructions: ana-white
42. Farmhouse Desk
Put your creativity to work with this great farmhouse desk that you can easily DIY. Whether you spend hours at the computer writing or you just want something with that great country feel when you sit there to browse the internet, this DIY farmhouse desk is the perfect addition to your bedroom, living room, or office. It's pretty easy to make, too.
Instructions: shanty-2-chic
43. Rustic Farmhouse Coffee Tray
Whether you use this solely for decoration or you want to serve guests their coffee or tea, you have to admit that adding this beautiful farmhouse coffee tray to your home is appealing. You use an old cutting board, or a new one that you stain and distress if you need to, and just add rustic looking handles. There are many ways that you can do this coffee tray and all of them are perfect for adding a little country to your home.
Instructions: sadieseasongoods
44. DIY Pottery Barn Inspired Farmhouse Bed
If you really want to bring the farmhouse look into your bedroom, this DIY Pottery Barn inspired bed is perfect. It takes a bit of work so free up a weekend. You can alter the plans depending on the size that you need and stain it however you want if you need to match existing furnishings. It's a beautiful bed though. Your friends and family won't believe you built it yourself!
Instructions: diystinctlymade
45. Farmhouse Style Coffee Table
This farmhouse coffee table is so easy to build and makes a great centerpiece for your living room. Quite a few farmhouse furniture pieces feature the dark wooden top with white wood legs, and this table could be painted to replicate that look. Or, just leave it all dark. The farmhouse style is in the wood and how it all comes together.
Instructions: lovegrowswild
46. DIY Farmhouse Bar Stools
If you have a bar in the kitchen or dining room, these bar stools are a great way to country up your décor. They can be built for under $100, which is much less than you would pay for them at a home décor store, and the plans are really easy. These would be great to go along with your DIY farmhouse table.
Instructions: mycreativedays
47. Farmhouse Console Table
So, I love console tables either behind the couch or just sitting near the entry door. I also love this farmhouse style table and how easy it is to create. Remember the thing about farmhouse furniture is simplicity and natural materials. Use that leftover wood from other projects to build this gorgeous table which features that great barn door look on the sides.
Instructions: remodelaholic
48. DIY Country Kitchen Island
Farmhouses tend to have big kitchens, which every woman dreams about, right? If you have the space, this country kitchen island is the perfect addition to your kitchen and will instantly give it farmhouse charm. I love the additional space under the counter and those wicker baskets really just add to the whole farmhouse look. Plus, you can build this for just a fraction of what it would take to buy it.
Instructions: ninahendrick
49. Painted Mason Jars
These painted mason jars offer the perfect touch of rustic country to your décor. You can easily spray paint or brush paint jars to give them a unique look and then just distress them just a bit with sandpaper to make them a bit more rustic. They're great on their own or paired with others like them to create a stunning farmhouse styled centerpiece.
Instructions: itallstartedwithpaint
50. Rustic Twig Frame
This project is basically free and is a great way to display your favorite photos or art that the kids have made. You just glue twigs together to match around a frame, and you can do this in any size frame you need. Remember that farmhouse style is about the simple things, and this rustic twig frame fits that philosophy perfectly.
Instructions: ehow
51. Reclaimed Wood Vent Hood
There are so many great projects in here that will help you to turn your kitchen into a farmhouse dream. This reclaimed wood vent hood is definitely one of them. I love how rustic it turns the kitchen and it's a really easy, not to mention inexpensive, project. The barn wood look definitely screams farmhouse, and I love how it transforms the entire kitchen instantly.
Instructions: bucketsofburlap
52. Farmhouse Table Runner
What could possible make your dining room table look more like a farmhouse table than a beautiful burlap table runner? You can make this so easily and either leave it plain or use stencils or freehand to dress it up like an old feed sack or something similar. I love the look of burlap and how it instantly turns any room into a rustic country room. This is one of the easiest and quickest ways to bring a little farmhouse style into your house.
Instructions: farmhouse40
53. Antique Sewing Drawer Seed Box
This gorgeous seed box, which you can use to dress up any room or table, is made from an antique sewing drawer. You can use stencils to create the wording and pricing on the side and then just fill it with your favorite flowers, candles, or whatever you feel like displaying. Those old drawers can be found at most flea markets or you could improvise and use whatever small drawer you have on hand.
Instructions: oldewindmillfarm
54. Pallet Farmhouse Table
Here's another take on the popular farmhouse table. If you have a few old pallets outside that you've been saving for a special project…this is it! You can use those pallets to create this stunning table and it won't take you nearly as long to build it as you think. This is a beauty and I love the dark legs that contrast with the lighter top. Alternatively, you could stain the pallets dark and use lighter or white legs.
Instructions: thehousemadehome
55. Farmhouse Distressed Chairs
If you want chairs to match that great new farmhouse table, you can just redo what you have and save money. I found these distressed chairs on Etsy but you could easily recreate the look. Just paint the chairs white, or whatever color you need, and then use sand paper to give them a great distressed look. You can also paint the seat white and leave the legs natural or vice-versa to create a good look as well.
Instructions: www.etsy