Rustic décor is so "in" right now. Whether you live in the country or your home is in the city, you can still have beautiful rustic decor and you can do it all yourself.
We have collected a list of 40 of the best DIY projects to give your home that rustic look. You can find everything from headboards and picture frames to cabinets and shelves made from wooden pallets.
Whatever your dream for a rustic look, you are sure to find something in this collection that will help you along. Many of these projects are so easy to do and you can complete them in less than a day.
Some make wonderful gifts as well so if you know someone else who just loves the country, rustic look, make them something to brighten their own decor. The projects use all sorts of materials, many of which are really inexpensive or even cheap in some cases.
Rustic Headboard
If you need a new headboard and you want to give your bedroom a great country look, you can create a rustic headboard that looks like an old barn door.
This project can be done with just about any material you want but if you really want the rustic look, you can use pallet boards and old barn wood.

Source - Oldworldgardenfarms
Twine Wrapped Cabinet Handles
Twine is so inexpensive and you can do so much with it. If you are looking to update your cabinets, why not just wrap the handles in twine? It gives your kitchen a great rustic look and this is one of the easiest projects ever.
You just need twine, glue, and paint and you will have these great Anthropologie inspired cabinet pulls.

Source - Ilovethatjunk
Pallet Shelves
Old pallets are relatively easy to come by and they are really cheap. The great thing about them is you can do so much with them – like these quick and easy pallet shelves.
You only need about three hours per shelf and a few supplies and you can stain them in whatever color you want to make them match your existing décor.

Source - Thenest
Wood Pallet Bench
If you have wood pallets just lying around the yard, put them to use by turning them into a great mudroom bench. This bench would look fabulous on the deck or just inside the door, wherever you want to put it.
When you finish putting it all together, just sand and stain it whatever color you want and you have a beautiful bench that costs you very little to create.
Source - Mysophiaryan
Rustic Photo Frames
Old wooden photo frames can be turned into beautiful rustic décor with just a bit of work. You can use burlap for the matting and then add black and white photos, cardboard Monogram cutouts or anything you want.
You can even add small satin ribbons to decorate them a bit if you wish. These are easy to do and look so beautiful in any room.

Source - Pinterest Originals
Wooden Pallet Wine Rack
If you really want to spruce up the kitchen or dining room, turn an old wooden pallet into a fabulous wine rack. This is another really easy project that looks beautiful when finished.
You'll need to make the shelf to hold your wine bottles and then use a drill to create a hanging section for wine glasses at the bottom.

Available on - Etsy Wooden Pallet Wine Rack
Rope Frame
An old plastic picture frame can be instantly turned into rustic décor using just twine rope and a hot glue gun. You just have to glue the rope to the frame, making sure that you cover the original frame completely.
This is a great gift idea or would look perfect in any little cowboy's bedroom.

Source - Celebrations
Twine Lamp
Any old lamp can instantly be transformed into a rustic piece with just a little work. Rope works beautifully for the base and you just have to wrap it completely, ensuring that you hot glue it down as you go.
Add a rustic new lamp shade and you have a beautiful new lamp that costs you very little if anything at all.

Source - Amyallender
Rustic Coffee Table
A few slats of wood – and they don't have to all be the same shade or color – can be put together to create a stunning coffee table. Just pattern the pieces and stick them together with wood glue and small nails.
Then you just have to add legs of some sort and you have a very expensive looking coffee table that is a lot cheaper than it looks.

Source - Brooklyntowest
Wooden Picture Frame
You can convert any picture frame to rustic décor by simply adding small slices of wood. If you don't already have a few on hand, just cut up the slices from branches that you can find in your yard.
Then just use a hot glue gun to secure them to a plastic frame and you have a lovely rustic frame that is perfect for any picture.

Source - Gingerflair
Great Rustic Father's Day Gift
Kids love DIY projects, especially when they get to give those projects away as gifts. You can help your little ones to make a great picture frame for Father's Day with just a few twigs and a hot glue gun.
Just glue the twigs to the frame and let the kids decorate however they want. Use burlap for the matting and add a special message with a Sharpie.

Source - Hgtv
Stone Kitchen Island
Ok, so this project may take a little more cash and a lot more time, but it is definitely worth it. If you have a kitchen island or if you have always wanted one, make it from bricks or stones.
This gives your entire kitchen a beautiful rustic look and the project is actually a lot easier than you may think.

Source - Lizzyandmewesterndecor
Wooden Backsplash
Wood pieces put together make a beautiful backsplash that definitely makes a statement in any room. If you have a wall available, you can create this lovely setting by simply adhering wood pieces to the wall.
You can also build a small wall to create a division wherever you need it.

Source - Houzz
Wooden Clock
You can buy clock kits at any hobby store and most home improvement stores. Once you have a clock kit in hand, just find a great piece of wood, varnish and stain it and then add the clock to create a beautiful wooden clock.
This is a great piece for rustic living rooms or you can use it in kitchens, bathrooms or bedrooms as well.

Source - Houzz
Twig Candle Holders
Ok, so if your yard is filled with twigs and small branches, put them to use. You can hot glue those small twigs to glass or plastic candle holders to create beautifully rustic décor.
Once you have them all in place and secured with hot glue, tie a burlap or satin bow around to really make them special.

Source - Pinterest Originals
Wooden Mail Sorter
Add a little rustic décor to your walls by building a wooden mail sorter. Not only does this give you beautiful rustic décor, it also serves a very handy function by keeping mail neatly organized.
You just need a few pieces of wood and some small coat hooks at the bottom to hang your keys. Stain it in any color you want and you have a very functional and very beautiful sorter.

Source - Vintagenewsjunkie , Foxhollowcottage
Wood Planked Wall
Even if you don't live in a rustic log cabin, you can give your home a great cabin look by simply planking one or more walls. This is a relatively easy project that will add beauty and value to any home.
Just choose the wall that you want to change, and add wooden planks that you can pick up at most home improvement stores for very little. Then stain if you want and you have a lovely cabin type wall

Source - Thriftydecorchick
Rustic Entryway Bench
For around $15, you can build a beautiful bench for your entryway that will instantly add rustic charm to your home. You just need a couple of 2X4s and a couple of 2X6s and you have everything ready to create this lovely bench.
Just assemble, sand and then stain to whatever color you want.

Source - Shanty-2-chic
Rustic Porch Bench
This great bench takes very little time to create and you can make it for around $20. You just have to purchase the wood needed and then assemble everything together.
It is a great porch bench and you can stain or paint it whatever color you need to match your existing décor. The "X" legs make it the perfect rustic piece for any home.

Source - Sawdustgirl
Wooden Fireplace Mantel
If you really want a rustic look, replace that old stone fireplace mantel with wood. This is a relatively easy project and will change the look of your room instantly.
If you are planning to have a new fireplace installed, consider using the wooden mantel instead of rock or stone. It's a great look and it's relatively inexpensive to create.

Source - Remodelaholic
Ironing Board Welcome Sign
If you can find an old wooden ironing board at a flea market or yard sale, grab it. You can turn that old ironing board into a great welcome sign for the front porch.
Just stain and sand to give it that great rustic look and add your welcome message using stencils and paint. What a great way to welcome people to your rustic home.

Source - Therusticpig
Wooden Coffee Cup Hanger
An old piece of wood and a few hooks will help you to create a beautiful hanger for your favorite coffee cups. Just add the hangers, stain the wood and then hang it on the wall.
This is a project that takes little time and will cost very little if you already have the wood on hand. You just have to purchase the hangers which are relatively inexpensive.

Source - Scoutmob
Wooden Towel Organizer
A couple of pieces of wood and some cute hangers will give you a great rustic towel rack for the bathroom. You just have to nail the pieces of wood together and then add the hangers.
The top serves as a great place for rolled towels and the hangers work for towels or robes.

Source - Ryobitools
Driftwood Coat Rack
Just a strip of wood, a few coat hangers, and some driftwood will allow you to create a stunning coat rack that is sure to be a conversation starter. Incidentally, you can also use deer antlers or something similar if you can't find driftwood.
Just attach your wood or antlers to the shelf and then add hangers for coats or keys.

Available on - Etsy Driftwood Coat Rack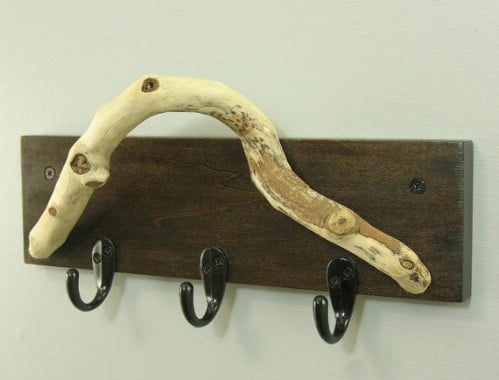 Wooden Bench on Industrial Casters
Building a wooden bench and then putting that bench on industrial-sized casters will give you a beautiful piece for your rustic home. Just build the bench from old pallets or strips of wood and then attach the casters.
Add a rustic looking cushion of some sort and you have a beautiful sitting area that is rustic and interesting.

Source - Welke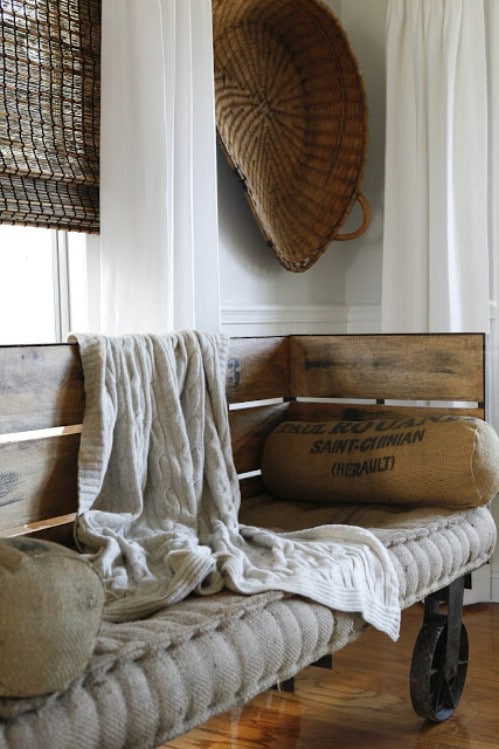 Mason Jar Sconces
You can do so much with Mason jars. Take this sconce idea for instance. With a few jars, you can create beautiful and rustic lighting for your home or deck. You just have to run the lighting wires and then add bulbs to the lid.
The jar itself works as a sconce and gives you a lovely look for little money.

Available on - Etsy (Currently Sold out)
Wooden Stick Headboard
A small collection of medium-sized sticks is all you need to create a great rustic headboard. You just have to attach the sticks to each other and you can hot glue them to a sheet of plywood or something similar to hold them secure.
Then just sit them at the head of your board for a great country looking bed.

Source - Busydoor
Tree Trunk Coffee Tables
You really don't have to do anything to get a great set of coffee tables. Well, you do have to gather a few tree trunks or stumps. Just sand them down a bit, and cut them off to make them flat.
You can have a collection of different sizes sitting around the room and in different shapes. Stain them if you want but you can leave them natural for a really rustic look.

Source - Myearthship
Make Pom Poms from Coffee Filters
These are without a doubt the most adorable things ever. The fact that you make them with coffee filters and they are cheap does not cloud my judgment, either. They are really easy to make though and so creative.
These coffee filter pom poms would look so adorable hanging in a little girl's bedroom or just anywhere that you want a bit of decoration. You can use them to decorate the deck for summer parties or make really large Christmas ornaments from them.
Either way, you just need disposable coffee filters, some hot glue, sturdy cardboard, and string and you can find the tutorial over at Bored & Crafty.
Source - boredandcrafty
Rustic Toilet Paper Holder
Old steel pipe and a strip of woodwork together beautifully to create a rustic toilet paper holder that is sure to be the hit of your bathroom. You just have to drill a hole in the wood to place the pipe and then secure the two pieces together.
This is an easy and very interesting project that is sure to have people loving your rustic bathroom.
Source - Scoutmob
Barn Wood Mirror
In the bedroom, bathroom or even the hallway, this great rustic full length mirror is sure to be a hit. You just need old barn wood or other pieces of wood. Just affix them together around a cheap full-length mirror.
You can do the same thing with smaller mirrors and hang them all over the house for a really rustic look.

Source - BarnWood Mirror
Tree Branch Chandelier
A tree branch and a few clear Christmas lights will give you everything you need to create a stunning chandelier that will look great in any dining room. Just hang the lights around the branch and then run the cord to plug it in.
This is a really easy project and would also look great on the deck for barbecues during the warmer months.

Source - Houzz
Tree Branch Privacy Screen
Whether you really need your privacy or you just want to add a bit of rustic charm to your home, this tree branch privacy screen is a great DIY project. It sort of looks like a bamboo shade and is really easy to make.
You just need a few strips of thin wood and as many sticks or branches as you want to add. Hang it wherever you feel you need a bit of extra privacy.

Source - Lynneknowlton
Wooden Slab Mud Room Bench
A large wooden slab would make a wonderful bench for your mudroom. You can either add legs to the bench or just attach it to the wall, making sure that you have it perfectly secure.
This is a great farmhouse look for your mudroom or entryway and is really easy and inexpensive to create.

Source - Houzz
Rustic Herringbone Dresser
You can create a dramatic focal point in any room by simply painting an old dresser in a rustic herringbone design. If you don't have an old wooden dresser, you can usually get them pretty cheap at flea markets and yard sales.
Then just add the paint design and stain if you want to get the specific color combination that you need.

Source - Howdy-honey
Wooden Jewelry Hanger
With a few branches or pieces of driftwood, you can create a beautiful jewelry holder for necklaces and bracelets. Just attach the pieces of wood together using screws or a hot glue gun and then stick the base in a wooden candle holder.
This is a great piece that is really easy to make and will give your bedroom real rustic charm.
Source - Etsy: Driftwood jewelry tree stand
Oversized Wood Slice Coffee Table
Two or three large wood slices put together will make a stunning coffee table. You just have to cut the slices (or have them cut for you) a couple of inches thick and then stack them at alternating angles to give it a really unique look.
Add a few wooden blocks to the bottom for legs and be sure to varnish it so that spills will clean up easily.

Birch Log Coffee Table
You can create a beautiful coffee table by simple stacking logs together. Line the logs end up and create a circle whatever size you need. Then just tie them all together with rope or twine to keep your coffee table secure.
You do need to make sure that the logs are the same height and you may want to sand the tops down just a bit to make them smooth.

Source - Homedsgn
Rustic Photo Ladder
A few branches and some wooden picture frames will allow you to create a beautiful photo ladder that adds rustic charm to your home. You will need two longer branches and a few shorter ones to create the ladder.
Just nail the branches together and then add rustic wooden picture frames to create the photo ladder.

Source - Creative-ambitions
Wood Slice Bathroom Wall Décor
Steely blue walls and a few intricately placed wood slices will give your bathroom a great rustic look. You will need several wood slices to go all the way around the room and then just place them in geometric patterns or however you want.
Thin wood slices will affix to the walls easily with wallpaper glue or you can use a hot glue gun if you prefer.

Source - Mindifrengdesigns
Redone Rustic Cabinet
If you have an old cabinet or dresser that you can redo, consider taking out the drawers and just adding rustic wooden planks. This gives the entire cabinet a great rustic look and it is really easy to do.
This is a great project for those old dressers that have broken or missing drawers. You can attach the wood pieces together and fix them so that they pull out for easy access to the dresser contents.

Source - Flaxandtwine