Sometimes, you just need to use your imagination and pretend. This little fall leaf people kids craft is one of those times. A few items you have on hand, imagination, and suddenly you have a cute little "person". These are great to play with, use for decor, or just let your kids feel good about creating. This is a great way to use up leaves from the yard in the fall or bits and pieces of craft supplies.
Fall Leaf People Kids Craft
Did you grow up pretending that the flowers and trees outside had names and personalities? Maybe you had a fairy garden that was filled with little toy gnomes, fairy houses, and leaves that were supposed to be a boat or "car". That may have just been me, but from the popularity of our fairy house accessories post, I am pretty sure it is common with children. There is just something fun about pretending.
If your kids have imaginary friends or like pretend play, then this is a super fun project for them to make. They can use their imagination to give the leaf people personalities, and use them for tons of fun things every day!
How Can I Customize Leaf People?
I used very simple additions for mine. Googly eyes and a marker for a mouth are really all that you need to make leaves come to life. Kids, however, like to go the extra mile to customize theirs. That means you'll want a few more ideas for offering to your kids to get creative with their leaf people. Below are a few of my favorite ideas.
Add hair to your leaf people by gluing on yarn, ribbon, twine, or raffia
Add glitter around the leaf edges
Cut out felt dresses or shirts to go over the craft stick
Add beads for a necklace
Use paper or fabric to create a bow tie for yours
Add a hat made from felt or fabric
Paint the craft sticks and clothespins different colors
Glue your leaf person family to a piece of wood to create a shelf decoration
What Can These Be Used For?
Initially, the only thing I could think of was to use these for pretend play with kids, but then I was inspired by other ideas. After looking at recent clothespin crafts and craft stick projects, I saw lots of ideas that would work great for this project. Below are a few you can consider.
Add to the top of a dowel and put inside a potted plant for a fall decor
Use craft stick people as bookmarks
Add the clothespins to tops of treat bags at fall parties
Attach to a piece of twine or ribbon to create a fun garland for your mantle
Put in your kid's fairy gardens as additions to their families of fairies
Use them for puppets to tell fun stories to kids
Teach about the life cycle of plants and trees in a classroom
What Leaves Can I Use For This?
I used artificial fall leaves I picked up from the local craft store. These are best if you want this to be something that is going to last when played with regularly. Real leaves are great for use, but they will dry out and crumble. This could create a mess or break apart and leave you with sad kids when their "person" is broken.
You can easily use fall leaves like these, but you can also make these with petals from fake flowers, or green fake leaves. I love the idea of using foam paper and tracing a leave design onto it to cut out for this. That way, it's even more affordable as it's something you likely keep on hand at all times for crafting.
Supplies Needed
How to Make Leaf People
Paint a clothespin or craft stick for each leaf person you plan to make and set aside to dry.
Once the craft sticks or clothespins are dry, hot glue a leaf to the top.
Glue on googly eyes to the top of the leaf.
Use a paint pen or black marker and add a smile to your leaf person.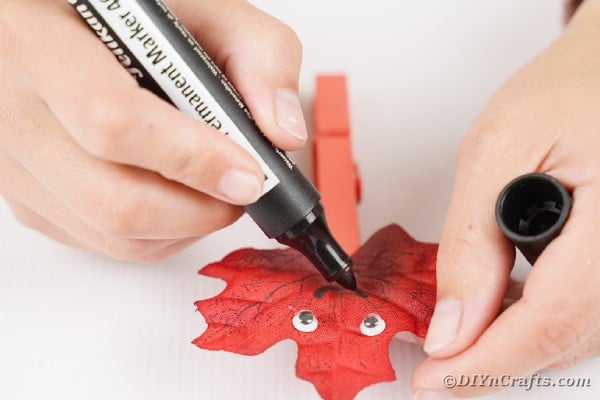 Once ready, you can embellish with other items to personalize your people.
Use the craft stick leaf people for bookmarks.
The clothespin leaf people can be added to a number of things around the house as decor or used as fun puppets for kids.
More Fall Kids Crafts
I have fond memories of creating cute little crafts all fall in school. That's part of why I love adding unique kids crafts here for every season. The list below includes some of my favorite projects for fall. Thanksgiving and Halloween are both included on this list to give variety to the September to November autumn crafting season.
Crafting Tip

Don't want to have the mess of painting craft sticks and clothespins? Purchase dyed craft sticks instead! I recently found a large batch of colored craft sticks on Etsy and know you can often find dyed clothespins there as well. Also look at stores like Michael's, Hobby Lobby, or even your local Dollar Tree.
Yield: 2
Cute Fall Leaf People Kids Craft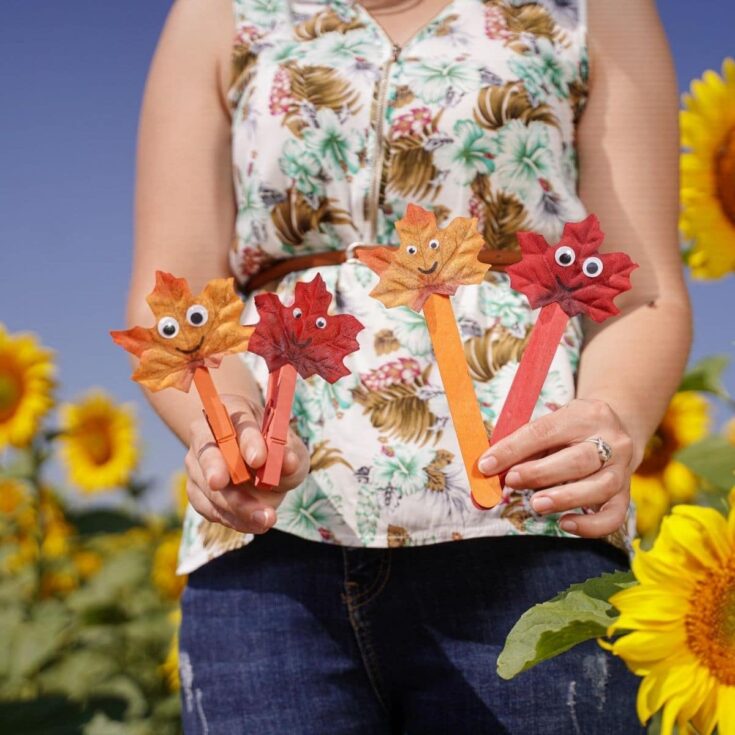 Have fun with the kids making these cute fall leaf people using artificial leaves, craft sticks, clothespins, and glue! A perfect activity for kids on a fall day!
Materials
Instructions
Paint the clothespins and crafts (1 for each leaf person);
Once they have dried, glue a fake leaf to the top with the bottom facing downward;
Glue googly eyes onto the leaf;
Using a pen or paint pen, draw a smile onto the leaf;
Add additional embellishments as desired;
Display or use as bookmarks or puppets.
Notes
Feel free to paint these different colors or even use green leaves.
Recommended Products
As an Amazon Associate and member of other affiliate programs, I earn from qualifying purchases.
Finished Project Gallery
The clothespin leaf people easily stand up on their own when placed on a counter or hard surface.
These are perfect additions to a fairy garden in the fall or autumn seasons.
Let your kids have fun making their own leaf people unique with glitter, ribbons, pipe cleaners, and more!