Don't you just love Halloween? I have always adored decorating for Halloween, especially when my kids were younger. We would make so many crafty things for decorating. Whether you have kids or grandkids, if you want to really spooky up your place this Halloween, I've found a great collection of handprint and footprint crafts that will let you decorate and save those precious prints for years to come.
From Frankenstein to ghosts and even a hand filled with candy, there's just about all of the decorating that you could imagine. The little ones will love making these decorations just about as much as you will love displaying them. Before you begin, check out how to make your own slime, which will also thrill the kids and makes a great scary party addition.
Then, take a look at the great handprint and footprint Halloween crafts in this collection. Make one or make them all. They're all relatively easy and don't require too many craft supplies.
Seriously, there are all sorts of great decorating ideas in here. Check out these monster wreaths while you're at it and really spook up your house. If you love Halloween as much as I do, you're going to love this collection. I promise you'll find something that will give you just the right amount of spooky for your Halloween decorating. And, they all give you that precious time to spend with the kids and grandkids.
1. Pumpkin Gift Bags
If you're planning a Halloween party, these little gift bags are perfect. They're also good for school parties, especially for teachers. Just have the little ones let you trace their hands, cut them out, and then glue them onto paper bags. You can find orange bags at craft stores or do brown paper bags and decorate them with more Halloween goodness.
Tutorial: gluedtomycraftsblog
2. Pumpkin Handprints
This is such an easy thing to do, and really a great way to let the kids help you with your decorations. Get some glitter paint, non-toxic and easy to wash off, and let them put their hand prints onto pumpkins. This also helps you avoid the mess that comes along with carving the pumpkin, and it will last longer if you don't cut it.
Tutorial: mylilpinkpocket
3. Handprint Witch
Kids love finger painting, and they'll love making this handprint witch, too. Just dip their hand in paint and place it gently on art paper. Their handprint makes the witch's face and body so you just have to fill in the rest of the picture. Cut out construction paper for the hat and broom or draw them in. These would be great in frames.
Tutorial: craftymorning
4. Knuckle Print Pumpkins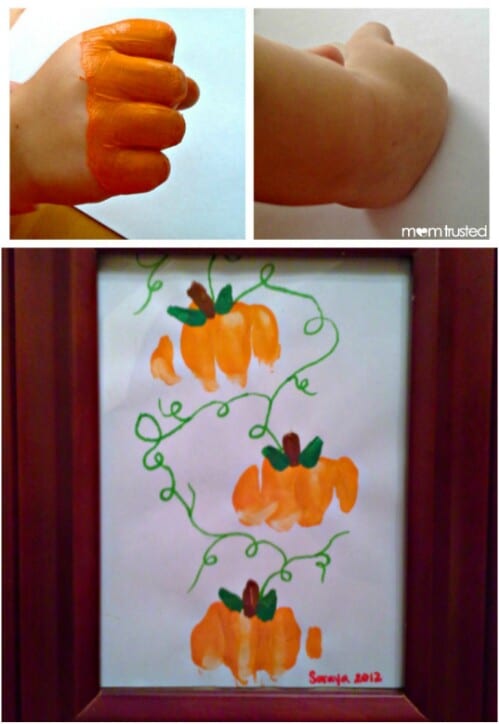 These little pumpkins are too adorable, and they're made from your little one's knuckle prints. Just dip their knuckles into washable paint and press onto art paper. The knuckle shape is perfect for little pumpkins, and they'll have a ball decorating their own jack-o-lanterns on the paper.
Tutorial: earlylearning
5. Footprint Ghosts Fence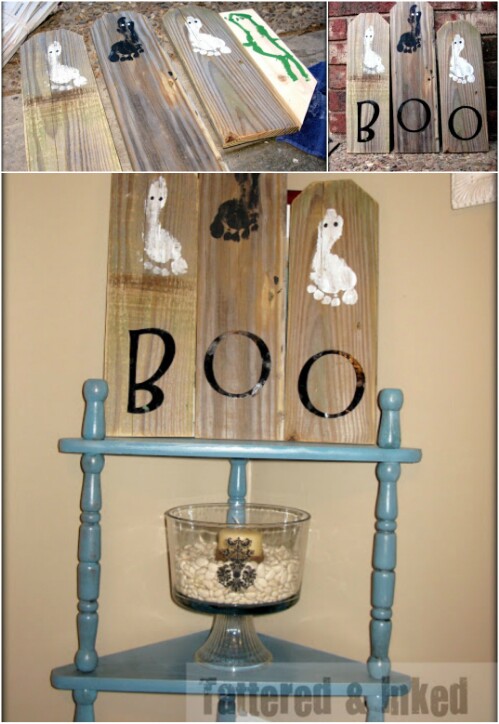 This footprint ghost fence is one of my favorites. It's so easy to do and looks so great decorating the porch or driveway. Just dip your little one's foot, or use your own if you prefer, into white paint and then press onto a piece of fencing. This is a great project for using up some of those pallets, too. Or, you can just cut the board pieces that you need. Let everyone in the family make a ghost and create your own little "boo" message.
Tutorial: tatteredandinked
6. Halloween Keepsake Canvas
This canvas is decorated to look like a trick or treat bag. With a handprint spider, googly eyes, and the ribbon "handle" it's a great decoration during the Halloween holiday. Pick up a small canvas at any hobby store and the rest of the decorations are likely things that you already have on hand.
Tutorial: being-bianca
7. Hand And Foot Wreath
How adorable is this wreath? Handprints and footprints make up the bulk of the decorations. You'll need to cut out the prints and then let the kids color or paint them. This is such an easy project and one of my favorites. Go all out and do footprints of everyone in the family to make a really big wreath.
Tutorial: jennwa
8. Handprint Spider
I hate spiders, I really do. But this handprint spider is just too adorable not to love. You'll need two handprints for each spider, or you can just duplicate one hand. Use the fingers for the spider's legs and then palm for his body. Add googly eyes and a string for hanging and you're all set.
Tutorial: housingaforest
9. Handprint Puppets
Let the kids put on a spooky show or use these as party favors for your Halloween celebration. These little puppets are too cute and so easy to make. Use colored construction paper to cut out handprints and then add your faces and a popsicle stick, all of which you can pick up at any craft store and most Dollar Stores.
Tutorial: craftsbyamanda
10. Frankenstein Footprint
How Scary! This Frankenstein footprint is bound to be a kid's favorite. You just cut out the footprint, or you could use a handprint if you prefer, paint or color him green and then add the decorations. So easy and such a wonderful scary decoration for home or school.
[quads id="8"]
Tutorial: frogsandsnailsandpuppydogtail
11. Footprint Ghosts
These footprint ghosts are a bit too cute to be scary, but they'll make a wonderful Halloween project for your little ones. Just outline their footprint and then fill in with white paint. Using a black background really makes the little ghosts stand out, and you can create an entire ghost family.
Tutorial: craftymorning
12. Halloween Handprints
This is a great little project, and you that gives you years of decorating ideas. You use paint to transfer handprints to a block of wood. Paint the wood black so that it shows up well. You could do this every year and display the different handprint sizes of all your kids throughout the years.
Tutorial: lowes
13. Candy Corn Footprint
What's my favorite part of Halloween? Candy Corn! I can't get enough. I also love this candy corn footprint, that's as easy to make as it is decorative. Just "paint" the bottom of your foot, or you child's foot, with paint, using white at the heel, orange in the middle, and yellow on the toes. Then just stamp your foot down onto black art or construction paper.
Tutorial: pinkieforpink
14. Thumbprint Spiders
These little spiders are so cute and so easy to make. Get your art paper ready and then just dip your thumb into paint. Stamp down as many times as you want a spider and then finish them off with googly eyes and a spider web.
Tutorial: meetthedubiens
15. Footprint Scarecrow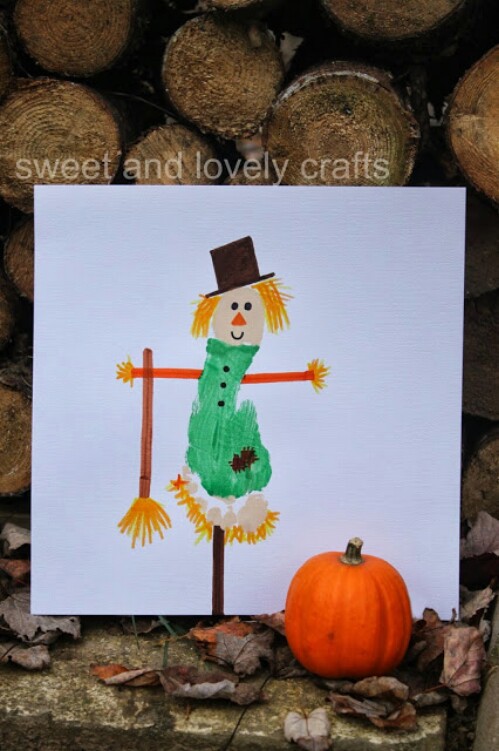 Wizard of Oz lookout. This footprint scarecrow will give the classic movie a run for its money. I love how perfectly the footprint creates the scarecrow's body. Kids can paint and decorate this picture however they like. You could even add yarn for hair and for the broom straw if you want more of a 3-D effect.
Tutorial: sweetandlovelycrafts
16. Handy Hanging Bat
This bat is just too cute for words. The wings are made from handprints and the body is stuffed, so it's a 3-D decoration. The ribbons really give it that cutesy look. You can use an old black sock for the body or whatever black material you may have on hand. These will look great hanging on the porch or in the house for your Halloween party.
Tutorial: katiesnestingspot
17. Black Cat
Not only does this black cat handprint look great, it's got a really cute verse that you can add. I think making one of these every year would be a great way to display your little ones' handprints as they grow. You could change up the verse every year, too to make them each unique. Just make the footprint with black paint and then fill in the remainder of the picture.
Tutorial: funhandprintartblog
18. Abc Handprint
This fun vampire is a great way for the kids to show off their artistic side. The palm print is the face and the fingers serve as the hair. He's a fancy vampire with a stunning hairdo! Just draw in the eyes and fangs and maybe his cloak and you've got a great decoration for the holiday.
Tutorial: mommyminutesblog
19. Skeleton Hands
Kids will love making this skeleton hand. Use their own handprint to create an outline for the "bones' and then fill in with Q-tips. You can do so many different things to make this unique. Use your creativity. You could pull the cotton completely off the Q-tips if you prefer, but I think it looks so authentic this way.
Tutorial: dillydaliart
20. Monster Mix Candy Hands
Okay, so these aren't technically made from handprints, but they're too great not to include in our collection. You just fill clear disposable gloves with popcorn, candy corn, and other Halloween goodies and then tie them off. Add plastic spider rings or other Halloween decorations to make them the best party favors ever.
Tutorial: yummyhealthyeasy
Kids will really love making these and you'll love having their little handprints around after they've grown. Whether you're planning to decorate for a big party, or you just want something that you and the kids can do together before the holiday, you're going to find something the entire family will love in this collection.