I'm so excited about fall! It's been so hot here in the South that the cooler temperatures alone are reason to celebrate. When you add in the beautiful fall colors, I just can't wait to start decorating.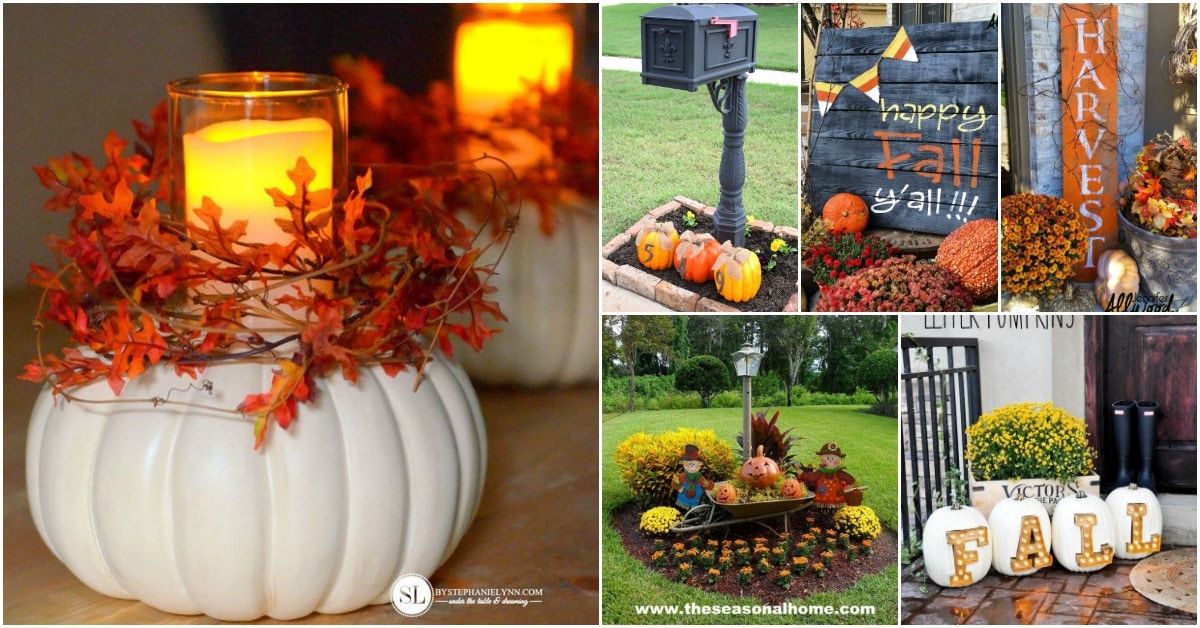 If you have a large front yard, or even a small one, there are things that you can do that will add beautiful colors and designs to dress up your yard for fall.
From pumpkins and scarecrows to corn husks and gourds, there are so many natural things that you can use in your outdoor fall decorating.
There are some beautiful metal pumpkins and even a DIY wheelbarrow that you can make to add a bit of charm to the area around your mailbox or even on the steps leading up to your porch.
Most people add a wreath or other decorations to the porch, but I wanted to offer you something that goes beyond porch decorating. And, be sure to check out these 60 beautiful DIY fall decorations for your home.
So whether you want to dress up your mailbox with some corn husks and burlap or build your own tiered planter from bushel baskets or plastic pumpkins, there is definitely an outdoor DIY fall project in this list for you.
Many of them use things around your house that you may already have on hand, so they're really cheap and they are all super easy to do. And if you love decorating with natural items, be sure to take a look at these 15 fall leaf crafts for kids. You could have fall colors inside your home and out!
If you're as ready for fall as I am, it's time to get down to some DIY fall decorating projects. I've found 20 amazing ways to bring that decorating out into your yard and increase your curb appeal.
Go ahead; make your neighbors jealous and DIY a few of these fall decorations. You'll be so glad you did!
1. Upcycled Bundt Pan Pumpkins
I love these metal pumpkins that are made by upcycling old bundt pans. You just paint your bundt pan orange and then add the stem, which you can make from an old rusty bed spring.
These little pumpkins are too adorable and they will look perfect out in your flower garden or lining the steps up to your porch.
Source/Tutorial: lespetitesgourmettes
2. DIY Bushel Basket Tiered Planter
This bushel basket planter is perfect for decorating the lawn and garden for fall. If you don't have the bushel baskets, you can get them at most farmer's markets or even at the Dollar Store and they're pretty cheap.
You just attach them together with a wooden dowel and once your tiered planter is done, use it to display your mums or even a collection of pumpkins and gourds in the front yard.
Source/Tutorial: mycreativedays
3. DIY Outdoor Pumpkin Candle Holders
Imagine lighting up your walkway with these gorgeous DIY pumpkin candle holders! I love the white pumpkins and they're even more elegant when you add in some fall foliage.
You'll need a few craft pumpkins, which you can get at any craft or hobby store, or check the Dollar Tree and similar stores for cheaper versions. Just paint your pumpkins white and cut the top off, just bit enough to hold a glass candle holder, and then add some leaves and other decorations.
Source/Tutorial: bystephanielynn
4. Fall Fence Swag
You don't have to do all of your decorating on the porch. If you have a fence in your yard, this fall swag is perfect for adding bits of color and decoration.
This would even work on the mailbox or railing if you don't have a fence. It has gorgeous coloring and is filled with tiny pumpkins and gourds. It simply screams fall and you can get it on Etsy for less than $70, depending on the length that you want. It goes up to nine feet long!
Source/Tutorial: etsy.com
5. Corn Stalk Mailbox
You can instantly dress up your mailbox with a few cornstalks and some color. I love the idea of using corn stalks in fall decorating. It's a decoration that I think is seriously underutilized and yet it adds the perfect fall touch.
You can get corn stalks – if you don't have them from your own garden – from any farmer in your area. Just take several and tie them up around your mailbox post with twine and then add in small gourds and pumpkins for color and maybe even a raffia or burlap bow.
Source/Tutorial: myamazeingjourney
6. Painted Fall Distressed Pumpkin Crate
Those old wooden crates really are great for decorating, especially for fall. If you're looking for a cheap and easy decoration for the front lawn, this crate idea is perfect.
You just paint your pumpkin or other fall message on the crate and then fill it with mums, pumpkins, gourds or even fall colored dried corn. Then place it on your steps, near the mailbox, or anywhere you want to draw a bit more attention to your decorating.
Source/Tutorial: andersonandgrant
7. DIY Concrete Pumpkin Planter
These concrete pumpkin planters are perfect for displaying your seasonal mums or other fall flowers and they're super easy to make. You make them with pumpkin shaped candy buckets that you can get at the Dollar Store for around a dollar each.
You'll need one pumpkin bucket for each planter that you want to make. You just form concrete around the bucket and then cut the bucket away to reveal your DIY pumpkin planter.
Source/Tutorial: countryliving
8. Marquee Light Letter Pumpkins
Spell out fall or welcome or whatever you want to spell with these adorable marquee light pumpkins. These are so very easy to make and they won't cost much at all, even if you have to purchase all of the materials.
You'll need craft pumpkins, one for each letter, as well as the marquee light letters which you can get at any craft or hobby store. Just use an X-Acto knife to cut away the pumpkin in the shape of each letter that you want to display.
Source/Tutorial: karaspartyideas
9. DIY Rustic Decorative Wheelbarrow
You don't have to have an old wheelbarrow to create a beautiful fall display. You can build one yourself! I love this rustic wheelbarrow for fall decorating.
When it's finished, you can fill it with pumpkins or any other fall decoration and display it in the front yard for everyone to see. You build it from a wooden crate – which you can get at Walmart for under $10 – and a few spare pieces of wood.
Source/Tutorial: homedepot
10. DIY Fall Scarecrow
What's better for fall decorating than your very own DIY scarecrow? I love this little guy. He's so easy to make and would be perfect for decorating anywhere in the yard.
If you've never made your own scarecrow before, you're in for a treat. These are so wonderfully simple and you can upcycle some of that old clothing to make him. Make a couple of them and have a little scarecrow family adorning your lawn for fall.
Source/Tutorial: 2littlehooligans
11. DIY Terra Cotta Scarecrow Fence Sitter
This little terra cotta scarecrow is really adorable and he's pretty easy to make. You can make a few of these and have them lining your fence or deck or make larger ones – just get larger terra cotta pots – and place them in the yard.
You draw the face on with markers and aside from that; you just need four terra cotta pots for each scarecrow plus a bit of twine, burlap and straw.
Source/Tutorial: nifymag
12. Lamp Post Garden Décor Idea
I love this display around the lamp post. If you don't have a lamp post, this would also look beautiful surrounding a tree in your yard and it's pretty easy to put together.
You can get scarecrow picks at the Dollar Tree for just a dollar each and aside from that, you just need pumpkins, a wheelbarrow and some seasonally colored flowers or foliage. You could even add in a small bale of hay or straw to make it a larger display.
Source/Tutorial: theseasonalhome
13. Fall Garden Flag
Sometimes it's the simplest things that make the most impact. I always have seasonal garden flags in my front yard and this one for fall is just perfect. It's a little acorn that helps you to welcome the season.
You can add it to a flag post and put a burlap or raffia bow to make it a larger display. This is so perfect for around the mailbox or in your fall flower garden. You can pick this one up on Etsy for less than $20 and you can even get it with the design on both sides.
Source/Tutorial: etsy.com
14. Galvanized Bucket Fall Display
Here's another really simple way to show off those fall colors. Just take a galvanized bucket or wash tub and fill it with pumpkins, gourds, corn and other fall related items.
I would even tip the bucket sideways and just have the decorations spilling out of it. This would be great for the base of your porch steps or near the mailbox if you want something with a bit of color further out in the yard.
Source/Tutorial: threepixielane
15. DIY Happy Fall Pallet Sign
This upcycled pallet turned fall sign is gorgeous and will take you very little time to make. If you have an old pallet – if you don't, you can get them nearly anywhere for really cheap – you just paint it and then add your fall message.
You can even add a little bunting made of burlap that is painted to look like candy corn. Put this at the base of your stairs, near the mailbox, or anywhere you want to welcome guests to your home this fall.
Source/Tutorial: themagicbrushinc
16. DIY Harvest Sign
This harvest sign is such a quick and easy project and will add beautiful fall colors to your outdoor decorating. You can make it with a board that you have left over from other projects.
Just paint the board orange and then add your Harvest wording in white. It's such a simple idea but one that makes a huge statement. This would look great in the garden area next to your mums.
Source/Tutorial: themagicbrushinc
17. Cheap DIY House Number Pumpkins
Not only are these house number pumpkins perfect for your outdoor fall decorating, they're really cheap and easy to make.
You just need plastic pumpkins that you can get at Walmart for around $5 each, some burlap for a bow and house numbers, which you can find at any home improvement or hardware store. Just glue the numbers to your pumpkins and add your burlap bow to the top.
Source/Tutorial: adiamondinthestuff
18. Pumpkin Filled Outdoor Lanterns
You can find these great outdoor lanterns at Walmart or the Dollar Store and they are not at all expensive. Grab a few and then open them and add small pumpkins and gourds.
You could even tie a burlap or raffia bow on top if you want. These would look beautiful lining your walkway. I would personally do a pattern with one pumpkin filled lantern and then one candle lantern…and so on.
19. DIY Pottery Barn Inspired Metal Pumpkins
These metal pumpkins are really unique and so gorgeous. They're inspired by Pottery Barn's metal pumpkins, but they are much cheaper. You make these with galvanized metal strap and a few basic supplies like screws.
These do take a bit of work but they are very much worth the effort. Just cut the metal strap in strips of the same size and then work them into a pumpkin, screwing each piece together as you go.
Source/Tutorial: thenavagepatch
20. Adorable DIY Tipsy Pumpkins
You've surely seen these adorable pumpkins at some point. They're plastic pumpkin candy buckets from the Dollar Store that you stack in a staggered manner to create a beautiful planter.
You can take some extra time to paint the planters if you don't want the jack-o-lantern look. Some white spray paint would look beautiful, especially when you add in your fall colored flowers. This is really easy to put together and the pumpkins help to support each other so there's no worry of your tipsy pumpkins toppling over.
Source/Tutorial: birdsandblooms