Don't you just love fall? From the cooler temperatures to the gorgeous colors, fall is definitely my favorite time of year.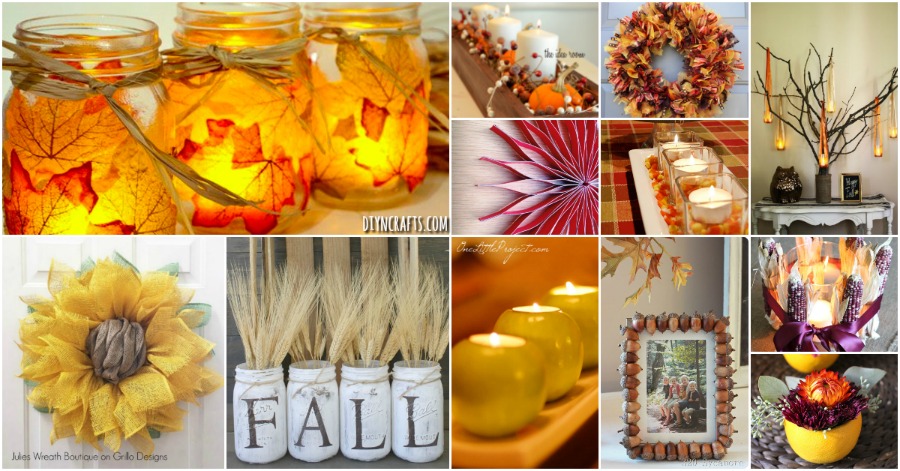 Now that it's finally here, it's time to think about decorating with all those beautiful fall colors, and I've found so many wonderful ways to bring the colors of fall into your home.
Whether you want to go outside and gather leaves and gourds or you prefer to purchase your fall decorating supplies from the Dollar Store, you're going to find something in this collection that will add beauty and warmth to your home this autumn.
Jump to:
1. Sunflower Wreath
Nothing says fall more than sunflowers and burlap. This easy DIY sunflower wreath uses burlap and a few other craft supplies to create a stunning and fun decoration for your door. Show all your neighbors how ready you are to greet the cooler temperatures when you display this on your front door.
Source and Tutorial: grillo-designs
2. Rustic Mason Jars
Some white spray paint with black lettering is all you need to create these gorgeous fall themed mason jars. Just fill them with sunflowers or any other kind of autumn flower and you're all set with beautiful vase like jars that are perfect for fall. The rustic look really sets them apart.
Source and Tutorial: sincerelyjean
3. Autumn Leaf Mason Jar Candle Holders
Have I mentioned how much I love mod podge? You can use it to create these amazing mason jars turned autumn leaf candle holders. Just affix the leaves to the jars with mod podge, add your candles, and you're all set. They're easy and really gorgeous.
Source and Tutorial: hellonewlywed
4. Falling Leaf Block
If you love sewing, you'll really love creating this falling leaf block that's going to really decorate your dining room table. You'll need some quilting squares and maybe a couple of hours of time. Make several of them in smaller sizes for decorating your coffee tables, too.
Source and Tutorial: goodgollyginger
5. Fall Apple Candle Holders
These little tea light holders are made from actual apples, so they're gorgeous and they smell wonderful. Use green and red candles for a really diverse look. You literally just cut a hole in the apple and insert your tea light candle. Please be careful to not leave the candles burning unattended.
Source and Tutorial: onelittleproject
6. Paper Flowers Blossom Branches
Paper flowers are great. Not only are they easy and really inexpensive to make, they can be so versatile for decorating. These are especially easy to make and when you attach them to a branch, you have your own little fall blossom that you can use to decorate any room.
Source and Tutorial: titicrafty
7. Mason Jar Lid Pumpkins
Gather up those old mason jar lids – or just go buy a few at the Dollar Store. These mason jar lid pumpkins are so easy to make and they really are a unique way to decorate. You just tie them all together and they form the shape of a pumpkin. How easy is that? Some twine and a cinnamon stick will finish them off. Plus, the cinnamon smells really good.
Source and Tutorial: thecountrycook
8. Glitter Acorns
Use these glitter acorns anywhere in the house to add a bit of fall. You can spray paint them and then add glitter to the tops. Or for a more rustic look, just glitter the tops and leave the bottoms natural. However you want to do them, they're going to add the perfect autumn charm to your home décor.
Source and Tutorial: somewhatsimple
9. Cinnamon Pinecones
Pinecones are the epitome of fall. These cinnamon pinecones look and smell great and they're really easy to make. With a touch of essential oil to give them a fairly strong smell, these are going to be the perfect way to bring the look and scent of fall into your home. Use them to decorate a centerpiece or just put them in a bowl and display them.
Source and Tutorial: treasureinanearthenvessel
10. Glitter Glam Pumpkins
These little pumpkins are so gorgeous all decked out for fall. You can buy small pumpkins at your local farmer's market. Then just paint and glitter them and display them however you like. Use your imagination when decorating and give them all their own unique look. They're great for decorating centerpieces or just sitting out on the coffee table.
Source and Tutorial: thinkingcloset
11. Potato Stamped Wreath
Remember potato stamps when you were a kid? You can use this same technique to create a great fall wreath. Cut your potato and then dip into paint and stamp away. Once your wreath picture is finished, frame it for an extra-special touch.
Source and Tutorial: look-what-i-made
12. Painted Pinecone Garland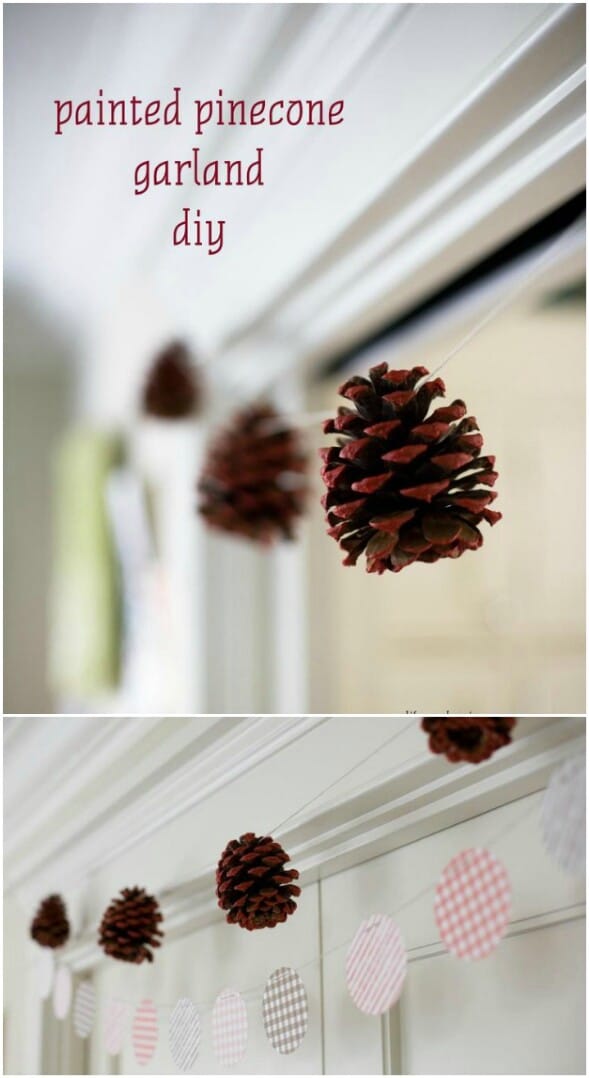 What a simple concept. Just paint pinecones, string them up, and use them to decorate the mantel. You can do your pinecones in different colors or choose one uniform color. String them up with fishing line, or for a more rustic look, try some thin twine. This is a great mantel decoration or you could be creative and make a wreath from them.
Source and Tutorial: mylifeatplaytime
13. Orange Vases
For a really simple, not to mention beautiful, fall decorating idea, just hollow out some Valencia oranges and fill them with fall flowers. Mums make an excellent choice and come in so many wonderful hues that you can match them to your orange vase or create a stark contrast of colors. You can also use the insides of those oranges to create a yummy fall snack.
Source and Tutorial: dailysqueeze
14. Chevron Pumpkins
I love DIY pumpkin decorating of any kind, but I particularly adore the look of these chevron pumpkins. Just a few small pumpkins and some paint, and you can have the classiest porch in the neighborhood. Use these inside or out. Painting them beats the cleanup of carving and the chevron look is so unique and elegant, you just have to love it.
Source and Tutorial: mysweetsavannah
15. Pumpkin Planters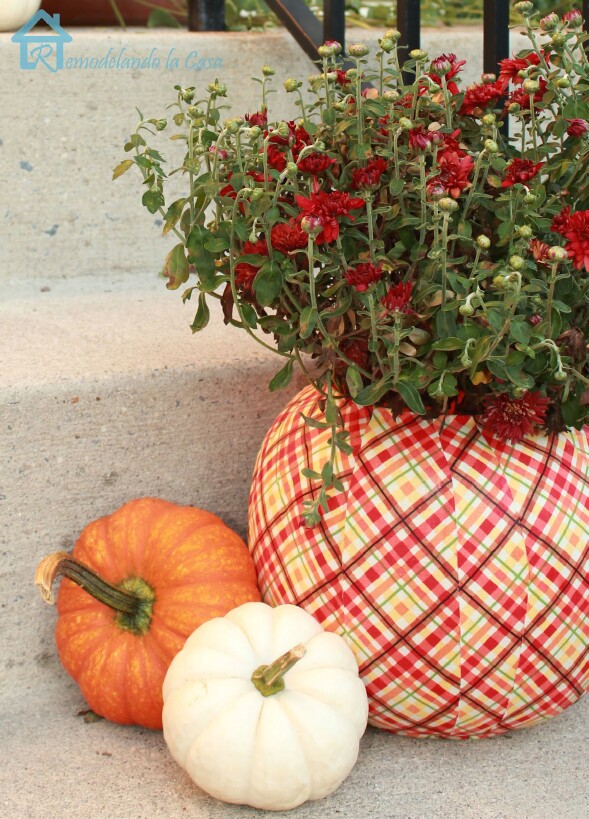 Dress up your pumpkins and decorate your porch or yard with amazingly unique planters. Just a bit of paint will give those pumpkins a really original look. Then just add your mums or other fall plants. You can also use decorative paper or even Washi tape to decorate the pumpkins if you prefer not to paint them.
Source and Tutorial: remodelandolacasa
16. Illuminated Tree
Make your own illuminated tree with a few branches or twigs, some ribbon, and a few battery operated tealights. You can use sand and rocks to hold the twigs or branches in place in a vase, which also lends to the overall look. This DIY illuminated tree may be one of the easiest things in the collection and it's definitely one of the most gorgeous.
Source and Tutorial: thefancifulmiser
17. Lighted Twigs
Here's another great take on the lit up branches look. Gather your twigs or branches and incorporate Christmas lights into them. Display them in a bucket and you've got a great fall look for indoors or out. I would also add pinecones to the bucket and maybe some small gourds or pumpkins for added fall colors.
Source and Tutorial: sugarpiefarmhouse
18. Autumn Leaf Art
Turn an autumn leaf into a beautiful work of art. Just frame it! This poem with a leaf in the center is so fall-like and gorgeous. You could also display a leaf on a picture canvas and use wording or other decorations behind it. Use your imagination and turn those fall leaves into art that you can hang all over the house.
Source and Tutorial: tattooedmartha
19. Burlap Table Runner
You know how much I love decorating with burlap, and it really is the perfect fabric for fall décor. Create this lovely table runner in just a couple of hours, and decorate your dining room table in autumn glamour. You just paint white dots (or whatever you want) on the burlap and tie some tassels on each end. It's an easy DIY table runner that you're sure to be proud to display.
Source and Tutorial: inspiredbycharm
20. Roped Vase
Use those old coffee cans or empty oatmeal boxes to create beautiful vases. Or, you can use whatever cans or containers you have on hand. The idea is to wrap the containers with twine or rope to give them a really great rustic look. Fill them with mums or other fall flowers and you've got the perfect autumn décor for your indoor or outdoor decorating.
Source and Tutorial: sparkandchemistry
21. Doily Pumpkins
Doilies are so elegant and make the best DIY decorating supplies. Honestly, you can get doilies at the Dollar Store for about a dollar for 10, so creating these little doily pumpkins will be really inexpensive.
You literally just glue the doilies to the pumpkins in whatever pattern you want. The result is an elegantly decorated pumpkin that you can display anywhere.
Source and Tutorial: ilovetocreate
22. Autumn Chalkboard
Chalkboards definitely make you think autumn. Maybe it's the back to school vibe. You can bring a bit of that vibe into your home décor by using an inexpensive chalkboard and creating your own fall message. Frame the chalkboard in a wooden frame to give it a really decorative look.
Source and Tutorial: threepixielane
23. Chalkboard Pumpkins
I absolutely adore these chalkboard pumpkins. There are so many ways that you could dress up a pumpkin, and this one may just be my favorite. Just paint your pumpkins with chalkboard paint and then create your fall messages. These are great for indoor or outdoor decorating.
Source and Tutorial: betterrecipes
24. "Hay" Fall
Hay or straw bales, corn stalks, and a few pumpkins are the perfect things to decorate your porch for autumn. You can do so many creative things with these basic supplies.
You may even want to move them out into the yard and add a scarecrow or two. Whatever you do, you are sure to give your home an autumn appeal when you start with these things that are synonymous with fall.
Source and Tutorial: ourvintagehomelove
25. Gourd Candles
Gourds are great for fall decorating and these little gourd candles are so easy. You just cut a spot into your gourd to fit a tealight candle, and that's it. Gather or buy gourds in all different sizes and you can sit these all around the house. They also make great centerpieces for Thanksgiving and other special dinners.
Source and Tutorial: revelblog
26. Mason Jar Vases
Here's another great take on fall themed mason jars. Just paint the jars a nice warm fall color and then use them as vases. A little sandpaper will remove just enough paint to give them a nice weathered look, so if you're in to the rustic scene, that's a good way to finish them off. Add fall flowers and you're all set. These would be great for fall themed weddings, too.
Source and Tutorial: thehappyhousie
27. Wood Slice Napkin Rings
These wood slice napkin rings are so easy to DIY. You'll need a few power tools of course, but they really don't take much time, and they will dress up your table in beautiful fall colors and textures. Just cut them all the same size, drill the holes, and then add your cloth napkins.
Source and Tutorial: dukesandduchesses

28. DIY Sweater Pillows
What could possibly be more fall-like than a cozy sweater? With that in mind, these adorable sweater pillows are sure to become your favorite fall décor. And, they're really easy to make. I especially love the thought of cozying up with a pillow that looks just like my favorite fall sweater.
Source and Tutorial: stonegableblog
29. Yarn Pumpkins
Yarn is so inexpensive as far as craft supplies go, especially if you find a good sale or a closeout. You can turn some of that yarn into these adorable little pumpkins, complete with a tiny pinecone at the top for the stem. These are so easy and if you don't want to use them again, just reuse the yarn in another project.
Source and Tutorial: diyshowoff
30. DIY Fabric Deco Balls
Fill a bowl or large vase with these easy to make origami style fabric balls. This is a great way to use up those old fabric scraps, and you get a really cool decoration that's really versatile. You can use any fabric that you want, but if you want fall colors, try browns and oranges, or use some Halloween fabric to get ready for the holiday.
Source and Tutorial: ohohdeco
31. Typographic Coasters
These cork coasters are perfect for adding that cool brown color for fall, and you can design them however you like. Make a coaster in support of your favorite drink. These are great for get-togethers this holiday season, and they're perfect for holding hot chocolate or spiced cider on those cool autumn nights.
Source and Tutorial: fairgoods
32. Retro Starburst Trivet
This easy DIY paper starburst trivet looks great gracing the dinner table, or you could hang it on the wall for a little extra fall décor. Choose paper colors that represent autumn. Candy apple red is an excellent choice, and the starburst shape and style will put you in the mind of retro 70's home décor.
Source and Tutorial: kollabora
33. DIY Faux Copper Vase
Give your chrysanthemums and other fall flowers a beautiful display with this easy to DIY faux copper vase. You'll need dowel rods that you paint to look like rustic copper. These little vases are so gorgeous and utterly simple to create. You'll want to make one for every room in the house.
Source and Tutorial: oleanderandpalm
34. Natural Room Scents
Give your home a little autumn pick me up and a luscious scent at the same time with these DIY natural room scents. Gather up those jelly or mason jars and add any number of fruits, herbs, cinnamon sticks, and other ingredients. The smells are wonderful and they look so good in any room. This is a great way to get the smells of the season in the house without burning candles or spraying aerosols.
Source and Tutorial: theyummylife
35. Pottery Barn Inspired Candles
Pottery Barn always has wonderful fall décor, but who wants to spend a small fortune to decorate? You can get the same look with these DIY candles, and save a ton of money. You will need a few supplies, including some acorns that really give the candles that autumn look. It's an easy project and one that would make a wonderful gift for someone special.
Source and Tutorial: livelaughrowe
36. Fall Wreath Chandeliers
These DIY fall wreath chandeliers are a must for your autumn decorating. You'll need a grapevine wreath, which you can pick up at most craft stores, along with some fall leaves and other seasonal decorations. Some votives, a chain, and a few hooks, and you've got a gorgeous fall chandelier that you'll want to hang all year long.
Source and Tutorial: practicallyfunctional
37. Wool Candy Corn
Nothing says fall better than candy corn, and now you can create some that will last all year long. These wool candy corns are amazing and so easy to DIY. You need a few cone shapes. You can pick up Styrofoam cones in various sizes at Hobby Lobby and other craft stores. Then take colored yarn in white, yellow, and orange, and just roll them up.
Source and Tutorial: danielleyarian
38. Candy Corn Wreath
Here's another great candy corn decoration, but this one uses the real stuff. Use a Styrofoam or other solid wreath form and then just glue candy corn onto it, creating whatever pattern you like. You can hang it with a large black ribbon. Be sure that you keep it up away from small children and indoor pets as the candy may be too good to pass up.
Source and Tutorial: thriftydecorchick
39. Decorated Wine Bottles
Turn those empty wine bottles into works of art when you paint them for fall. Spray paint them a nice warm color and then write a message, like "fall" on them. These are great for displaying flowers with longer stems or you could just put twigs in them with splashes of color.
Source and Tutorial: staceysays
40. Candy Corn Centerpiece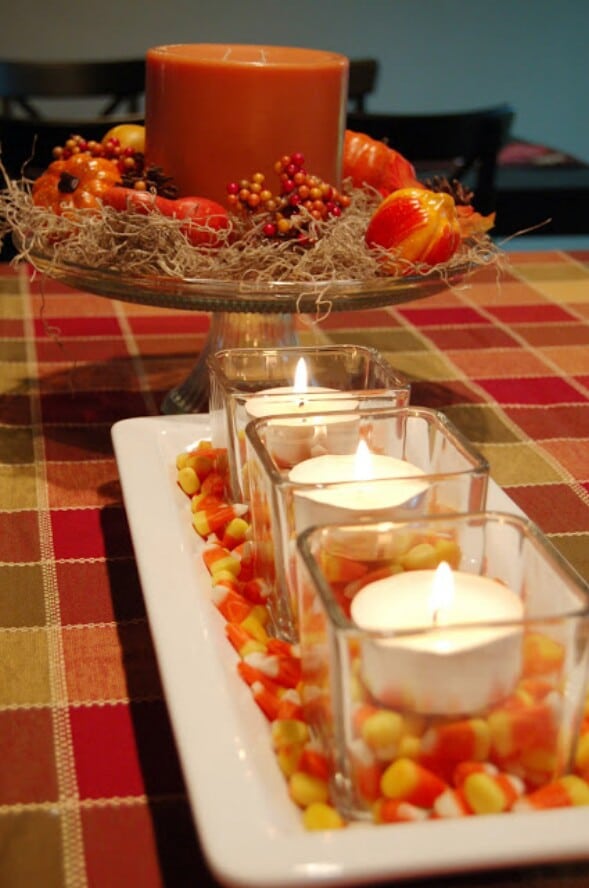 Here's another great candy corn decoration. Take a long glass dish, add candy corn, and then place votive holders and candles in the center. This is not only one of the easiest projects on the list, it's also one of the most elegant. Display it on your dinner table or coffee table. It's inexpensive and really gives off those fall colors.
Source and Tutorial: craftyteacherlady
41. Ribboned Pumpkins
Adding ribbon to pumpkins give them a completely different look. Choose different sizes ad designs of ribbon and decorate all of your pumpkins, big and small. Add some hay and you've got the makings of a great porch display. Or, line them up on the mantel. Using ribbon instead of painting or cutting also keeps your pumpkins intact, so you can use them for baking later.
Source and Tutorial: fynesdesigns
42. Twig Table Runner
Some strategically chosen twigs, a hot glue gun, and a few fall decorations give you the makings for a great table runner for autumn. The twigs are such a wonderful decorating idea and you can add leaves or mums to really bring out the fall colors. This is a great idea for the dinner table or craft a shorter runner for the coffee table.
Source and Tutorial: hgtv
43. Harvest Candles
A few small ears of dried corn still in the husks and a candle holder make the perfect fall decoration. You simply line the corn up around the candle and hold them in place with some twine or burlap ribbon. I love this idea for a centerpiece for Thanksgiving, or you could use it anywhere in the house to add a bit of fall color.
Source and Tutorial: julieblanner
44. Wooden Box Centerpiece
A rectangular wooden box filled with a few candles, some dried flowers and twigs, or other natural fall decorations gives you a beautiful centerpiece. Just take a trip outside and gather up leaves, pinecones, or whatever else you can find. Dried cranberries are a great thing to add a splash of color as well.
Source and Tutorial: theidearoom
45. Fall Colored Wine Bottles
Here's another great way to decorate wine bottles for fall. Clean up the bottles and grab some spray paint in white, orange, and yellow. Then paint the bottles like candy corn. You can use them as individual vases to hold your fall flowers or put a few of them together to make a wonderful centerpiece.
Source and Tutorial: brit
46. Decorated Toilet Paper Rolls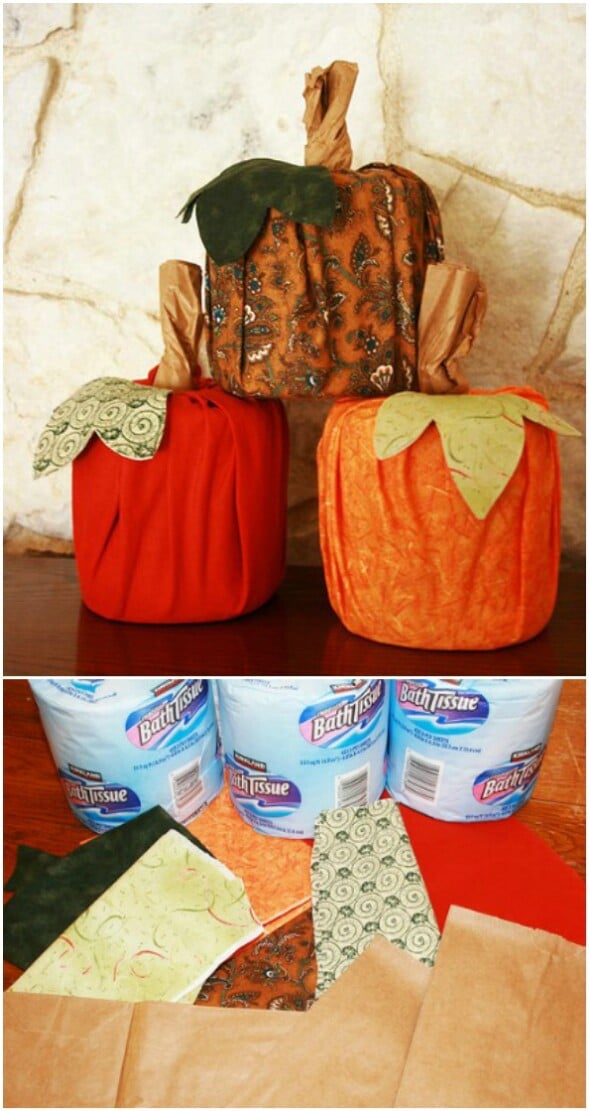 Yes, even the bathroom needs a splash of autumn. You can give it some fall coloring by decorating your extra toilet paper rolls. Some fall fabric to cover it, gives each roll a great pumpkin look. Add a green leaf and a stem, both made from fabric, and you've got the most decorated bathroom on the block.
Source and Tutorial: cranialhiccups
47. Harvest Candlesticks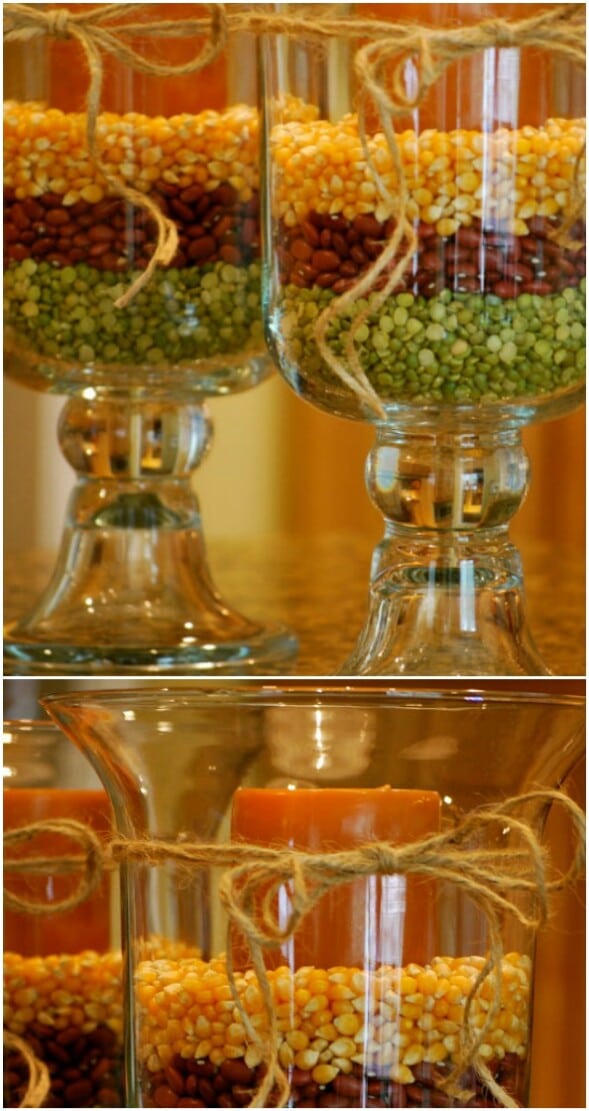 Some dried corn, beans, and peas make wonderful decorations for any candlestick. You'll need a larger candle holder and then you just layer the dried foods around your candle. Tie a twine bow on it and it's the perfect addition to your autumn décor.
Source and Tutorial: myheartsdesireblog
48. White Pumpkin Centerpiece
A few small white pumpkins and some acorns or pinecones inside a glass dish or flute make a very elegant centerpiece. You can find white pumpkins at most Dollar Stores and they're really inexpensive. If you want to add a wonderful warm autumn scent, buy the cinnamon pinecones from the Dollar Store as well.
Source and Tutorial: shanty-2-chic
49. Acorn Candles
Grab those mason jars and a handful or two of acorns and make this wonderful candle. Just place a candle inside the jar and layer around it with acorns. You can use them plain or paint them for more color. This makes a really simple yet elegant candle that you can use to decorate any room in the house.
Source and Tutorial: potterybarn
50. Burlap Candle Covers
Burlap is such a fall material. Cut strips of it and use the burlap to cover your votive holders. These are so cute and so easy to make. You can embellish with ribbon or dried flowers if you want, or just leave them plain. The burlap gives them such a wonderful autumn look.
Source and Tutorial: ohsolovelyblog
51. Fall Leaf Table Runner
You can create this fall leaf table runner in under 10 minutes, making it one of the easiest decorations in this collection. You just need a few felt leaves, the actual number depends on the length of the runner that you want to create. Get leaves in different fall colors for a really gorgeous runner. Once you've decided how many leaves you will need, just lay them out and glue them together.
Source and Tutorial: bombshellbling
52. Wooden Ladder Décor
Old wooden ladders are so versatile when it comes to DIY projects. Take an old ladder, paint or stain however you prefer, and then hang it above your dining room table. You'll decorate with fall leaves, grape vines, twigs, and other autumn decorations. This is a great idea for any season as you can change the decorations from month to month.
Source and Tutorial: justimagine-ddoc
53. Fall Leaves and String
A few fall leaves gathered from the lawn and some string give you a wonderful decorating platform. You can treat the leaves with acrylic sealant spray to keep them crisp and make them last longer. Create a garland for the mantle or string them up anywhere you need a bit of extra autumn coloring.
Source and Tutorial: garlandofgraceblog
54. Autumn Rake Décor
An old rake can be used to create a beautiful wreath like hanging. Decorate your rake top with some fall leaves and a bit of twine. You can also use a bit of burlap to create a ribbon for the front. This is a great decoration for your front door or anywhere on the porch.
Source and Tutorial: hillhousehomestead
55. Pegboard Display
An old pegboard is the perfect backdrop for your fall decorations. Add a grape vine wreath, a few autumn leaves, and even some old brass knobs or hinges to give it a great rustic look. This is a good piece for the mantel or you can hang it on the wall if you prefer.
Source and Tutorial: petticoatjunktion
56. Acorn Photo Frames
You can use acorns to emphasize your photo frames and give them a great autumn look. Just cut slits in the acorns and place them around the sides of the frames. This is such an easy project and it's completely free. Just go outside and gather those acorns and you're practically done.
Source and Tutorial: 320sycamoreblog
57. Book Page Pumpkins
When I was a kid, my grandmother always made these great Christmas trees from old Reader's Digests. You can do the same thing, only make those book pages into pumpkins. These are so neat and kids will love helping with them. You can leave them with the pages showing or paint them if you prefer.
Source and Tutorial: sagebrushridge
58. Fall Ribbon Wreath
I found this little gem on Etsy, but it looked really easy to replicate. You'll need a wreath form, a wire one, and ribbon. Just form the ribbon through the wire until you have the wreath as thick as you want it. These are so gorgeous and can be decorated and embellished as much as you want.
Source: etsy
59. Cinnamon Stick Candles
Cinnamon sticks aren't terribly expensive and you can use them to create gorgeous candles. Plus, the cinnamon smell is sure to make you think of warm nights by the fire. Just line the sticks up and tie them together with twin or ribbon. Then stick a votive cup and candle inside.
Source and Tutorial: the36thavenue
60. Mini Pumpkin Wreath
Take those mini pumpkins (real ones or the plastic ones you can get at the Dollar Store) and form them into a wreath, holding them in place with wire. This would be a great decoration for the front door or you could lay it on a table, stick some candles in the center and make it a dinner table centerpiece.
Source and Tutorial: themagiconions
Conclusion
I love fall colors because they make you feel so cozy.
All of these projects incorporate those colors to give your home a welcoming feel that you and your guests are sure to love. Pair these with my creative pumpkin carving and decorating ideas to really bring in the autumn spirit.
From beautiful wreaths and candles to pillows and so much more, I've collected 60 great fall DIY decorating ideas that are sure to help you welcome the new season into your home.
The best part? All of these projects are really easy and really inexpensive to make. You can add some fall warmth and charm to your home for much less than you would think and definitely much less than you would spend if you went out and bought all your fall décor.
Whether you're getting ready to decorate for Thanksgiving, or you just want to start enjoying those cooler temperatures and gorgeous fall colors, we're going to have a blast with this collection. Let's get started creating some colorful DIY fall decorating!