Thanksgiving is about much more than food, right? Well, partly about more than food. It's also about the decorations, and if you're like me, you tend to decorate for every single holiday. I've found a great collection of ways to decorate for Thanksgiving that won't take much time or money – my favorite type of decorating!
Whether you like creating things from  fall leaves or you prefer to gather up pinecones for your holiday decorating, I'm certain that you'll find something in this collection that will make your Thanksgiving extra special.
You know you really want to impress your Thanksgiving dinner guests with a personalized table setting. Or maybe you just really want to create adorable fortune cookies for everyone in your family. Whatever you are looking to do for the upcoming holidays, there is a DIY project in here that's perfect for you.
Sit back, browse this amazing collection and really impress people as they show up for your home cooked Thanksgiving dinner. And of course, let me know which decorating DIY you did and how it turned out!
Pear and Clove Messages
Spell out your Thanksgiving message on pears using cloves. Not only does this look great and provide a wonderful decoration, it also makes your entire house smell wonderful! You could also use oranges if you prefer, which is a very popular Christmas decorating tip.
DIY Instructions and Project Credit: jessicaburns
Rosemary Wreath Place Settings
Personalize each place setting with these gorgeous rosemary wreath place cards. Make one for every plate at your dinner table. Not only do they look great, they also smell fabulous, and they're so easy to make!
DIY Instructions and Project Credit: spoonforkbacon
Personalized Silverware Holders
Let your guests make their own personalized message with these great silverware holders. They can write on them what they are most thankful for. This is a great keepsake to look back on in a few years, and they are so easy to do. Take a break between dinner and dessert and let everyone read what they're thankful for.
DIY Instructions and Project Credit: abirdsleap
Thanksgiving Fortune Cookies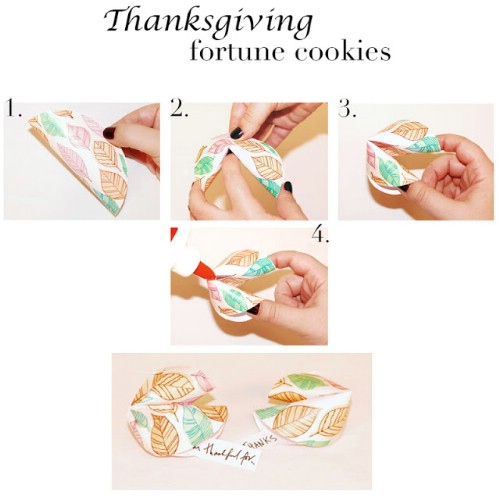 So, these fortune cookies are entirely too cute. Imagine having a Thanksgiving fortune to give everyone who comes to dinner. You just write in something special for each guest, or have them write what they're thankful for and share after dinner. This is such a neat, and easy project.
DIY Instructions and Project Credit: houseoflavandeblog
Gilded Pumpkins
These little pumpkins are not only functional, they're gorgeous and quite easy to make. Just tie a tag to each one and place on plates for a personalized place setting. You can also throw some of these in bowl, maybe with a candle or two, and make a centerpiece. The possibilities are endless with this one!
DIY Instructions and Project Credit: marthastewart
Chalkboard Chargers
A little chalk and a DIY chalkboard painted charger is the perfect accessory for the dinner table. You can write the menu out on each one, or use them to give your special message of thanks. Not only are these perfect for the table, they're great to leave Thanksgiving messages all over the house!
DIY Instructions and Project Credit: mendezmanor
Decorate with Foliage
Ok, so nothing is cheaper, or more fall-like, than fall foliage, right? Use some of that foliage to decorate for the holiday. Even if you're not into making your own wreaths, a few all leaves and twigs in a vase makes a gorgeous centerpiece or something for the entryway to greet guests as they arrive.
DIY Instructions and Project Credit: southernliving
Gilded Fruit
Gilded fruit is elegant and gorgeous! Who wouldn't want to use this for decorating? And, it's really easy so you can have these little beauties all over the house. Pears and apples are of course the go-to fruits for fall, but you could honestly use whatever type of fruit you wanted. The goal is to add beautiful golden colors to your decorating, and you can put them in bases, bowls, or whatever you have on hand.
DIY Instructions and Project Credit: chatelaine
Apple Candles
Who says you have to spend a fortune to get great candles? You can make them yourself, and they're perfect for your Thanksgiving decorating. These apple candles are great! They smell wonderful and they're so decorative.
DIY Instructions and Project Credit: sparkandchemistry
Decorative Gourd Servers
Hollow out gourds to serve up appetizers or use them for holding flowers or other fall decorations. Gourds are very versatile and let you create a number of wonderful things for your Thanksgiving décor. You can buy them pretty cheap at your local farmer's market this time of year, too.
DIY Instructions and Project Credit: bhg
DIY Burlap Table Runner
You know you love burlap! This DIY table runner is gorgeous, and the burlap really gives it a Thanksgiving look. This is a great project for you or for the kids. Just grab some burlap, a bit of fall colored paint, and get to work creating the perfect Thanksgiving table runner. Do this in a smaller size and put one on your coffee table, too!
DIY Instructions and Project Credit: shopruche
Pumpkin Tic Tac Toe
This has got to be the most adorable Thanksgiving decoration I've ever seen. It's a tic tac toe game made out of pumpkins! It's such an easy thing to make, and it's a real game, so it helps to keep the kids occupied during those colder days when they can't get outside. Just pick up a few mini pumpkins and you're all set!
DIY Instructions and Project Credit: itsoverflowing
Make a Thankful Tree
This Thankful Tree is the ultimate decoration for the holiday. I mean, what's more Thanksgiving-y than a Thanksgiving tree? Some twigs and a few pieces of construction paper, stationary, paint samples, or whatever you have on hand to use for the messages is all you need. Write down everything you're thankful for, or have guests write things down as they come in and out over the Thanksgiving holiday period.
DIY Instructions and Project Credit: simplyvintagegirl
Make a Pumpkin Diorama
Make this gorgeous diorama and you'll be the envy of the neighborhood. Seriously, is this not the most beautiful thing you've ever seen? And, it's not nearly as difficult to make as you would think. You will need to wait until just a week or so before Thanksgiving to create it if you're using a real pumpkin though. You don't want it to rot with your diorama inside.
DIY Instructions and Project Credit: sweetpaulmag
Make a Pumpkin House Marker
Just a nice pumpkin and a marker will help you to create this great house number marker that's perfect for Thanksgiving decorating. You can paint your pumpkin first if you want it to match your exterior, and be sure to give him little pumpkin friends to hang out with, too. Decorate your entire porch with pumpkins!
DIY Instructions and Project Credit: creativelylivingblog
Fall Up Your Candles
Create beautiful candles by adding a bit of "Fall" to them. Just go outside and gather up fall foliage, and add them to your existing candles. These are perfect for decorating entryways, coffee tables, or creating a centerpiece for your Thanksgiving dinner table, and they're super easy to make.
DIY Instructions and Project Credit: marthastewart
Create Mini Felt Acorns
Decorate anything in the house with these adorable little mini felt acorns. Seriously, you can use these on wreaths, centerpieces, place settings, or just string them up and hang them like lights. They're versatile, really easy to make, and the perfect addition to your Thanksgiving décor.
DIY Instructions and Project Credit: honestlywtf
Make Your Own Turkeys
These little pear turkeys are too cute, and this is a great project for the kids. You'll need pears obviously, plus some craft paper and a few basic crafting supplies. You can use these to dress up the entryway table or create a centerpiece. You could also put name tags on them to personalize your place settings for Thanksgiving dinner. Oh, the possibilities!
DIY Instructions and Project Credit: consumercrafts
Fold Turkey Napkins
Some yellow squash and your cloth napkins will be the perfect addition to your table when you put them together to create these turkey napkins. These are really simple to create and everyone will absolutely adore them. Give each of your dinner guests his or her own little turkey and watch the fun begin!
DIY Instructions and Project Credit: socialcouture
Create a Harvest Mantel
If you don't have a mantel, you can do this with a coffee table, bar, counter, or whatever you have. Just pick up small pumpkins and gourds to create this beautiful Thanksgiving display. Add burlap, a few small corn husks, whatever you can find to make it look really harvest worthy. A few strategically placed turkeys (not the real ones, mind you) will really help you to make it holiday worthy.
DIY Instructions and Project Credit: midwestliving
Pinecone Turkeys
Let the kids help you to create these adorable little pinecone turkeys. These are great for adding to any existing décor or for creating a centerpiece for the dinner table. Their little wobbly eyes are too cute, and they are really simple to create. Kids are absolutely going to love this project, and you'll love the cheap and easy décor you get with these little gobblers.
DIY Instructions and Project Credit: shopruche
Seed Balls Cornucopia
What a beautiful way to decorate for Thanksgiving! If you love the traditional look of a cornucopia, but you want something a little more unique than just gourds and pumpkins, create these little seed balls. You use a variety of beans and seeds in different sizes and colors and then add them to your cornucopia.
DIY Instructions and Project Credit: finecraftguild
Thanksgiving Garland
Some string or rope, a few leaves and other fall foliage, and just a handful of other supplies and you've got the makings of this lovely Thanksgiving garland. Hang this up across the mantel, or anywhere you need to add a little holiday cheer. It's easy to make and completely customizable. You can use whatever you want. Add in cranberries, cloves, and maybe some cinnamon sticks and it will also give your home a wonderful Thanksgiving smell.
DIY Instructions and Project Credit: tatertotsandjello
Traditional Twig Votives
You know you've seen these, and you know you've always wanted to make one. Well, now's your chance. These twig votive holders are old-school Thanksgiving decorating and definitely something that you want to add to your décor this holiday season. If you're not into twigs, you can also do this with cinnamon sticks which will give your home a wonderful holidays smell.
DIY Instructions and Project Credit: twoshadesofpink
Thom the Turkey Wreath
This is by far the most adorable turkey wreath I've ever seen. Made from tulle, Thom is colorful and whimsical, and sure to bring a smile to anyone's face who sees him. Hang him on your door and let him greet all of your guests this Thanksgiving season. He's easy to create and so much fun to show off!
DIY Instructions and Project Credit: babyrabies