Carving the pumpkin for Halloween is something I have looked forward to every year ever since I was a little kid.
Of course, when I was really little, all I could do was watch the carving part. I did help out by drawing a design on a piece of paper; that was about it.
Eventually I got old enough to start carving the pumpkin myself. Guess what? I was totally stoked … and I was totally terrible at it.
Nothing ever came out remotely like I envisioned it. And you know how it goes—if you make a mistake with a knife, you can't really hit "undo" on that.
Jump to:
Pumpkin Carving and Decorating Ideas
Now here's the kicker … I really have not progressed since then. Now my kids are looking to me to carve the most awesome pumpkin ever and I honestly am not doing much better than I ever did!
And you know what? I'm not alone. I know lots of other people who have a hard time with pumpkin carving.
Maybe you're one of them and you are looking for some alternative ideas for pumpkin decorating this year—or maybe you really are a pumpkin-carving genius and you just are looking for some creative fuel to fire your imagination.
Either way, here are 70 of the coolest pumpkin carving and decorating ideas ever. A lot of these don't require you to ever pick up a knife!
Troll Pumpkins DIY
Trolls have gotten super popular over the last few years. The recent Trolls movies have really created a new love of the little critters, and everyone loves Poppy! This tutorial is fun, easy to make, and a great idea for kids of all ages!
Source: Craft Create Cook
Teal Pumpkin Project DIY
The teal pumpkins are a recent addition to Halloween. They are put on porches to represent families who are giving out non-candy items for those who have allergies or food sensitivities. This is a fun project that is cute and teaches kids about caring for others.
Source: Craft Create Cook
DIY Cactus Painted Pumpkin
This cactus pumpkin is such a cute idea for anyone who wants an easier option without carving. I love that this one is easy enough for kids to help you create. Make a few and use gourds to represent different sizes and styles of cactus.
Source: Craft Create Cook
Glow-in-the-Dark
How totally amazing are these? Glow-in-the-dark pumpkins! Visit the source link and you will find a full tutorial. As you will discover, crafting these is ridiculously cheap and easy.
You just need some plastic pumpkins from the craft store along with some glow-in-the-dark paint. Sunlight charges up the paint, so leave these out on your porch and they will be ready to glow by sundown. Install a blacklight for the best effect!
Source: ilovetocreateblog
Monogrammed Pumpkin
If you are looking for something a little more sedate, you may prefer a project like this one. There are a number of steps involved to get the monogram on the pumpkin so neatly, but the finished result is very elegant.
Source: radio butlers
Cheshire Cat
If you do want to carve a pumpkin this year, you can make it a lot easier on yourself by printing out a template first. Personally I think that this design is absolutely adorable.
As the tutorial describes, you can transfer the design either by taping it on and poking holes through, or you can draw it on yourself. If you draw on a design, always use a dry-erase marker (not a permanent marker) so you can wipe away your mistakes.
Source: disney
Cute Owl Pumpkins
If you are up for some carving but you want to keep it minimal, you can try making these adorable owl pumpkins from Better Homes and Gardens.
You will need some sunflower seeds, but aside from that, there are almost no supplies required. Aren't they just too cute for words? Be sure to visit the source link for a video!
Source: bhg
Pumpkin Archway
Sadly there is not a whole lot of information on how you can make this yourself, but the page does list some of the supplies: foam pumpkins, rebar, and PVC piping.
As you can see, it looks very cool, especially lit up in the dark, and it probably would not be too challenging to put together. Thanks to the foam, it would all be relatively lightweight as well.
Source: halloweencrafts
Tinker Bell with Pixie Dust
Okay, this one is absurdly amazing—both the concept and the presentation. Tinker Bell's pixie dust actually glows! How cool is that?
You might think that something like this with this level of detail would be incredibly hard to reproduce, but it turns out all you really need to make the dust is a drill. Visit the link to find a full tutorial complete with photos for the steps.
Source: instructables
Amazing No-Carve Pumpkins
Malia over at Yesterday on Tuesday has lots of amazing ideas for no-carve pumpkins. I would share each of them individually, but she has them all together in one nice long post complete with step-by-step instructions and supplies lists for each. So I will likewise just condense them all down here.
This Olaf pumpkin is ridiculously cute!
Here is a spiderweb pumpkin complete with a spider.
The farm pumpkin is unique, unusual, and very cleverly designed.
Here is a great way to showcase your sports fandom!
"Decoupage" is the art of decorating a surface using paper cut-outs. It is a versatile technique and you can use it on just about anything. This pumpkin decorated using decoupage looks just gorgeous!
These miniature pumpkins spell out "BOO!"
Click on the source link below for all the tutorials!
Source: yesterdayontuesday
Minion Pumpkins
I regularly find great stuff over at Crafty Morning. Today's find is spectacular—the most awesome no-carve Minion pumpkins ever. Just check out their expressions!
I definitely would use faux pumpkins for these so that you can keep them forever. They are way too amazing for just one season.
Source: craftymorning
Elegant Floral Arrangement
This one isn't exactly Halloween-themed, but it is perfect for this time of the year, and you could turn it into something spookier if you wanted.
I imagine if you simply went with some darker plants and maybe some cool props and you painted the pumpkin a different color, it would be perfect for your doorstep. As it is, this gorgeous arrangement would look beautiful anywhere in your house.
Source: onecharmingparty
Simple Geometric Drill Patterns
If you are interested in "carving" a pumpkin without ever using a knife, one option which can steer you around sloppy edges and corners is simply using a drill instead.
With a drill, you can bore holes in a variety of sizes, creating all kinds of nifty geometrical designs. All of these pumpkins look stunning, and anyone could make them!
Source: hometalk
Fall Flower Arrangement
Previously I shared an idea for a floral arrangement inside a pumpkin as a "vase." Here is another one—and this one is just as beautiful! I love the addition of the leaves and the pinecones and berries—they all really shout "autumn!"
Source: apumpkinandaprincess
Black and White Glam Pumpkin
This idea comes from the same blog as the one above, A Pumpkin & A Princess. Naturally with a title like that, we should expect more great pumpkin ideas—and here is one which doesn't require any carving. This one is perfect for Halloween!
Source: apumpkinandaprincess
Frozen Pumpkin
I cannot resist sharing at least one more idea from A Pumpkin & A Princess, this one for a Frozen-themed pumpkin painted a glittery icy blue and adorned with snowflakes, rhinestones and a tiara. This is yet another amazing creation!
Source: apumpkinandaprincese Openwork Pumpkins
These have to be some of the most amazing-looking pumpkins I have ever seen. The lace designs are so intricate and detailed that there is more space than pumpkin!
The tutorial is overly simplistic and doesn't really teach you everything you need to know in order to do this on your own, but it can at least give you a feel for the supplies and skills you need. I would definitely do this with faux pumpkins if possible—that way you can display your gorgeous work year after year!
Source: http://www.marthastewart.com/265580/lace-patterned-pumpkins
15. Actual Lace Pumpkin
Whereas the pumpkins above are cut with a lacy pattern, here is a pumpkin which is decorated using actual lace. It is a very simple idea and something which is a lot easier to do, and the results look fantastic. Be sure to paint your pumpkin white for a high-contrast look like this.
Source: bhg
16. Mummy Pumpkin
Here is an adorable mummy pumpkin which would look awesome on your front porch this Halloween season! The carving involved is minimal; you just need to create the mouth. The rest is easy!
Source: bhg
17. Simple Printables
Printables are awesome; there is nothing you can't do with them. If you click the source link below, you will be taken to a page where you can download 20 free pumpkin printables.
For the best results, transfer the design manually using a dry-erase marker. Do not use a permanent marker!
Source: vivint
18. Owl Gourd
This was designed using a gourd, not a pumpkin, but you could use the same idea to create an owl pumpkin lamp! It looks like a lot of work, but as you can see, all that was used here was a drill. So there is still no carving needed!
Source: etsy
19. Stenciled Lace Patterns
Coming back to the idea of lacey pumpkin designs, here is another approach you can take. Get a lace doily, cut the center out of it, and lay it over top of your pumpkin so that it forms a ring-shaped stencil. Use a stencil brush to apply paint, wait for it to dry a bit, and then remove the doily. You will get an awesome design like the one you see in the photo. Visit the link for more detailed steps and a full list of materials!
Source: bhg
20. Disney Pumpkin Carving Printable Templates
As you already know, printables are the best thing ever. If you love Disney and you enjoy printables, you will go crazy over this list of more than 60 Disney pumpkin carving templates!
Visit the source link to find printables for Disney princesses, villains, and other classic characters.
Source: thefarmgirlgabs
21. More Than 700 Printable Pumpkin Carving Templates
If you thought that the list of printables above was awesome, you will be amazed by this one. Follow the source link and you will find more than 700 printable designs including:
Disney
Nick Jr.
Pop culture
Western
Military
Patriotic
… And more!
There is quite literally something for everyone here. Don't be surprised if you get so excited that you find yourself purchasing extra pumpkins this year just to try more templates!
Source: frugalcouponliving
22. High Contrast Black & White
Black & white pumpkin designs are really in vogue this year. It is easy to see why—just check out these black & white "Trick or Treat" pumpkins with lace, swirl designs and beautiful lettering.
The contrast achieved here is stunning; these could catch your eye from a mile away.
Source: seeinginkspots
23. More Awesome Black & White Pumpkin Designs
Most of the black & white pumpkin designs which I have featured on this list use a pumpkin painted white with black designs or lettering. Here is something a little different—pumpkins painted black with white designs instead.
These are firmly in the Halloween-themed vein with spider webs and bones—but they have a lovely elegance to them for a surprisingly polished look. The one with the cords is particularly cool; what an intriguing way to add a little texture.
Source: magiamia
24. Glossy Black Cats
When I see pumpkins for sale … about the last thing I am thinking is how sleek and elegant they look. Pumpkins after all are squat and often oddly-shaped.
But look how amazingly sleek these gorgeous glossy black cats are! It is almost hard to believe they are made out of pumpkins, even though you can see it clearly. The curves of the pumpkins really do look similar to cat shapes. They are too amazing!
Source: sunset
25. Crystal Appliqué Pumpkins
Originally, this was just a faux white pumpkin, totally plain, no ornamentation of any sort. Then Kathy of Life on Lakeshore Drive bought it and got to wondering how she could spruce it up.
She found some crystal appliqués at the craft store—the kind you use for scrapbooking. She added them to her pumpkin along with some faux flowers, and the result is gorgeous!
Source: lifeonlakeshoredrive
26. Fabric Pumpkins
These beautiful pumpkins were decorated using nothing more than chalk, Mod Podge and fabrics. The alternating fabrics really have a cool effect, emphasizing the lines of the pumpkins.
Source: plaidonline
27. Owl Pumpkin with Cupcake Liners
Sometimes the simplest everyday materials can be repurposed in unique and imaginative ways for a truly wonderful effect. Such is the case with this owl made out of pumpkins … and cupcake liners!
I can't imagine having the creativity to think of doing this, but the cupcake liners really are perfect for the eyes and the wings. He looks so cute!
Source: countryliving
28. Fairy and Birdhouse Pumpkins
From the blog Primitive and Proper comes not one but two awesomely designed pumpkins! I can't decide which of these is more incredible—the birdhouse or the fairy house.
Make sure that you click through to the source link to check out the original blog entry. There you can see all kinds of cool photos of all the details!
Source: primitiveandproper
29. Ghoul Bus
I love this design because it isn't just a cool carving (the details are impressive, aren't they?)—it is also is a really awesome concept. It was exceedingly clever to tack on the gourds on the bottom as wheels!
Source: thisoldhouse
30. Quilt Motif
This pumpkin features a beautiful traditional quilt motif. If you visit the source link, you will find a printable motif which you can apply to your pumpkin using decoupage (a technique I told you about earlier).
Alternatively, you could apply this pattern one rhombus at a time if you had one of those geometric blocks that children play with (you could simply dip it in paint and use it like a stamp).
Source: countryliving
31. Continuous Image
If you are up for carving several pumpkins, you can create a continuous image across them like this one of a Chinese dragon.
While a continuous image across several pumpkins isn't an original concept (you have probably even seen it in person a few times), it is always eye-catching and instantly grabs attention.
Source: .thisoldhouse
32. Leg-Eating Pumpkin
Here is one that I just fell in love with the moment I saw it. The pumpkin itself is carved with a relatively simple face—so you don't need to go overboard to do a good job with this.
The key is to get a realistic prop of a severed limb—the leg works well because every inch of it is covered with clothing, so the "leg" itself could actually be just about anything that has the right dimensions. The fake blood? That's leftover hummingbird food. Personally I think this man-eating pumpkin is oddly adorable.
Source: thisoldhouse
33. Haunted Carousel
This one looks absurdly hard to carve, but if you have the skills for something like this, it would be a really amazing project. Apparently when the wind blew through this pumpkin, it created an illusion that the carousel was spinning.
Source: thisoldhouse
34. Stained Glass Pumpkin
Here is a simple project for painting a pumpkin with cool geometric designs in the manner of stained glass or abstract art. It's super simple—you just use tape to create the lines and paint all the spaces in between. Check the link for more detailed instructions!
Source: plaidonline
35. Spell a Message
There is no end to all the fun things you can do with staircases and a little creativity. Here we see a line of pumpkins marching up the stairs spelling the message, "Halloween." Simple, but awesome!
Source: countryliving
36. Duct Tape Pumpkin Bats
If you want an easy, cheap, fun pumpkin decorating project which also works great for small gourds, you can try this one for creating cute bats! It really is amazing what you can do with duct tape (or "Duck tape").
Source: helloglow
37. Fabric Yo-Yo Pumpkins
If you are aiming for a colorful vintage look with your pumpkins this year, you can try this idea. You paint the pumpkins, and then you cover them with fabric yo-yos (which are simply little gathered circles of fabric, for those not in the know). Check out the source link for a tutorial.
Source: favecrafts
38. Pumpkin Snail
This is incredibly clever—the top of a pumpkin has been cut into a swirly shape and placed on its side while a butternut squash serves as the body of this amazing snail. Very cute!
Source: goodhousekeeping
39. Pumpkin House
Earlier I shared a pumpkin "fairy house" where a large section of the front of a pumpkin had been cut away to reveal an interior room. This is a similar idea, but you leave the front of the pumpkin largely intact, instead simply cutting holes for the windows and door. After this minimal amount of carving, you decorate the exterior. It looks ridiculously cool!
Source: goodhousekeeping
40. Apple Core
I have always enjoyed when objects are refashioned to appear like a realistic version of something else. This pumpkin has been transformed totally to look exactly like a giant apple core!
Source: goodhousekeeping
41. Space Aliens
One large pumpkin has been transformed into a convincing spaceship while numerous small gourds have been turned into space aliens. Very clever!
Source: goodhousekeeping
42. Constellation Pumpkin
Here is a super simple, easy pumpkin which works because the concept of its design is so brilliant! You barely need to do any cutting at all—you just need to hollow out the inside so you can fit a light in there (go with an LED light for this, not a candle) and poke a few holes after you do a little painting. This is a great way to teach the kids about astronomy while you are at it!
Source: countryliving
43. Yarn-Wrapped Pumpkins
The idea with this is ridiculously straightforward—you just wrap and glue yarn in patterns around pumpkins and gourds. Together they look incredible!
Source: twoshadesofpink
44. Burlap Ribbon Pumpkins
Here is a really easy idea which you hardly need any supplies for. The ribbons highlight the lines of the pumpkin.
Source: countryliving
45. Pumpkin Tree Pillars
Remember the continuous image idea with the Chinese dragon from before? This is a lot like that, but instead of setting pumpkins side-by-side for a landscape image, you are instead stacking them one on top of the other for a portrait image.
This actually works even better because there is no gap between the pumpkins, so the effect is even more spectacular.
Source: goodhousekeeping
46. Nevermore Pumpkin
Here is another black & white pumpkin design (I told you they were popular!). This one features a tribute to the poem "The Raven" by Edgar Allen Poe. As Poe is wonderful, I couldn't resist sharing!
Source: marthastewart
47. Nighttime Diorama
There really is not enough for me to say to convey the sheer awesomeness of this pumpkin! It is totally epic—the scene inside looks amazingly realistic, in part because real materials from the outdoors were used along with some cut-outs which you can download if you visit the source link. Painting the pumpkin black helps to convey the "nighttime" theme and also keeps your attention firmly on the scene inside.
Source: countryliving
48. Pressed Foliage Pumpkins
Decoupage really is an incredibly versatile medium for creating exquisite art. These pumpkins were decorated using it, but instead of choosing paper for the patterns, the artist who designed these pumpkins went with pressed leaves. They stand out magnificently against the white background!
Source: countryliving
49. Quotation Pumpkin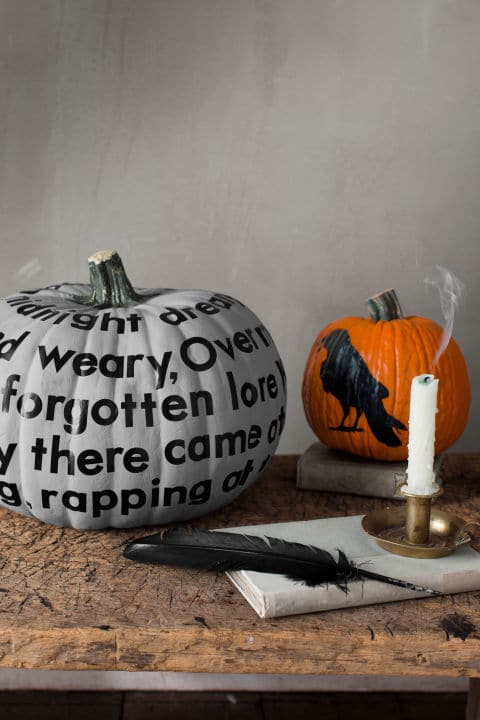 Previously I shared a Poe-inspired pumpkin with you referencing the poem "The Raven." Here is yet another pumpkin featuring "The Raven"—only this one includes an actual quotation from the poem!
Source: countryliving
50. Studded Chalk Paint Pumpkins
Sometimes I am just blown away by the elegance of other peoples' creative ideas. These pumpkins have been painted with various colors of chalk paint (which I might add work really well together) and adorned with gold Studd accessories.
Source: cuckoo4design
51. Pumpkin Votive Candle
If you buy some really small pumpkins or gourds, you can transform them into votives simply by hollowing them out and inserting the candles. These would be perfect for your Halloween party table!
Source: countryliving
52. Jack-O-Lanterns
Here is a literal visual interpretation of the phrase "Jack-O-Lantern!" As you can see, these pumpkins have been cleverly carved and painted with images of lanterns which actually glow from the inside.
The carving required here is minimal, so this would be an excellent project if you don't want to make a lot of complicated cuts.
Source: countryliving
53. Butterfly Pumpkin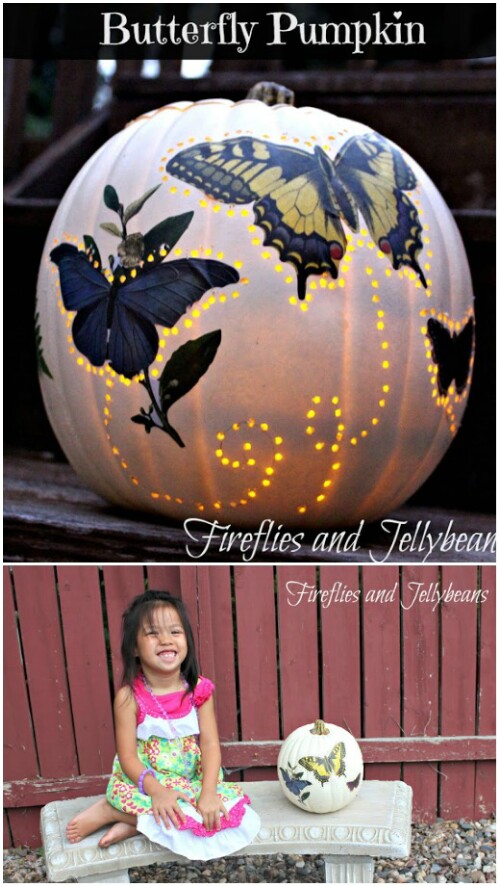 I can't get over how ridiculously gorgeous this pumpkin is! It was made using a combination of techniques: decoupage and drilled holes to highlight the butterflies in the dark. It'd look beautiful during both day and night.
Source: firefliesandjellybeans
54. Sea Turtle Smashed Pumpkin
What do you do if some rotten kid comes along and smashes your pumpkin? Most people would fume about it for a while and then toss out the ruined pumpkin and head over to the pumpkin patch to pick up another. But this family got creative and took a different approach, crafting their smashed pumpkin into a really cool sea turtle!
Source: goodhousekeeping
55. Wood Grain Paint
This pumpkin looks so amazing. At first I couldn't picture how this was done—I thought the wood grain pattern must have been hand-painted. But it was actually created using a stencil. Check out the source link to view a quick tutorial!
Source: sandandsisal
56. Vintage Floral Book Page Pumpkin
This vintage-style pumpkin was created using rubber stamped images, tissue paper with patterns, and antiquated book pages which were crafted into delicate-looking roses. It looks pretty challenging to recreate, but so worth it!
Source: plaidonline
57. Washi Tape Pumpkins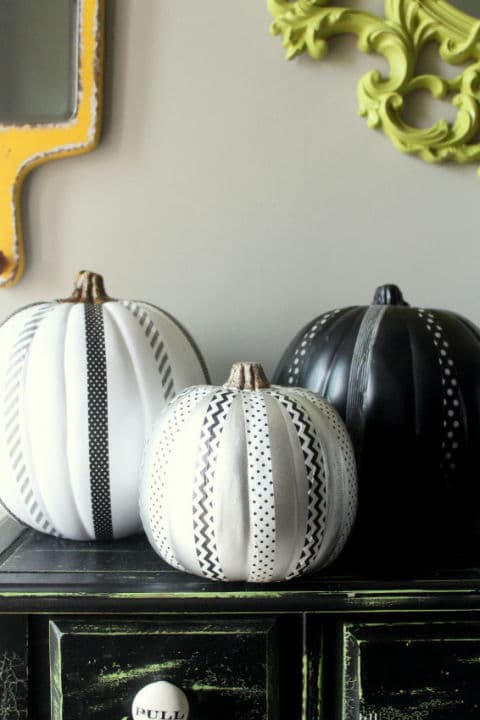 Washi tape is just absurdly cool and useful and can be used to jazz up just about anything with barely any effort at all. These black & white washi tape pumpkins look incredible!
Source: countryliving
58. Paper Bats
Here is black & white utilized to its best possible purpose—to create the contrast needed to make a design really "pop." In this case, the pumpkin was painted white and black paper bats were affixed to the outside for a cool 3D effect. It looks phenomenal!
Source: itallstartedwithpaint
59. DIY Velvet Pumpkins
So … this isn't technically a way you can decorate an existing pumpkin. Instead, it is a project for creating your own velvet "pumpkins" from scratch. The stems are real dried stems from actual pumpkins, but the stuffing inside the velvet is beans! They actually look stunningly realistic in some ways, but with a wonderful velvet shine and all those bold hues. Check the link to view the tutorial complete with photos for all the instructions!
Source: thelemonista
60. Handkerchief Pumpkin
If you only have a few minutes to put together something awesome, you can make a handkerchief pumpkin in about 5 minutes. Find out how in the video below!
Source: theswelldesigner
61. Sketch On Your Pumpkin
If you are planning on carving your pumpkin, it is generally best to use a dry erase marker instead of a permanent marker, because that way you can erase the lines after you are done. But sometimes you want to create permanent lines on your pumpkin. Here is a gorgeous design with freehand sketches of leaves!
Source: alisaburke
62. Gilded Glory
If you apply a base coat to your pumpkins, you can gild them for a spectacular shining effect.
Source: countryliving
63. Watercolor Pumpkins
While the popular black & white look creates high contrast for a bold, eye-catching effect, sometimes that isn't what you want. Aiming for something exquisitely subtle can have just as beautiful an effect, as in these watercolor pumpkins!
Source: linesacross
64. Marbleized Pumpkin
If you are into doing your nails, you may at some point have experimented with a marbleized manicure. If so, this is essentially that, only it's been done with a pumpkin. It's a simple idea with mesmerizing results!
Source: auntpeaches
65. Comic-Covered Pumpkins
Generally with decoupage, you see a lot of flowers and butterflies and elegant designs, usually with a vintage look. Well, here is a different idea—using old comics from newspapers to decorate a pumpkin!
Source: mendezmanor
66. Frame a Pumpkin
Frame a pumpkin … no, I'm not talking about setting up a pumpkin to take the fall for your crimes. I literally am talking about attaching an ornate frame to a pumpkin after carving a hole in it and hollowing out the interior for a candle. As you can see, this relatively simple idea creates an elegant look and kind of puts you in mind of a miniature fireplace.
Source:shemakesahome
67. Black & White Centerpiece
Okay, so this will be the last black & white pumpkin I share with you today. I just couldn't resist; the design is so lovely, especially with the use of that ribbon!
Source: livinglocurto
68. Pumpkin Cheeseburger
I have seen several renditions of this idea, and all of them are simply amazing … I can't get over how much this resembles a real cheeseburger! There is a full tutorial along with all the printables you need to make this pumpkin a deliciously amazing reality at the source link!
Source: thepapermama
69. Blue and White Porcelain Pumpkins
These pumpkins were decorated by hand with great precision and care. This project would take a long time and a steady hand if you wanted to do it all yourself from scratch, but the results are incredibly realistic.
The good news for you is that you don't have to—you can skip all of that hard work and just download the free printables at the source link and use decoupage to decorate your pumpkins instead. This artist is both brilliant and generous!
Source: craftberrybush
70. Cinderella Pumpkin
Here is one of my favorites simply because it is so clever. You would need a number of different materials for the Cinderella pumpkin, but the carving aspect is very minimal. This is the perfect project to do with your own little princess or prince!
Source: letsgoflyakiteuptothehighestheight
Pin these Projects:
Now you should have no shortage of ideas for decorating a pumpkin this year, whether you are up for carving or not. You can be sure that you will have the most incredible pumpkin on your block, and it will be the envy of all of your neighbors!