Looking for something unique and eye-catching? Check out our denim flower applique! Made from upcycled denim, this fun and funky accessory is sure to turn heads. Whether you're looking to add a splash of color to your wardrobe or simply show your environmental consciousness, our denim flower applique is a perfect choice. Great for use as a bow on a gift, patch on a backpack, or even a hairbow, this is a super versatile project!
Denim Flower Applique
Making a flower or applique is a great way to decorate with your favorite materials. This craft tutorial is easy and only takes about 15 minutes to make one flower. You can use these flowers to decorate anything from hats, headbands, jackets, shirts, or even denim skirts.
Not only are they beautiful but these fabric flowers are also eco-friendly. They're made from upcycled denim so you can feel good about making them and wearing them. And who doesn't love a good DIY project?
Want something a bit more dainty? Then check out this adorable ribbon flower idea instead, or this easy tutorial for making fabric flowers. Both of these are also great for use as an applique on any project you make.
Do I Need to Seal The Flower?
You do not need to seal the flower. Because denim is a strong material, it holds up well before showing wear and tear and it can be washed without worry.
If you choose to seal the flower applique, you will want to use a fabric sealant or something that is specifically meant for denim. You can also use a spray sealer or Mod Podge but it may not hold up to washing and drying like other products would on denim.
How Do I Prevent the Edges From Fraying?
While the edges on this are unlikely to fray easily unless you purposely pull it apart, you may want to take the extra step to protect it. To prevent the edges from fraying, you can use a hot glue gun to glue down the raw edge or you can sew a straight stitch or a zig-zag around the perimeter of the flower.
Another idea to prevent the denim fabric from fraying is to use pinking shears. Pinking shears are scissors that have a zigzag blade that cuts the fabric in a way that prevents fraying.
Lastly, the best type of denim to use is medium to heavy-weight denim. Lightweight denim will fray easier and may not hold its shape as well. You can find denim at your local fabric store or you can upcycle an old pair of jeans for the best results as shown.
What Can I Use This Denim Flower For?
The possibilities are endless! The denim flower makes a funky accessory, it will bring out your own sense of style no matter what you add it to. You can use this denim flower for a number of different projects. Here are a few ideas below to consider.
Add it to a headband or hair clip as a hair accessory.
Pin it to a jacket or shirt in place of a brooch.
Sew it onto a purse, tote bag, or backpack as a "patch" to add some personality.
Decorate a picture frame with this glued to the side or edge.
Use it as an applique on a denim skirt or a pair of jeans that has a tear and needs a patch to cover it.
Put on a gift or gift bag in place of a bow. If you add a barrette to the back of it, it can then be reused as a part of the gift.
How Can I Make My Old Blue Jeans Flower Unique?
The best part about this project is that you can make it your own. You can make as many or as few flowers as you want. You can also experiment with different sizes and shapes. If you want to get really creative, you can even add beads or sequins to the center of the flower. You know I love to add some glitter to the flower, so that is always going to be on the list to make it sparkle a bit more.
Another obvious idea is that you can also make these using different colors of denim. If you want to add a pop of color, try using a brightly colored pair of jeans. You can also dye the fabric before you use it. I like to use an RIT dye that you can find in the crafting sections. Or if you want a more subtle look, you can use a pair of black or white jeans.
I love the idea of sewing around the edges to seal and prevent fraying by using a zigzag stitch with a brightly colored thread. You could do similar with lace ribbon or just a simple satin ribbon.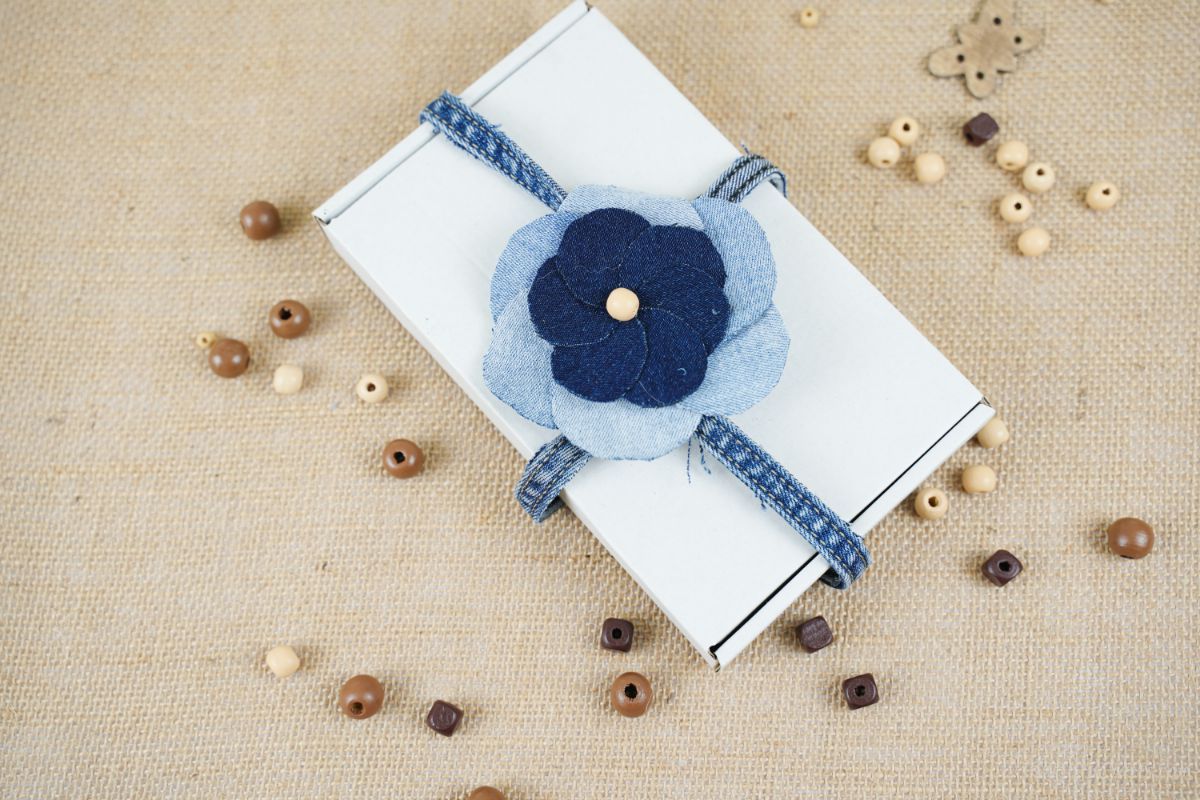 Supplies Needed
Old blue jeans (2 washes)
How to Make a Blue Jean Flower
Start by getting two shades of scrap denim. You will want pieces that can be cut out into smaller circular pieces. Now, trace 6 equal-sized circles onto one piece of the fabric.
Cut out these rounds of denim and set them aside.
Repeat this process on another shade of denim, but make these slightly smaller than the first set. Cut just about ⅛" smaller is plenty.
Now, you will arrange the larger set of circles into a circle themselves, so that each round overlaps the next.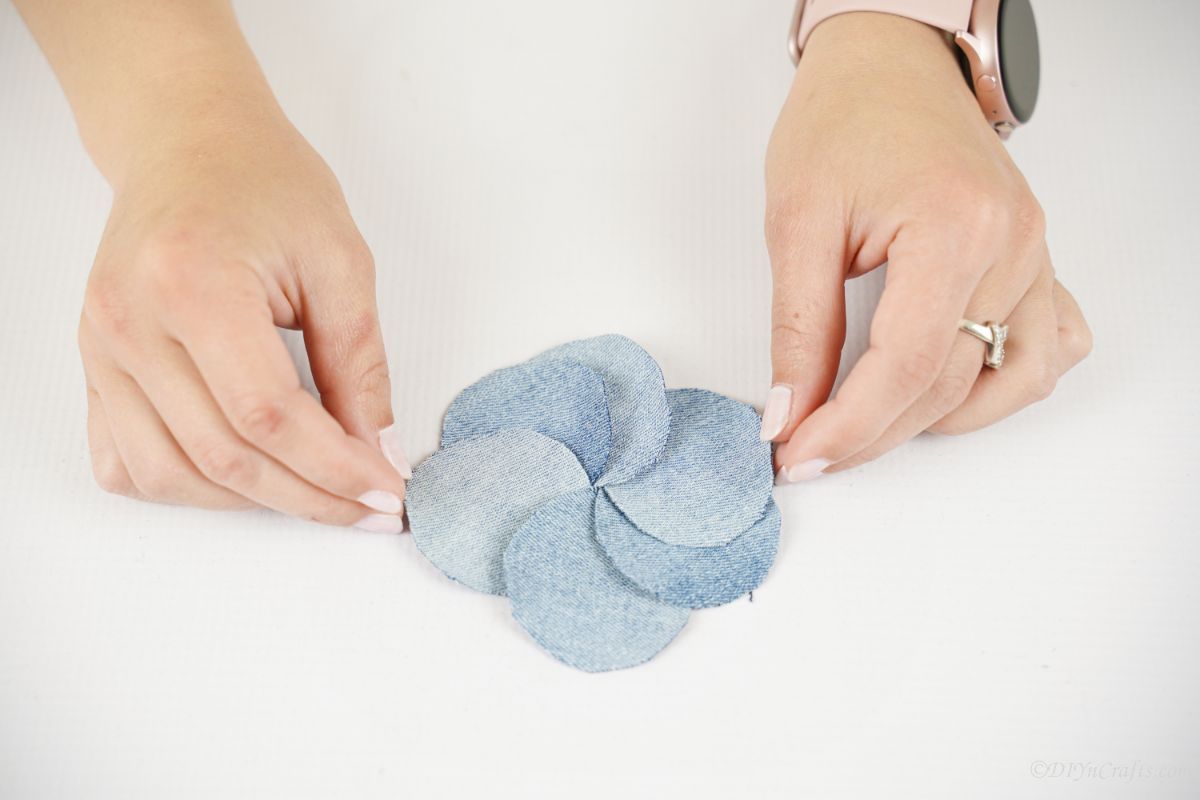 Glue these together and flatten out so it looks like a rounded flower base.
Then, repeat this process with the smaller circles you cut out.
Once those are glued together, you will then glue the small circle of denim on top of the larger circle of denim to create a floral look.
Finish your flower with a bead in the center of each one. I used a wooden bead, but you can swap that out with a small mini ribbon rose, or even a fake pearl bead instead.
Now, use your new denim flower as a bow on a gift, as a hair accessory, or as a patch on a torn pair of pants.
More Easy Denim Crafts
Lately, I've been loving the upcycled denim projects. A great way to use something that might otherwise end up in the garbage. Below are some more great ideas that turn trash into a fun new treasure. Make sure that you bookmark these ideas to make them soon. You can also print out the tutorial or just pin them to a craft board on Pinterest.
Yield: 1
How to Make a Flower Applique From Old Blue Jeans
Make a beautiful flower applique from old blue jeans in just a few minutes! The perfect start to a hair accessory, patch on pants, or bow on a gift!
Materials
Old blue jeans (2 washes)
Instructions
On a piece of scrap denim, trace 6 equal-sized circles onto the back of the fabric.
Cut these out and set them aside.
Now, on a different color of denim, trace another 6 equal-sized circles, but make these slightly smaller than the first set.
Cut these out and set them aside.
Arrange the larger circles so they overlap and form a circle. Glue them together.
Repeat this with the smaller denim circles.
Then glue the small set on top of the bigger circle.
Now, add a wooden bead to the center of the denim flower.
Notes
This can be used on a barrette for your hair, on boxes as a "bow" or even on a backpack as a statement patch.
Recommended Products
As an Amazon Associate and member of other affiliate programs, I earn from qualifying purchases.
Finished Project Gallery
This is great as a bow on a gift, but can also be used as a fun patch for a jacket or a hole in your favorite pair of blue jeans!