Isn't this Denim Bag Tutorial awesome?! I love making upcycled jeans crafts, and this is a perfect way to use up blue jeans that otherwise would go in the trash or to the thrift store. This is ready in just a few minutes and works great as a purse for all ages.
If you love making upcycled jeans crafts - you'll also love this list of 40 Incredible Repurposing Projects for Old Jeans that You Just aren't Ready to Toss.
Denim Bag Tutorial Using Old Blue Jeans
We all have stacks of old blue jeans in a closet. Whether they are favorites that no longer fit or the ones kids outgrew, you know they are just waiting to be worn again or thrown out. I love being able to hand down denim to others who can use them when kids or I have outgrown them. That said, I also know there are times when holes in the knees or fraying hems make them better for the scrap bin than donations.
In those cases, you can make use of part of the jeans by making this cute little denim bag using blue jeans pockets!
Where to find denim for this DIY purse
If you aren't like us with stacks of old blue jeans in the back of the closet, you may want to know where you can find denim for this upcycle purse idea. My favorite two places to look are at thrift stores and those classic garage sales.
Since this is going to be used as a purse, you can go to a local thrift store on their cheapest days and pick up the jeans that you want. Since this is a project that won't be using the entire pair of blue jeans, you can definitely grab ones that have holes, stains, or broken zippers.
Garage or yard sales are other great places to pick up used denim for crafts like this one. I like going to ones that have "stuff a bag" sales where you can get multiple pieces for one flat rate.
What type of denim is best for this handmade bag from old jeans
Don't just grab any old piece of denim. For this denim bag, you want classic cotton blue jeans. You don't want to use the blends that include spandex, lycra, or other materials that allow for extra stretch.
Why? Because the stretchy materials are often much thinner, they do not stand up under the weight of items you would place in a purse. They tend to fray and wear much faster. It's just simply better quality and long-lasting when you use solid cotton denim.
More Fun Upcycled Ideas
You know already that I love crafting, but I especially love to upcycle crafts. Reusing items I have on hand saves money and helps me feel better about my impact on the world. It's also just tons of fun! Make sure to bookmark or pin the posts linked below to use in the future.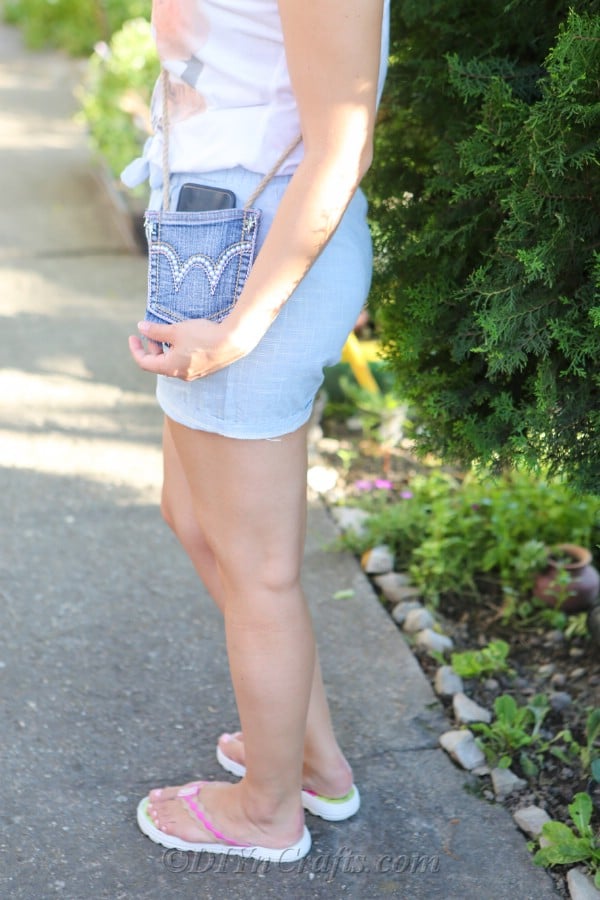 DIY Denim Bag Supplies
Old Blue Jeans
Rope or Ribbon (for the strap)
Embellishments (I used fake pearls)
Scissors
Hot Glue Gun
How to make a homemade jeans bag
To begin, prepare your supplies so they are easy to access when needed.
You will cut off the pockets of your chosen pair of blue jeans. Leave some space at the bottom of the pocket for added space to decorate as desired.
Take some old jeans that you are not wearing anymore. Make sure they have some nice pocket. Take scissors and cut the pocket carefully. You may want to leave some space on the bottom side of the bag. I've left some extra space that I've used later to decorate the bag with a fringe, pearls, or your preferred embellishments.
Next, you will measure and create your handle or strap using rope, twine, extra strips of denim, leather, or your chosen material. Once it has been measured, secure to the inside of the pocket with glue. For extra security, if you will be using this bag to carry heavier items, you will want to sew the handle into the bag.
Last, you will take time to create a fringe at the bottom, apply embellishments, or decorate as you desire.
Video Tutorial:
Step by step Photo Tutorial:
Yield: 1
How to Make a Fashionable Denim Bag
This lovely denim bag is the perfect way to upcycle those old worn-out blue jeans in the back of your closet! This easy tutorial is fast and simple for anyone to create.
Materials
Old Blue Jeans
Rope or Ribbon (for the strap)
Embellishments (I used fake pearls)
Instructions
To begin, prepare your supplies so they are easy to access when needed.
You will cut off the pockets of your chosen pair of blue jeans. Leave some space at the bottom of the pocket for added space to decorate as desired.
I've left some extra space that I've used later to decorate the bag
A fringe along the bottom can be left as is, frayed, or you can add beads and tie off each end.
Sew or glue embellishments and pearls along seams as desired
Next, you will measure and create your handle or strap using rope, twine, extra strips of denim, leather, or your chosen material.
Once it has been measured, secure to the inside of the pocket with glue. For extra security, if you will be using this bag to carry heavier items, you will want to sew the handle into the bag.
You can add additional embellishments as desired