How much do you spend on a pair of blue jeans? Usually, I seem to spend $40-$60, sometimes even more.
It's very frustrating when your old denims start to fall apart after just a few years.
It seems like such a waste to just throw them all away, so I got to wondering what you can do with old blue jeans.
So I took a look around and I found a whole bunch of awesome tutorials to share with you all!
Jump to:
Make a denim wreath!
Here's a super cool and unexpected project which doesn't require any sewing at all.
If you've got a pair of jeans that is just totally shredded and there's no chance at turning them into another item of clothing, you can use the scraps to make your very own denim wreath.
I never would have thought of this, and it looks great!
DIY Instructions and project credit: Afishwholikesflowers
Turn baggy jeans into skinny jeans.
Have a pair of baggy jeans with some holes in them? Depending on where those holes are, you may be able to simply repurpose them by turning them into skinny jeans. This tutorial will walk you through it step-by-step.
This project is definitely going to be easiest if you have some sewing experience, but even if you are a beginner you should be able to follow along. What's cool about this project is that at the end, you basically could have what amounts to a new pair of jeans in terms of quality, and they will be a perfectly tailored fit.
DIY Instructions and project credit: Commatose
Try dip-dyed, ornamented jeans.
Dip-dying is everywhere these days, and that's because it's cool! Well, this isn't for dip-dying so much as dip-bleaching.
Basically, you want to lighten your jeans at the bottom, and then draw on them using a permanent marker. This is an incredibly easy project and a great way to revitalize some jeans that maybe have started to fade and lose their color.
While this project looks really cool just as it is, there are so many ways you could customize it to fit your tastes.
An easy and fun project that anyone can do, this would be an awesome one to share with artistic kids.
DIY Instructions and project credit: Mintedstrawberry
Draw on your jeans with a bleach pen.
This is basically the same idea as the one above, only you are doing the exact opposite thing.
Instead of bleaching your jeans for a light backdrop and then drawing on them with a dark permanent marker, you are actually drawing on a dark backdrop with bleach.
The finished effect is really cool, and as you can see, you can do pretty detailed work. Just like with the idea above, this is a modification trick you could personalize in many different ways.
Either of these tricks can also be used to decorate any other repurposed creations you make out of denim.
DIY Instructions and project credit: Goldfishkiss
Can't Get Those Jeans to Fit Right? - Easy DIY Fix for Loose Jeans
Ok, so everyone has that problem where the back of your jeans droops open, right? I mean, no matter what you do you just can't keep that little peek-a-boo spot from showing.
Well, over at I Am Momma Hear Me Roar (and we just love that name, btw) there is a great DIY fix for those loose jeans.
If you are constantly worrying about your pants leaving a bit too little to the imagination and gaping open in the back, you just have to take a bit of elastic and sew it in.
This is a great fix that takes just a few minutes and you can stop worrying about keeping your shirt tucked in to protect your modesty.
DIY Instructions and project credit: iammommahearmeroar
Great Fashion DIY – How to Make Your Jeans Fit Better
Ok, so most of us would love to put on our jeans and notice that they're a little big, right?
Well, you certainly can't wear them out if they are literally falling off of you and many find it nearly impossible to find jeans that fit right.
Meream over at Bored & Crafty has this great three step tutorial for making those jeans fit perfectly.
Now when you lose just a few pounds, you really don't have to run right out and get a new wardrobe, unless of course you just want one.
You can always just follow this tutorial though and make all of your jeans fit perfectly.
DIY Instructions and project credit: boredandcrafty
Picnic quilt holder thing looks cool!
For lack of anything better to call it. It's kind of like carrying a duffle bag, without the bag part. Anyway, it's a very useful-looking invention! You could use it to carry blankets, tablecloths, yoga mats, anything else that rolls up and fits inside.
There is a full tutorial right there on the blog, and as you will see, it's pretty quick and easy to make this thing.
DIY Instructions and project credit: Cutesycrafts
Make an adorable little jean purse.
This idea is so cute and easy, and it's another no-sew one! It's the perfect time for me to discover it too.
I've been missing having one of these handy little pouches to carry around with me.
Basically, you just cut the small coin pocket out of a pair of jeans, making sure you include the bit of the waistband above it.
You poke a couple holes through it, run the cord through, and then tie the knots in front.
Now the waistband forms a flap you can pull down over the top, so it looks all nice and neat. You could literally make this in five or ten minutes. I love the pretty flower ornament on the front. It makes for a great "finished" look.
DIY Instructions and project credit: Michlinla
Look at this cool Morse code denim bracelet.
Here is another cute little project from the same blog. It's a simple, easy bracelet you can make out of old jeans with a message in Morse code written on it. If you scroll down to the bottom of the tutorial, you'll find another cool project for a Blue Jean Sea Wrap Bracelet. This gal has a lot of cool, creative ideas!
DIY Instructions and project credit: Michlinla
Convert your old pair of jeans into a chic skirt with lace.
This is one of the most amazing projects I've seen for up-cycling an old pair of jeans. The skirt looks amazing both because of the design and because the person who made it did such an outstanding job on it.
The instructions are in Cyrillic, but very easy to follow along with just the images, because this is actually a pretty simple project.
DIY Instructions and project credit: Mirtesen
Make a craft apron out of your old jeans.
I'm just in love with Susan's blog, Denim Do Over. Basically, if there is something really awesome and unexpected you can do with an old pair of jeans, you can be sure she's covered it on her site.
This project is for a cute and handy craft apron which you can use to hold your supplies as you are working on your projects. It's cute and useful! If you're planning on getting a little dirtier and want some more coverage, check out this quirky farm girl apron that protects your chest, too.
DIY Instructions and project credit: Betzwhite
More amazing denim bracelets are right here!
Here are a couple of more really pretty denim bracelets you can make using old jeans, rhinestone beads, lace, and fabric. There is no step-by-step with the images, but she does describe her steps in her tutorial. This is a pretty simple project if you are used to sewing!
DIY Instructions and project credit: Dragonflysandstars
Make beautiful denim "mums."
These denim corsages were inspired by chrysanthemums, and they are stunning to behold! This is a rather involved project since each "mum" has a large number of petals, and you will have to make and fit them all together. What a gorgeous result!
DIY Instructions and project credit: Missparty
Here is a simpler corsage pattern.
Like the idea of denim corsages, but looking for something a little quicker and less involved? These denim corsages by Sachiko over at Tea Rose Home are just as beautiful, and a little less elaborate.
DIY Instructions and project credit: Tearosehome
Turn a pair of old jean shorts into a stylish skirt.
This is a very simple, straightforward project for turning an old pair of jean shorts into a skirt. What is nice about this project is that you can also use it on pants, and you can make a longer skirt this way—as long as you want, if you have enough denim to fill the area between the legs on both sides.
DIY Instructions and project credit: Frugalliving
Make a denim fabric basket.
This is a sewing-intensive project, but the instructions are incredibly detailed. It's a great tutorial, and you could do anything with the resulting baskets. They'd be great for holding your craft supplies, or they'd make awesome little gift bags.
DIY Instructions and project credit: Threadingmyway
Make a pillow out of your old jeans.
This tutorial comes from the same website as the one above, Threading My Way. Pam's tutorials are just so well-written that I can't help but share more with you! This one will teach you how to turn your old jeans into a cushion or pillow, complete with a cute little pocket.
DIY Instructions and project credit: Threadingmyway
Make a textile denim cuff.
How cool is this cuff? I love all the ornamentation on it; it looks absolutely amazing! It's got a really cool boho look to it. The tutorial will walk you right through it step-by-step, and it'd be an easy project to customize with whatever embellishments you wanted to use.
DIY Instructions and project credit: Passionetcouture
Weave a really awesome basket.
If you have fraying old jeans which you cannot up-cycle into new attire, here is a project to make amazing use out of the scraps. You can weave a basket entirely out of denim. I just can't believe how awesome the finished result is.
It's being used as a fruit basket, but you could put anything in there. This would also be great for gifts.
DIY Instructions and project credit: Ohohblog
Make these adorable denim placemats.
How clever is this? This denim placemat is absolutely adorable to look at, and it also has the added utility and convenience of the pocket for the utensils. What a smart and witty way to keep the utensils in place.
This would especially be helpful if you have your kids set the table and they tend to make a mess of the forks and knives. Just have them stash them in the pocket and you can sit down to a nice neat place setting.
DIY Instructions and project credit: Creativelysams
Make a case for your iPod.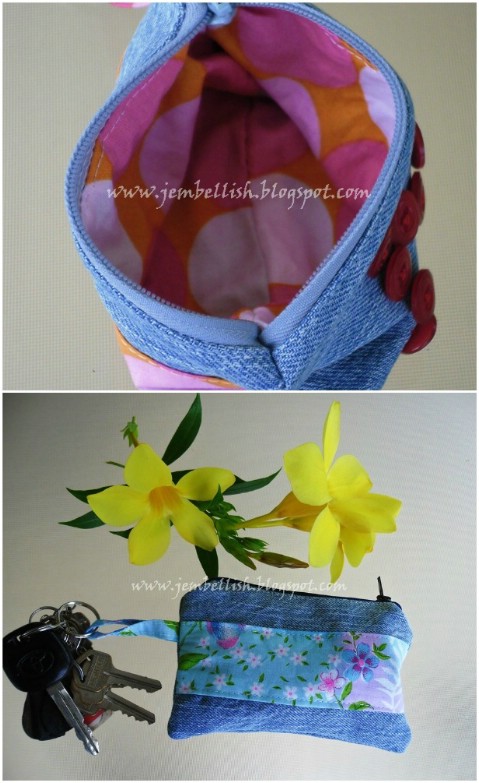 Who doesn't want an eye-catching case for their iPod? This denim case is designed to hang on your keychain and protect your iPod while making a clever fashion statement. It's an involved project, but the tutorial is detailed and will walk you through the whole project.
You even learn how to add a zipper and a colorful interior lining. The finished result looks so neat and complete it could have been store-bought. Of course, you'd be hard-pressed to find anything so cool in a store!
DIY Instructions and project credit: Jembellish
Put amazing designs on your denim.
This project uses a jacket, but you could do it just as easily with your jeans, or with any object you create by repurposing them. Earlier I shared a tutorial with you for drawing on jeans with a sharpie to create simple, bold, geometric designs.
Now check out what is possible with a fine-tipped marker!
DIY Instructions and project credit: Secondchancesbysusan
Create an amazing denim corset.
I love corsets as outerwear; they are a great way to dress up any outfit and give it a little something extra. This tutorial will show you how to create an amazing-looking corset using your old jeans. This one was based on an old Victorian pattern.
As an aside, I think it's looks so cute paired up with that plaid skirt she's wearing. This is the perfect way to create a look which combines classic styles with contemporary materials.
DIY Instructions and project credit: Cutoutandkeep
Turn the leg of an old pair of jeans into a draught excluder.
I was clueless as to what a draught excluder was, but if you have a door with a substantial crack under it, you probably know exactly what it is. You place it in front of the door and it covers up the crack, keeping the cold air from blustering in.
The leg of a jean is just the right size and shape to convert easily into a pretty and effective draught excluder. Learn how with this tutorial!
DIY Instructions and project credit: terrysfabrics
Craft a denim-covered pencil can.
If your pencil can or jar is looking rather drab, why not jazz it up with a bit of denim and some other fabric scraps? While the finished result looks spectacular, this project actually is surprisingly easy and straightforward.
It's really just a matter of cutting away what you don't need and gluing the rest on. Make use of one of the seams and you get that lovely, finished look. Embellish your denim pencil can however you want.
DIY Instructions and project credit: Craftsbyamanda
Make a craft apron for your child.
Not only can you make a small craft apron for yourself out of old jeans, but you can also make a larger craft apron for a child that provides fuller coverage. These are so cute and easy to make, and they will save you from having to deal with a lot of dirty laundry once they're completed.
Your kid will love them, and so will you!
DIY Instructions and project credit: Happyhooligans
Just in time for Halloween—recycled denim pumpkins!
Here is a seasonal project which is perfect for fall, and just in time for Halloween! There is a full tutorial available; you have to scroll down to the bottom of the blog entry to find it. What a cute way to decorate this year.
You'll be sure to get a lot of compliments through Halloween and Thanksgiving!
DIY Instructions and project credit: Restyledjunk
Make this amazing gym bag.
Duffle bags are awesome for everything, and this one is really incredible to look at. This is one of those projects I never would have guessed was a DIY. It's very well made, and it does not look like an old pair of jeans, that's for sure!
Denim makes a great material for a project like this too, because it's nice and sturdy and can hold up to a lot of weight and use.
DIY Instructions and project credit: Alldaychic
Make a cute bookmark.
Are you a bookworm? This is a simple, fast, and fun project to create a bookmark out of an old denim scrap. The bookmark hugs the page of your book, making it easy to flip right to where you are reading.
The heart shape is adorable, but this is a project that would be easy to personalize with a shape of your choice.
DIY Instructions and project credit: Thecheesethief
Make a bib for a baby.
This tutorial teaches you how to make an adorable bib for a baby. Make sure you go with softer denim for this one, maybe denim that has had a fair bit of wear. That way it is comfortable for the baby.
The durability of denim makes it an excellent choice for a baby bib since it can stand up to any amount of chewing or other misuse.
This would be a great project to make for your own baby, or a wonderful gift for a friend or family member. Now you know exactly what to gift at your next baby shower!
DIY Instructions and project credit: Amaidenhairfern
Here is another incredible denim wreath project.
Earlier I linked you to a tutorial for creating a wreath out of denim scraps. Here is a link to another project from Restyled Junk, the same blog that brought us those cute little Halloween pumpkins. T
his wreath is made out of the seams from discarded jeans. It has a very nice, neat look, very different from the other (equally cool) wreath we shared earlier.
DIY Instructions and project credit: Restyledjunk
Make a handbag out of recycled jeans.
If you liked the gym bag tutorial from earlier, but it isn't quite your style, you will love this tutorial to craft your own chic handbag out of a pair of old jeans. It's actually surprising just how simple and fast this project is.
Even with very basic sewing skills, you should be able to do a great job. This cute bag will get a lot of compliments!
DIY Instructions and project credit: Trinketsinbloom
Make closet organizers for scarves and more.
This tutorial helps you convert shower curtain hooks into closet organizers using strips of old denim. I don't know about you, but I'm always having those hangers designed for skirts and shorts snapping, so I have those leftover hooks. Now I know what I can do with them!
DIY Instructions and project credit: Thechicsite
Make a denim bag out of seams.
Remember the cool wreath project I shared a few items back which was made out of jean seams? Here is something else equally amazing you can do with them.
I love the finished look of this bag, especially with the different shades of blue all mixed together like that. It looks really artsy!
DIY Instructions and project credit: Denimdoover
Make simple but beautiful pair of earrings.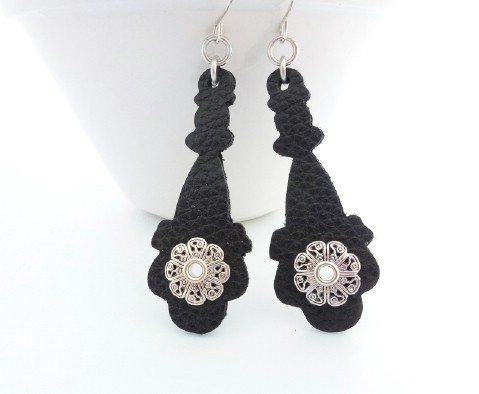 This project makes use of a die cutter machine, but if you don't have one, don't fret. It will take more work to do this by hand, but it can still be done! What I love about this project is that you can cut any shapes you want, so you can really let your creativity run wild here.
Because it's a simple, creative project where your imagination plays such a big role, I think this would be a fun project to do with kids or teens.
DIY Instructions and project credit: Beadinggem
Make a skirt out of old jeans and scraps of fabric.
As this project's creator reminds us, "Skirts are the easiest thing to design and sew. If ever I want to boost my sewing confidence, I make a skirt." Well, if I made a skirt this pretty using nothing more than an old pair of jeans and some scraps of fabric, my confidence would soar too!
I love that you could use any fabric scraps you wanted for this and create a unique look. You can also decide how much flair the skirt will have based on how you cut the strips.
DIY Instructions and project credit: u-createcrafts.com
These denim balls are perfect for play time.
I think this project would intimidate me a bit if I were new to sewing, but it's a really cool one, and denim really would make the best choice for the fabric. When kids kick balls around, they subject them to plenty of wear and tear, and these denim play balls would hold up great to that.
There is a thorough tutorial that will guide you through the design process. Your kids will love these!
DIY Instructions and project credit: Nancyscouture
Make beads out of denim for jewelry projects.
This is a craft which helps you make supplies for other crafts! Using this tutorial, you learn how to cut strips of denim and paint them with acrylic paints. You then roll them up into beads and glue them. The finished beads can be used for a variety of craft projects, and are of course perfect for jewelry.
I love the bright colors! You can use this same type of acrylic paint in your other denim projects to get these bold, vivacious hues.
DIY Instructions and project credit: Craftsbyamanda
Make denim napkins to go with your denim placemats.
Remember the amazing denim placemats from before? Now you can have a matching set of denim napkins! This is a very simple and straightforward tutorial. Read the written instructions above the images so you know what to do with each step.
If you do a good job sewing the seams, these napkins will have a great look and feel.
DIY Instructions and project credit: Yourpocketstylist
Design a surprisingly elegant denim necklace.
"Elegant" is not a word a lot of us would typically use to describe the look or feel of denim, and yet this tutorial proves me wrong. This necklace with the beautiful denim-and-pearl flowers is quite a sophisticated statement.
I love the contrast between the dark denim and the white pearls. You could customize this with as many or few flowers as you wanted. I also think it would look great as an off-center piece with the flowers along one side.
DIY Instructions and project credit: Bubblynaturecreations
Make a beautiful scatter rug.
This tutorial will teach you how you can make your own scatter rug out of denim scraps. This is a perfect project if your pieces are too small and frayed to use for attire. It's a very useful project too, as this looks like a very functional rug! It looks amazing all in blues, but you could also dye some of your pieces to get different colors, or intersperse other types of fabrics with the denims scraps.
Trust me, once you see how brilliantly this turns out, you might find yourself bitten by the rug bug. The good news is, there are lots of other DIY rug projects to get under your belt.
DIY Instructions and project credit: Allfreecrafts
Make an awesomely cute plush whale.
This project is my personal favorite of all of the ones I have shared here, but I love plushies! This remarkable whale can be made by following a simple set of instructions. Even as a beginner, I would not be too daunted by it. I can't get over how cute and realistic the finished plushie is!
DIY Instructions and project credit: Valaanvillapaita
Now you'll never wonder to do with your old jeans again—there are so many amazing projects to try! Be sure to share your creations with us and let us know about any other fun denim projects you enjoy!