Rugs have a profound impact in a home: they can tie a whole room together, serve as a designated play or reading area, introduce some color or texture to a dullish area or act a focal decor piece.
Whatever the reason, everyone needs a good rug, but like most beautiful things in this world, buying them from stores can get pretty damn expensive.
So instead of having to settle for a design that you're not totally in love with, or having to spend way too much for that dream design, do the (not so) unthinkable and actually make your own rug.
You won't regret it!
Jump to:
Mix 'n Match
This is a pretty genius idea: stick together a whole bunch of carpet squares to create one large, cohesive area rug. You can just ask around at stores, they may give you some for free or perhaps just charge you a dollar or so. Quick, cheap, easy and painless!
DIY Instructions and Project Credit – AScoopOfSherbert
How to Make Your Own Adorable Rag Rug
This craft project comes from Everyday Art and is an adorable way to spruce up a bedroom.
You can change the colors and make the rug perfect for any room so whether you are decorating a child's bedroom, a living room or even your own room, just pick your color and create a stunning rug that is certain to be a conversation starter.
You just need a few strips of fabric and a non-slip rug mat and you are ready to create this beautiful rag rug.
DIY Instructions and Project Credit –How to Make Your Own Adorable Rag Rug
The Helping Hula Hoop
The great thing about having a crafty mind is having the ability to find regular household items to help you through your projects; a hula hoop loom is the perfect example of this.
And if you haven't yet given away all your old t-shirts, you can upcycle them for this fun little rug.
DIY Instructions and Project Credit – AllParenting
Zebra Print
I adore the natural beauty of a zebra hide, but there is just no way that I'll allow a dead zebra's skin into my home. It just feels wrong. Painting your own on a canvas drop cloth, however, sounds oh so right!
DIY Instructions and Project Credit – TheHomeDepot
Tablecloth-turned-Rug
Have you ever seen a gorgeous tablecloth and thought that it would be the perfect addition to your home, but then realized you don't have the right sized table for it?
Instead of pining over it night after night, turn it into a rug with a rug pad, some spray adhesive and polyurethane.
DIY Instructions and Project Credit – DreamBookDesign
Cuddly Pom Poms
Pom pom rugs are just so awesome because they bring a quirky element of fun to the home; not to mention that texture is absolute foot heaven (and perfect for a kids' play area!).
This project is a rather time-consuming one, and there are various methods to go about it, but you'll definitely be delighted with the result!
DIY Instructions and Project Credit – SoCreativeThings, PippaQuilts and OneThousandSingleDays
Corky Bath Mat
As a (proud) hoarder, I am not ashamed to say that I keep my wine corks. I am even less ashamed to admit to just how many bottles of wine were joyfully consumed in order to build up my impressive collection.
Lucky for me, I can now make something from them: a seriously awesome bath/shower mat.
DIY Instructions and Project Credit – CraftyNest
Braided T-Shirt Rug
If you're keen on repurposing, gather all your old t-shirts (and ask your friends and neighbors for theirs), turn them into yarn and braid a magnificently colorful rug. If you get sick of the braiding, get the kids involved and turn it into a family project.
DIY Instructions and Project Credit – MyPoppet
Paint-it-Yourself
If you have a specific pattern or design in mind but just can't seem to find a rug that does your idea justice, why not paint it yourself?
Get a basic rug, make a stencil and then get a high-quality fabric paint to make your dream a reality. It'll save you a lot of wasted time and disappointment.
DIY Instructions and Project Credit – SarahM.DorseyDesigns
Sailor Chic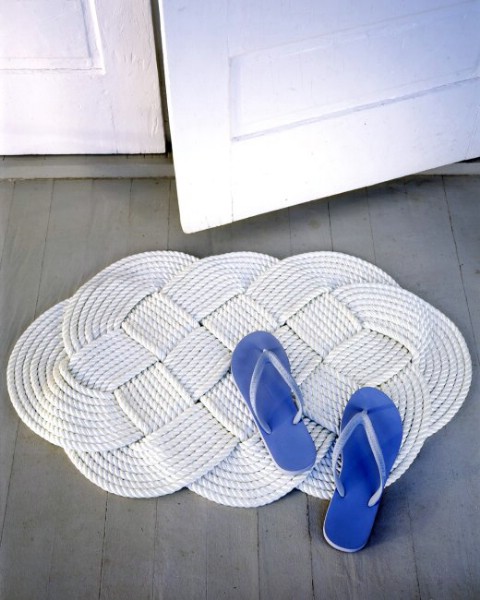 This Celtic knot, nautical themed rug is absolutely stunning! It does seem a bit confusing, but as long as you follow the diagram, you'll be just fine.
If you're planning on using it as a doormat though, you might want to use a darker color. Take note: steps 4 and 5 are switched up; step 5 should come before step 4.
DIY Instructions and Project Credit – MarthaStewart
Reminiscent Rug
Remember those friendship bracelets you used to make when you were in lower school? My arm was practically covered in the cute colorful representations of all my friendship.
Well, since fashion trends go full circle, this style is back; but instead of just making a bracelet, go one step further to create this wonderfully retro, past-happy-memory-inducing chevron rug.
DIY Instructions and Project Credit – TheHouseThatLarsBuilt
Woven Rags
This rug is made by weaving fabric strips together; the creator of this specific one actually cut up cotton bed sheets! For a first-timer it's relatively easy to make, thanks to the detailed tutorial. And I simply adore the chunky woven look.
DIY Instructions and Project Credit – ABeautifulMess
Technicolor Play Mat
If you're looking for a durable play mat for your little tot then you'll love this relatively easy (and very cheap!) project. The interlocking foam floor mat is the perfect base for the soft felt strips, making it the ideal rug for your little one to comfortably play on all day long.
DIY Instructions and Project Credit – SewHomegrown
From Coffee to the Floor
For all you coffee lovers out there, why not show your true love and admiration for that pick-me-up morning beverage by laying a coffee bag on your floor as a rug? This project is nice and simple, and I just love the rustic look of the burlap fabric.
DIY Instructions and Project Credit – MaidenJane
Climbing Rope Weave
Climbing rope is really expensive so you probably won't want to go out and buy it for this purpose specifically.
But if you or a family member love to climb, then you'll know that these ropes don't have the longest lifespan, so instead of throwing that money away, repurpose the rope into this cool rug.
DIY Instructions and Project Credit – SuperTopo and MountainProject
Shag it Up
Shaggy rugs are just so wonderfully retro, and the texture just makes you want to roll around on them all day long. Unfortunately, they're also pretty expensive, so if you have the time, opt to make it yourself.
Adding each little strip of fabric one-by-one may make you go a little crazy, but when it's all said and done, you can wrap yourself up in your fantastic shag and breathe a proud sigh of relief.
DIY Instructions and Project Credit – MyLoveOfStyle
Shabby Chic Rags
I am madly in love with this one! It's quick, it's inexpensive, it's easy and it lends itself towards a rustic/bohemian vibe.
Small rag rugs are cheap, so all you need to do is sew a bunch together, almost like a quilt, to create this fantastically charming and rustic-looking rug. The beauty is in the imperfection.
DIY Instructions and Project Credit – NellieBellie
Crochet Mandala Rug
Here's a cute one for all you crafty crocheters! Even beginner crocheters will be able to make this one; you just need to commit, time-wise. This example uses good old t-shirt yarn, but you can certainly substitute it with another type or yarn if you so wish.
DIY Instructions and Project Credit – TutsPlus
Two Becomes One
This is pretty clever: buy two plain rugs, find a rather simplistic pattern that can be cut out (like a Zebra print) and then combine the two to create one amazing rug. You only need about half a day to put this beauty together, so why the hell not?
DIY Instructions and Project Credit – VintageRevivals
Braided Towels
We've all seen braided rugs before, but I've never thought of using old towels to braid a mat for the bathroom. How freaking clever!
This is the perfect project for those towels that are on their last legs – you get to recycle and make something cool and functional, and you also get an excuse to go buy some new fluffy replacement towels.
DIY Instructions and Project Credit – SistersOfTheWildWest
Felt Faux Stone Rug
I've seen many tutorials for actual stone/pebble rugs, but they seem rather impractical, and the lack of flexibility makes the pebbles fall off easily whenever it gets moved.
So what's the next best thing? Stones made from felt; it'll be way better on your feet! If you're really going for authenticity, make your "stones" different sizes rather than uniform, you'll probably confuse a couple of your guests!
DIY Instructions and Project Credit – Instructables and Yes,IMadeThat
Patterned Swirl Rug
Instead of simply swirling rope to create a rug, this projects calls for wrapping the rope in interesting fabric beforehand. And I am in love! You can use old fabric cutoffs that you may have lying around or go hunting for something fantastic. Either way, I am definitely making this one!
DIY Instructions and Project Credit – ABeautifulMess
Rustic Rope
Rope—sisal, jute or twine—is a fantastic medium for rugs. All you really have to do is roll it up into differing sized circles, then hot glue or sew them all together for a rustic and fun unique rug. It's really easy to do and you can really let your creativity flow with this idea.
DIY Instructions and Project Credit – LoveThisPic and Home-Dzine
Light it Up
If you find a standard crochet rug a little too boring for your taste, why not include a string of LED lights to really light up your home?
You may see some lights warn against being covered as it can become too hot and catch fire, so before making your purchase, explain what you're doing to the shop assistant and ask which would be the best to use for this purpose. Who needs a night light when you can have a lit-up rug?
DIY Instructions and Project Credit – BautaWitch
Rope Swirl Tapestries
Using a piece of cardboard as your "loom", you can create a stunning swirl tapestry made from rope. What's fun about this project is that you can include different colors, pom poms and whatever else you like for a really interesting and whimsical rug.
DIY Instructions and Project Credit – FreePeople
Classy Grassy
Bring the outdoors indoors with this crochet grass rug. Don't worry, it's not real grass, but it sure looks like it! And it'll be just as lovely on your feet as real soft, bushy grass. You don't need to be a pro at crochet, any beginner will be able to pull this one off.
DIY Instructions and Project Credit – FineCraftGuild
Finger Crochet Fun
This is one of those things that you instantly fall in love with the second you lay eyes on it. Can't you just picture yourself curling up on this chunky rug in a beam of sunlight like a cat?
You're going to need a lot of wool for this one, so be prepared. The great news is that you can just use your fingers as a hook, so it's actually less complicated.
DIY Instructions and Project Credit – ExpressionFiberArts
Perfect Pixel
I have always been, and always will be, a Super Mario fan. I've graduated from Game Boys to computer games to Wii to an Android version – always playing Mario, so this truly is one of the coolest rugs I've ever seen.
You just need to crochet a granny square for each pixel and then sew them all together in the right shape, so you can make practically any pixelated character or image you want!
DIY Instructions and Project Credit – Craftster
Rose Rug
If you want to spruce up an existing rug or mat, add some roses to really make it pop. This easy tutorial uses old t-shirts, but you could even use any old towels that you were planning on tossing. It's a ridiculously easy project, and the end result really is a conversation piece.
DIY Instructions and Project Credit – WraySist3rs
Puffy Baby Rug
EThis quilt-rug hybrid is ideal for a little baby or toddler to play on, or even just lie around on. And hey, there's no shame in finding yourself cuddled up on this super comfy little rug! Making each individual bubble is quite time consuming, but seeing a happy, cozy baby is totally worth it.
DIY Instructions and Project Credit – AwaitingAda
Magnificent Maze
I've seen some cool maze or labyrinth rugs, but of course, they're pretty damn expensive. Who would've thought that you can simply take a pair of electric clippers to a regular old rug and make you own, much cheaper version, of the very same rug? Now that's thinking outside of the box!
DIY Instructions and Project Credit – Make and SurpriseDIY