These miniature ribbon flowers are absolutely beautiful and sure to become a favorite addition to many of your crafts. With so many uses, there will be tons of opportunities to make these. All you need is a simple ribbon and a needle to make this come together. While it is beautiful and would look great on many kids' crafts, this is one project that is best for adults or older children and teens to create.
Miniature Ribbon Flowers
Sometimes you just want to add a flower to a craft that isn't real but also looks a bit more delicate than store-bought artificial flowers. When you make your own homemade flowers, like these, you get to choose the colors and textures that fit your needs. That makes this little tutorial even handier. I absolutely love the idea of making this at the last minute to use on a number of the projects we share here.
What Ribbon is Best for Making Flowers?
Ribbon comes in literally thousands of colors, styles, and textures. Nearly any ribbon could be used with this same process, but when going for the miniature look, I find the simple thin ribbon best. In this case, I used a sheer ribbon that is made for things like this. You could use a grosgrain ribbon if preferred, or even a traditional satin ribbon for this process.
When making a larger version using this same process, you can use wider ribbons of any source you like. I love the idea of making these using burlap ribbon or even strips of fabric cut into equal widths and lengths.
How Can I Use Miniature Flower Decorations?
These are super versatile and perfect for topping gifts to adding as table scatter at a party. Below are some of my favorite ways to use these ribbon flowers that I think you will love as well.
Pin this to a collar or lapel as a broach.
Add these to the inside of a fishbowl centerpiece with pebbles and other flowers for a terrarium look.
Glue onto our rope purse or this old book purse as a simple decoration around the edges.
Add to the top of floral stems and distribute throughout a hand made bouquet or flower arrangement.
Secure to the top of a bookmark as a fun decoration.
Glue them to the outside of a votive candle holder.
Add to a gift in place of the traditional bow.
Glue to barrettes and create a hair bow with additional ribbons.
Add to a boutonniere for a wedding party accessory.
Sprinkle around tables in place of confetti for weddings, tea parties, and events.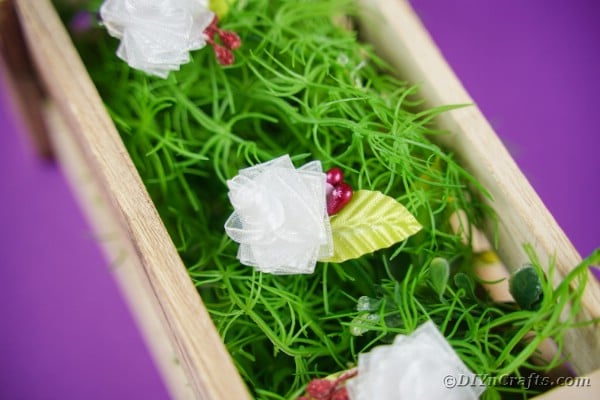 What Can I Use for the Base of the Flowers?
For this version of a ribbon flower, I simply glued the bottom to a small artificial leaf and some berries. What you use for the base really depends upon what you will be using these for when finished.
Many of the ideas above would mean you glue the actual flower onto something else like on a candle holder or on a barrette. In those cases, you could glue the flower itself directly to the base without using the flower or berries. Other options would be to glue to the top of a floral stem and wrap with floral wire to make it look more like a flower on a stem.
Other options are simply leaving it glued on the bottom to hold together with no base at all or to use a small piece of paper or cardboard to hold them flat if desired. Use your imagination to fit your personal needs when making these mini flowers. You could even use these decorative paper button flowers as a base to your ribbon flower if you wanted.
Supplies Needed
How to Make Miniature Ribbon Flowers
Measure a 12" length of ribbon and cut.
Thread the end of the upholstery thread through the needle.
Slide one end of the ribbon over the needle, then fold the ribbon back and forth accordion style sticking the needle through the center as you move along to the end of the ribbon holding the folds together onto the needle.
Once you reach the end of the needle, pull it through the ribbon so that all ribbon is secured together with the thread.
Cut and tie the ends of the thread, then on the bottom side, use a bit of hot glue to secure and hold the flower together.
Use a lighter to burn the edges of the ribbon to prevent fraying if desired.
Fluff the top of the flower to cover the thread and make it look more like a real flower.
Using hot glue, add the berries to the bottom of the flower.
Glue a charm onto the leaf.
Add the leaf to the bottom of the flower with hot glue.
Make as many as needed for your project or event.
More Cute Crafts
My obsession with crafting is one that I am not ashamed to admit. I love adding flowers to everything I can. When crafting, making them homemade is a huge part of that process. Below are a few more options for making your own homemade flowers using yarn, paper, and more!
Crafting Tip

When working with sheer ribbon, fraying can be a huge issue. Using a simple lighter at the edge to warm them is ideal for stopping the fraying. If you prefer something a little safer around children, you can use something like a simple clear nail polish on the edges to coat and seal the ribbon.
Yield: 1
Beautiful Miniature Ribbon Flowers Tutorial
Create a beautiful miniature ribbon flower with just a few simple steps, ribbon, needle, and thread! This easy craft is an ideal addition to any gift or package.
Instructions
Cut a 12" length of ribbon for each flower you want to create;
Thread upholstery thread onto a needle;
Slide the end of the ribbon over the needle so the needle goes through the center of the ribbon;
Fold the ribbon back and forth over the needle accordion-style pushing it down into a small stack;
Once through the length of ribbon, pull the needle through and tie off both ends of the thread so they are tight against the stack of ribbon;
Secure the ribbon and thread in place with a bit of glue if desired then use a lighter to warm the edges of the ribbon to prevent fraying;
Fluff the ribbon out so it looks more like a flower;
Glue berries to the bottom of the ribbon;
Attach the leaf charm to the artificial leaf;
Glue the leaf to the bottom of the ribbon;
Repeat this process with as many flowers as desired then use to display or attach to gifts.
Notes
These can be made any size you prefer using a variety of different styles and colors of ribbon.
Recommended Products
As an Amazon Associate and member of other affiliate programs, I earn from qualifying purchases.
Finished Project Gallery
These can be glued or taped on top of gift boxes as a great addition with or without a bow.
I love the idea of using these as table scatter at a party or wedding. So delicate and pretty!
Make them in multiple colors to fit your party theme.