If you are in search of a creative and simple way to make DIY vintage paper flowers, you should enjoy this new video tutorial. I will show you how to make a paper flower out of an old book step by step with just a few other simple supplies. This decorative item can add a touch of elegance and homespun charm to any room.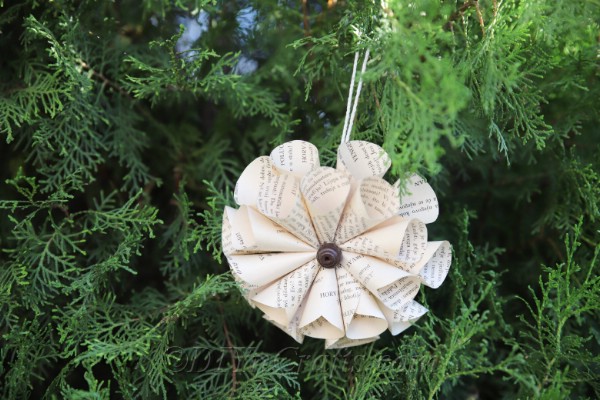 How to Make Paper Flowers the Easy Way
Paper crafts made out of old books tend to have an elaborate look to them when they are completed, but you will discover that they are usually pretty easy to make, and involve simple, repetitive steps. Such is the case with this project, which is a particularly basic one.
How to Make Flowers Out of Paper Using an Old Book
Before you can begin, you will need to gather the necessary materials. To start, find an old book which does not need to remain intact. It does not need to be a long book since you will only be tearing out a few pages per flower.
You also need some thread as well as a bead which you will use for the center of the flower. The size, material and color of that bead are up to you.
For tools, all you require is a pencil, a pair of scissors and some glue. There are a couple of things to note. One of them is that you do not actually need hot glue for this project. A regular glue stick works just fine. Of course, hot glue is fine as well.
The other thing is that if you want to be precise when drawing circles (which is one of the steps), you might want to grab a protractor or a couple of lids to trace. Otherwise, you can just eyeball it.
What Can You Do With Your Old Book Flowers?
A better question would be, "What can't you do with a paper flower made from book pages?" This is a beautiful decorative item with vintage flare which looks great sitting or hanging anywhere. It is also good for gift-wrapping.
Yield: 1
How to Make Paper Flowers from Old Book Pages
Looking for an easy, fun way to make paper flowers? We'll show you in this video how to create beautiful DIY flowers out of an old book.
Instructions
The first step is simply to tear off a few pages from an old book. This is easiest to do if you chose one with a well-worn binding. You do not need more than a few pages.
Next, you need to cut out circles from the pages. There will be large circles and slightly smaller circles. As the large circles will form the bases of the flowers, how many you require depends on how many flowers you want to make.
The smaller circles will form the petals. I believe I ended up using 20 smaller circles to create 20 petals for each flower I made. But the exact amount that you need will depend on the precise sizes of the circles you are cutting.
The next step is to shape the small circles into flower petals. Each petal will take the form of a small cone. Use glue to hold the petals in their new shapes. Any type of glue you want to use for this is just fine. Once you think you have enough petals, move on to the next step below.
Get one of the larger circles, and start gluing the cones around it to form the first layer of petals. I believe that I used a total of 10 cones to do this. You might need more or less depending on the sizes of the circles you created. The petals should all converge at the center.
You want both of the layers of petals that you create to be visible. So you need to shorten the next layer of cones so that they do not fully overlap those below. To do this, simply trim off the tips of each of the waiting petals before you proceed to the next step.
Glue on the second layer of petals. You should stagger each petal in between the two below it rather than placing each directly on top of the one below it. Go all the way around until you have completely filled in this layer of petals.
Once all the petals are in place, you can glue a bead in the center.
If you would like to be able to hang the flower to display, turn the flower over and use a little glue on the back of the circle to attach a loop of twine.
Here's what your finished flower should look like:
Notes
You can also try making variations on this project with additional layers of petals or petals in different colors.
Other Ways to Make Paper Flowers and Old Book Crafts
If this project got you excited to try making more paper flowers, you are in luck. There are so many different ways you can do it!
You can learn how to make a gorgeous DIY paper flower ball, or you can use a free printable template to create an easy paper flower wreath. You can even make colorful flowers out of tissue paper.
And here are three more DIY Paper flowers you can make quickly and easily. You'll find lots more in our archives. So check out these projects and the other easy DIY paper flowers we have shared!