Looking for something fun and unique to add to your home décor? Check out this super fun project for making a denim hat wall decor. This hanging decor can be a simple addition to any room, or can be a handy sewing room pin cushion! It's an easy DIY project that is perfect for anyone who loves to craft and upcycle.
Denim Hat Wall Decor
With just a few simple supplies, you can transform some scrap denim into a stylish wall decoration. The best part about this project is that it can be easily customized to match your existing décor. Whether you choose to add embellishments or keep them simple, this denim decoration is sure to add personality to any room in your home.
You'll love how this decoration transforms your room and makes it feel like home. Add some character to your walls with this project, or add it to your sewing room to use in place of an existing pin cushion. It's a great denim decoration that is going to look lovely no matter where you place it.
What Should I Use to Hang This With?
I am using a thin piece of twine or rope that comes off the top of the denim hat to hang it. To attach it to the wall, you can use tape, a push pin, poster putty, a picture hanger, or just a small nail. If you want to make sure it stays in place but also doesn't damage the wall, you can use a Command hook in order to secure it to the wall.
Can I Use Fake Flowers Instead of Denim Flowers?
I am making denim flowers to go with this denim hat. If you wanted to give this a different look, you can use fake flowers. This will add a different color to the hat as well as give it different textures.
I just like the idea of it being mostly upcycled. So, making my own is ideal, but any fabric flower or artificial flower would look lovely on this wall hanging.
How Can I Customize This Denim Wall Hanging?
You can add a lot of different decorations to the denim hat. Like all of our projects, what I make is just a base. You can customize it to your preferred colors, styles, and sizes. Below are some easy ways to customize your denim pin cushion hat.
One of the things that are easiest to customize is the hat band. I used some beaded ribbon to give mine a pretty look. You can use a strip of solid-colored satin ribbon, a holiday-themed ribbon, beads, or even an additional strip of darker wash denim.
Add beads or sequins around the hat band or all over the base of the hat to make it sparkle.
Paint the hat with a unique slogan, name, monogram, or just stripes. You could even stencil on a bird, flowers, or other cut additions.
Add an iron patch to the front or brim of the hat to give it a theme for a holiday, sports team, or decor style.
Make the bottom pieces of ribbon dangling down instead of twine to use for hanging hair bows in a little girl's room.
Where Should I Hang This Denim Hat?
While I think this wall hanging would look great in a bedroom, living room, or even an office, it can go anywhere in your home. It can be hung by itself or with other wall hangings. In particular, this is often used as a pin cushion in a crafting room or sewing room. Since the top of the hat is stuffed with cotton balls, it works great for this purpose.
It can also be hung above a mantle and grouped with other farmhouse decor or denim pieces to give a unique rustic look that adds personality to any space. Wherever you hang this, it is best hung against a flat background and not dangling from a ceiling.
Supplies Needed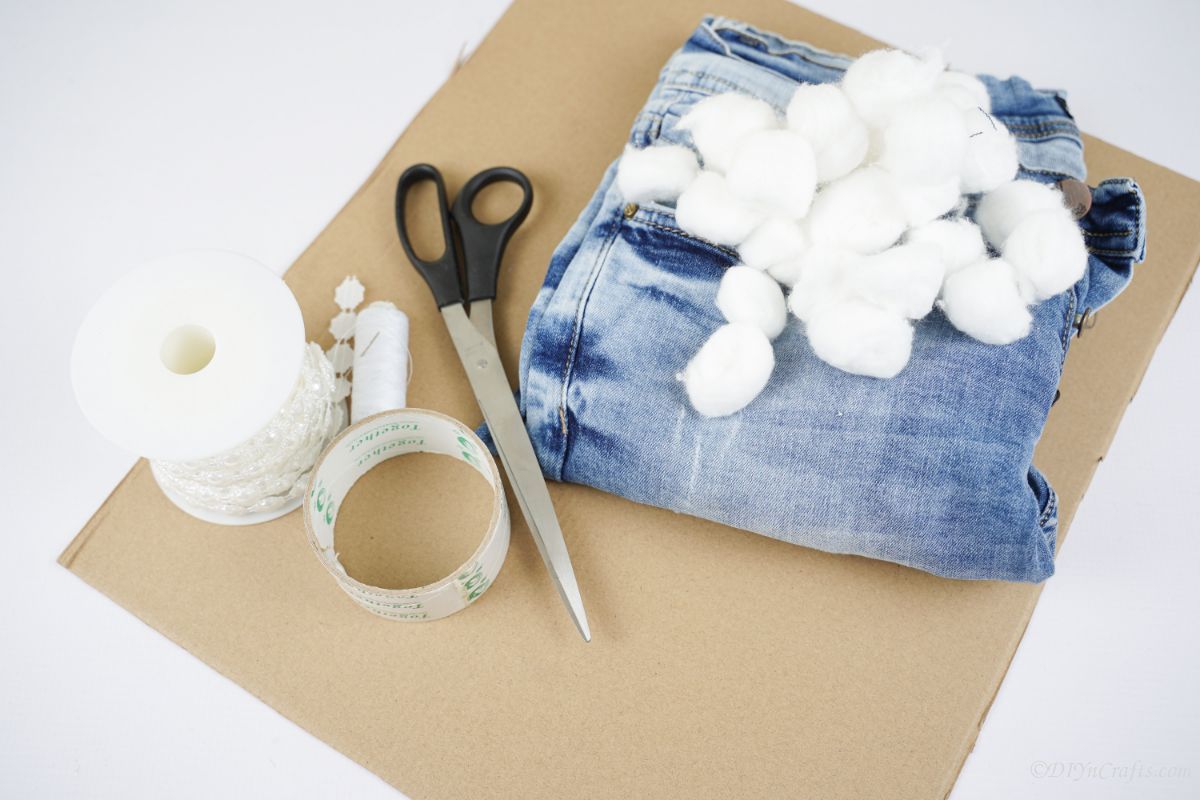 How to Make a Hanging Denim Hat Decoration
Start by making the base for your hat. I used a piece of cardboard as the base, but you can use plastic, stiff paper, or even wood if you prefer. Measure and cut out a circle that is around 8" wide. Then set it aside.
Next, cut the leg off of a pair of blue jeans and then cut them open along the seam and fold them out flat.
Then, lay the cardboard on top, and trace or cut around it, making the denim about 3" wider than the cardboard circle on all sides.
Now, keep that circle of cardboard in the center of the denim you just cut. Use a needle and thread to sew the thread around the edge of the denim piece. You will just do a simple back and forth stick in a line around the middle.
Once the line is in place, pull it taught so it cinches the denim over the cardboard round. Sew the end together to secure it into place. I likely won't cover the entire cardboard piece but will cover most of it.
Next, grab that empty tape roll and place it on another piece of denim. Fill the middle of it with cotton balls, just to the top.
Now, cut the denim about 4" wider than the circle on all sides.
Repeat the process of sewing along the outside of this new circle of denim, and then cinch it up so that it covers the sides of the tape roll. The denim won't cover all of the tops of this but should cover most of it so you can cover the cotton fairly well.
Now, you will flip this over onto the open space in the middle of the larger flat denim circle you made earlier. Glue this into place to cover any open space and on the center of the hat brim.
Once you have the basic hat together, now you can decorate it. I used a piece of beaded ribbon to create a hat band and cover where the two pieces connect.
Set the hat aside, and work on the flowers and the rest of the project. Cut a 2" wide strip of denim that is about 10" long.
Fold this piece over itself until you have a folded strip that is just 2" long. Then, cut one side of that into a curve to create a scalloped edge.
Now, on the flat edge of this scalloped edge strip of denim, sew the thread just like you did with the other pieces earlier.
Once the entire length has threaded through the edge, cinch it together to create a flower shape. Repeat this making 3 of the denim "bows".
Decorate these with a bead in the middle of each flower.
Now, cut three strips of twine for hanging on the hat. You can cut two longer and one shorter, or simply attach them all at different heights.
Glue these onto the back bottom of the hat brim you made.
Then, flip it over so the hat is facing up, and glue the denim flowers on the end of each of the twine pieces.
Now, you can add an additional loop of twine on the top back for hanging on the wall.
More Easy Denim Crafts
If you have leftover denim after this project, then look no further than the list below for something fun you can make. No matter what your skill set is, below are some ideas you can make. Take the time to bookmark your favorites from this list, or you can print out the tutorial, or even pin it to Pinterest to make soon.
Yield: 1
Cute Hanging Denim Hat Wall Decor
Make an adorable hanging denim hat wall decoration with just a few supplies! A perfect addition to your craft room and easily can be used as a pin cushion!
Materials
Instructions
Trace an 8" wide circle onto cardboard and cut it out.
Now, cut the leg off of a pair of old blue jeans.
Then cut them open along the seam.
Lay the cardboard circle on top of the denim, and cut a piece about 3" wider.
Next, sew a line of thread around the outside edge of the denim circle, and when about ¾ of the way around, pull it tight to cinch the denim over the cardboard. Sew the end to secure it into place.
Now, place the empty tape roll onto a piece of denim and cut it around 4" wider on all sides into a circle.
Place the cotton balls inside the tape roll opening.
Repeat the same process from before to sew around the outside edge then cinch up and over the sides covering the top as much as possible. Sew together to hold in place.
Now, flip this over and glue it into place on the center of the circle you made earlier.
Glue beaded ribbon around the base where the two pieces meet.
Cut a 2" wide strip of denim.
Fold it over itself until you have a 2" wide piece. Now, cut one side of that at a curve, then unfold it to create a scalloped edge.
Stich along the flat edge of this and cinch it into a flower shape.
Repeat this by making 3 round bows of denim.
On the middle of each, glue a flower bead.
Now, cut 2 strips of twine that are 8" long and 1 strip that is 5" long.
Glue these onto the bottom of the circle you made that is the base of the hat.
Flip it over, and glue the flowers on the end of each so you have the two longest on the outside with a shorter one in the middle.
Cut and loop a piece of twine then glue it onto the top back of the hat for hanging.
Notes
This can be hung by the sewing machine and used as a pin cushion.
Recommended Products
As an Amazon Associate and member of other affiliate programs, I earn from qualifying purchases.
Finished Project Gallery
This is a great addition to any room as decor, but makes the perfect pin cushion to hang in your craft or sewing room!