This old CD pincushion basket is such a cute idea for a gift! Sure, I would use this myself, but I love the thought of making a few of these to gift to my friends who like to sew. I learned to sew as a child next to my grandma, and still use her handmade pincushion. Making something similar to give to my daughter and even some of my friends is a great chance to repurpose that old CD, and do something special!
Upcycled Old CD Pincushion Basket
Sewing is such a great way to create tons of beautiful things. I love sitting down with some cute pieces of fabric and creating a totally new item. Whether it is a shirt to wear, a tablecloth for the holidays, or even some cute curtains, many weekends have been spent with a needle and thread.
Do you know what isn't fun about sewing? Dropping a needle into a chair and sitting on it later. That's why pin cushions are a must!
I have been brainstorming for more ways to use up this box of old CD's I have on hand, and this just came to life. A few scrap pieces of fabric and lace, a little glue, and you suddenly have this adorable little pincushion that is functional and cute for gifting.
Put this to use making some of these great summer sewing projects to plan for when temperatures rise and you get to head out to the beach! If you are new to sewing, you will love this HUGE list of sewing patterns for beginners. There are over 900 ideas on the list to get you started!
What Can You Use to Stuff a Pincushion?
I used cotton balls I already had on hand for stuffing my pincushion. They are a great inexpensive option for stuffing many projects. That said, I also have discovered a ton of great options for stuffing sewing projects that some may not think of using.
Old t-shirts that are stained or have holes
Worn out washcloths or dish towels
Old pillow stuffing from pillows you no longer use
Bookmark this list of 50 more baby sewing patterns to keep you busy creating tons of new items for gifting at your next friend's baby shower.
What Works Best to Glue Items on CDs?
Thankfully, CD's are pretty easy to add glue to for different projects. I haven't come across any glue that won't work well for securing paper or fabric to them. For a crafter, that's a great thing!
For this project, I used my trusty hot glue gun and glue sticks. You could easily use Tacky Glue or E6000 for this project. I wouldn't recommend Elmer's school glue as it wouldn't hold long enough to make this functional for use on a regular basis.
Supplies Needed
How to Make an Old CD Pincushion Basket
Place the CD's onto fabric and trace around to measure a large enough piece to wrap over each CD.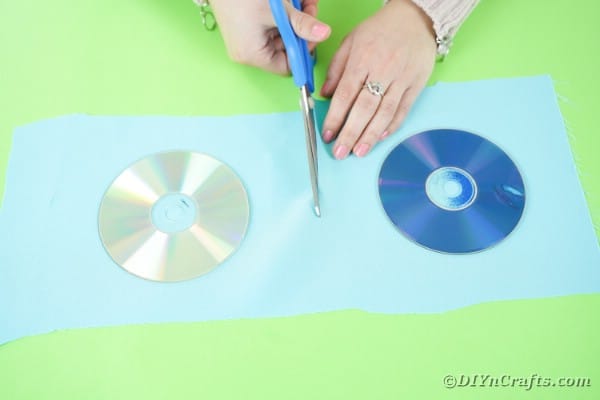 Cut out the fabric.
Sew the fabric over the first CD as shown.
On the second piece of fabric, place several cotton balls to create a cushion, then place the CD over it.
Sew the fabric over the top of the CD.
Place the two CD's on top of each other flat side to flat side, and glue in place.
Take a length of stiff ribbon or yarn with wire inside, or wrap a piece of floral wire with ribbon, and bend then glue in place as a handle.
Once they are glued together you will now add a ribbon around the edge coating the seam.
Glue the lacy ribbon around the outside.
Now, add finishing touches of fake pearls around the outside.
Add pins and use for your next sewing project!
Want something a bit more portable? Check out this sewing kit organizer pin cushion jar! Keep it handy for creating some of these great baby sewing patterns to gift to friends and family. It's so fun to create your own unique clothing and items with needle and thread! If sewing is on your list, make sure to bookmark my huge list of sewing hacks to make it easier to create incredible items.
Crafter's Tips

Don't have old CD's or DVD's on hand? Grab a box of old CD's for crafting on Etsy! Such a great low cost craft tool!
Yield: 1
Upcycled Old CD Pincushion Basket - With Video
This upcycled CD pincushion basket is a great project for any sewing lovers in your life! Easy to make and perfect recycling craft!
Materials
Instructions
Cut the fabric a few inches wider than each CD to make sure it will wrap around and cover them;
Place one CD on a piece of fabric, then pull it over the top and stitch in place loosely;
On the second piece of fabric, place the cotton balls then top with a second CD;
Pull the fabric over and stitch in place;
Now, glue the two "packets" together flat side to flat side;
Add the stiff ribbon or floral wire with ribbon in a curve over the top as a handle and glue one side to each side;
Add a length of ribbon around the edge where the two are glued together;
Add a ruffle of ribbon or lace around the top;
Then add pearl bead accents;
Now you can add pins and use for your next sewing project!
Notes
If you don't have cotton balls on hand, feel free to stuff this with scrap fabric or old pillow filling.
Recommended Products
As an Amazon Associate and member of other affiliate programs, I earn from qualifying purchases.