Pumpkins are at the heart of everything in the Fall. Whether it is the one you carve for your front porch, a delicious hot drink from the local coffee house, or a pie on Thanksgiving day, it is everywhere. That's why I have to bring you tons of cute and fun pumpkin crafts for Fall decorating. This list has everything you could ever imagine using for decorating with the ideal example of fall. Pumpkins. From garlands and cards to wreaths and upcycled books, this list has a little of everything on it to showcase throughout the Fall season!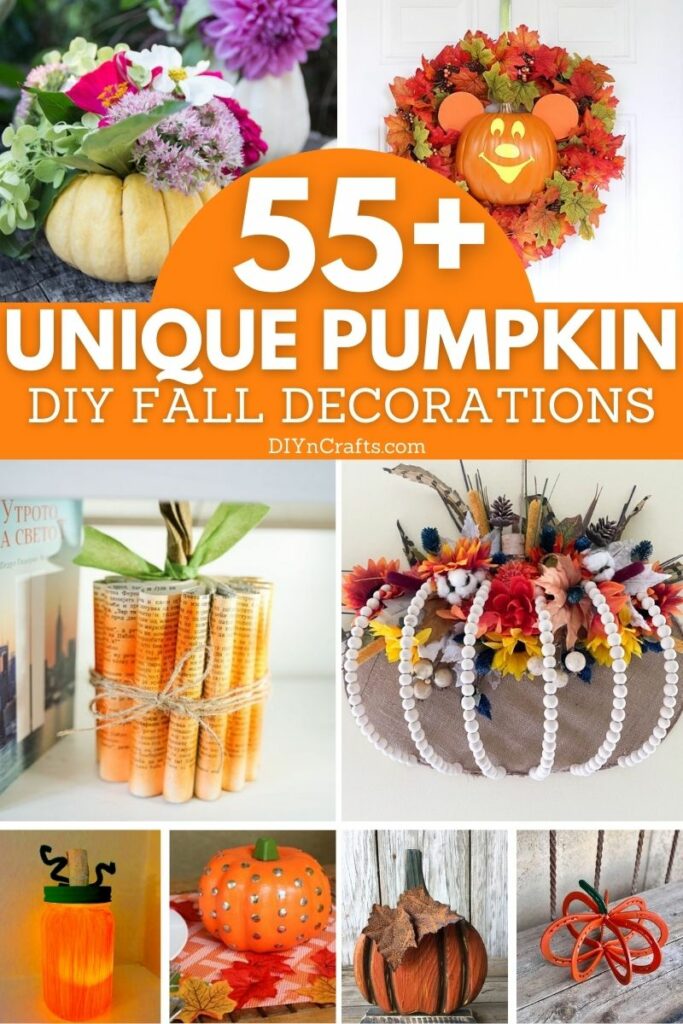 Pumpkin Crafts for Fall Decorating
There is truly nothing more iconic than pumpkin from August to November, and that is why there are so many amazing projects featuring the pumpkin. This list includes cute crafts kids can make, intricate detailed projects, and even a few fun-filled woodworking projects. Whether you are skilled with metal or woodworking, or simply want a little dollar store craft, I've got you covered with this list.
We love decorating in the fall and below are a few more ideas you'll want to take note of to add to your project list this year!
Rustic Old Book Page Pumpkin Fall Decoration
This is one of many crafts made out of old books. I love using these old torn up books and turning them into beautiful crafts and home decor instead of going into the trash can. This rustic look is gorgeous and easy to add to any Fall decor theme.
Source: DIYnCrafts
Shabby Chic Book Page Paper Pumpkin Decoration
This style of old book page pumpkin is just a bit different and by far, the easiest choice on this list to make. Folding paper and adding a bit of orange paint is all you have to do for this cute but easy project. I love how this one really pulls in that farmhouse style we all love these days.
Source: DIYnCrafts
Dryer Vent Pumpkin Craft
I learned how to make this when I was just a little girl, and it has always been my all-time favorite pumpkin decoration. So fun, easy, and unique!
Source: DIYnCrafts
DIY Pumpkin Ornament Fall Decorating Project
A few bits of fabric and a styrofoam ball are all you need to create this cute little pumpkin ornament. This is perfect for adding to any Thanksgiving tree or Fall decoration. You can easily make this in a few minutes and add to a number of your favorite Fall decorations.
Source: DIYnCrafts
Rustic DIY Fabric Pumpkin Fall Decoration
Turn a toilet paper roll into an absolutely adorable little pumpkin! This fabric covered pumpkin is a fast and easy project that can be made in minutes. Add it to your table as a centerpiece or sit on your mantle along with other favorite Fall and Thanksgiving or even Halloween themed decorations.
Source: DIYnCrafts
Paper Plate Pumpkin Craft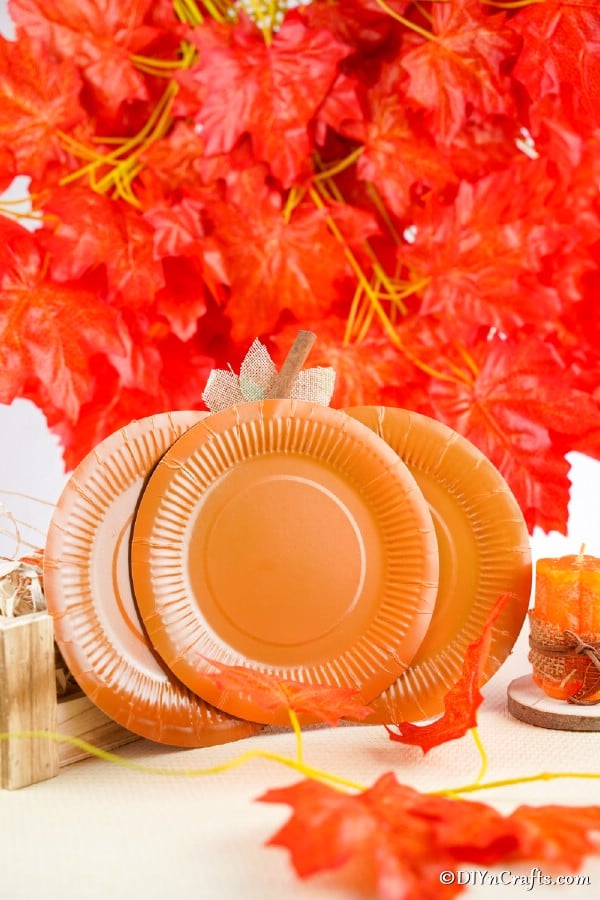 Painting ordinary paper plates and combining together for a cute little decoration is easy to manage with kids of all ages. This is a simple project that looks just rustic enough to create the farmhouse style you love on a mantle or shelf.
Source: DIYnCrafts
DIY Pumpkin Button Wall Art Decoration
Turn that button jar into a great way to decorate! Make a cute little pumpkin out of buttons to add to any frame and create stunning wall art that you will love! This is ideal for kids, but a fun craft for anyone to make no matter the age.
Source: DIYnCrafts
DIY Yarn Pumpkin Garland
Yarn and twine combine to create an adorable little garland! I love this pumpkin garland idea. Great for your mantle, to hang on a wall, or even to hang on the top of a doorway. It's super cute, easy to make and hang during the Fall season.
Source: DIYnCrafts
Painted Wine Glass Decoration
I LOVE painting glasses for decor. They are super cute and easy to make. The best part is how cheap they are! Just a few dollars and you can have a whole display of glasses to paint like glasses!
Source: DIYnCrafts
Silly Face Upcycled Planter Pumpkin
This fun spin on an upcycled flower pot fives the pumpkin a goofy face instead of the more traditional spooky jack-o-lantern look. I love using anything I can to upcycle, so this is ideal for those pots leftover from summer planting!
Source: DIYnCrafts
Upcycled Lightbulb Smiling Pumpkin
Old lightbulb and a little bit of paint are ally ou need to create an adorable little addition to Halloween decor. This goofy faced little pumpkin is ideal for tucking into a basket, as part of a mantle decoration, or attach to a wreath.
Source: DIYnCrafts
Paper Pumpkin Garland
A bit of scrapbook paper, some twine, and suddenly you have a gorgeous paper pumpkin garland. This is ideal for hanging on your mantle or even across a doorway or wall. Super easy, budget-friendly, and ideal for the entire Fall season.
Source: Craft Create Cook
Rustic Pumpkin Twig Craft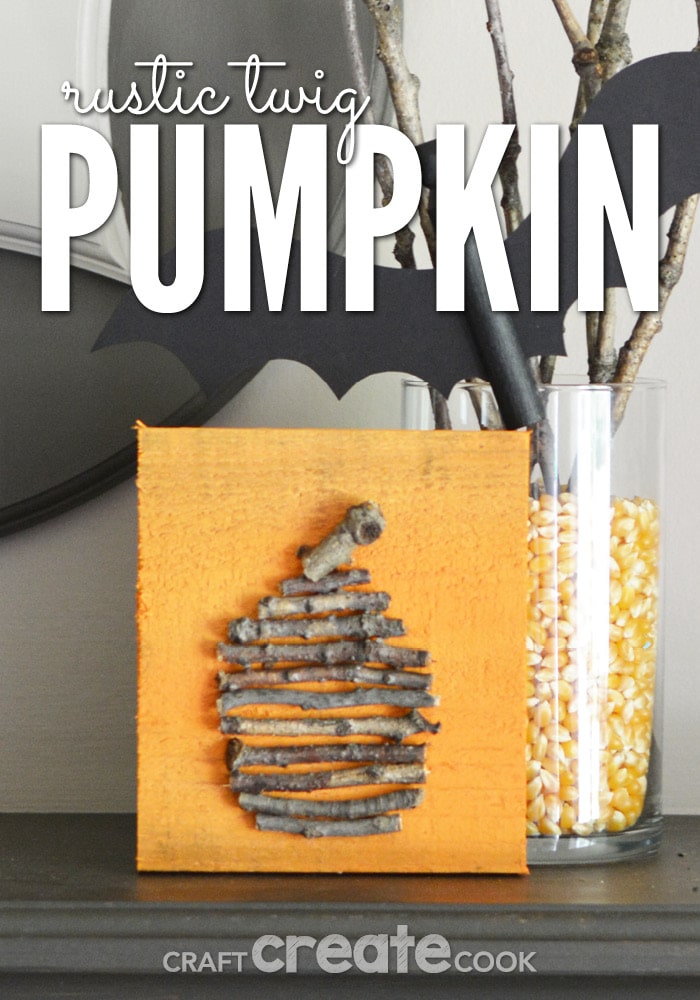 A simple scrap piece of wood, some orange paint, a few twigs, and a bit of glue create an adorable rustic decoration for Halloween or Thanksgiving. This Fall decoration is such a cute idea that looks great in any room of your house!
Source: Craft Create Cook
Upcycled Jar Lid Pumpkin Patch Wreath
What a great way to upcycle and add a fun new wreath to your Fall decorations! I love how this flannel covered wreath is so easy to make. A bit of paint, some twigs, twine, and glue turn into a gorgeous wreath perfect for hanging on your front porch.
Source: You Brew My Tea
Knitted Miniature Pumpkins
If you crochet or knit, you might already know how cute these look. This is a beautiful choice you can find in multiple colors to add around your home, on tables, dressers, and as part of a centerpiece.
Source: Etsy
Wood Slice Pumpkins
Simple slices of wood from any tree can be painted and decorated to create a cute little Fall decor. I love how easy this is, and how truly beautiful it looks. You can easily turn this into a cute addition to your Halloween mantle!
Source: Crafty Morning
DIY Twine Pumpkins
Who knew you could use twine to create a cute little pumpkin? I love how cute this looks on any table or mantle. A perfect choice for adding rustic decor to your home just in time for the cooler Fall weather and season.
Source: Crafty Morning
Wooden Pumpkin on a Stand
For those individuals who are great with woodworking, a project like this is ideal. You can find already made wooden pumpkins to paint and attach to wood pieces or purchase one of these ready-made choices to add to your mantle.
Source: Etsy
Tide Pod Pumpkin Container
This is truly brilliant! I am always wondering what to do with those empty containers and this turned out absolutely fantastic! You can use a Cricut to create stickers to make the face, paint, or even markers. Such a cool idea and fun for kids!
Source: Crafty Morning
Quilled Happy Paper Pumpkin Craft
Have you ever done any paper quilling? I absolutely love rolling paper and creating something fun and unique! This is a great project for kids to make, and especially handy for teaching them about hand eye coordination.
Source: The Inspiration Edit
Grapevine Twig Pumpkin
This natural look is so pretty! It easily fits into the rustic, vintage, and farmhouse style looks that are so popular in the last few years. Add your own preferred color ribbons on top or even paint with orange paint if desired.
Source: Etsy
Upcycled Paper Map and Wine Cork Pumpkin
This is absolutely brilliant! A perfect decoration for the traveler to add to their home during the Fall season. An old map that is out of date can easily be upcycled into a cute paper pumpkin that matches any home decor style.
Source: The Homespun Hydrangea
Upcycled Mason Jar Lid Farmhouse Pumpkin Craft
We all have a few mason jar lids somewhere in our houses. They can easily turn into a cute little pumpkin that fits the common farmhouse style of decor. You could even paint these orange if you preferred! Such a cute idea!
Source: The Homespun Hydrangea
DIY Wood Pallet Pumpkin Craft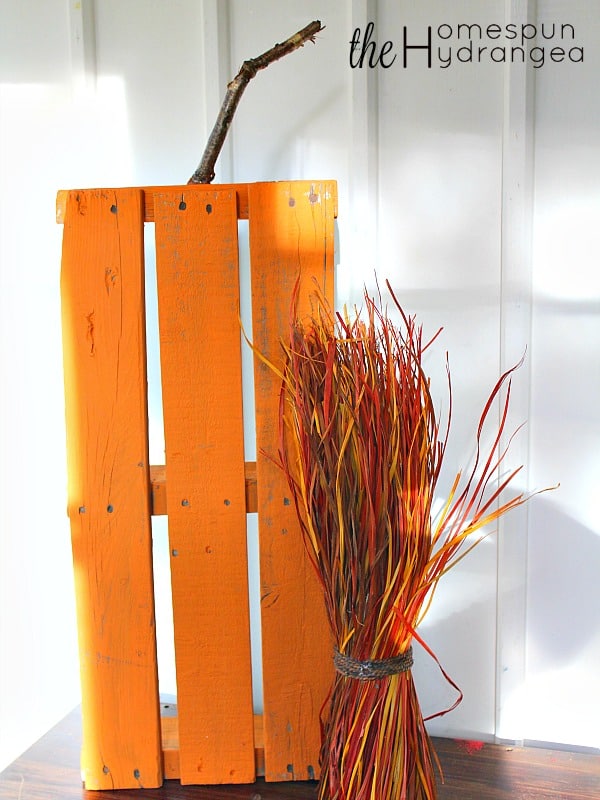 Pallets are such a great item to use for the base of a craft! I love how this one is just a little project with paint, some twigs, and a piece of an old pallet. This looks great with other rustic decorations for a mantle or shelf decoration.
Source: The Homespun Hydrangea
Natural Pumpkin Vase Table Decor
This is brilliant and absolutely beautiful! Use those pumpkins for table decor just as they are! Hollowed centers are the ideal place to tuck a few flowers or a bouquet to create an all natural look on your table.
Source: Powered by Mom
Reversible Wood Slice Chalkboard
This is such a fun idea! Turning a simple slice of wood into a pumpkin is easy, but painting one side chalkboard and the other orange is brilliant! I love this idea for a cute message board!
Source: Sustain My Craft Habit
Miniature Velvet Pumpkins
I love the fabric pumpkin theme, but these, these are amazing. Velvet colors in rich earthy tones are elegant and absolutely stunning by themselves as a decoration. Add to other richer colored items and you have a breathtaking display.
Source: Etsy
Wood Pumpkin From a Pallet
This is great for those who love woodworking or small DIY projects. You can make it as big or small as you like and paint any number of colors!
DIY Wood Pumpkin
This is a fun little woodworking project that is great for the person who likes working with wood, paint, and a few tools. I love how simple and rustic it looks, but the idea that you can customize differently is awesome.
Source: Happiest Camper
Dollar Store Splatter Screen Pumpkin
Just WOW! Who would have thought those little $1 splatter screens for the kitchen could become such a cute rustic pumpkin? I sure didn't! I love this idea and that it's so affordable! Just a few items from your local Dollar Tree and voila!
Source: Farm Girl Reformed
Shabby Chic Happy Fall Pumpkin Door Hanger
I love the story with this cute craft! Make sure you pop over and read her account of making this - it's too cute! This is a great project for those with a Silhouette or Cricut! While not traditional, it's beautiful and a great idea!
Source: Where the Smiles Have Been
Personalized Wooden Pumpkin Patch
Such a cute idea to customize with kids' names! I love this little wooden painted pumpkin patch, but the weathered look combined with customization just makes it stand out.
Source: Etsy
Farmhouse Pumpkin Door Hanger
This is another fun dollar store project! A lot of variables go into this pumpkin making it unique, colorful, and tons of fun. I love the 3D look and the fact that so many natural elements are included. Such a beautiful addition to any door!
Source: Our Crafty Mom
Balloon Pumpkin Decoration
When i saw this I knew I had to include in here. This is the ultimate idea for a kids party or event in the Fall. So much fun to make and super unique! It may take a bit of practice, but I bet anyone could make these!
Copycat Mickey Mouse Pumpkin Wreath
If you've ever been to one of the Disney parks around Halloween, then you know the giant pumpkin Mickey Mouse heads are a huger part of the decor. They are truly everywhere and such an iconic look. This little wreath is a fun copycat version for your own front door! So cute!
Source: Cutefetti
Hanging Miniature Pumpkin Ornament
We love holiday trees for any season/holiday, and this fits a Fall tree beautifully! You can also use these to hang from garland, mantles, wreaths, or doorways. Make yours unique with different polka dots, stripes, or even monograms.
Source: Etsy
Rustic Fabric Pumpkins
You'll see many variations of the fabric pumpkin on this list, because each is just a little bit unique. I love this one using twine and what appears to be cinnamon sticks. Could it perhaps also serve as a lovely scented decor item? So cute!
Source: Ginger Casa
Tissue Paper Pumpkin Craft
This one is designed to be a fun craft for kids, but I love the rustic look! It's such a fun project with just a bit of glue and tissue paper that you will definitely want to get your kids busy crafting.
Source: Ginger Casa
Thumbtack Pumpkin Dollar Store Craft
What a fun project! This is so simple and super affordable, but it looks really chic when on display! You could use any number of thumbtack colors to customize this for your overall home decor. I love this idea!
Source: Happy Mothering
Firewood Halloween Pumpkin
Here is another good project for the wood worker or DIYer. Slices of wood are carved into jack-o-lanterns and painted. It definitely would take work, but they aren't exact so could be a fun project to make even if you aren't super skilled with wood cutting.
Metal Pumpkin Decoration
This is definitely a project for a metal worker or welder. It's absolutely gorgeous though! You can display alone or filled with other Fall decorations. I love the idea of wrapping a little leaf garland around the metal.
Source: Etsy
DIY Glitter Pumpkins
Oh! This is so pretty! I am absolutely in love with how these turned out. Such a cool idea for a more upscale looking project. I can imagine these as part of a big centerpiece or simply sitting on shelves and mantles. Just beautiful!
Source: Run To Radiance
Henna Painted Pumpkin
This is absolutely gorgeous! While I may not be artistic enough to freehand this, I know there are stencils you could use for this look. Just breathtaking!
Source: Creative Khadija
Mason Jar Pumpkin Lantern
Another super cute and super simple project! Perfect for kids to help you make and really versatile. You could add a greeting on the outside, leave plain, or even add a face to create a jack-o-lantern look!
Source: Mom Wife Busy Life
Wooden Open Pumpkin
I don't know how to describe this other than it is an open pumpkin. Laser cut and easily snapped together, it's a project for those with professional laser cutters like the Glowforge or Cricut Maker. Super cute and pretty!
Source: Etsy
Painted Rock Pumpkins
It doesn't get any more rustic or easy than this! Rock painting has really gained popularity in recent years and I LOVE that. This little project is super easy and can be added to your walkway, as part of a centerpiece, or on shelves.
Source: Sustain My Craft Habit
Farmhouse Style Toque Pumpkins
Oh my goodness! These are just too beautiful! Plus, a great upcycling project for old sweaters! I love the simplicity of this project and how you can make them in any shade or stitching. So cute and super easy!
Source: Sustain My Craft Habit
Gold Leaf Painted Pumpkin Decor
Simple and elegant, this painted pumpkin decoration fits into truly any space and style. I love this idea for decorating throughout the Fall season and especially think it would make an ideal centerpiece for a candlelit Thanksgiving meal.
Source: Sustain My Craft Habit
Horseshoe Pumpkin Decoration
This is brilliant! If you can weld, then this is a great project for you to create. It may be possible to make with heavy duty glue instead of welding, but I leave that to the professionals.
Source: Etsy
No Sew Fabric Pumpkins
Another cute idea using scrap fabric and stuffing to create your own little no sew pumpkin. I like how simple this is and how it is ideal for even small hands to help make since no sewing involved.
Source: Pink Fortitude
Rustic Button Pumpkin Craft
This is a great idea for a fake or real pumpkin. A few Fall colored buttons and a bow turn an ordinary pumpkin into a rustic looking decor piece. This is super easy to make, affordable, and looks beautiful!
Source: Needle Pointers
Adorable Twine Wrapped Pumpkin Mason Jar
It doesn't get any easier than this! Such a cute idea that is super rustic/farmhouse in style and really affordable. I love that this could be used with any wide mouth jar and that kids can easily make this one.
Source: Unique Gifter
DIY Concrete Pumpkins
This is definitely a project that involves time and effort, but the result is amazing. Who knew you could create your own permanent pumpkins with concrete? So cool!
Source: Down Redbud Drive
Wooden Pumpkin Patch
This is one of my favorite rustic looks for Fall. These are simple painted boards with stem accents that look great anywhere inside or outside as part of your Fall themed decor!
Source: Drugstore Divas
Rustic Beaded Pumpkin Decor
This is so easy and super cute! Wooden beads, a bit of floral or jewelry wire, and a few additional pieces to decorate and you have a cute pumpkin. I love the rustic look and can see this as part of many different centerpieces or decorations.
Source: Etsy
Teal Pumpkin Treat Jar
I love the idea behind the teal pumpkin movement to promote including everyone. This option is so pretty and super easy to make. A bit of paint, glue, and sequins turn an ordinary pumpkin into this cute little jar that easily fits into your front porch decor on Halloween night.
Source: Artsy Fartsy Mama
Stacking Pumpkin Planter for Fall
This project is a great one for those with a Cricut. So cute and easy to spray these little pumpkins are a great cheap supply to dress up for your entryway! I love how she used basic supplies for this!
Source: The Country Chic Cottage
3D Pumpkin Signs In Tiered Trays
This looks so pretty! These feature a combination of 3D pumpkin signs you can find from this shop along with ceramic and fabric pumpkins. This kind of display is the kind I love to see on entry tables, on the mantle, or a side table as a natural look for the room.
Source: Etsy
DIY Pumpkin Topiary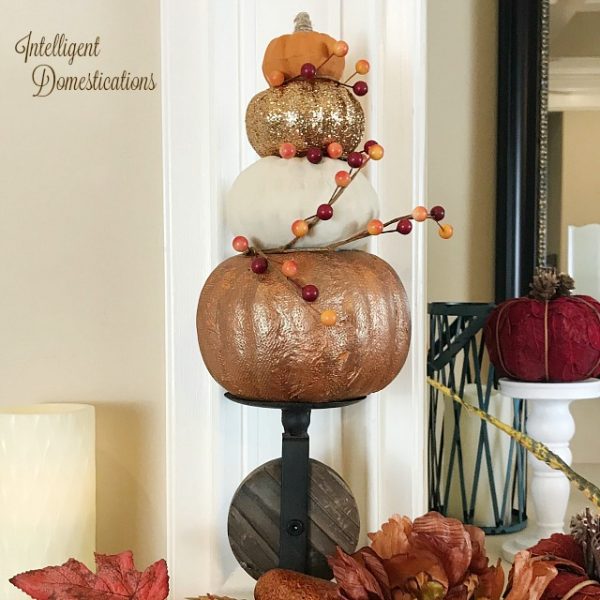 I have always loved topiaries as part of holiday decor. I think they are so pretty, elegant, and update a look easily. This one is a fun DIY project that can be used as a table decor, stand in a room, or even outside on your front porch.
Source: Intelligent Domestications
Rae Dunn Inspired Fall Pumpkin Decor
If you've been around crafting and decor circles much over the last few years, you've seen the Rae Dunn collections. This DIY project uses ceramic pumpkins, paint, and a Cricut to create your own DIY version at a fraction of the cost.
Source: Hunny I'm Home DIY
Rustic Fall Painted Pumpkin Tablescape
I love the idea of upcycling thrifted items. It's one of the biggest things I share here. So, when I saw this tablescape, I knew I had to include it. She painted some inexpensive pumpkins and gourds and added to thrifted table ware to create a gorgeous rustic look!
Source: Making Manzanita
Painted White Wooden Pumpkins
The 3D effect on these pumpkins is great. I love the simplicity, but know you could easily add a message or verse to these with paint, vinyl, or stickers. Such a cute addition to any decor style.
Source: Etsy
Concrete Pumpkin Candle Holder
Above I shared some cute concrete pumpkins, but this is even cuter! These are made to become little candle holders. Such a cute idea for a table or mantle this Fall!
Source: Etsy