Fall is nearly here! That means lots of pumpkins, beautiful colors and of course, scarecrows! Do you decorate with scarecrows for fall? If you don't, then you should and I have a great list of 16 fun DIY scarecrow crafts that will help you.
These are all pretty easy and many of them are great for kids to do. Whether you want some great scarecrows wreaths for the front door, ornaments for a Halloween tree, or you just want a fun little fall DIY project to pass the time, you are going to love all of these DIY scarecrow crafts.
I love scarecrows, especially when you incorporate the colors of fall into their design. There are so many great ideas in here from stuffed scarecrows that double as dolls for the kids to an adorable crocheted scarecrow and the cutest scarecrow wreath that has legs!
Scarecrow Crafts for Fall Decorating
No matter what your style or what your DIY preference, you are going to find a fun scarecrow craft to do this fall. These are all so cheap and easy to make – you might just want to do them all!
And, if you really love DIYing your own fall decorations, be sure that you take a look at these 60 fabulous fall DIY projects to beautify every room in your house.
If you're a teacher, there are some great scarecrow crafts in here for kids of all ages. If you're a mom, your little ones can do these crafts when it's too cold or rainy to go outside, or just make some of these yourself to decorate your home for fall.
There are scarecrows of all sizes in here and all of them are super simple to DIY. If you love fall decorating and you love scarecrows, you are going to adore these 16 fun DIY scarecrows that make your fall decorating a breeze.
And, check out these 15 fabulous fall leaf crafts for kids to keep those little ones busy this season.
Upcycled Lightbulb Scarecrow Decoration
This adorable little creation is perfect for adding to any Fall themed tablescape or decor. A bit of paint, flannel, and rafia and you suddenly have an adorable choice for decorating with the scarecrow theme we love.
Source: DIYnCrafts
DIY Paper Scarecrow Kids Craft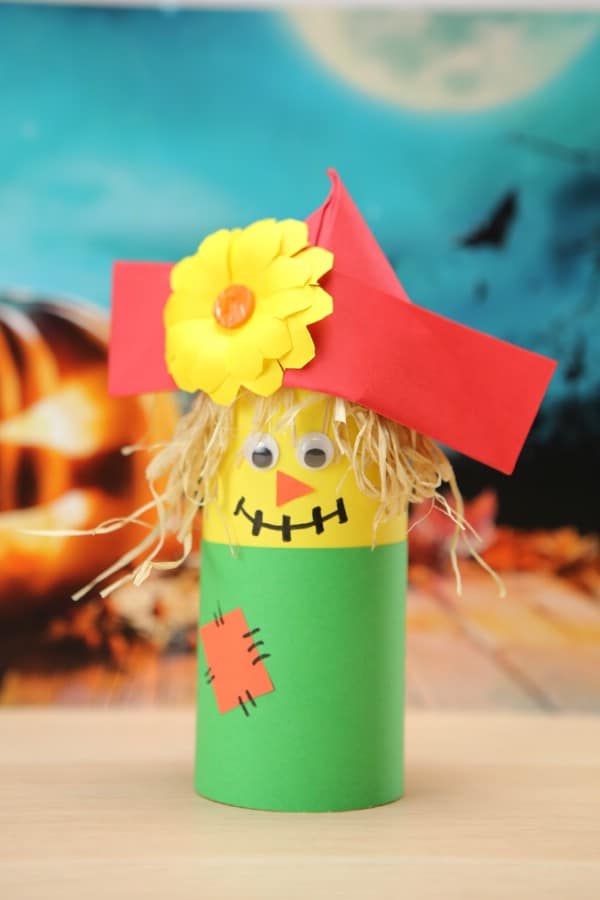 This adorable little paper scarecrow is an ideal choice to make with the kids. Tons of cutting and pasting make it ideal for classroom projects. It is easy to customize, adorable as a decoration, and budget-friendly if making a lot at one time!
Source: DIYnCrafts
DIY Clay Pot Scarecrow Lantern
An old flower pot is the perfect source for creating your own little unique lantern. This pretty lantern is painted and glued together to hold candles of any size. I love this added to a mantle or as part of a centerpiece on your dining table.
Source: DIYnCrafts
Popsicle Stick Scarecrow Craft for Kids
Of course, you can't go without including a cute little popsicle stick craft. This easy to make DIY scarecrow is fun and easy enough for kids to make. I love that it is so cute and simple. You can add to a wreath, to a centerpiece, or as part of your mantle decor.
Source: DIYnCrafts
DIY Adorable Flower Pot People Scarecrow Craft
A bit of burlap, some raffia, and your own favorite terra cotta pots come together to create this gorgeous addition to your crafts for Fall. Sit this on a shelf and watch the feet dangle or place in the center of a table as part of the centerpiece.
Source: DIYnCrafts
Recycled Straw Hat Lady Scarecrow Harvest Decor
Such a fun idea for an old straw hat! Turn it into a cute wall hanging or front door decoration with just a few of your favorite rustic crafting supplies! This is ideal for decorating from August all the way through November!
Source: DIYnCrafts
Adorable DIY Scarecrow Ornaments
These adorable little scarecrow ornaments are perfect for decorating a fall tree or just hanging around your house. You could also use them to dress up your fall centerpiece.
They are made with normal round ornaments that you can get from the Dollar Store, as well as burlap, raffia, google eyes and a few other craft supplies.
They have such a great rustic look to them, and did I mention how adorable they are?
Tutorial: jenniferperkins
Simple Crochet Scarecrow
I found the pattern for this cute and easy crocheted scarecrow on Etsy. You can pick up the pattern for less than $3 and then use it to make this adorable little crocheted scarecrow.
The pattern is pretty easy to follow and makes the perfect decoration for fall or Halloween.
The scarecrow is complete with straw hair and a little flower! And, you don't need to know any really fancy crochet stitches to complete this one. I love fall crocheting projects, especially DIY crochet Halloween decorations.
Source: Etsy.com
DIY Candy Filled Scarecrow Jar
This candy corn scarecrow is anything but scary! He's adorable and he's really simple to make. This is a great project if you need to get rid of some of those empty jars, too.
You can turn this into an adorable mason jar project or just use an old mayonnaise jar or whatever you have on hand.
The color comes from real candy corn – so he's a tasty little scarecrow, too. You just add the face and the hat!
Tutorial: housingaforest
Cute Repurposed Coffee Can Scarecrow
This cute little scarecrow is made from an empty coffee can. I love repurposed coffee can projects and this one is perfect for your fall decorating…indoors or out.
You can do this with a plastic or metal can. You just need to cover the can and you can use felt, craft paper or even burlap for that. Then, you just add the decorations to turn him into the most adorable little scarecrow in your neighborhood.
Tutorial: craftsbyamanda
DIY Foam Scarecrow Craft For Kids
Your kids are going to love helping you to create your own fall/Halloween décor by making this cute little foam scarecrow.
This is a great project for preschool, daycare or kindergarten teachers, too. It's a really simple scarecrow to make and it's perfect for toddlers and preschoolers to help.
You just have to cut out the foam pieces and let them assemble their own little scarecrow.
Tutorial: kidscraftroom
Repurposed Bottle Scarecrow Craft
These little scarecrows are made from repurposed bottles and they are perfect for your indoor fall decorating. You can use wine bottles or just any glass bottle that you have on hand.
You need one bottle for each scarecrow, as well as Mod Podge, tissue paper, twine, raffia and other craft supplies to decorate your little scarecrows.
These are super easy to make and are the perfect fall craft for kids for days when the weather doesn't permit outdoor play.
Tutorial: lovemybighappyfamily
DIY Mason Jar Scarecrow
Have I mentioned how much I adore DIY mason jar projects? I love them and this mason jar scarecrow has made it to the top of my list.
This is such an adorable craft for your fall decorating and it's super easy to make. You just need a mason jar, some craft paint, faux hay – or you could use raffia – google eyes, burlap and a few other craft supplies to make this one.
He's adorable and he's perfect for adding a touch of fall anywhere in the house.
Tutorial: easypeasyandfun
Handsewn Primitive Scarecrow Doll
How adorable would this little primitive scarecrow look decorating your home this fall? This is a really cute and super easy to sew scarecrow doll that is perfect if you are looking for that old world feel in your fall decorations.
I found the pattern for this on Etsy for less than $6. You get an instantly downloadable set of step by step instructions for everything including his adorable embroidered face.
Source: Etsy
Easy DIY Paper Bowl Scarecrow Craft
This little DIY paper bowl scarecrow craft is perfect for kids. They will have a blast making this and you can hang it anywhere in the house to add to your fall decorating.
This is so simple and really cheap to make. You need some paper bowls, which are just a couple of dollars for a pack of about 20 or so.
You'll also need some basic craft supplies like raffia, markers or paint and some cardstock or construction paper for these.
Tutorial: iheartcraftythings
Rustic DIY Picket Fence Scarecrow
This DIY picket fence scarecrow is perfect for your outdoor fall decorating. You can make this one with reclaimed wood and it's a pretty easy DIY project.
It's mostly paint, drawing and then of course the decorations and you can use raffia, twine, burlap or some great silk sunflowers to decorate him.
He would be adorable on the front porch welcoming your guests to your home this fall!
Tutorial: ourcloverhouse
Cute DIY Scarecrow Wreath With Legs
I love this DIY scarecrow wreath – he has legs! How adorable is that? This looks really complicated but it's actually a pretty simple DIY wreath to make and it will look great on your front door this fall.
The scarecrow's head is a potholder! They call him the pothead scarecrow, and he's adorable when he's finished.
If you love making your own fall wreaths and you want something unique, this is definitely one that you need to check out.
Tutorial: trendytree
DIY Vintage Scarecrow
I found the pattern for this DIY vintage scarecrow outfit on Etsy for less than $3 and instantly fell in love. This is a great one if you want a rustic look to your fall decorating and it's a really simple pattern to follow.
The pattern is just for the outfit and you put it on a soft stuffed doll but as a bonus, you get a pattern for sewing your own stuffed doll, too! Use this one as a gift for a little one or just sit him up anywhere in the house for some added fall décor.
Source: Etsy.com
Clothespin Scarecrow Wreath
This is a brilliant idea using a pizza pan, clothespins, and a few pieces of your favorite crafting supplies. Customize with ribbon and flowers to add this to your door!
Source: Etsy
Gourd Scarecrow Craft
I adore these painted gourds! This one is absolutely amazing! Painted and decorated to look like a scarecrow, it's definitely harder to make but worth every minute spent. So pretty, unique, and original in style.
Source: Etsy
Miniature Scarecrow Gnome
What a brilliant way to showcase a gnome! I love how cute this one is and how easy it is to make. Definitely on my top list of favorite scarecrow crafts, this little gnome adds unique personality to any space!
Source: Etsy
Outdoor Scarecrow Decoration
This garden stake is a great addition to any outdoor space. Complete with painted wooden face, flannel shirt, and denim overhauls, it's ideal for adding to any garden or front porch.
Source: Etsy
Scarecrow Pudding Cup
Yes, this is a treat not a traditional craft, but it is fun to make and can be part of your table decor! A simple little scarecrow is perfect for Fall tables. This fits for general Fall parties, Halloween, and Thanksgiving!
Source: Craft Create Cook