I get so excited just thinking about fall. I love the cooler temperatures, the brisk nights that are perfect for a cup of hot chocolate by the fire pit, and of course, the decorations; or more specifically, the colors. I absolutely adore the colors of fall and do everything I can to incorporate those colors into my fall decorating…inside and out. If you've been thinking of ways to decorate your house for fall, I've got some great ideas for the porch.
Your porch is so important in your seasonal decorating. It's often the first impression that people have of your home. If you want your home to feel inviting, you can create a wonderfully welcoming atmosphere on the porch that will spill out into the rest of your home. If you've been wondering about just how to decorate that porch for fall, I've found 25 beautiful ideas that are all easy and relatively inexpensive. Many of these incorporate a few quick and easy DIY decorations, and you know how much I love a quick and easy DIY project. Oh, and if you're looking for ways to decorate inside the house, be sure to take a look at these 60 DIY fall projects to decorate your home.
You don't have to put a lot of work or money into changing your porch decorations for the seasons. Sometimes, something as simple as adding a few strategically placed pumpkins or just a nice warm throw over your patio furniture can make all the difference in your decorating. There are some lovely ways to create a fall themed porch in here, including a few rustic looks that you are sure to love. And, you can add these beautiful DIY fall leaf bowls to your porch table for even more décor.
The temperatures will be dropping before you know it, so now is the time to create a beautiful and welcoming front porch. Whether you're looking for something simple to add a slight touch of autumn to your outdoors or you want to go all out and really decorate your porch for the season, you are sure to find the perfect fall porch décor and most of these project ideas won't cost you anything but your time. Get ready for fall by creating a front porch that is sure to make your neighbors jealous!
1. Simple Outdoor Fall Centerpiece
If you have a table on your porch, you can create a lovely centerpiece using just a few pieces that you probably have on hand. Just add a small pumpkin or gourd and surround it with pinecones, leaves or feathers. A nice wicker basket filled with pumpkins and gourds would perfectly dress up that table for fall and it's a really inexpensive way to add the right autumn touch to the front porch.
Source/Tutorial: cityfarmhouse
2. Pretty Fall Polka Dot Themed Front Porch
I love these polka dot pillows and pumpkins for adding just the right touch of welcome to your fall front porch. You can buy, or make, pillows in black and white or orange and white to give your porch that perfect fall color. Then add elements of fall with pumpkins and gourds and throw in some burlap…maybe a bow on the door…for that great rustic look and feel. This entire theme is so easy to achieve and if you don't have the supplies on hand, you can get most of them from hobby stores and farmer's markets.
Source/Tutorial: tatertotsandjello
3. DIY Front Porch Chalkboard
This little chalkboard is so easy and cheap to make and it's perfect for adding that little welcoming touch to your fall decorating. I love the Happy Fall Y'all saying, although you could use any message that you wanted. Just create the chalkboard from a cheap picture frame and then add your message. This looks great surrounded by gourds and pumpkins right next to your front door.
Source/Tutorial: artsychicksrule
4. Rustic Cornstalk Front Porch
You can get cornstalks from farmers at your local farmer's market, and they may not even charge you to haul them away. That is, unless you have your own from your garden. Take those cornstalks and create a lovely fall entryway into your home. These are great for all sorts of fall decorating and can be used on the porch or in the yard. Tie up a few stalks with twine or burlap and place pumpkins around them for cheap and easy fall porch décor.
Source/Tutorial: ourvintagehomelove
5. Easy DIY Fall Word Pillows
Whether you want to decorate for Halloween specifically or fall in general, these DIY pillows are the perfect touch to your front porch. They are so easy to do and really inexpensive. You'll need a couple of pillows…or however many you plan to use for decorating…as well as stencils and spray paint. Just create whatever wording you want, using fall colors to fill it in.
Source/Tutorial: chapmanplaceblog
6. Fall Dining Porch Display
Nothing quite says fall like a warm and inviting family meal and you can use that concept to create a beautiful front porch display. If you have a table to use, just set it like you would inside for Thanksgiving dinner. Add unbreakable plates along with a white tablecloth and some white pumpkins or gourds. This is such a gorgeous display and really makes your porch welcoming to all of your guests.
Source/Tutorial: dearlillieblog
7. Rustic Fall Crate Porch Display
A couple of old wooden crates are perfect for creating a rustic fall porch display. Just stand the crates up and fill them with pumpkins, gourds, corn or anything else that is fall related. You could even use them as planters for your mums. You can get these old crates at farmer's markets, flea markets and many thrift stores and they're really cheap. They also work well for any season, so once fall is over, you can reuse them for other seasonal porch themes.
Source/Tutorial: studiograyhouse
8. DIY Fall Front Porch Lighting
This lighting is beautiful and it's perfect for lighting up your front door from now until after Thanksgiving. You just string wire above the door and then weave grapevine around the wire, adding in clear Christmas lights to give it a soft glow. You can go back in and fill in any bare spots with twigs or fall leaves to make it match your other fall colors.
Source/Tutorial: janis-allthingsbeautiful
9. Quick And Easy Front Door Leaf Decoration
A wicker basket filled with fall leaves adds just the right touch of autumn to your front porch. This is such a quick and easy decoration. You can get wicker baskets at the Dollar Store or Walmart pretty cheap if you don't already have one on hand. Just head out into the yard and fill the basket with fall leaves and even a few pinecones.
Source/Tutorial: sweetsomethingdesign
10. DIY Fall Herringbone Doormat
Take an ordinary doormat that you can pick up at any home improvement store and add your own design to make a wonderful fall themed mat. You just tape off and then paint the doormat in beautiful fall colors of browns and oranges. You just need a plain doormat and some acrylic paints, aside from tape to make the lovely herringbone design. You can do this one for less than $15.
Source/Tutorial: thediyplaybook
11. DIY Glittery Monogram Pumpkins
I love these glittery pumpkins for showing off your monogram or house numbers. These are really easy and pretty inexpensive so make, too. You'll need craft pumpkins, which you can pick up at any craft store or Walmart. Paint the pumpkin white, if it's not already white, and then add your monogram or house numbers in gold glitter. You could even use these to spell out welcome if you want something extra-special.
Source/Tutorial: unoriginalmom
12. Reclaimed Wood Welcome Sign
Anytime you can make something from reclaimed wood is a good day, right? This DIY welcome sign can be made from just about any wood that you have lying around the house. Use an old pallet or even a cabinet door. The gist is to create a nice and welcoming fall sign for your porch and to do it without spending anything – since it's reclaimed wood.
Source/Tutorial: Foxhollowcottage
13. Jewel Toned Flowers And Pumpkins
Dark colored flowers look beautiful when surrounding by monochromatic pumpkins, which is the case in this lovely porch for fall. Buy darker colored mums and other fall flowers in purples and oranges. The lighter colored pumpkins create a stunning contrast. Use wooden crates or old harvest baskets to give it a great rustic look.
Source/Tutorial: centsationalstyle
14. DIY Pumpkin Topiaries
These pumpkin topiaries simply scream autumn with their color and design. These are so very easy to make and won't cost you nearly as much as it would to buy them. You'll need the base for these, which you can pick up at a thrift store or any home improvement store if you don't already have one. The pumpkins are craft pumpkins and you can use the cheap ones that are around a dollar each. Just paint them nice fall colors and create your own little pumpkin "trees" to place next to the front door.
Source/Tutorial: kellyelko
15. Monogram Door Hanger
You don't necessarily have to hang a wreath to welcome in the new season. You can really add to your front porch décor with this great monogram door hanger for fall. The color is perfect to go along with those warm oranges and browns and this one is so easy to make. You could do this with a large embroidery hoop and a piece of burlap. Then just add a wooden letter painted black and you have the perfect fall door.
Source/Tutorial: lifeasathrifter
16. DIY Modern Metallic Pumpkins
If you prefer something a bit different than traditional orange and brown, these metallic pumpkins are great. You do these with craft pumpkins that you paint a neutral color and then add a contrasting color of metallic paint that drips down. These would be great as indoor centerpieces but you could totally put them out on the porch to add a nice fall effect without the use of traditional orange pumpkins.
Source/Tutorial: tarynwhiteaker
17. DIY Fall Leaf Doormat
Here's another wonderful doormat that you can create very easily. Just take a plain doormat and paint leaves on it. You can gather leaves from your yard to use as templates. Just add acrylic paint to one side of the leaf and then use it as a stamp to create the design on your doormat. Or cut your leaf pattern from cardstock and use that as a stencil.
Source/Tutorial: Lifeisaparty
18. DIY Hanging Gourd Vase
What a gorgeous vase! This gourd vase is so easy to make and it's really inexpensive, especially if you grow your own gourds. Just cut a small hole near the neck of the gourd and use that to house your mums or other fall flowers. You can hang these all along your porch railing to give your home a beautiful fall look for very little money.
Source/Tutorial: bhg.com
19. DIY Flannel Shirt Pillow Covers
Turn your porch swing or bench into the perfect place to rest during fall with a DIY flannel shirt pillow. These warm and inviting pillow covers are very easy to make and if you have a couple of flannel shirts that you can use, they won't cost you anything but the time to make them. This takes a bit of sewing but it's a super easy project and will instantly warm up your front porch for fall.
Source/Tutorial: sparklesofsunshine
20. Hand Painted Initial Burlap Pillows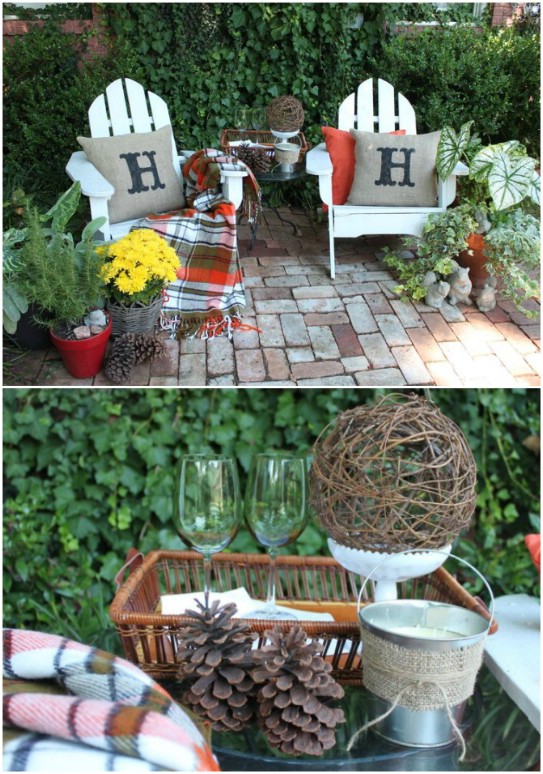 Burlap has a great fall look to it, so it's perfect for making these DIY initial pillows. These are easy to make and only require a tiny bit of sewing. You could also do pictures like pumpkins or corn on these if you prefer that over the initial. The entire look is perfect for fall and these take very little time to put together.
Source/Tutorial: opulentcottage
21. Rustic Fall Washtub Planters
These metal washtubs are great for using as planters any time of year but particularly during fall. They have such a great rustic quality and you can plant anything in them, including topiaries. Add some fall foliage and some brown or orange lights and you have the perfect planters to surround your front door and make it seem warm and welcoming.
Source/Tutorial: onsuttonplace
22. Metal Harvest Basket
An old metal basket and a few things from your garden will give you a lovely fall display for the front porch. Just fill the basket with colored corn, tiny pumpkins and gourds and maybe throw in some fall leaves or other fall foliage. I love this idea because it's so very simple and if you have the basket and fall harvest items on hand, it won't cost you a thing to set this one up.
23. DIY Wood Tag Hangers
There is no rule that says you have to hang a fall wreath. You can hang these lovely DIY wood tag hangers instead. Or, if you are hanging a wreath, these would also be great hanging from it or even off the porch rail. Just cut your wood pieces to the size that you want, add a hole for hanging and then add your special message. You can hang with rope, twine, or burlap.
Source/Tutorial: Thatsmyletter
24. Blanket Porch Display
If all else fails and you just really want to add something warm and cozy, put a blanket on your chair or bench. A nice cable knit blanket gives the illusion of warmth which is what you want your porch to say. Just drape a blanket over your seat and that's it. You can use any color or design that you want, as long as it's a nice big cozy blanket, which will also be great for those cool evenings sitting out on the porch.
Source/Tutorial: homestoriesatoz
25. Real Pumpkin Planters
You can turn an actual pumpkin into a beautiful planter for your fall flowers and use those planters to decorate your porch for fall. You just have to cut a drainage hole and then place a plastic planter down into the pumpkin. Note that these won't last all year so you'll need to keep an eye out for when they start getting soft. There's nothing that quite says fall like a real pumpkin though and these really are lovely to decorate for a month or so at a time.
Source/Tutorial: thespruce