If you are looking for a twist on a traditional diaper cake, this diaper baby bathtub is perfect. It is absolutely adorable and is sure to make any mom smile. Fill it with gifts for the baby or spoil mom with a few items she can pamper herself with during maternity leave. A diaper cake is a classic gift for baby showers, but this option is so much more! It's so fun to make and a perfect gift for anyone wanting to gift something just a bit different than normal.
Diaper Baby Bathtub
I love giving diaper cakes as a baby shower gift. They are adorable and practical so everyone enjoys them. I have started adding different twists to the idea of turning a traditional cake into a unique style. You can shape diapers into so much more than just the normal cake. That's why I love this idea! It looks just like a bathtub, but is stuffed full of diapers and all of the little baby bath essentials you need for a newborn!
Celebrating the upcoming birth of a new child is always special. Making a unique homemade gift is always fun, but when it is super functional and a great choice that any new mom will easily use, that's just amazing. Turning diapers into a cute decoration that also doubles as a gift has never been easier.
What Gifts Should I Add to This Diaper Bathtub?
When thinking about adding gifts to this diaper bathtub, you can really add any things that baby will need in the tub. Things like baby wash, baby lotion, and baby shampoo are most common. Of course, you may also want to add the much-needed baby washcloths and hooded towels to the basket. Just have fun making things special and useful for mom and baby.
Other ideas include nail clippers, a baby brush, or even a bathtub faucet cover. Add baby clothes or socks, and of course, the little baby pajamas and gowns are always a hit. I like to add clothing not just for newborn sizes, but throughout the first year of life. This helps moms always have something on hand as the baby grows.
Another cute idea is to use the diaper bathtub to spoil mom. Give her some spa at-home products to encourage her to do some self-care while dealing with the stresses of becoming a mom. Special tea bags, moisturizer, bath bombs or salts, anything to help give mom a pick me up. Sometimes, that is more important than the baby items themselves.
How Can I Wrap This to Make it a Surprise
Since diaper cakes and in this case, a diaper bathtub, are hard to disguise the gifts since they are part of the creation, you may have to come up with a new way to keep them a surprise. If you plan to gift this as more than just a decoration for a baby shower, use some of the ideas below!
Use wrapping paper to wrap it loosely resembling a gift bag.
Use a very large gift bag.
Use fabric wrapping it around the bathtub and tying at the top with a bow.
Wrap with a crib sheet or baby blanket.
Place inside a larger box and wrap it.
How to Decorate a Diaper Cake
For this bathtub, I used a variety of ribbon and tissue paper to cover the outside and add color. You can decorate yours however you prefer, but I find that simple works better since you don't want to damage the actual diapers. The real decorations can come from the colors and styles of ribbon, or even the wrapping options you choose.
Some other ways to add a different look to your diaper cake include adding monogrammed signs, big bows, or the types of gifts you add inside. It's all about making it fit the theme of the party and the needs of the mom. The cake (or bathtub in this case) are beautiful as they are!
Will the Double-Sided Tape Tear the Diapers?
The answer to this really depends upon the type of tape that you use. I chose a tape that is known to be reusable, so it will hold something securely but is also easy to remove without damaging the item. If you can find similar types of tape, they work great. Otherwise, I recommend using teachers putty that will stick to the box and the diaper and the box but still easily come off when needed.
You can also take the time to wrap each individual diaper with a length of ribbon around the middle that is stapled together in the back. Then you can just stick the diaper directly to the sticky tape via the ribbon and have no fear of damaging the actual diapers.
Supplies Needed
Optional: Baby bath items and gifts for inside the diaper bathtub
How to Make a Diaper Baby Bathtub
Roll diapers starting from the folded side and rolling toward the open end, then wrapping with a rubber band.
Continue this process for 20 diapers, or as many as needed to cover the outside of the box.
Add double-sided tape all around the cardboard box with a strip near the bottom and top of the box so there are two straps to secure the diapers.
Gently add the diapers all around the outside of the box standing them vertically until all of the box is covered with diapers.
Bend a length of floral wire into a hook shape.
Unfold 1-2 diapers, and carefully roll them around the hook covering all but 4-6" at the bottom. Use tape or putty to secure the diapers to the hook.
Wrap the now covered hook with polka dot ribbon and tie or tape to secure on both ends.
Stick the end of the hook that is uncovered inside the box with the hook shape facing inwards to resemble a faucet. Secure the stick with tape to the inside of the box.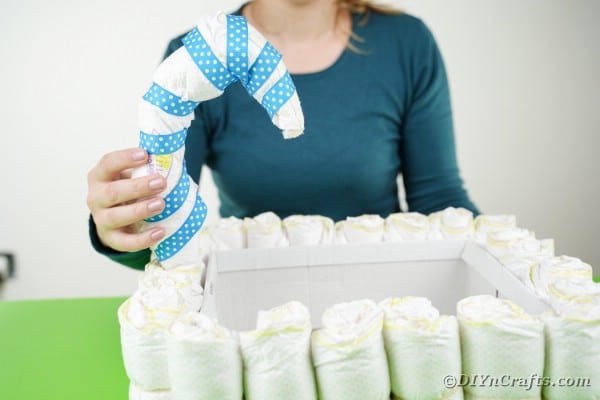 Wrap a 4-5" wide strip of blue tissue paper around the outside of the box centering it so diapers are showing on the top and bottom. Secure it in place with a staple at the end.
Wrap a thin yellow ribbon around the center of the blue tissue paper and secure it with a staple or tape.
Unfold 4-5 diapers, and line the inside of the box with them so that all edges are covered.
Fill the box with paper fill using shredded paper.
Add your favorite baby toys, bath accessories, or gifts for mom inside the basket.
Feel free to add additional bows, gifts, or gift cards to the inside of the basket as desired.
More Baby Shower Gift Ideas
Crafting Tips

One of my favorite things to add to a baby diaper cake is some customized signs or decorations. There are many options for downloading and printing them online or purchasing monogrammed baby diaper cake kits on Etsy.
Yield: 1
Adorable DIY Diaper Bathtub Baby Shower Gift Idea
Follow this simple tutorial to create a great useful and cute diaper baby bathtub baby shower gift! Easy to customize and ideal for any new mom.
Instructions
Roll 20-25 diapers horizontally into a tube and wrap with a rubber band to secure;
Add double sided tape around the outside of a large box;
Place the diapers onto the outside of the box vertically so that the entire outside of the box is covered;
Set the box aside and use a long piece of floral wire to shape into a hook shape;
Unfold 1-2 diapers, and wrap them around the hook leaving 4-5" of the hook empty, securing on both ends with tape or putty;
Wrap polka dot ribbon around the hook shape and secure on both ends by tying or taping in place;
Stick the end of the hook inside the box so the hook faces inward and tape in place;
Now, wrap a length of blue tissue paper around the outside of the box making sure it is centered so that a little of the diapers are visible on top and bottom, secure the ends together with a staple;
Wrap a thin yellow ribbon around the center of the blue tissue paper and secure with a staple or tape;
Unfold 4-5 additional diapers and line the inside of the box so that the bottom and sides are covered;
Add filler paper to the inside of the box;
Place the baby gifts you've chosen inside the box;
Now you can add additional decorations, gifts, or wrap before gifting or using as a baby shower decoration.
Notes
Add baby bath products, baby clothes, baby washcloths, or baby towels inside the diaper bathtub before gifting!
Recommended Products
As an Amazon Associate and member of other affiliate programs, I earn from qualifying purchases.
Finished Project Gallery