This diaper cake camera is perfect for the photography enthusiast in your life that is expecting a little one. It is handcrafted with love and care but also matches something they love in life. Whether for a photographer, or someone who just always seems to have a camera in hand, this whimsical diaper cake is a fun and easy gift that is sure to bring a smile to any new parent's face!
Fanciful Diaper Cake Camera Gift Idea
Diaper cakes are one of my favorite things to give to new parents when I go to a baby shower. Not only are they easy to make, but they are also adorable and practical. This diaper cake camera gift is one of my favorites. What new parent doesn't love to take pictures of their new baby? With this cute diaper cake idea, parents can display the camera with pride and take it apart when they are ready to use the diapers.
If you like something unique for a gift, then you'll love this fun royal castle diaper cake or even this cute DIY crane diaper cake. So unique, fun, and a great addition for baby shower decor or just as a gift the parents can use!
What Can I Use For the Camera Lens?
You can use just about anything to make the camera lens. I am using a baby bottle that has a plastic cover on the end. You can use a toy or a rattle. If you want to use a bunch of little toys but want to make sure it holds that lens shape, you can use a toilet paper roll. Add the trinkets inside of the roll and place that inside of the diapers.
Other options include using a fake Easter egg, a piece of cardboard or cardstock cut and painted to match the color of the rest of the cake, or even just using a rolled diaper with nothing on the front.
What Size Diapers Should I Use?
It depends on what the parents need. I like to use a larger size diaper so that the camera can be used as a centerpiece at the shower or placed as a decoration in the baby's room. You can use whatever size you like. You can also use a combination of sizes.
If you still aren't really sure, I recommend using size 3 diapers. These tend to be the ones that are needed for the longest and may creep up on new parents all of a sudden. Having a stash of diapers on hand from this is really handy!
How Many Diapers Do You Need for a Diaper Cake?
This diaper camera cake uses 10 to 15 diapers. As shown, 8 diapers are plenty, but you could add more to make it larger. Of course, the number used will depend on the size of the diaper that you are using. If you are using smaller diapers, you will need more diapers than you will if you are using larger diapers. I like to use large diapers so that the parents can display the diaper cake for a while before using the diapers.
Can The Diapers Actually Be Used Later?
Yes, diapers from diaper cakes can definitely be used later by parents. For this particular project, the diapers are stacked and wrapped or rolled and wrapped. While there is some glue used in this project, it never goes onto the diaper directly.
If you want the parents to be able to use the diapers later, just make sure you don't put tape, glue, or staples into or on the diaper directly. Wrapping them with paper first is a good idea for safety.
How Can I Customize a Diaper Cake?
Customizing gifts is one of my favorite things. I love trying to capture personality, but also include something special that the receiver will see shows you love and care for them. This could include using their nursery colors or theme. It might also include you adding a special blanket, shirt, or another gift to the camera cake that is sentimental to them.
Other ways to customize a diaper cake include using different colors, adding more gifts to the cake, using cloth diapers instead of disposable ones, or even adding glitter and ribbons so it sparkles.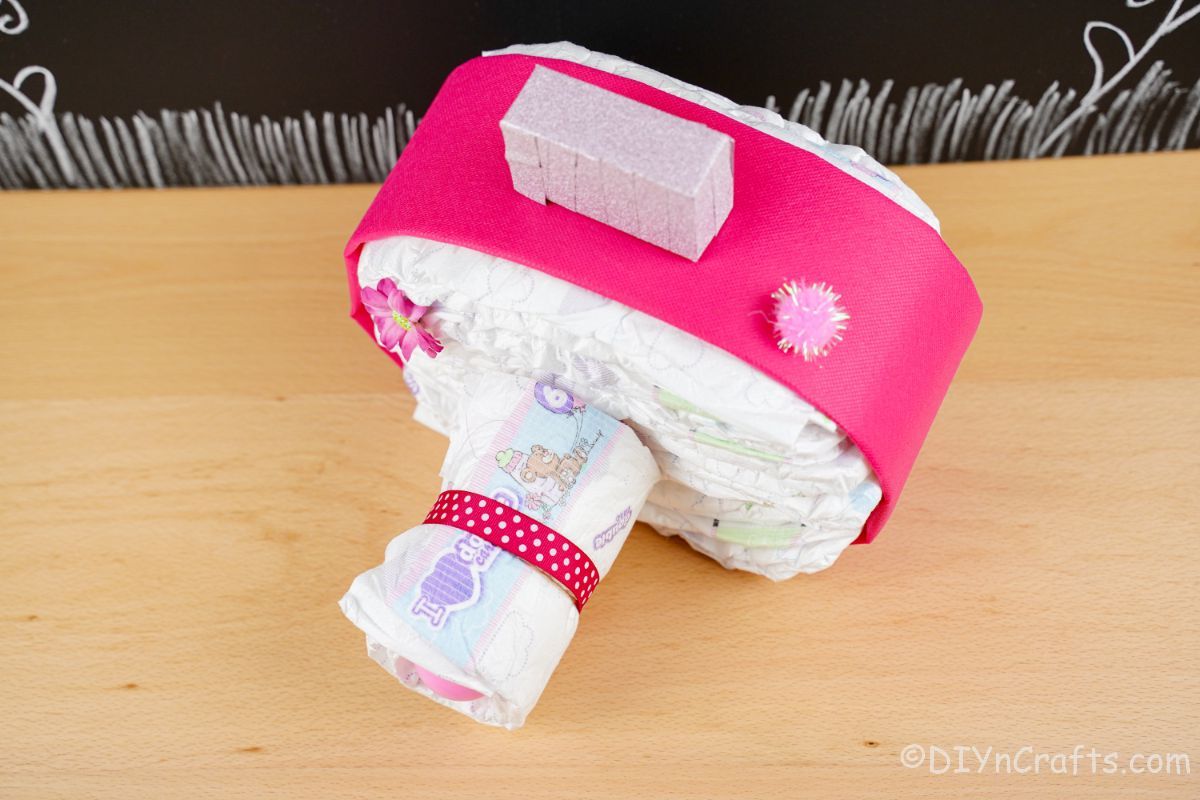 Supplies Needed
How to Make a Camera Diaper Cake
Start by laying diapers flat on top of each other in a stack of 6 to 8 diapers. Then secure the stack with a rubber band and set it aside.
Wrap a baby bottle with a plastic cap in a diaper so the cap is poking out one end, then secure it with a rubber band.
Stick two skewers or dowels through the other end of that diaper so they stick out on the side opposite the plastic bottle cap. Put this with skewer end into the stack of diapers from earlier.
Cut out tissue paper that is long enough to wrap around the larger stack of diapers. Then wrap it around and staple it together to secure it.
Add a bit of polka dot ribbon around the middle of the single diaper.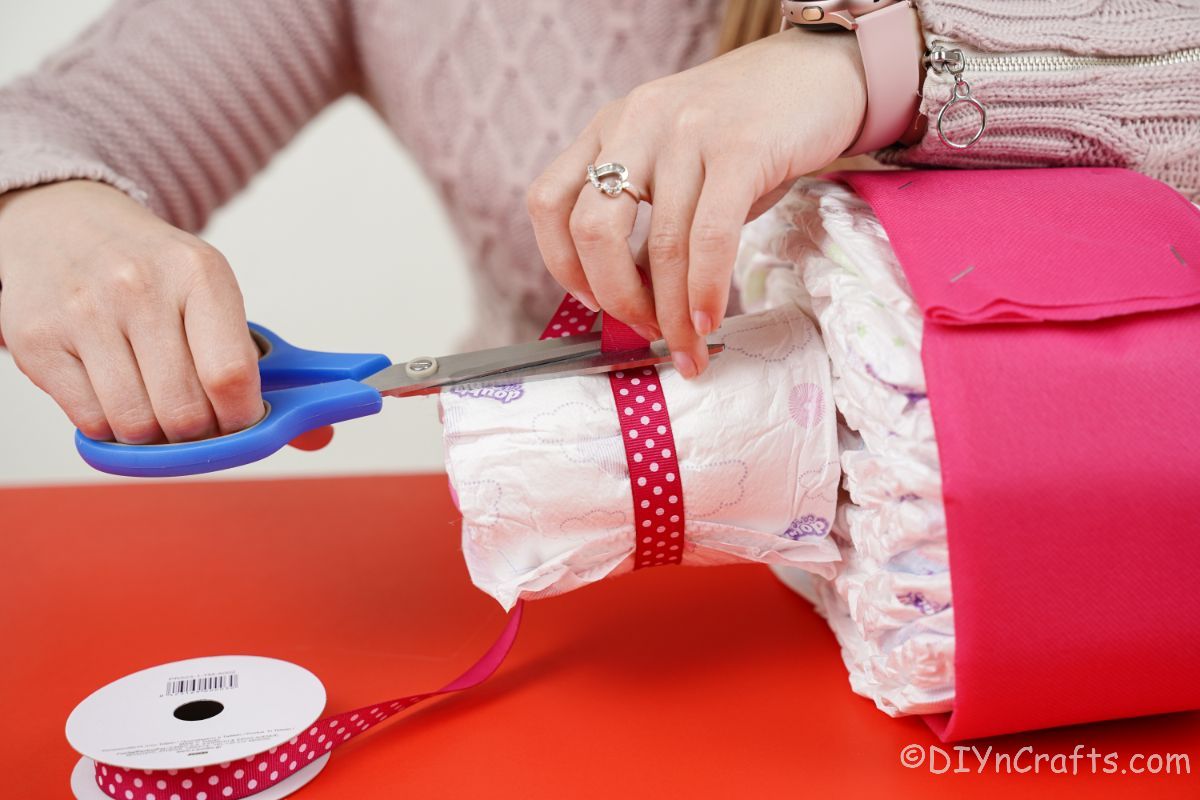 Wrap the small box with washi tape and set it aside.
Attach the top of a fake flower to a q-tip.
Stick the flower into the upper left side of the camera diaper cake. Then glue the box on top slightly off-center.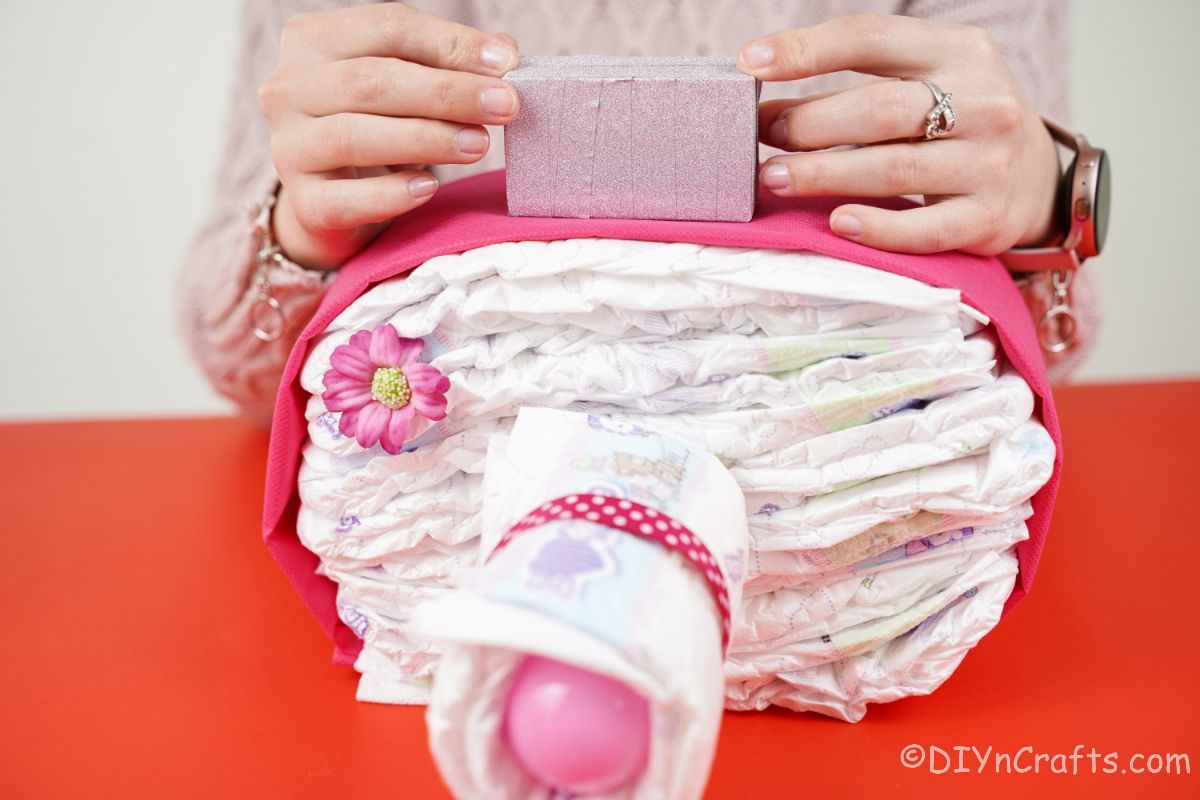 And glue a pom-pom on top of the side opposite the flower.
Now you can wrap and gift your diaper cake camera!
More Diaper Cake Tutorials
Baby showers are tons of fun to attend, and this idea for a diaper cake is a great addition to them for making things fun and useful. If you want more ideas for different themes, then make sure you check out all of the ones listed below. You can bookmark the ideas, print out the tutorials, or save them to a baby-themed Pinterest board so they are handy for your next baby shower invitation.
Yield: 1
Fanciful Diaper Cake Camera Gift Idea
A diaper cake camera is a fun baby shower gift or decoration perfect for the photographer expecting a new addition to the family!
Materials
Instructions
Stack together 6 to 8 diapers on top of each other, then secure them into a stack with a rubber band.
Roll a baby bottle into another single diaper. Secure with a rubber band.
Then, stick two skewers or small dowel rods through the inside next to the bottle so they are sticking out the backside with the bottle cap on the front.
Now, stick those ends through the stack of diapers you made before so the piece sticks out the front.
Fold over a few feet of tissue paper or wrapping paper that is long enough to wrap around the first stack of diapers.
Wrap it around and staple it to secure.
Then, wrap a bit of pink polka dot ribbon around the wrapped baby bottle and secure it with glue.
Wrap the small cardboard box with silver washi tape until totally covered.
Glue a small fake flower onto a q-tip.
Stick this into the top layers of the diapers to the side of the baby bottle.
Then, glue the silver box on top of the pink cover on the diapers toward the center.
Finally, add a small pink pom pom on the top side of the diaper stack, opposite the side of you placed the flower.
Add any additional embellishments if desired then wrap to gift!
Notes
This can be made with any colors and the viewfinder as well as the shutter button can be made with flowers, pom poms, ribbons, bows, etc.
Recommended Products
As an Amazon Associate and member of other affiliate programs, I earn from qualifying purchases.
Finished Project Gallery
Add fake rolls of film or even extra lenses to create a fun display if used at a baby shower.
Make sure you add any extra diapers not used in a gift bag for the parents to keep and use later!