If you are looking for a great baby shower gift for a Disney fan, this super cute Minnie Mouse diaper wreath is a perfect choice. This wreath is an easy way to gift diapers while also adding something fun and unique to the gift table. Affordable, easy to make, and useful, this is one baby shower gift that every mom to be will love.
Minnie Mouse Diaper Wreath
Diaper cakes are always a hit at baby showers, but why not take it a different direction? A diaper wreath is a similar concept, but a little easier to throw together. This particular one even uses a homemade wreath form to save costs and make sure it fits just how many diapers you want.
I love this as a great baby shower gift, but it can also easily be used as decor at the shower itself. Why not add it to the front door of where the shower is being hosted? It could even be hung on the door to the hospital room door when the baby is born. It's just super cute, easy to make, and a fun option everyone will love when they see it being gifted.
Can I Use Other Characters on This Wreath?
One of the best things about this diaper wreath is you can use whatever character you prefer. This is a great way to give a stuffed animal, and it is an adorable decorative wreath all in one!
When using a different character or stuffed animal, you can change out the ribbon so that it matches the colors and theme of the character. You can even combine a few smaller stuffed animals to the wreath if you wanted. I love that this can be a fun way to add decoration to the baby's room or to gift a toy and something useful at the same time.
What Else Can I Add to The Diaper Wreath?
Much like diaper cakes, a diaper wreath is not just about the diapers, but also about the decorations added to the wreath. For this project, I chose a mixture of red and white ribbons to go around the diapers to tie it together with the classic colors of Minnie Mouse. So, when you make your wreath like mentioned above you'll want to add some ribbon to match.
You may have asked yourself what could be added to the wreath. Anything you want! Decorate this with anything that comes to mind, and I am sure the new parents will love it. Below, however, are a few things I have seen attached that work great with this idea.
Add bows or streamers of ribbons on the bottom below the stuffed character in matching colors. This adds a little more to the wreath and makes it look more like a traditional wreath.
Attach baby onesies or outfits rolled and tied with ribbon.
Glue small rattles, toys, or baby mobiles to the wreath.
Add on additional small characters or stuffed animals.
Attach baby washcloths, a hooded towel, or even bath items like shampoo, soap, and a baby brush.
Add baby socks, booties, and shoes to the wreath.
Weave a colorful ribbon around the diapers for added color.
Attach a sign or banner across the middle announcing if it is a boy or girl, or even add their name!
How do I Secure the Diapers Without Gluing The Actual Diaper?
You do not want to use glue on the actual diaper. That will make the diaper unusable. While some people might want to save the wreath as it, most parents will use the diapers. The diapers will rip if they are glued, so you want to secure them using something different.
For this wreath, I wrapped a rubber band around the diaper to keep it in place once rolled. Then, to secure the diapers, I added a length of ribbon that was safe to glue onto the wreath form.
Most often you will find them tied onto the wreath form or a ribbon tied in place and that piece glued in place.
Supplies Needed
How to Make a Minnie Mouse Diaper Wreath
Draw a large circle onto a piece of cardboard. Approximately 12" across. Now, draw another circle around the outside of this one, about 3" wider.
Use a craft knife to cut out the outer circle, then the inner circle, leaving a cardboard circle wreath form. Set this aside for later.
Starting on the already folded end of the diaper, roll the diaper down so it forms a roll.
Secure with a rubber band around the middle.
Do this for 18-20 diapers, or as many as needed to cover the entire wreath form.
Divide the diapers into two equal amounts.
Add a strip of wide white ribbon around the middle of each diaper gluing or taping it in place but making sure no actual glue or tape is attached to the diaper.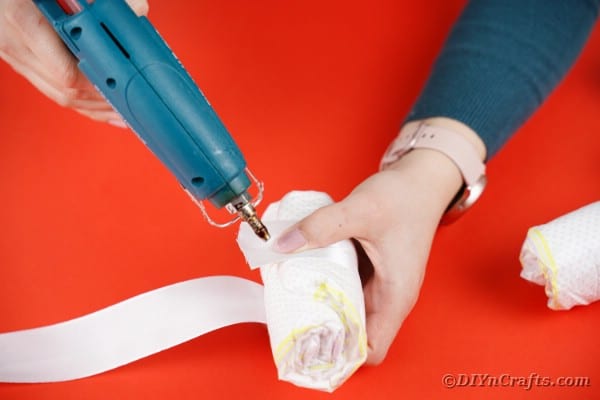 Now, on half of the diapers, add a strip of wider red ribbon around where the rubber band is securing it.
Around the middle of the white ribbon of the second set of diapers, add a thin strip of red ribbon.
Once all of the diapers have been rolled, tied, and ribbons added, set them aside to begin working on the wreath.
Using the double-sided tape, add a strip around each edge of the wreath form. You want a complete circle of the tape on the outer edge and inner edge, but leave the center open.
Once the tape is in place, peel off the backing (if yours has it), and then begin placing the diapers onto the wreath lining them up so that only the ribbon covered portions are touching the tape.
Place the diapers so that one thin red and one thick red ribbon is alternated.
Continue this process keeping the diapers as close together as possible, but angling as needed so they are even.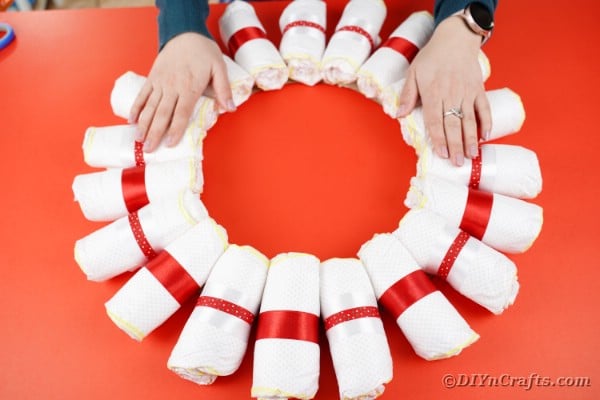 Once you have the entire surface of the wreath covered, you will cut a few pieces of ribbon and tie into a bow to then pin or glue to the top of the wreath.
Next, tie the Minnie Mouse, or chosen character, onto the wreath at the bottom.
Feel free to add additional baby gifts, toys, or ribbons on the wreath as desired before displaying or gifting.
More Baby Shower Gift Ideas
If you want more ideas for an upcoming baby shower, we have tons of great choices for you! Start with this fun and adorable diaper cake castle, or this method for making a sleeping baby out of diapers. Of course, you don't want to miss this list of great baby sewing patterns. There are baby crochet patterns, fun baby mobiles you can make, and an awesome list of baby educational toys.
Crafter's Tip

If you are looking for added signs or embellishments for your baby gift, check out these wooden baby shower banners on Etsy. They are perfect to personalize your wreath.
Yield: 1
DIY Minnie Mouse Diaper Wreath Baby Gift
Turn a package of diapers into this adorable Minnie Mouse diaper wreath that is ideal to gift for your next baby shower! Follow an easy step by step video tutorial for making this in minutes!
Materials
Instructions
Draw a large circle onto cardboard, then another circle around it around 3" wider to cut out and create a wreath form;
Cut the cardboard circle out and set it aside;
Roll diapers from the folded side into a roll then secure with a rubber band around the middle;
Repeat this with 18-20 diapers and set them aside;
Now, add a strip of wide white ribbon on each of these diapers around the middle securing with a bit of glue onto the ribbon avoiding the diaper;
Do this with all diapers, then divide into two equal amounts of diapers;
On ½ of the diapers, add a wide red ribbon around the middle of the white ribbon;
On the other ½ of the diapers add a strip of thin red ribbon;
Once all of the diapers have been rolled and wrapped in ribbon, set them aside and prepare your wreath with double sided tape;
Add the tape along the inner circle and outer edge so there are two strips of tape all around the wreath;
Attach the diapers making sure only the ribbon is on the tape;
Alternate the two types of diapers until the entire wreath is covered;
Now, add a small ribbon to the top center of the wreath;
Tie or pin the Minnie Mouse to the inside bottom of the wreath;
Add any additional toys or ribbons before gifting.
Notes
Add toys, baby clothes, or more ribbons around the wreath if desired.
Recommended Products
As an Amazon Associate and member of other affiliate programs, I earn from qualifying purchases.
Finished Project Gallery