Give your loved ones a box of chocolates, but make it even more special by adding these adorable little paper flowers! These work great for turning a cheap box of candy into a special gift. Everyone loves chocolates, but this idea is a great way to make basic candy look like you put tons of effort into it without spending a bunch of time.

DIY Paper Flowers Chocolate Box Decoration
I love these simple paper flowers and I love that there are so many ways to use them. By using these as part of this chocolate box decoration, the flowers can be used again and again by simply replacing the chocolates. It's just a fun way to make an ordinary little box of candy feel special.
This is a great idea for anyone who likes making ordinary things feel extraordinary. It may seem simple, but the result is just beautiful and makes whoever you are giving the candy to feel appreciate even more.
If you are like me and absolutely love flowers, then you'll enjoy my other flower crafts. I've made flowers from tons of different fabrics, papers, and other items around the house. One of my favorites is this little paper button flower craft. They are small but so cute and easy to add to a decoration like this one in a candy box.
Do I Have to Use This for Chocolates?
No! You can use this idea with really any candy. It works great around suckers or lollipops especially. I've also used it for bonbons, caramels, and really any small wrapped candy.
You can even use this method to put a flower on a homemade truffle. Just wrap the truffle in plastic wrap before adding the flower and stem! It works best with round candies, but any other shape can work when adjusted to the shape of the flower. There is no right or wrong way to use this idea for decorating candy.
What All Papers Will Work For This?
Tissue paper is what I used for this as shown, but you can use any paper you want. The only problem you will have is needing to cut shorter lengths of paper and connect them when wrapping around the candy.
I like to use crepe paper with these flowers because it is lighter and easier to fluff into the right shape, but tissue paper is very similar in weight and very affordable. The best results come from using any thin, lightweight craft paper or tissue paper. Anything that is thin enough to fold and maneuver into place will create a beautiful flower.
Note: If you want to continue to reuse these flowers, you want something that will not rip easily. In that case, I suggest using regular craft paper or old book pages.
Can I Add Other Decorations to The Flowers?
A little bit of glitter goes a long way and this is a perfect chance to put that to work! I love adding a little something special to paper flowers to make them pop. If you are adding these to a candy bowl, you'll probably want something simple. For a box being gifted, all kinds of embellishments can be added. Below are some ideas that make these paper flowers look even better!
Add glue to the edges of the petals and sprinkle on glitter.
Use mini beads or rhinestones and glue on petals.
Wrap the stem in different ribbons or floral tape for different color themes.
Alternate different colors of tissue paper or paper so the flower is varied in color.
Crimp edges of the petals to add more texture.
Paint different colors onto the tissue paper before rolling into a flower.
Supplies Needed
How to Make Paper Flowers for a Candy Box
Start by making your candy rounded. I used a bit of tape to keep the sides of the candy wrapper down.
Now, use a bit of hot glue to attach the lollipop stick to the bottom of your candy.
Now, cut a 2-3" wide strip of tissue paper. I left the roll of paper rolled up, and just cut off the end.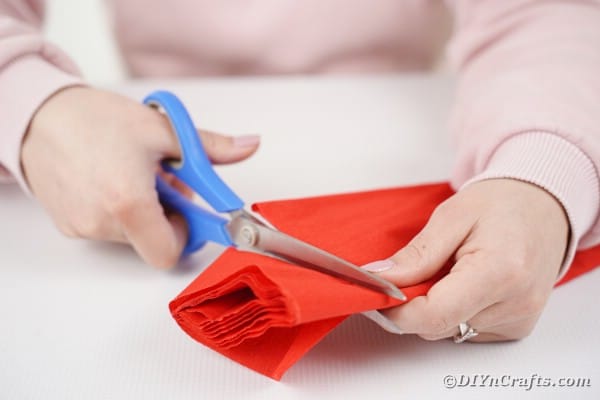 Fold the tissue paper over itself until it is about 2" wide. Now, you will use the scissors and cut a rounded edge to one side of the tissue paper, set it aside.
Unfold your tissue paper and attach a piece of double-sided tape along the flat bottom edge.
Start on one end of the tissue paper and start attaching it to the bottom of the candy.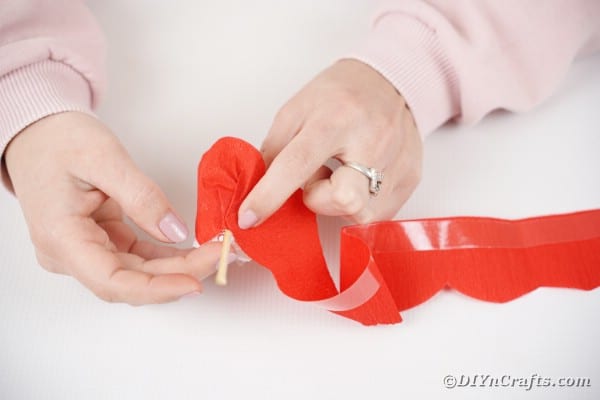 Continue wrapping the tissue paper around the candy to create a paper flower with the candy at the center.
Fluff as desired.
Now, you will wrap the lollipop stick with floral wrap or ribbon.
Glue a leaf onto the bottom of the flower.
Now add them to a candy bowl or your box of chocolates!
If you want more flower ideas, make sure to check out how to make fabric flowers, yarn pom pom flowers, and my favorite old book page flowers. I also love this tutorial for making paper roll flowers. I turned those into a beautiful flower on a frame. Or, you can make these gorgeous decorative paper flowers that are ideal to use in place of a bow on a gift.
You might also want to make these flowers from old jeans or these 3D paper flowers. To add a bit more to your candy box, make some of these beautiful tissue paper flowers!
Crafter's Tip

You can grab these favor boxes to create your own chocolate box to gift to your friends and family. That way you can add your own favorite candies to the box and create a totally unique gift for friends and family.
Yield: 6
Easy DIY Paper Flowers Chocolate Box Decoration
Use tissue paper to create simple flowers to wrap around candy to elevate the look of your chocolate box or for giving candy to friends and family!
Materials
Tools
Instructions
Tape the edges of the candy wrapper down so it is rounded;
Glue a lollipop stick to the bottom of the candy;
Cut a 2-3" strip of tissue paper;
Fold the tissue paper over itself until it is 2" wide;
Cut a rounded edge on one side of the tissue paper;
Unfold the paper, and add a strip of double-sided tape to the flat bottom;
Start attaching the paper to the base of the lollipop stick right below the candy and continue wrapping it around the candy until it forms a flower shape;
Wrap the lollipop stick with floral tape;
Glue an artificial flower to the bottom of the flower;
Add your flower candies to a box or gift basket.
Notes
Add any candy you prefer to the middle of the paper flower.
Recommended Products
As an Amazon Associate and member of other affiliate programs, I earn from qualifying purchases.
Finished Project Gallery