It's hard to believe it, but the holiday season is upon us! This year, why not get an early start on gift wrapping and do something extra special for your friends and family? Part of the fun of the holidays is getting gifts which are wonderfully packaged. Make your wrapping and labels part of the gift. There's nothing like adding a personal touch to every package!
Ready for more? Check out our other Christmassy collections and tutorials.
20 Hopelessly Adorable DIY Christmas Ornaments Made from Paper
Cute and Easy Christmas Craft: DIY Plastic Spoon Snowmen
10 Insanely Easy Christmas Light Bulb Decorations and Ornaments
50+ Creative Christmas Printables Collection
33 Festive Christmas Wreaths You Can Easily DIY
60 Beautifully Festive Ways to Decorate Your Porch for Christmas
100 Mind-Blowing DIY Christmas Gifts People Actually Want
15 Easy And Festive DIY Christmas Ornaments
10 Fun and Easy Way to Dress Up Christmas Ornaments
Adorable Christmas Decoration: DIY Cotton Thread Snowman
12 Super Cute DIY Christmas Hairstyles for All Lengths
25 Yummy Homemade Christmas Candy Recipes
10 Genius DIY Ways to Transform Pinecones into Holiday Decorations
Printable family gift tags – add a photo!

Right here, you can print out simple family gift tags that read, "Merry Christmas From Our Family to Yours." While they are pretty basic, the leave plenty of space for you to do whatever you want. Write on them, add glitter, draw on them, or add a photo. A family photo is a wonderful choice, like in this picture! This is an easy and inexpensive way to personalize any package.
DIY Instructions and Project Credit - HGTV
DIY gift bag!

This one is quite seriously genius. Ever sit down to package gifts and realize you just ran out of gift bags, and that would be the most appropriate choice for a particular present? If you have wrapping paper, you can create a gift bag from scratch. You'll need scissors and tape and some paper for the handles. Following these instructions is almost ridiculously easy, and the finished effect looks really professional. Your recipient probably won't even be able to guess you make it yourself.
DIY Instructions and Project Credit - Hellosandwich
Use a chalkboard marker.

First you'll either need to buy or make some chalkboard wrapping paper covered in chalkboard paint. Once you've got that, purchase a chalkboard marker and write or draw whatever you want. It's a simple look, but it really grabs your attention. You can see who these presents are for and from a mile away.
DIY Instructions and Project Credit - Nashvillewrapscommunity
Make your own patterned wrapping paper with handmade stamps.

Rubber stamps are an easy way to pattern plain wrapping paper. But did you know you can also create your very own stamps from scratch with any pattern you want on them? This tutorial teaches you how to create your own stamps using common DIY supplies, and then how to use them to pattern your wrapping paper. This is a wonderful idea for creating custom one-of-a-kind wrapping paper that you can use year after year. If you need to make more, just stamp more!
DIY Instructions and Project Credit - Cottonandflax
Duct tape Gift Wrap

Everyone loves duct tape! There's nothing you can't use it for, including gift wrapping. Duct tape comes in bright colors and designs, so why not use it in a way that is beautiful as well as functional? This duct-tape wrapping technique secures the package and looks fabulous. A great way to make your mailing box as exciting as what's inside.
DIY Instructions and Project Credit - Dukesandduchesses
Origami pyramid gift boxes.

When you are giving someone a small gift like jewelry, this is a very fun alternative to a standard jewelry box wrapped in paper! Make your own cute little pyramid gift box instead. The tutorial is incredibly simple to understand at a glance. You just have to cut the paper as shown, fold it, and tie it at the top to close it. The box is easily reusable too, which is great!
DIY Instructions and Project Credit - instructables
Paper calla lilies.

Here is another wonderful paper craft you can use to add some color and excitement to any package. This tutorial will teach you how to make a bouquet of calla lilies with colored paper. The more flowers you add to your paper bouquet, the more dramatic the effect will be, like an explosion of color and joy. It is all held together with staples, so the bouquet can be removed from the package and treasured even after the package is opened. Flowers that never tie make a beautiful statement! This tutorial came from Oh Happy Day, the same blog where we found the wonderful black and white hand-painted wrapping paper we showcased earlier.
DIY Instructions and Project Credit - Ohhappyday
Paper butterflies or pretty bows.

This idea comes from blogger Adelle, who in turn says she discovered it in an old book called The Art of Paper Crafts by Cheryl Owen. Wrap a package in solid colored wrapping paper. Take another piece of paper in a contrasting color and cut out paper butterflies. Glue or tape them (double-sided tape is awesome) to your box, and you will have a nifty three-dimensional effect. You can do the same thing with ribbons and get a great look too.
DIY Instructions and Project Credit - Adelle
Fabric gift pouch.

Here is yet another way you can creatively wrap your gift using fabric. This is a no-sew design and it is incredibly easy to put together in just a few quick steps using the tutorial. What a fun, bright, colorful way to use scraps of fabric to wrap your gifts. Oftentimes you can buy little scrap pieces the perfect size at a discount if you head to your local fabric store. These are as easy to unwrap as they are to wrap, which is also nice for your recipient!
DIY Instructions and Project Credit - Aspoonfulofsugardesigns
Wrap it in a tie.

Earlier we featured an idea for wrapping a present using a men's shirt. Another fun alternative is to wrap a gift using a tie or suspenders. The tie or suspenders make another great gift, so this is also like giving two gifts in one. Perfect for gifting to Dad, Grandpa, an uncle or a husband this year. A great idea to keep in mind when Father's Day rolls around as well. You could use a tie to wrap the box, and then gift a shirt inside which matches perfectly.
DIY Instructions and Project Credit - Lilyshop
Wrap it in a rainbow.

This idea comes from Oh Happy Day. The author originally discovered it in a book called More Last-Minute Knitted Gifts by Melanie Falick Books. There is no tutorial that goes with this, but you can see at a glance how it's done. Just get yarn in a rainbow of colors, wrap it around the boxes, and tie off the ends. The packages look great from any angle, and the look definitely will catch anyone's eye.
DIY Instructions and Project Credit - Ohhappyday
Turn a paper cup into an adorable box.

This idea is very cute and very cheap; all you need is a paper cup and a pair of scissors. The finished result looks quite technical and fancy, but as you can see from the tutorial, it is quite simple to achieve. Once you fold your cup into a box, you can decorate it however you want. I think they look almost like little cupcakes. The page is in French, but the tutorial is visual, so you should be able to follow it regardless of your language.
DIY Instructions and Project Credit - Gedane.over-blog
Four fun gift wrap ideas.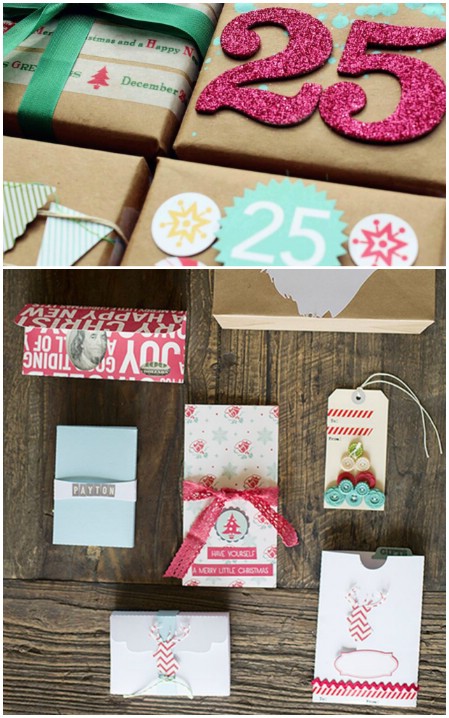 In this photo there are a ton of great ideas for gift wrapping for the holidays! We love that washi tape in the upper left—that stuff is useful for everything in the world, it seems. But we especially love the buttons glued to the bottom right package. That is absolutely adorable! It's colorful and has a fun 3-dimensional look to it.
DIY Instructions and Project Credit - Octoberafternoon
Cute package with buttons.

Buttons just make everything look amazing! We love this package which has been tied using twine and buttons. It's a very simple design; the box isn't even gift-wrapped at all, but it doesn't really need to be. The paper, twine and buttons look great on their own. This is such a simple idea that you can see at a glance how to do it yourself.
DIY Instructions and Project Credit - Bo-bedre
3d Paper Christmas tree.

Some paper crafts are really challenging and complex, but not this one. This one doesn't even need a tutorial. The tree is made out of a simple green paper fan. This is a fun and easy project which would be great to do with your kids while wrapping your presents. These little trees look absolutely adorable, and really "pop" on the top of your packages.
DIY Instructions and Project Credit - HGTV
Amazingly awesome typographic gift wrap

This one's a bit complicated, so be sure to check out the tutorial. There are a few steps involved, but they aren't difficult. The newsprint cut-outs immediately grab your attention, and you know that something special is inside this special package! If you didn't want to use newsprint, you could easily substitute in something else—wallpaper, magazine pages, even textile. The sky is the limit. What a fabulous idea! It looks perfect with the plain brown paper too. The minimalist approach really makes the letters jump out at you. You can use any typeface you want, but a nice bold one like this really makes an impact.
DIY Instructions and Project Credit - Manmadediy
Reindeer bag.

This has to be one of the most adorable Christmas gift wrapping ideas ever! If you have a small enough gift, you can put it inside a brown paper bag. With just a few extra materials (namely some construction materials and a button for the nose), you can transform the paper bag into a cute reindeer. This is the perfect activity to do with children. These bags are easily re-usable too for next year. You or your recipients can use them the following year to give gifts to others. Children will love these, and so will adults!
DIY Instructions and Project Credit - Gluedtomycraftsblog
Paper snowflake gift topper.

Paper snowflakes are a lot of fun to make, and they also make the perfect topper for a Christmas present. This is a fun activity to do with children and a great way to teach them a little bit about geometry while having a great time.
DIY Instructions and Project Credit - Giochi di carta
Candy wrappers.

Here is a simple but smart way of jazzing up a package and making it more exciting. This is an especially great idea if you are wrapping gifts for children. Kids always love candy, and they can enjoy the candy before they open their gift or during.
DIY Instructions and Project Credit - Goodhousekeeping
Add a sprig of nature.

We just love this nature-inspired package! The plain brown paper and sheet music are both great choices; the sheet music is particularly clever (especially if the gift is music-related)! The twine gives a nice rustic look which work beautifully with the overall theme. The pinecone, evergreen sprig and plastic berries are all beautiful. The evergreen sprig probably smells quite nice as well. It is always great to get all the senses involved!
DIY Instructions and Project Credit - Thevintagehome
Beautiful basket weave with sparkly ribbon.

This basket weave design would actually make me feel guilty about unwrapping this package. It just looks so perfect, and like it took so much effort! The effect is simple, elegant, and totally stunning. Intimidated by the basket weave? The same page that idea came from also offers a couple of simpler ideas with sparkly ribbons.
DIY Instructions and Project Credit - Thesweetestoccasion
Go wild with colors and textures.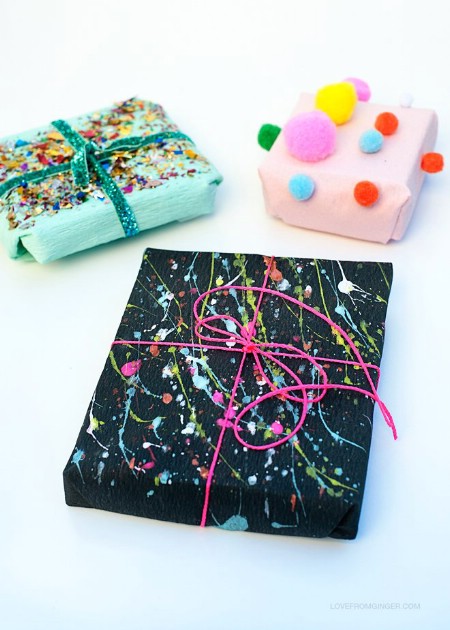 All three of these gift packages are super eye-catching, and very fun and unique! The one in the upper right just has little pom-poms attached with craft glue. It's incredibly quirky and is guaranteed to be the most exciting present under the tree. The one in the upper left was originally plain black paper, but it's been spattered with neon paint by flicking on a paintbrush. Very easy, very messy, and very cool artsy effect. The package in front has been topped with a glue called Mod Podge and chunky glitter. It almost gives the effect of a mosaic of colorful glass.
DIY Instructions and Project Credit - Lovefromginger
Reusable fabric gift wrap.

If you're into recycling and want to give the gift of ecological gift wrap along with whatever's inside, you can make reusable fabric gift wrap from scratch. All you need is some plain fabric in any color, paint to complement it, and a rubber stamp with a fun pattern. This tutorial shows you how to make your reusable gift wrap and use it to wrap up your package. Very cute final result, and your recipient can use it the next year when gifting to someone else!
DIY Instructions and Project Credit - Unruly-things
Cut fabric to use as a ribbon.

While traditional ribbons and bows add a splash of color and fun to any package, you can achieve a really cool effect with a simple cutting of fabric. You have the flexibility of making the ribbon as long or short as you want, and choosing whatever width you prefer. The rough edges actually add a nice touch. We particularly like the wrapping job in this photo. It's fun and does a great job holding that long box closed. With a ribbon like this, you don't even need wrapping paper.
DIY Instructions and Project Credit - Danamadeit
Easy artsy black and white wrapping paper.

You wouldn't necessarily have to go with black and white for this; you could choose any colors you wanted to and get an awesome look, but the black and white effect really is very striking and artistic. You don't need anything special to make these wrapping paper designs, just standard household tools like brushes, paint rollers, tooth brushes, and spray bottles.
DIY Instructions and Project Credit - Ohhappyday
Make chalkboard gift tags.

Reading about the chalkboard wrapping paper, maybe you already thought of this, but you can also make chalkboard gift tags! It's super easy. Just purchase regular gift tags, or cut out pieces of whiteboard, and paint them with your chalkboard paint. Then write on them. The effect is cute, nostalgic, and personal.
DIY Instructions and Project Credit - Ohthelovelythings
Wrap a potted plant.

If you have ever given someone a potted plant and despaired at the poor presentation of simply handing them the pot, you will love this idea for the future. It takes only a few simple steps to wrap the pot, leaving the plant free of the wrappings to flourish. Tie a gift tag around it, and you're done. You finally have a presentable plant gift!
DIY Instructions and Project Credit - Marthastewart
Wrap a package in a shirt.

This is an excellent idea if you want something cute and clever, and especially makes sense if a shirt is one of the gifts you are actually giving. Use the shirt to wrap a box with this tutorial on YouTube from artist Jenn Playford. This is a wonderful way to give two gifts in one!
DIY Instructions and Project Credit - Youtube
Go wild with washi tape.

These three absolutely gorgeous packages prove there is literally nothing you can't do with a bit of washi tape! I am completely amazed by the complexity and detail in these designs, especially the snowman on the left! Let your imagine run wild and see what you can create!
DIY Instructions and Project Credit - Thepinkdoormat
Up-cycle patterned envelopes.

You know those business envelopes which have the fancy blue patterns inside so that you can't read through them? For the corporate crafter who totally loves everything office-related, this is a very fun concept. You simply cut strips of business envelopes and tape them to your box so that the patterns are on display. The effect is similar to that of Washi tape, and an interesting way to transform something mundane into something beautiful. Very clever and perfect if you're giving gifts to your co-workers this year.
DIY Instructions and Project Credit - Pm-betweenthelines
Amazing tissue paper flower bow.

Have four sheets of wax paper and a package you want to top with the most amazing bow in the world? With a bit of twine and patience, you can follow the instructions on WhipperBerry and easily create a beautiful flower to top your box. The effect is whimsical, delicate, and ethereal. Who would have thought wax paper could be that beautiful? The other package in the upper right with the real flowers pushed through the twine is also very nice!
DIY Instructions and Project Credit - Whipperberry
Printable food labels.

Giving the gift of something delicious this year? Instead of leaving the original labels on your food and beverage gifts (which may not even be applicable if you made the food yourself), why not add a more personal touch with a customized label? These food labels designed by Lia Griffith are lovely and whimsical and really make these culinary delights look fabulous! Food is generally appreciated but often seen as an "easy" gift. Put in a little extra effort and your food gift will be amazing!
DIY Instructions and Project Credit - Liagriffith
Printable Gift Card Envelope.

Gift cards, like food and beverages, are also seen as "easy" gifts. That doesn't mean you can't personalize them, though! It's all in the packaging. Also in the land of printables, we have these adorable gift card envelopes reading, "Good things come in small packages." Very cute!
DIY Instructions and Project Credit - Lovevsdesign
Incredible felt roses!

These felt roses are easy to make with this detailed tutorial over on Design Dump. You can choose any colors you want and come up with a beautiful effect. They will hold together even after the package is opened (assuming it is done with care), so the roses can be used for another purpose.
DIY Instructions and Project Credit - Mydesigndump
Amazing DIY holiday wrapping with price tag stickers.

Work in retail and have a ton of price tag stickers lying around? Put them to great use with these amazing holiday wrapping ideas. You can pick these stickers up for very cheap if you don't have them. They come in bright neon colors just designed to catch attention! You can easily stick them to packages in such a way as to create a beautiful pattern. The tutorial will teach you how to make a lovely snowflake design along with a couple of other ideas. Aren't those jars with the candles gorgeous? It's amazing what you can do with retail supplies and a little imagination!
DIY Instructions and Project Credit - Designsponge
Wood and string "rustic" Christmas trees.

Earlier we shared an idea for putting a simple paper craft Christmas tree on top of a package. This is a slightly more challenging idea which involves sticks and string. It creates a nice rustic look that works well with standard brown craft paper. You do need a glue gun to do this one. Check out the tutorial for step-by-step instructions.
DIY Instructions and Project Credit - Fellowfellow
Crepe paper fringes.

This crepe paper DIY design was created for a birthday, but imagine how perfect the effect would be for the holidays of you simply went with holiday colors for the crepe paper, like red and green (or maybe blue and white if you are celebrating Hanukah). It looks complicated, but it is actually very easy to make this happen!
DIY Instructions and Project Credit - Willowday
Wrap a bottle in tissue paper.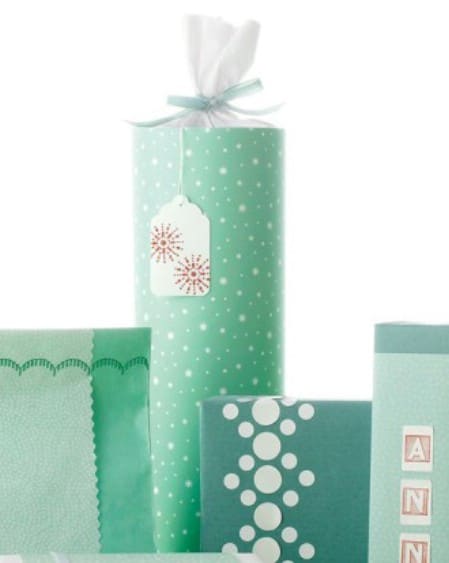 One of the easiest ways to wrap a bottle, candle, or other cylindrical gift is simply to use tissue paper! Try to do it with wrapping paper and you will generally just end up with an ugly mess. But tissue paper offers you the right material to get all around the bottle neatly and evenly and tie it off nicely at the top. This is a great finished look!
DIY Instructions and Project Credit - Marthastewart
Wrap your gift in a leaf.

This will only work if you are doing your wrapping at the last minute, but it is a very cool idea which looks amazing! Suggested leaves to try include birch leaves, bamboo leaves, and banana leaves, all of which are large and flexible. Tie them with twine to keep the look rustic and natural, and consider pushing through a feather, cinnamon stick, spring of pine, or a flower. Just remember not to wait too long to give your gift, unless you want the leaves to dry (which may still look great, depending on the type of leaf you use). This is the perfect way to wrap a gift for a nature-lover!
DIY Instructions and Project Credit - Marthastewart
Wrap children's presents with crayons and white paper.

While this idea may seem a bit counterintuitive at first, think about holiday parties where you have a lot of anxious children who want to open their gifts well before it's time. Why not give them something fun to do to keep them entertained? Wrap their gifts in plain white paper and tape crayons to the top of the box. Now they are free to draw on their boxes until they are ready to open them.
DIY Instructions and Project Credit - Misswebbie