So you've got that Christmas work party coming up and you want to dress the part without looking costumey. Or perhaps you're having the whole family over and you want to look as good as you know your food is going to taste. Whatever the occasion, we've compiled some of the best festive hairstyles that you can easily do yourself to really catapult yourself into the jingly jolly holiday.
Tie it in a Bow
Everyone loves presents, right? Doesn't it make perfect sense, then, to top off your beautiful outfit with a pretty bow – just like a present? Lady Gaga made the hair bow famous and for that we are truly grateful; so now we bring you the half-up hair bow, complete with dangling (hair) ribbons!
Hairstyle Tutorial and Instructions – JustBebeXO
Triple Braided Bun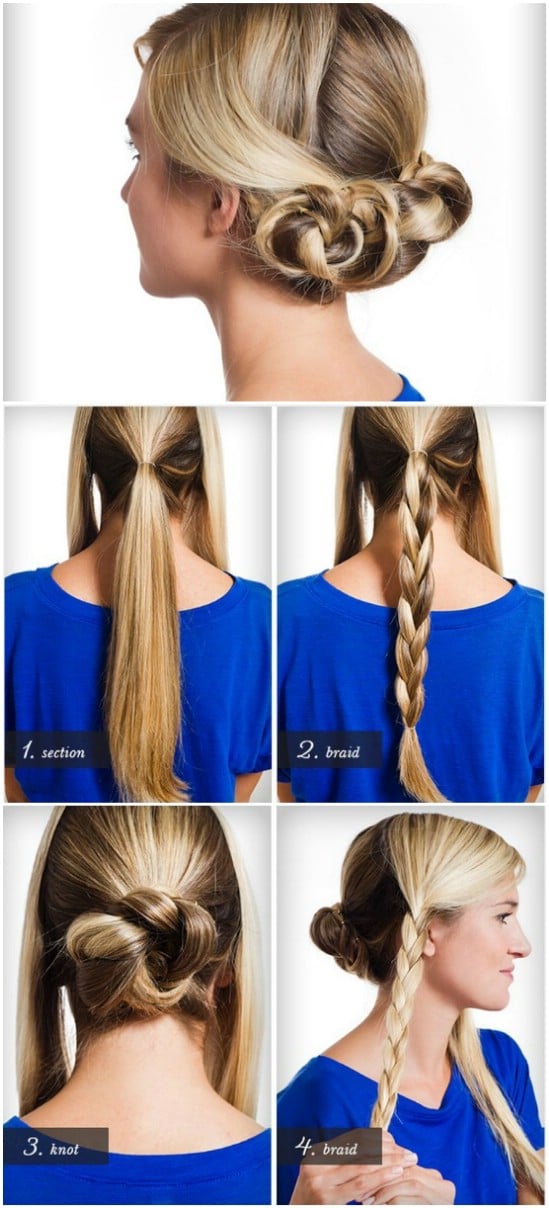 For a bun with a bang, all you really have to do is make three braids and knot them together. The result is a really beautiful ornate bun that looks fabulous but only takes a couple of minutes to achieve.
Hairstyle Tutorial and Instructions – CamilleStyles
Fabric Maiden Braid
This hairstyle isn't particularly groundbreaking, but combine it with a silver or red glittery ribbon and there you have yourself a simple yet effective hairstyle perfect for any Christmas party or dinner.
Hairstyle Tutorial and Instructions – ABeautifulMess
Rudolph Bun
This wouldn't be a Christmas list without a bit of Rudolph. If your little darling loves the holiday season as much as the next one, perhaps she'd like to carry Rudolph around with her on the back of her head. It's just too cute!
Hairstyle Tutorial and Instructions – PrincessPiggies
Poufy Mermaid Braid
What an ingenious combination: the trendy mermaid braid and the classic (and classy) Brigitte Bardot pouf! That touch of red that you get with the ribbon bow is more than enough to bring the holiday cheer – you don't really want to distract too much from the stunning hairstyle itself.
Hairstyle Tutorial and Instructions – MissySue
Four-Strand Ribbon Braid
We love the four-strand braid because it looks nice and bulky; almost like a rope. The addition of a ribbon really jazzes it up, and if that ribbon is a Christmas color, then you've really hit the nail on the head. Once you've got the technique down, you can leave the braid as is, twist it up into a bun or start from the side of your head.
Hairstyle Tutorial and Instructions – BabesInHairland and Jenni'sHairdays
Holiday Bun
We don't always have hours to spend on styling our hair, so if you want something that matches the season, looks intricate and delicate but is actually super quick and easy to achieve, then you have to try to this one. Add in any Christmassy accessory and you're good to go.
Hairstyle Tutorial and Instructions – PrincessHairstyles
Crown Rope Twist
What exactly makes this hairstyle so festive? The fact that it looks like the halo of an angel, of course! We prefer this rope-like version to the braided version because it's quicker to do and, in our opinion, looks better.
Hairstyle Tutorial and Instructions – CuteGirlsHairstyles
Twisted Half-Up Halo
If you're more into the elegant disheveled look then try this ridiculously (seriously!) easy twisted halo. You still get the angelic halo effect, but with more of a hippy/boho feel, and you don't need super long hair for it, either. (Top tip: secure the headband with some bobby pins to keep it in place for a long night.)
Hairstyle Tutorial and Instructions – TwistMePretty
Retro Side Sweep
What's a Christmas party without a bit of glamour? This old Hollywood side swept style is a classic for a reason: it's timeless, alluring and simple.
Hairstyle Tutorial and Instructions – HairAndMakeupBySteph
Bow Braid
We just couldn't resist slipping another bow style in here because it really is just so festive, and oh-so-feminine! You can thank The Hunger Games for this fantastic look. It'll probably take some practicing (we've included a video tutorial for more detailed instructions) but it is most certainly worth the effort.
Hairstyle Tutorial and Instructions – You'reSoPretty and TwistMePretty
Waterfall Braid
The waterfall braid remains a firm favorite, and it's actually pretty easy to do. If you want a more romantic, wispy effect, give the remaining hair some soft curls.
Hairstyle Tutorial and Instructions – Seventeen
Ready for more? Check out our other Christmassy collections and tutorials.
20 Hopelessly Adorable DIY Christmas Ornaments Made from Paper
100 Mind-Blowing DIY Christmas Gifts People Actually Want
10 Insanely Easy Christmas Light Bulb Decorations and Ornaments
40 Amazing Christmas Gift Wrapping Ideas You can Make Yourself
33 Festive Christmas Wreaths You Can Easily DIY
60 Beautifully Festive Ways to Decorate Your Porch for Christmas
50+ Creative Christmas Printables Collection
15 Easy And Festive DIY Christmas Ornaments
10 Fun and Easy Way to Dress Up Christmas Ornaments
Adorable Christmas Decoration: DIY Cotton Thread Snowman
Cute and Easy Christmas Craft: DIY Plastic Spoon Snowmen
25 Yummy Homemade Christmas Candy Recipes
10 Genius DIY Ways to Transform Pinecones into Holiday Decorations