When it comes to decorating for the holidays, you simply cannot forget your front porch. Many people spend just as much time decorating their porches as they do putting up the tree.
Because the front porch is the first thing that your guests will see when they visit you during the holidays, you want to make sure that it offers a festive touch. We have collected 60 beautiful and festive ways that you can add a little holiday cheer to your entry way. Many of these include decorations that you can make yourself.
Whether you prefer the traditional lighted garland or you want your porch to be completely unique, you are sure to find the perfect decorating style in our collection. Choose from an all-out country Christmas complete with pinecones and presents or make a topiary out of Christmas presents. Decorating your porch has never been easier and we have the collection of beautiful porches that will help to get you started.
Ready for more? Check out our other Christmassy collections and tutorials.
20 Hopelessly Adorable DIY Christmas Ornaments Made from Paper
Cute and Easy Christmas Craft: DIY Plastic Spoon Snowmen
10 Insanely Easy Christmas Light Bulb Decorations and Ornaments
50+ Creative Christmas Printables Collection
33 Festive Christmas Wreaths You Can Easily DIY
40 Amazing Christmas Gift Wrapping Ideas You can Make Yourself
100 Mind-Blowing DIY Christmas Gifts People Actually Want
15 Easy And Festive DIY Christmas Ornaments
10 Fun and Easy Way to Dress Up Christmas Ornaments
Adorable Christmas Decoration: DIY Cotton Thread Snowman
12 Super Cute DIY Christmas Hairstyles for All Lengths
25 Yummy Homemade Christmas Candy Recipes
10 Genius DIY Ways to Transform Pinecones into Holiday Decorations
Pinecone Garland
Whether you purchase it premade or you gather pinecones yourself, this beautiful garland is the perfect way to dress up your front door. Add a few plastic Christmas ornaments or red berries to make it really festive. You can even add red velvet bows or other decorations to make it unique.
Source - BHG

The Grinch
The Grinch is a favorite holiday character and you can give the impression of the Grinch when you dress up your porch in reds and light greens. Pink and white poinsettias, brightly colored bows and oddly shaped ornaments are the perfect touch to give your home a Grinchy look.
Source - Front porch ideas
Cranberry Luminaries
Dress up your walkway with these beautiful cranberry luminaries. You just have to have glass vases, or you can use plastic if you prefer, and add cranberries and fake snow. Add a pillar candle and your walkway will provide the perfect path to your front door. You can add fir bundles or pinecones as well if you want a bit more decoration.
Source - BHG
Pinecone Planters
You don't have to purchase a lot of decorations to give your porch a festive touch. You can use planters and then just add pinecones and other decorations to them. If you have larger planters, fill them with pinecones and then add ribbons, pine branches or red ornaments to make them really festive.
Source - Ploughyourownfurrow
Porch Presents
Taking some empty boxes, wrapping them like gifts and placing them strategically around your porch is the perfect touch to your Christmas decorating. Stack them up around a topiary tree or near a bench if you have one. This may not work if you have outdoor pets but is a great idea for those who want to add a traditional Christmas look without spending a fortune.
Source - Southernliving
Traditional Country Christmas
Garland, wreaths and traditional reds and greens are all you need to create this beautiful country Christmas front porch. You just have to hang the garland wherever you want, on the ceiling or along the railing, and then add wreaths to the doors. Clear lights will give it a really beautiful sparkle.
Source - Downtoearth
Ice Skates
If you have ice skates or even an old sled, you can use those items to decorate your porch. Just add sleigh bells, small wreaths or other decorations and hang or sit them on your porch. Hang them on your door or use them to decorate your porch railing. Use fresh sprigs and leaves and these decorations will cost you nothing.
Source - BHG
Fruits and Ribbon
You don't have to use store bought items to decorate. Fruit is a very popular decoration around Christmas time and you can add ribbon and fresh pine twigs to really give your front porch the Christmas spirit. Just drape ribbon around the door and then decorate with whatever you have on hand.
Source - Oprah
Poinsettias
Poinsettias are the perfect addition to your outdoor display. Note that if you live in areas where it gets really cold, you will need to use fake plants. Just place the plants in outdoor planters and adorn them with ornaments, ribbon or garland to get that red and green look if you want.
Source - Centsationalgirl
Decorate a Tree
A Christmas tree on the porch is the perfect complement to your outdoor decorations. If you have a smaller tree, or if you can find a smaller real tree, add that to your decorating scheme. Add a few ornaments (nothing that will break in extremely cold weather) and ribbon to finish it off.
Source - HGTV
Go Bold
Christmas decorating is often about big and bold. You can add a huge ornament garland to your entryway to really make your outdoor decorating pop. Larger plastic ornaments can be purchased for little to nothing and then you just have to tie them all together to create a bold statement.
Source - Plantsolutionsnj
Candy Canes
Candy canes are the epitome of Christmas decorating and they can be purchased in all sizes. Use them to adorn your door, decorate your walkway or even hang from the railing on your porch. Add a bit of ribbon or garland and a few lights and you have the perfect Christmas display for your home.
Source - Frostedevents
Use Fresh Twigs
If you live anywhere near a wooded area, you should be able to find loads of fresh pinecones and pine sprigs. Use them to create a wreath for the front door and garland for the porch. Just add berries, plastic or real, and anything else you want to really dress up your home.
Source - Betweennapsontheporch
Use Candles
Candles are a great decorating tool that will give your porch a beautiful Christmas look. You can use votive candles or larger ones to get the look that you want. Add candles to a silver tray along with a few ornaments for a tabletop display or use candle holders to hang from your railing.
Source - Decorativecountryliving
Make a Gift Topiary
Your topiary doesn't necessarily have to be made from plants. You can stack gift boxes (minus the gifts of course) inside topiary pots to create a beautiful display. Just wrap empty boxes and glue them together to ensure that they are sturdy. Then place them on both sides of your front door.
Source - Decktheholidays
Go Rustic
The rustic look is very popular and so easy to do. Add a few small pine trees, an old rocker and burlap stockings to give your home a great rustic look. You can let the kids make ornaments to decorate the trees and use garland with ornaments to adorn the railing.
Source - HGTV
Use Lots of Lights
You can do a lot with clear Christmas lights. Think about adding pine sprigs and ribbon to your outdoor planters and then adding lights. Fiber optic lights are a good choice and you can mix up clear and colored lights if you prefer. However you use them, outdoor lights are a must for your Christmas decorating.
Source - Pinterest Originals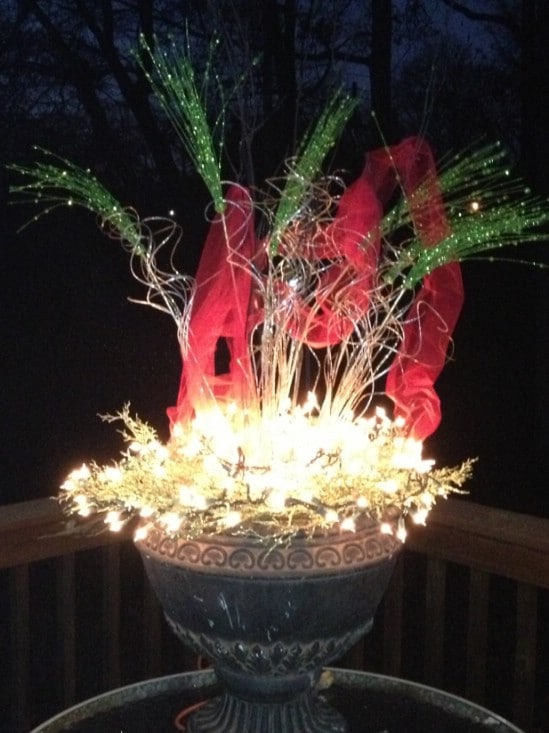 Use Buckets
Metal buckets are a great way to get a rustic look for your outdoor decorating. Add pine twigs, berries and ribbon to the buckets or light them up. A few pieces of firewood, some pine sprigs, ribbon and clear lights make the perfect porch decorating idea. You can add a few plastic ornaments as well.
Source - Hometalk
Go All White
If you aren't lucky enough to live in an area that gets snow for the holidays, you can dress your porch up in all white to give that snowy look. Use white topiaries or small Christmas trees, white for your wreath and add clear lights. A few blue or green and red ribbons and bulbs will complete your wintery look.
Source - Homebeautydesign
Chalkboard Decorating
Chalkboards give your décor a nice country, rustic touch. You can incorporate that touch into your porch decorating this Christmas. Just add an old metal bowl with a chalkboard and write anything you want. Add a few minor decorations and you have a great tabletop display for your porch.
Source - Vintagemellie
Make a Wreath
You can buy or make a wreath for your front door. If you are planning to make one, think about your overall theme. If you are using fresh pine, then get a few twigs and sprigs or you can make wreaths from ribbon, ornaments or just about anything else you can imagine
Source - Happyclippings
Twigs and Trees
You can buy spiral trees that light up at any Dollar Store and when you combine those white trees with brown twigs, you get a beautiful porch display. Make garland or a wreath from twigs and sprigs and then just add a bit of green and red. Finish the display off with a few smaller spiral trees
Source - Oldtownhome
Use Sleds
What better way to dress up your porch than with a sled? You can create a stunning display using an old wooden sled and then just add ribbons, ornaments or even lights. Make a bow from burlap and add jingle bells and a pine swag to really give your sled a Christmas look.
Source - Unskinnyboppy
Make Your Own Signs
A few strips of wood and some paint will give you everything you need to create your own message for your porch. Just paint Joy, Believe or anything else you want and then use the sign as a focal point to your other decorations. This is a great idea for the kids when they are snowed in and want to be helpful with the decorating.
Source - Thenetzfamily
Make Santa Cans
Old cans are a great start to this adorable porch decoration. You just dress up the cans to look like Santa and then add twigs, ribbons, ornaments or whatever you want. These are great for tabletops or you can like your steps with them leading up to your front door.
Source - Sewmanyways
Fruit Topiary
Make fruit topiaries out of your topiary pots and apples and/or oranges. Just add ribbons and your fruit trees are the perfect complement to your front door wreath and other decorations. You can use picks to stick plastic fruits through your regular topiary tree or make the tree completely out of fruit.
Source - Oprah
North Poles
Make your front door look like the portal to the North Pole by decorating barber poles. You can use plastic pipe or something similar and then just wrap in ribbon to give it the North Pole look. Add lights and other decorations to really make your North Poles sparkle.
Source - Plantsolutionsnj
Drop Ornaments
Christmas ornaments hung from ribbons can be added to your porch to give it a festive look. Just hang the ribbons in different lengths and add the ornaments. You can also hang them from your railing if you have a rather large deck and decorate with ribbons or lights.
Source - Homestoriesatoz
Decorate Steps
There are so many ways that you can decorate your steps. Add plants with red ribbons or make Christmas messages from scrap wood. Place the message so that it reads up and anyone walking up your steps can see it. Decorate the step rail with garland and/or lights.
Source - 11magnolialane
Use a Dresser
If you have a small dresser, you can put it on the porch and overflow it with ribbons, ornaments and faux gifts. This is the perfect place to put your candles and other tabletop displays and if you put a small tree next to it, you have a great display that is very reminiscent of a traditional Christmas.
Source - Pinterest Originals
Make a Mitten Wreath
What better way to show your Christmas spirit during the cold winter months than with a wreath made from Mittens? You can buy a twig wreath, or make one yourself, and then embellish it with mittens, scarves and other winter necessities. It looks great and gives your home a nice warm touch.
Source - Snickerdoodlesandtaylortots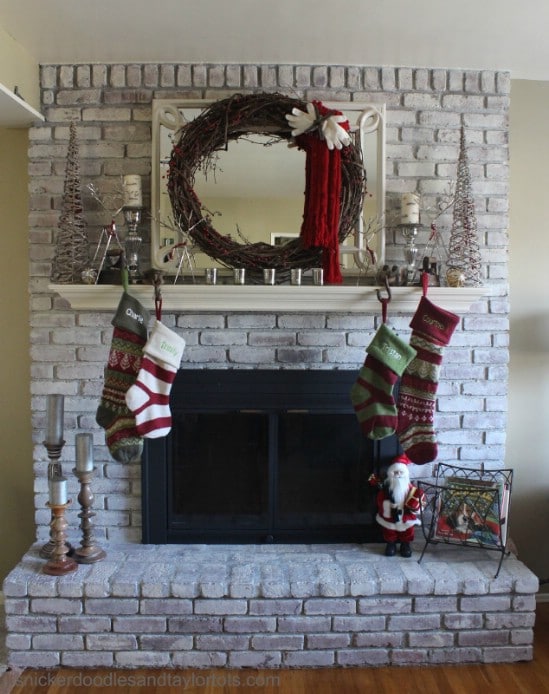 Lighted Tree Urns
If you have tree urns on your porch, you can light them up and really give your decorating a boost. Just light up the trees that you already have or add small pine trees and decorate them with lights and red bulbs and ribbons. Add some lighted garland to your door and you're all set.
Source - Janis-allthingsbeautiful
Simple yet Elegant
Plain pine garland and red ribbons go a long way in making your porch look festive. You don't have to go all out with loads of lights and ornaments. You just have to place the garland and then tie red ribbons strategically throughout your design. This is a beautiful and inexpensive way to decorate the porch.
Source - Frugalupstate
Burlap Garland
If you want a rustic, traditional looking Christmas porch, you can use burlap. Burlap is relatively inexpensive and makes a great rustic looking garland. Just line your porch rail or your outdoor Christmas trees with burlap garland, add a few lights and you have a beautiful Christmas display that is easy and inexpensive.
Source - Hgtv
Group Lanterns
You can make a dramatic porch display by grouping your lanterns together and lighting them up. Make a focal point under the grouping with outdoor furniture or other larger decorations. Use lanterns of all colors or stick with a simple blue and white look if you want something elegant.
Source - Housetohome
Dress up Your Bench
If you have an outdoor bench, this is the perfect place to add faux presents, garland, lights and ornaments. Just throw a few pine sprigs and some red ribbon and then add lights to give your porch a really elegant yet simple look.
Source - BHG
Ornaments
Add ornaments to your outdoor tables or hang them wherever you like. If you want to create a stunning Christmas display, ornaments are the first thing to consider. Use gold or silver for an elegant décor or add loads of colors, whatever you prefer. Top them off by highlighting with clear lights.
Source - Sweethomedesignideas
Pinecones and Snowflakes
You can create a beautiful swag with pinecones and plastic snowflakes. Hang those swags in the corners of your railing or even the top corner of your door. Dress it up with a pinecone wreath and add clear lights for a beautiful porch display.
Source - Sweethomedesignideas
Decorative Pots
You can decorate outdoor pots with sprigs of red and gold, a few Christmas bulbs and some lights. Just tie a wide red ribbon around the pots and then add your decorations. These are easy to make and you may already have what you need to create them so they are very inexpensive.
Source - Paperblog
Create a Winter Wonderland
A few large bulbs strategically placed and some fake snow will give you a beautiful winter wonderland for your front porch. You can buy inflatable bulbs or larger plastic ones. Just place the fake snow (if you aren't getting real snow for Christmas) around the house, in birdbaths and other areas and decorate.
Source - Dotcomwomen
Simple Splashes of Red
Just a few splashes of red will make your porch look ready for Christmas. You can just hang a few red ribbons or bulbs or decorate outdoor items just a bit. You don't have to go all-out unless you want so if you are looking to keep it simple, just consider a red throw pillow on a bench and a few other splashes of red.
Source - Homegoods
Triple Wreaths
There is no rule that says you can only have one wreath on your door. These triple wreaths look elegant and very Christmas-y. You can do the same size all the way down or go from small on top to larger on bottom to give your door wreaths a great snowman look.
Source - Betweennapsontheporch
Give It a Snow Globe Look
Snow globes are great and you can turn your porch into a living snow globe with just a few touches. Lots of pinecones, red ribbons and cozy pillows will give your porch the perfect festive touch and make it look like you live in a virtual snow globe.
Source - Cottageintheoaks
Lots of Red and Green
If you are looking for the traditional decorating, reds and greens are a great choice. These are traditional Christmas colors and can be incorporated into everything from your lights to your wreath and even your garland. Just choose decorations (or make them yourself) that incorporate these colors.
Source - Createcraftlove
Garden Inspired
You can add beautiful colors with garden inspired items. Think cranberries, apples, pinecones and other garden goods and then just add lights. Clear lights work great when you are using different colors in your other decorations and will give you a stunning display for your porch.
Source - BHG
Decorate the Grilling Area
If you have an outdoor kitchen or grilling area, don't forget to add a bit of cheer to that space as well. A wreath over the outdoor fireplace or lights strung can add a festive touch to your outdoor spaces without costing a lot of money.
Source - Southernliving
Frames Instead of Wreaths
No one says you have to hang a traditional wreath on your front door. You can use a picture frame to create a stunning focal point that is a bit less traditional but not any less elegant. Choose a frame that matches your decorating theme and then frame your door knocker with it.
Source - BHG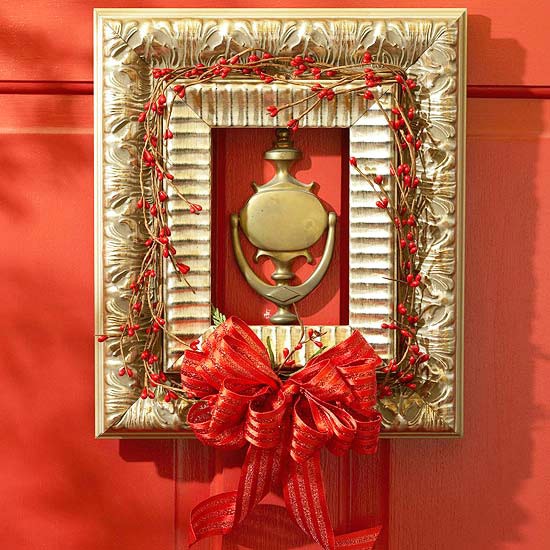 Create a "Christmas Vacation" Look
Clark Griswold is not the only one who could really light up a home on Christmas. With a few tips, you can create a beautiful lit up outdoor area. Choose colors that work well together or you can just go all-out and use every color in the rainbow. Lights are a great way to add Christmas cheer to your outdoors.
Source - Celebrations
Set an Outdoor Table
If you have a table on your porch or deck, make sure that you dress it up a bit. Add large plastic ornaments and surround your centerpiece with greenery. Red bows tied to outdoor chairs also add a nice touch and make the entire look come together.
Source - Myhomeideas
Create an Entrance
If you have a garden trellis or something else that can be used to create an entry point, be sure to dress it up for Christmas. Add garland and clear lights for an elegant look or you can be colorful and use colored lights or red bows. A few ornaments on the garland will finish off the look.
Source - Stylisheve
Don't Forget the Reindeer
You just can't have outdoor Christmas decorations without a reindeer. You can choose from inflatables to lighted deer and even some in country, rustic wood. Add them to your yard or choose smaller ones to place right next to the front door to let everyone know that Santa stops at your house.
Source - Fortikur
Candy and Buckets
Large candy canes are relatively inexpensive and instead of just putting them in the ground, why not add them to small buckets? You can use ribbon to dress up metal buckets and then add white gravel or fake snow to hold the candy canes in place. This is a great way to dress up a walkway or steps.
Source - Bonggafinds
Use Nontraditional Colors
Blue is becoming a very popular Christmas color and there are a number of others from purple to orange that many are using to create their outdoor decorating theme. You don't have to use traditional reds, greens and silvers to get the perfectly decorated porch. Use whatever colors you want or use them all, it's really your choice.
Source - Bloombety
Go All-Out
If you really want to make a statement with your outdoor decorating, decorate everything. Hang wreaths from all the windows, decorate the porch and railing and even your gate if you have one. You can buy or make the wreaths and then use clear lighting and even candles in the windows to really pull it all together.
Source - Pinterest Originals
Go Pink!
Pink and white are beautiful colors when you use them together and adding a bit of pink to your outdoor decorating will give you a very "winter wonderland" look. Just use white for garland and other décor and add a bit of pink with ornaments, lights or other accessories.
Source - Kepoon
Create a Nutcracker Suite
The Nutcracker is a favorite Christmas tale for many and you can incorporate this tale into your outdoor decorating. You can buy or make your own large nutcrackers and then just use other elements of the story to decorate. Think Sugar Plums and fairies.
Source - Hgtv
Country Christmas
Greenery and a few clear lights, along with white and silver ornaments, will give you a beautiful country look for your porch. Add whimsical wooden toys and other old-fashioned decorations to really pull the look together. Kerosene lamps are a great touch and make wonderful lights for your path.
Source - Hoosierhomemade
Wrapped Columns
If you have columns on your porch, don't forget to wrap them in garland and lights to make them a bit more festive. Add a few smaller ornaments if you want to make the columns match your decorating theme or you can just add plain garland to keep the look simple and elegant.
Source - Southernliving
Make Your Own Drop Swag
If your porch is rather tall, you can make a drop swag from twigs, ornaments, ribbon or just about anything else you want. Hang it in front of the door in lieu of a wreath or add a wreath behind it. You can make the swags smaller and hang them in strategic areas around the porch as well.
Source - Homedepot
Mini Christmas Trees
You can find small decorator trees in all sizes. You can use these to dress up your outdoors. Just add them to your porch, hang them from the railing or even light them up and use them to line your pathway. There are so many ways to use trees when you decorate and after all, what would Christmas be without a tree or two?
Source - HGTV