Christmas is coming! With it comes loads of crafts, homemade candies, cookies and other yummies and even gifts that you can make yourself.
Ornaments are always fun to make so we have collected a few DIY ornaments that you can get started on to have ready when you decorate your tree this year.
Scrabble Ornaments
Scrabble pieces are the perfect size for making little messages around your tree. By taking just a few of those letters, you can create a number of festive messages. You can drill tiny holes in the wooden letter pieces and then attach decorations or ribbon for hanging them all together. Imagine the fun you will have decorating your tree with messages that you have created yourself.
Instructions and Project Credit - Thingsthatarepretty
Easy Painted Ornaments
It's so hard sometimes to find ornaments in the exact color that you want. You can paint those ornaments yourself and make sure that you have the perfect colors. You just need a few clear ornaments and the paint colors that you want. Just remove the metal cap and then add a bit of paint in the color that you want, rolling the ornament around so that it coats the entire inside. You can mix and match paint colors to create something completely unique.
Instructions and Project Credit - Littlegrayfox
Cupcake Ornaments
Nothing says Christmas quite like sugary treats and these cupcake ornaments are a beautiful addition to any tree. You just need standard ornaments, tin cupcake holders and a bit of imagination. You can decorate the "cupcakes" however you want and add ribbon or other decorations to really make them festive. This is an adorable idea and will give a really "sweet" look to your Christmas tree.
Instructions and Project Credit - Bentleyblonde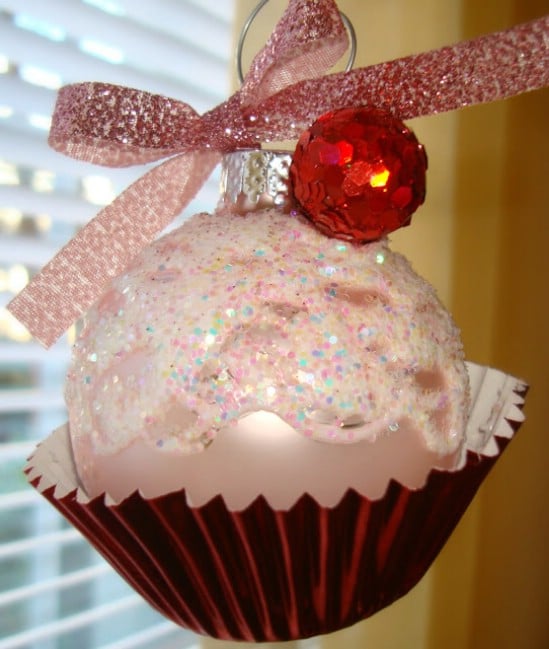 Cookie Cutters and Other Ornament Ideas
From cookie cutters to tiny birdhouses, you can find loads of ways to decorate your tree. If you are looking create a really traditional looking tree, you can find many ways to incorporate homemade ornaments which are the epitome of traditional. Tie ribbons at the top of metal cookie cutters or bake old-fashioned cookie ornaments. The kids will love making decorations for the tree and you will save a fortune when you make them yourself.
Instructions and Project Credit - Wineandglue
Colorful Glass Ornaments
A few colored yarn balls and some clear glass ornaments give you the perfect start to colorful glass ornaments. You can find craft balls at any hobby store or Wal-Mart. You just need to remove the metal cap from the glass ornament and then fill with the number of balls that you want. Fill them up completely or leave a little clear glass showing. This is a great craft for the kids to help with.
Instructions and Project Credit - Graham-and-parker
DIY Baby's First Christmas Ornament
You can preserve baby's first Christmas by making an ornament special for the occasion. You just need a frosted glass ornament – or you can use one in any color that you want. Trace baby's feet on the ornament with a pen or narrow sharpie and then add glue and glitter. You can write in the name, date and age to make it really customized.
Instructions and Project Credit - Pinterest
Mosaic Ornaments
Using old CDs, you can create glittery, beautiful ornaments for your tree. You just have to break the CDs, so make sure that they are useless first, and then glue them onto ornaments. A hot glue gun and a little glitter will give you shiny and shimmery ornaments that you can make in all sizes. This is a great craft and an excellent way to get rid of those old CDs that you have laying around.
Instructions and Project Credit - Cremedelacraft

Pom Pom Yarn Ornaments
A great craft for kids, these pom pom ornaments are really easy to make. You just have to wrap the yarn, tie it off, cut it and then fluff it up. You can do several of these in one day and do them in any color that you like. Choose thicker yarn for a fuller pom pom if you want. The kids will love this craft and if you knit or crochet, this is a great way to use up extra yarn that you have left over from other projects.
Instructions and Project Credit - Alovelylark

Shimmery Sweetness Ornaments
Cover your tree in shimmery sweetness with these easy to make ornaments that are even easier to love! Wrapped in tulle with bright red glitter and a pretty gingham bow, these DIY ornaments will definitely catch Santa's eye this Christmas.
Instructions and Project Credit -  Ilovetocreate
Old-Fashioned Salt Dough Ornaments
Remember those old ornaments that you used to make in school? Well, here is the recipe. You can make them with your own kids. They are really easy to make and so flexible that you can create whatever ornament you want. Just use cookie cutters to get the shape that you want and then paint.
Instructions and Project Credit - Thecheesethief
Filled Beaded Ornaments
Create beautiful winter inspired ornaments using clear glass or plastic ornaments, some Epsom salts and a hot glue gun. You just remove the metal cap and fill the ornament with Epsom salts which looks like snow. You could also use small white beads if you want. Then just hot glue the cap back on and decorate however you want.
Instructions and Project Credit - Hoosierhomemade
Wooden Disc Ornaments
Speaking of old-fashioned, these wooden disc ornaments are really great, easy to make and vintage looking. You just need some small wooden discs and an idea of where you want to go with your project. You can add beautiful Christmas sentiments, do pictures or whatever you want. Just decorate with paint, ribbon or anything else that you have on hand.
Instructions and Project Credit - 7layerstudio
Delicious Cupcake Ornaments
Give your tree that "visions of sugarplums" look with yummy cupcakes. Note that you can't really eat these but they will really sweeten up your tree. You will need some regular ornaments. Just remove the top, decorate with sprinkles, glitter or whatever you want for the icing portion of the cupcake. Then glue the top back on and add the cupcake holder. If you add red glitter to the cap, it looks like a cherry sitting atop the cupcake.
Instructions and Project Credit - Makeitmyown
Hand Sewn Ornaments
If you like to sew, you can create gingerbread men, trees or anything you prefer and use them for decorations. There are many patterns online and you can find loads of ideas for unique ornaments that can quickly and easily be sewn together. If you aren't really a fan of sewing, use fabric glue to hold fabric ornaments together.
Instructions and Project Credit - Talkcraftytome
Heart-Warming Ornaments
Red and pink paper globes make wonderful Christmas ornaments. Who says those colors are just for Valentine's Day? You can use whatever colors you like when decorating your tree so if you want it to have loads of red and pink, go for it. Globe ornaments are really easy to make and will hold together well with just a glue stick so there is really no hot glue required, making this the perfect project for smaller children.
Instructions and Project Credit - Heatherbailey
Whether you like traditional ornaments or you want something a bit more modern, you are sure to find something that you will love. Making ornaments is fun and a craft that you can get the whole family involved in doing. Let the kids help and make a weekend out of it. This is a great craft project for those cold days ahead and homemade Christmas ornaments make great gifts for teachers, grandparents or just anyone that you want to have a special gift.
You can create lovely ornaments out of just about anything and most of these items are things that you may already have around the house. Get ready to be wowed by this collection of creative and easy DIY Christmas ornaments.
Ready for more? Check out our other Christmassy collections and tutorials.
20 Hopelessly Adorable DIY Christmas Ornaments Made from Paper
Cute and Easy Christmas Craft: DIY Plastic Spoon Snowmen
60 Beautifully Festive Ways to Decorate Your Porch for Christmas
50+ Creative Christmas Printables Collection
33 Festive Christmas Wreaths You Can Easily DIY
40 Amazing Christmas Gift Wrapping Ideas You can Make Yourself
100 Mind-Blowing DIY Christmas Gifts People Actually Want
10 Insanely Easy Christmas Light Bulb Decorations and Ornaments
10 Fun and Easy Way to Dress Up Christmas Ornaments
Adorable Christmas Decoration: DIY Cotton Thread Snowman
12 Super Cute DIY Christmas Hairstyles for All Lengths
25 Yummy Homemade Christmas Candy Recipes
10 Genius DIY Ways to Transform Pinecones into Holiday Decorations