Lanterns are one of my favorite projects to work with! This easy upcycled lantern spring nest decoration is a great way to add new life to a basic lantern you have on hand. A few simple accent pieces, and you've turned this into an entirely new decor piece that works all throughout springtime.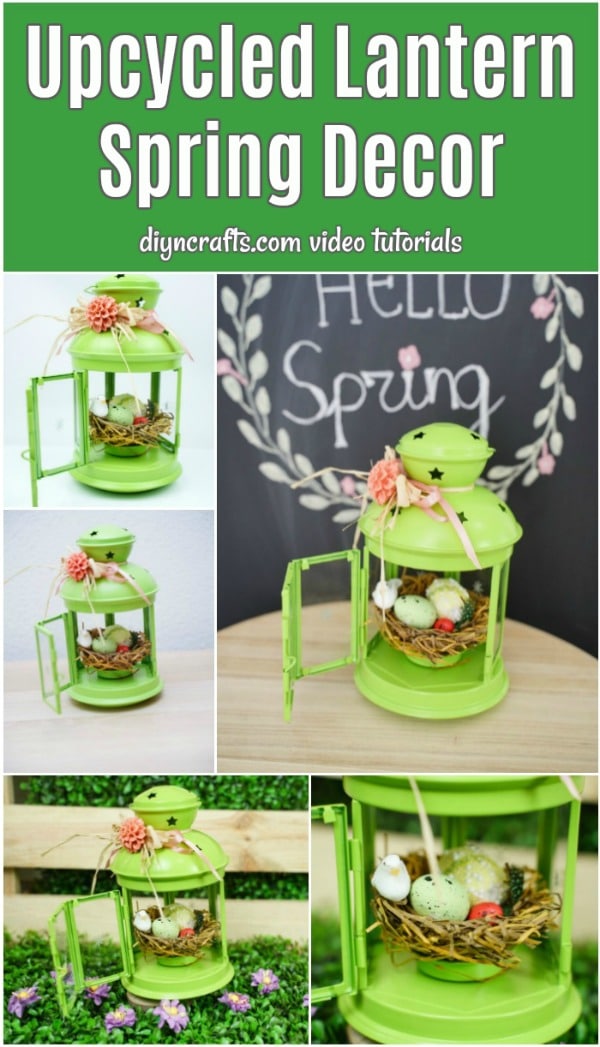 Upcycled Lantern Spring Nest Decoration
If you've checked out many of my crafts from the past, then you probably already know I have a mild obsession with all things lantern related. I just adore the soft glow of lanterns when lit, but more so, I love the look of them. This little upcycled lantern idea is just one of many I have created in the past, and I hope you love it is as much as I did when making it!
Lanterns are always fun, but this one paper lantern floral centerpiece is a totally different option for decor that I absolutely love. You might also like this fun idea for a farmhouse lantern from picture frames. There are just so many amazing ideas for adding lanterns in all types to your decor! You will even find a few great ideas on this list of Easter centerpieces that can fit right alongside these fun lanterns.
Where Can I Buy Lanterns Like This?
The Dollar Store! I have seen this same style of this lantern at the Dollar General and Family Dollar stores for less than $5. At my local Dollar Tree, you can get a slightly smaller version for just $1. Of course, you can always go back to the classic craft stores like Michael's, Hobby Lobby, or Joann's for them.
You don't have to use this exact style of lantern if you can't find it near you. Any style of this lantern would work for this project. You could even make it with a little wooden birdhouse if you couldn't find a lantern. Your imagination is your friend when crafting!
Need more ideas for decorating this spring? You will love this gorgeous floral wreath and my personal favorite, this adorable bunny-shaped wreath idea. So cute and easy to adjust to fit your house and decor preferences.
Can I Update This Later for Different Seasons?
You definitely can! Since the bulk of this decoration is the nest itself, you can easily adapt it for different holidays. You could remove the Easter or spring items, and wrap it with some patriotic ribbon, fall-colored ribbon, or of course, Christmas.
I, would, however, just buy extra lanterns and make a whole new one for each holiday or season. Since they are so inexpensive, you could have one for every holiday you celebrate for less than $20! A perfect addition to your holiday decor.
I love decorating in the spring because of the fun bright colors and fresh life. This list of great Easter decorations fits into the springtime theme easily and has tons of amazing ideas to add to your home. If you want to go outside with ideas, bookmark this list of outdoor Easter decor ideas. You can make your entire home spring themed with all of these great choices!
What Should I Add to My Birds Nest?
I love that this is really one of those crafts where you just gather up a few things and arrange them until you like how it looks. For this, I added a small birds nest, a few decorative eggs, a small bird, and some ribbon. On top, I added a raffia bow and a fake flower. You could do the same, or something totally different.
Much like I mentioned above, this is super easy to update for different holidays and seasons. Add an Easter bunny or flowers inside instead of the bird's nest for an equally beautiful and fun lantern.
You could even add this rustic twine covered Easter egg, or a cute glitter Easter egg if you wanted. Use your imagination and have fun with making this craft!
Supplies Needed
How to Make an Upcycled Lantern Spring Nest Decoration
For this project, you will start by adding your birds, eggs, and any other small items to the bird's nest. You can sit them inside or glue them in place depending upon your preference.
Now, you will sit or glue the bird's nest onto the wooden slice, and place inside the lantern.
Using the raffia, make a bow.
Tie the bow around the top of the lantern.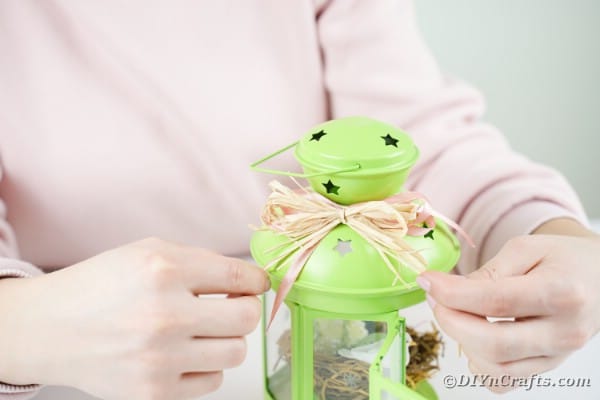 Now, you will add a few artificial flowers to the lantern top as decoration.
Display as part of your spring or Easter decor.
Crafter's Tip

If you can't find a green or spring colored lantern at your store, pick up any color available. All you have to do is add a coat of spray paint in the color you prefer. Another great option is to buy one of these personalized lanterns and fill with spring decor. You can find so many with monograms, special sayings, scripture versus, and more!
Yield: 1
Upcycled Lantern Spring Nest Decoration
Make an Upcycled lantern spring nest decoration with just a few fun springtime embellishments and a few minute's time. A great Easter decoration kids can make!
Materials
Instructions
Arrange your birds, eggs, and ribbon or flowers in the nest;
Glue the nest to the wood slice, then set them inside the lantern;
Make a bow with the raffia;
Tie the bow to the top of the lantern;
Add a flower or other embellishment with the bow;
Now you can display your spring-themed lantern!
Notes
Use your imagination and add whatever you think will look nice to your nest. Eggs, birds, flowers, ribbon, even a tiny mouse would all look cute!
Recommended Products
As an Amazon Associate and member of other affiliate programs, I earn from qualifying purchases.