This is such an adorable hairstyle! You'll love this fishtail ponytail pigtails style. Adding simple bows to each pigtail makes it even more fun! This easy tutorial is going to help you make fishtail braids an easy option for a fun and fast hairstyle even on busy days. I love how versatile this is and how you can update it with your own preferred bows, hair ties, or even barrettes.
Fishtail Ponytail Pigtails
One of my favorite things about this style is that it is great for both long and shorter hair. While it isn't ideal for a pixie style cut, it will work great on medium to long hair. If your hair is at your shoulders or longer, you'll have the best results with this fishtail braid style. If your hair is shorter, you may be able to create a similar look, but will probably need a few extra hairpins to keep it in place.
Braiding my hair is one of the ways I like to style it on a regular basis. I've also learned to embrace pigtails as a way to update regular styles for a more fun look. This idea is simple, and one of my favorites. If you like it, you will also love the mermaid half braid, waterfall braids, and simple ponytail styles we've shared in the past.
Do I Have to Add Bows to This Style?
Of course not! If you prefer the braids plain, you can leave off the bows. You might even want to simply use a simple hair tie or a barrette instead. You could even add a smaller ribbon or bow if you wanted. Make this style your own by adding what fits your personality best. I love the idea of adding simple ribbons throughout or even a few simple beaded bobby pins for an extra bit of flare.
I also love this fun princess braid updo style. It is such a beautiful idea right along with this adorable half up half down hairstyle. If you can't tell already, I love playing with different ideas for styling my hair. There is so much fun to be had changing your look with a simple braid or twist!
Tools I Use
Other hair tools I love:
Tip: For this style, you can use our method of curling your hair with paper towels ahead of time to help achieve the nice loose waves of our model. This is a great easy way to add waves without needing a curling iron or heated rollers.
How to Create Fishtail Ponytail Pigtails with Bows
Before you begin braiding your hair, you will need to comb and brush out any tangles so it is smooth and easy to work with. I also like to add a bit of pomade or mousse to smooth down any flyaways.
Step 1
Begin by parting your hair down the middle sectioning off each side.
Step 2
Once you have sectioned your hair, you will start on one side near the front of your hairline to braid your hair.
Continue braiding pulling the hair tight against your scalp and adding more hair to each section as you moved along. This is a simple French braid style, with a twist.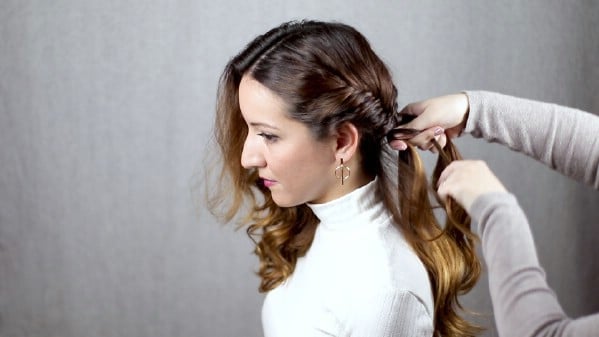 Step 3
Secure the braid at the nape of your neck with a small hair tie. The braid will be simple, and a little loose and soft. While it is a French braid, it is less traditional and closer to a fishtail style with looser braids.
Repeat the same process on the opposite side securing the braid against the back of your head at the hairline with a hair tie. Even the braids as needed at this point.
Step 4
Once both sides have been braided and secured you will choose ribbons to tie at the bottom of the braid to cover the hair ties.
Feel free to choose different hair ties, scrunchies, or barrettes to add your own unique look to these loose braids. You can also use a curling wand to add a few eaves to the loose hair.