I absolutely adore making things for baby showers. Homemade gifts are always so much more personal than anything you can buy from a store. On that note, I have a great little tutorial for you. This DIY washcloth teddy bear is so cute, and you can make it in about 15 minutes!
What You Need For A Washcloth Teddy Bear
What's really great about this DIY teddy bear is that you don't need a lot of supplies. You will need a washcloth obviously, and some rubber bands. To decorate your teddy bear, you can use ribbon or lace, whatever you have on hand.
What Other Animals Can You Make From A Washcloth?
I remember when my kids were younger, they made these adorable washcloth bunnies. Of course, if you have ever visited a relatively fancy hotel, you've seen swans made from towels. I've also seen frogs, puppies, and elephants made from washcloths.
What Other DIY Baby Shower Gifts Can You Make?
Did I mention how much I love to make homemade baby shower gifts? There are so many beautiful ideas out there that you can try. I've already shown you how to make cute baby shower cupcakes from baby clothes and how to make a diaper baby basket.
There are also some adorable DIY diaper cakes that make lovely gifts, like this diaper cake boat and my favorite, this choo choo train diaper cake. Add this washcloth teddy bear tutorial, and you have loads of ideas for homemade gifts.
Yield: 1
How To Make A Washcloth Teddy Bear
Video Tutorial:
If you are looking for an easy DIY shower gift, this little washcloth teddy bear is it. These are so easy to make that you could fill up a whole basket with little teddy bears and do it all in an afternoon!
Step by Step Photo Tutorial:
Prep Time: 5 Minutes
Active Time: 15 Minutes
Total Time: 20 Minutes
Difficulty: Easy
Materials:
Washcloth – I used brown for teddy bear colors, but you can use whatever color you want
Rubber Bands
Scissors
Ribbon – Or whatever you want to use for decorating
Instructions:
1. Get your supplies together. You need a standard sized washcloth, or you can use a hand towel if that's what you have on hand.
2. Fold the washcloth in half. The part where the two ends come together will be the bottom of your teddy bear.
3. Begin rolling the washcloth from one side. Stop rolling when you reach the center of the washcloth.
4. Roll the other side until you meet the first roll in the center.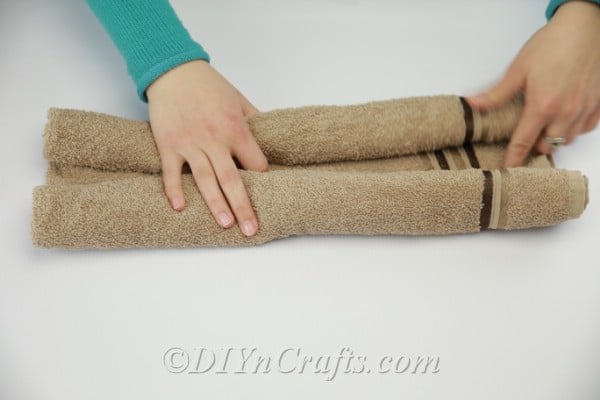 5. Fold in half – Fold the two rolls in half and twist them so that the inside becomes the outside.
6. To make the head – Take a rubber band and section off the head part.
7. Use two more rubber bands to make tiny little ears on each side of the head.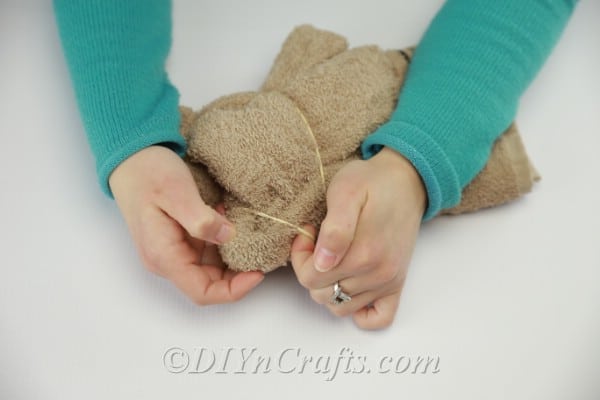 8. Tie a ribbon or lace around the neck area for decoration.
9. That's it! You can further embellish the little bear if you want with googly eyes and other decorations, but he's perfect just as he is.
10. Your finished washcloth teddy bear should resemble this one: